Trainer Ronnie Shields: "This is Kermit Cintron's championship"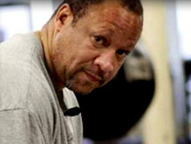 --


In his last fight, against Carlos Molina on July 9th, everything went wrong for Kermit Cintron. Once a fighter who could rely on his crushing right hand to stave off an opponent's attack, he seemed listless and flat on this night. What wasn't just a debut under the Top Rank banner but an audition as a future Manny Pacquiao opponent turned into a slow nightmare as Molina out-hustled Cintron for ten long rounds. The only bright side to be found is that Cintron is coming right back to TV, this time on ESPN2's "Friday Night Fights" against Antwone Smith in a "win or it's over" fight.
On a recent episode of Leave-it-In-The-Ring.com, Cintron's trainer Ronnie Shields came on to discuss the Molina fight and what went wrong.
"I like Carlos Molina. He's a really good fighter but he's not better than Kermit. It was just a poor performance by Kermit Cintron," Shields told me and co-host David Duenez. "We had a great training camp but we just didn't perform. I asked [him in the corner], 'Why? What's wrong?' and [Cintron answered] 'I can't get off. I can't get off.' He was more worried about getting off than he was about just going in there and throwing punches. I don't know. I wish I knew. I really do. I wish I knew."

Cintron and Molina had sparred before. The style and the fighter were no strangers but Cintron was reluctant to take charge in the ring, so Molina did.
"[Molina's] a guy who, if you give him some confidence, he's going to take full advantage of that and get more confident as the rounds go and that's what happened," said Shields. "Kermit gave him all the confidence in the world and he couldn't get it back."
Through the course of the fight, Cintron showed few signs of life past the fourth or fifth round. From then on, it was not so much a beating but the win was thorough. That said, at no time did Shields think of stopping the one-sided fight. Cintron, 32-4-1 (28), had been off for 14 months. Maybe the rust would shake off. Being a puncher, sometimes all it takes to get in gear is landing one or two big shots. It never happened.
"Well, you know, it depends on the fighter," Shields said of stopping the fight. "Thing about Kermit is he's a puncher. Everybody knows that he can hit you with one shot and get you out of there but it's not like he was taking a lot of shots. Carlos Molina was tap, tap, tap, just tapping him with shots, not really hurting him with shots. It would have been a lot different if Kermit was a fighter who couldn't punch and he was getting hurt with everything, then I would have stopped the fight. A puncher's always in it until the final bell rings. He had his opportunities. Like, I think it was the eighth round, Kermit hit him with a right hand and hurt him. I saw Molina was hurt a little bit. [Cintron] tried to put some effort into it but it just didn't happen. It wasn't there and if it ain't there some nights, you have to take what's given to you or accept the consequences afterwards."
The consequences amount to a dicey future. Had he won, Cintron would be in line for bigger and better things but counting the Paul Williams loss in May of last year, he has slid from being an HBO main event to a Showtime untelevised co-feature to ESPN2's "Friday Night Fights." While being a TV fighter is where it's at in boxing, most fighters progress in the exact opposite direction that Cintron has gone. Shields offered that whatever is holding back Cintron's potential can only be released by the fighter.
"He should have beaten Carlos Molina, by all rights. Kermit has fought the better fighters. He's fought the more experienced fighters but when it is time to shine, he don't," said Shields. "So that's a problem and nobody can fix it but him. So what do you do? You bring him right back. You don't let him have time to sit for six or seven months and think about that fight. You bring him right back with the hopes of trying to jumpstart his career again."
While the long layoff is a possible explanation, it can also be an excuse. Sometimes, a fighter is simply done. How that manifests is not always physical, such as slurred speech or dulled reflexes. Sometimes, a fighter checks out mentally when the bell rings although the body looked great in the gym.
"It differs with everybody. I don't think everybody's the same," said Shields. "Some people are different and you know, mentally, it's not there. Physically, it's there but mentally, it's gone. I really don't see it. I wish I could put a hand on it, on what was really going on but like I said, we're just hoping it was the long layoff. We'll find out on August 12."
Fighters don't fight often enough in this day and age. They sit and wait for TV dates and bigger money or the right fight. Cintron is not a guy who gets out of shape between fights but sitting idle can take away anyone's timing, ability to take shots- everything. Fighters fight. They find ways and reasons to fight and there is simply no substitute for it.
"Staying busy, man, that's how you get your groove back," said Shields. "You get your groove by staying busy. Fighting every two or three months or something like that, you know? But these guys want to sit back and they make so much money that they don't sacrifice to better their career because they want to fight for a whole lot of money. And sometimes, it just don't happen that way, so you need to take stay-busy fights."
It all comes down to tonight at Ameristar Casino in Saint Charles, Missouri. Antwone Smith, 20-2-1, with 12 knockouts is not an easy out. At his best, Cintron has the tools to beat him but it will not be easy. The mental approach is the key here. Whether or not he understands this is it- win or call it a career- remains to be seen. If he doesn't realize it, it isn't for a lack of honesty from Shields, who sat him down in the gym on his first day back and laid it all out.
"All I told him is, 'Look, the Carlos Molina fight is done. Let it go. Now you have to realize one thing, that Antwone Smith is your championship," said Shields. "Antwone Smith is his championship because if he loses, his career is gone. It's over. And I left it at that. And we had a great day in the gym today and hopefully, we can build momentum on it. I worked him really hard today and he said, 'Man you worked me really hard for a first day back.' I said, 'Look, what did I tell you from the beginning? This is it. This is your world championship right here. If you don't win this one, it's over. It's done."
If there is a sign of life in Cintron, it's that he jumped right back into camp following this loss. He did not linger on it but instead looked to get right back to work and hopefully, regain his form.
"He's back down here getting ready to fight. So we bring him right back and make sure it was just the layoff and not himself, just a done fighter," said Shields. "We're going to find out August 12 if he is done or, you know, if he still has life unto him."
You can email Gabriel at

maxgmontoya@gmail.com

, follow him on Twitter at

www.twitter.com/gabriel_montoya

and catch him on each Monday's episode of "The Next Round" with Steve Kim. You can also tune in to hear him and co-host David Duenez live on the BlogTalk radio show

Leave-It-In-The-Ring.com

, Thursdays at 5-8 PM PST. Gabriel is a full member of the Boxing Writers Association of America.