Too Much of a Good Thing?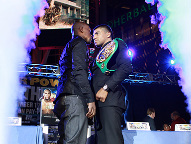 (Photo © TomHogan - Hoganphotos, Golden Boy Promotions)


Last week, I detailed what is a strong upcoming schedule for boxing for the rest of 2011. What has already been a pretty good year for the sport only figures to get better in the next several months. You have fights that appeal to the hardcore followers of the sport (like the bout this weekend on Showtime between WBA lightweight champion Brandon

Rios

and Urbano Antillon and the August 27th battle between Marcos Maidana and Robert Guerrero on HBO) and events that will capture the attention of the general public, involving the likes of Manny Pacquiao and Floyd Mayweather.


So please put away the "Boxing is dead" cliché and enjoy the ride. There is a downside, however. If you want to catch all these fights, it's going to cost you because in addition to your usual cable bill- which depends on what premium package you subscribe to- it will take some extra funding to support this obsession. Between September 17th and December 3rd, there are four "major" pay-per-view cards that are scheduled (I define "major" as being promotions that are fully distributed and produced by either HBO or Showtime. Cards like "Latin Fury" don't go against this ledger).

After having just two pay-per-views in the first half of 2011 (Miguel Cotto-Ricardo

Mayorga

and Manny Pacquiao-Shane Mosley), the last four months of the year will each have one show that will be on pay-per-view. September 17th has the return of Floyd Mayweather versus Victor Ortiz. October 15th has Bernard Hopkins against Chad Dawson. November 12th sees the third hook-up between Pacquiao and Juan Manuel Marquez and then there's the rematch between Antonio Margarito and Cotto on December 3rd. If you want to catch the quartet of events (and c'mon, no matter what you promise or declare, some of you just can't help yourselves), it will cost at least $200.

You better hope that your baby doesn't need a new pair of shoes.
When I posed this question this

past Wednesday night

to Golden Boy Promotions CEO Richard Schaefer (whose company will be involved in the two shows in September and October), he answered, "How many pay-per-views does UFC do?"
Well, the answer is about once a month.
"You just answered my question," he said, with a laugh. "So I tell you what, I think if it's a compelling product, then I think the sport of boxing, the trends we've seen- look at the ratings; look at the ratings we have seen recently on boxing events. Look at all the new networks literally jumping on boxing or increasing their presence. They wouldn't do that if the sport is dying. So there's obviously a fan base that's clearly growing and do I think that the sport can afford maybe six, seven pay-per-views a year? Yes, I really do think so. So there's no reason why UFC can and boxing can't."
Schaefer makes a point, boxing -despite what some keep insisting- is trending upward. With nascent stars like Saul Alvarez and Julio Cesar Chavez Jr., ratings are improved at HBO. Boxers like Pacquiao now have endorsement deals with the likes of Nike and HP (

http://www.youtube.com/watch?v=GtH8lU4xLZo

). Across the globe, events like Wladimir Klitschko-David Haye do monstrous figures at the box office, Super Bowl-like television ratings and gain worldwide coverage. But this trend has been on the strength that the American public has not had to fork out another 50 bucks to see these fights.
For this industry to grow and this market to be cultivated, the product has to be seen on the biggest platforms possible. Pay-per-view, for all its riches it can derive, is the smallest available on television. Mark Taffet Sr. V.P. of HBO Sports Pay-Per-View, whose company may or may not be doing all the aforementioned promotions, told Maxboxing, "Without referring to specific fights and specific dates, there's a lot of pent-up demand in boxing. There has been a lot of pent-up demand. The fact that there hasn't been a lot of pay-per-view fights this year means that the public wants to see the best and they've always shown historically when you have big fights, they're willing to pay for it. So if there's a string of great fights and there's a string of big fights, then I expect that the public's going to support it."
Pacquiao and Mayweather on pay-per-view are no-brainers. Bottom line is with what they command financially, the days of them on any premium cable network are long gone. Boxing fans have accepted this. Where things get a bit hazy are the Hopkins-Dawson and Margarito-Cotto fights. Hopkins-Dawson is only on pay-per-view because HBO mismanaged its budget like Daniel Snyder annually does with the Washington Redskins' salary cap. Margarito-Cotto II is a tougher read though there is certainly a storyline, the Mexican-Puerto Rican rivalry and the belief that these two guys will always make for good scraps. These guys are not the fighters they were in 2008 and many believed this is a bout between two declining prizefighters.
You get the sense that both of these match-ups would do strong ratings on HBO or Showtime; however, in these tough economic times where discretionary income isn't as readily available, you wonder just how many people are willing to add another $100 onto their upcoming cable bills.
There was a time when pay-per-view really meant that an elite-level fight was in store. There was a certain mystique to the whole phrase of being a "pay-per-view fight." Now, it really means that HBO or Showtime can't really afford it or it landed on a Mexican holiday. Too many times in the past few years, HBO/Showtime-quality level fights ended up on this platform. That's how you erode your market share. Believe it or not, things are improving in this realm. Back in 2006, there were ten pay-per-view cards offered to the public by HBO Pay-Per-View (Erik Morales-Pacquiao II, Mosley-Fernando Vargas I and II, Mayweather-Zab Judah, Oscar De La Hoya-Ricardo Mayorga, Hopkins-Antonio Tarver, Oleg Maskaev-Hasim Rahman II, Marco Antonio Barrera- Rocky Juarez II, Mayweather-Carlos Baldomir and Pacquiao-Morales III).
In 2007, HBO Pay-Per-View offered up seven cards: Barrera-Marquez, Mayweather-De La Hoya, Cotto-Judah, Hopkins-Winky Wright, Pacquiao-Barrera II, Cotto-Mosley, Mayweather-Ricky

Hatton

. And a card featuring Marquez against Jorge Barrios on Mexican Independence Day weekend was eventually scrapped due to Barrios' pulling out of the fight. Showtime got into the act by staging a show between Vargas and Mayorga on Thanksgiving weekend that year.
Then in 2008, we saw Jones-Felix

Trinidad

, Kelly Pavlik-Jermain Taylor II, Pacquiao-Marquez II, Pacquiao-David Diaz, Margarito-Cotto I, Pavlik-Hopkins, Joe Calzaghe-Jones and Pacquiao-De La Hoya. Things may have hit the low point that year when between September 13th (when a pay-per-view card which was distributed by HBO between Marquez and Joel Casamayor) and October 15th (when Hopkins faced Pavlik), three pay-per-view cards were scheduled. Originally, the fight between Mosley and Mayorga for September 27th of that year was a pay-per-view bill before sanity took over and it was moved back to HBO.

Recent years have seen a marked decline in pay-per-view presentations, with HBO stating their clear intentions to have more fights of this nature land back on the network. Ask yourself this question: out of all the pay-per-view bouts that were just listed, how many really belonged there?

Taffet says, "What we've found over the years is that in pay-per-view, in a successful year, the aggregate amount of revenue is fairly consistent, independent of the number of fights. You probably know that a few years ago, we specifically started to do less fights each year on pay-per-view than we had done in years past. And yet we maintained roughly the same amount of annual revenue in pay-per-view buys. So we learned that the public was there and the demand was there and when you had pent-up demand, even it was spread over fewer fights, an aggregate, it still turned out to be a big year.

"I always tell people that before they evaluate boxing or the pay-per-view business, they should wait till December because there's a lot of big fights that tend to happen over the course of a year."

It seems to be a very fancy and eloquent way of saying, "Less is more."

Pay-per-view is here to stay; it's a fact of life that comes with being a fan of boxing. Most followers of this game have accepted that and budget accordingly. The problem lies is when it becomes so frequent and watered down.

"I've been in the pay-per-view business, working on boxing since 1991 and we have consistently found that when the public is presented with fights that they want to see, that the support is always there," said Taffet. "In fact, the last few years have been the first time that two events have generated a million buys from different fighters in the same year, like we have seen with Mayweather and Pacquiao. We hadn't seen that, back-to-back fights generating over a million buys each. It shows you that there's tremendous strength in consumer support when the big fights are made and we're very pleased that everything we've seen in history is continuing on in 2011."

Schaefer believes that there is a strong, burgeoning market for boxing and its pay-per-view events and he throws down the gauntlet at the UFC's leader. "I have to tell you one thing- and I'll bet Dana White- this fight [Ortiz-Mayweather], again, like it was the case in the last six years, is going to be the biggest pay-per-view event in combat sports; no question about it. So for six years- six years- we've been holding that record and y' know what? If [the UFC is] honest [on its pay-per-view revenue], they're not even close."

FORECAST

OK, I think everyone can agree that anytime the "Pac-Man" and "Money" perform, it's pay-per-view-worthy (You can't argue with the numbers, which see both of them hit the million-dollar benchmark just about every time). Just my guesstimation (Yeah, I just made up that word) but I think the pay-per-view cards on September 17th and November 12th do anywhere between 1.5 to 2 million buys.

The real question is, how do the other two events do?

I think Hopkins-Dawson is a promotion where neither man has a real strong pay-per-view history (in the case of Dawson, none) and a fight that figures to be- well…shall we say, strategic? And it will do between 200-250,000 purchases. This is a card that will appeal to only the hardest of the hardcore when it comes to shelling out extra money.

As for Margarito-Cotto II, if I recall correctly, their first encounter in

July of 2008

did around 400-450,000 buys. Now they are both looked upon as declining fighters who were beaten with ease by Pacquiao and are no longer the stalwarts they once were. But as I mentioned, this fight does have several things going for it and it figures to be an exciting night whether it's held at the MGM Grand in

Las Vegas

or

Madison Square Garden
in
New York
. I think this does between 300-350,000 purchases.
PPV PARADIGM
One reason that pay-per-view numbers are improving for certain fights is because the way they are being promoted and marketed has changed. Starting with Bob Arum's foray with Showtime, where multiple platforms were utilized to push Pacquiao-Mosley, it seems now that the paradigm has changed when it comes to the sport's biggest events.
"I definitely think so," said Schaefer, whose company will be handling Ortiz-Mayweather on HBO Pay-Per-View. "It's basically taking it to a new level where media companies now are realizing that utilizing their platforms is actually good for them. Deep down, I'm a banker, so this is called 'cross-selling' your different platforms and what that does is it really increases shareholder value. It's good for all the Time-Warner or Viacom shareholders because what it does, it exposes and brings all of their different assets into play, be it with the magazines with Time Inc. or the broadcasting stations with Turner Broadcasting, or in the case of Showtime with CBS and other assets they bring to the table.
"This is good; it's good for them and I'm glad that they finally realized that it's good for them but it is good, of course, for the sport of boxing and for the fight fans. So we are all benefiting and don't forget, it's good for the fighters too."
Schaefer said that HBO's "24/7" will be rebroadcast on one of the Turner networks, much like "Fight Camp 360" was aired on CBS in addition to Showtime, leading up to Pacquiao-Mosley.
"But there will be many other elements which are going to take people by surprise with different shows than '24/7.' It's going to have many different segments and elements which are going to be introduced to this promotion, which is going to be a first- not only for HBO but it's going to be a first for the sport, period," he stated.
As usual, Golden Boy will have heavy corporate partnerships with the likes of AT&T and Tecate, who Schaefer says are spending, "millions of dollars of their own advertising" for the fight in addition to in-store activations, billboards, radio, print and television advertising between early August and the fight.
Schaefer is setting a lofty goal for "Star Power." He believes this can get into the neighborhood of the all-time pay-per-view selling show, the 2007 match between Mayweather and De La Hoya, which did over 2.4 million buys.
"Based on some of the surprises we are working on as a top-to-bottom card, really as an event, which deserves in any way, shape or form the name 'Star Power', yes, I think the goal is to break two million homes because the fact is, Floyd Mayweather's average in his last four fights is about 1.5 million or something like that. So I do think this fight is significantly bigger than that? Yes, absolutely."
Once again, Golden Boy will be offering this card in movie theaters.
"It's going to be mind-blowing the amount of promotion we're going to do on this fight."
TAFFET
The happiest guy that I saw
on Wednesday night
at LA Live, where a public press conference was held for 'Star Power' wasn't any of the fighters or Schaefer but Taffet, who not too long ago, was looking at a year with neither Pacquiao nor Mayweather on the docket and no other real bona fide pay-per-view event in sight.
"Well, I've actually said to a few people that I had a longer layoff than Floyd Mayweather," Taffet said with a smile, "but I'm a hard worker and I'm glad to be back with work to do. So it's great."
TOE, NO!
Yeah, I've heard all the toe jokes regarding David Haye on Twitter (LeBron James has to be the most relieved guy, now that he's no longer in the crosshairs) but here's the thing- and not to play David's advocate or anything- while a toe injury might seem minor, the bottom line is that it can absolutely play into any athlete's performance. Most sports are played from the feet up and any type of pain or discomfort in that area can adversely affect someone's balance and mobility.
In boxing, where fighters have to step, plant and explode, it can be an issue. With Haye, who's a good right-handed puncher, you need that right foot to push off and catapult your punches. Many a football player who is built and conditioned to play that brutal game, has been felled by "turf toe" as he was unable to set and plant his feet properly without excruciating pain. I want to make this clear; I think Wladimir Klitschko would've won that fight, regardless. The reality is that Haye's heavyweight run was largely a facade and no matter what you think of the aesthetic value of Klitschko's bouts, he is an incredibly difficult match-up. He knows his style, what he does well and he executes it to perfection. It says here that Wladimir is among the top 10 to 15 heavyweights ever. Yeah, that may seem like blasphemy but the black-and-white numbers support this and just looking at his stature and his style (post-Corrie Sanders and Lamon Brewster) he is a very tough out.
Back to Haye, I think because of the vitriol and all the bravado he brought into this promotion, he simply was in a position where he simply could not back out of this assignment (again) because at that point, it's three strikes and you're out. I'm pretty sure the Klitschkos would've had enough by that time and would have never revisited this issue. Haye would forever be "the boy who cried Klitschko" and his multimillion-dollar payday would've vanished forever.
So he really had no choice but to go through with this fight, regardless of his physical state. Because of that, we saw a lot of toe-to-no-toe inaction (Yeah, I had to get in on the fun too). When it was all said and done, his sound and fury didn't mean a doggone thing.
BOUIE
I'm sure most of you have heard by now that the highly regarded Bouie Fisher, best known for molding Bernard Hopkins, passed away this past week.
http://www.maxboxing.com/news/sub-lead/bouie-fisher-bids-us-farewell
His son, James, informed me that funeral services for his father will take place
next Saturday
at the Deliverance Church at
2001 Lehigh Avenue, Philadelphia, PA
. The viewing will be from
8-10 AM

.

Any cards or letters can be sent to the Fisher Family at: PO Box 832,

Clementon, New Jersey, 08021



FINAL FLURRIES

The British aren't coming (to fight), as it relates to fights on HBO this year, with Matthew

Hatton

, Paul McCloskey, Ryan Rhodes and now, Haye basically getting skunked on the network. I don't see Darren Barker giving Sergio Martinez much a challenge in October either...Question: I think most of you will purchase the Mayweather and Pacquiao cards but if you had to choose between one, do you buy Hopkins-Dawson or Margarito-Cotto II? I think that's the decision most will have a hard time making...It's been announced that Erik Morales will face Anthony Crolla on Sept. 17th in what looks like will be a split-site card from the

Staples Center

in

Los Angeles

. Crolla is not be mixed up with Anthony Honda Civic...Larry Merchant was in rare form this weekend in

Hamburg, Germany

, which means if you like Larry, you loved it. If you don't, well, that's your problem...As for Roy Jones, geez, he just gets more delusional by the broadcast, doesn't he?...Do we start to believe in Jose Bautista of the Blue Jays?...I didn't think anyone could dominate Rafael Nadal the way Novak Djokovic just did at the

Wimbledon

finals...Gotta hand it Chip Kelly- no, not for getting busted the way he did- but coach still writes out hand-written letters. That's old-school, right there...Is it just me or is that eating contest that they do every 4th of July the most disgusting thing ever?...Speaking of toes, anyone remember the first episode of "The Jamie Foxx Show" when he did an impersonation of R. Kelly and sang "Keep it on the Big Toe"? I thought that was hilarious...I can be reached at k9kim@yahoo.com and I tweet at www.twitter.com/stevemaxboxing. We also have a Facebook fan page at www.facebook.com/MaxBoxing.