Time Flies for the Hawaiian Punch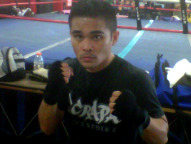 --


Brian Viloria attempts to win his third world title this Saturday night as he faces WBO flyweight titlist Julio Cesar Miranda at the Blaisdell Center in Honolulu, Hawaii. It will most likely be his final opportunity to fight for a major championship and stay relevant on the world-class scene. Viloria has now hit the big "3-0" and he's now a decade into the professional game.

There is absolutely a sense of urgency for the "Hawaiian Punch," who knows he's much closer to the end of his career than the beginning.

"I'm not as young as I was ten years ago," said Viloria, going all Casey Stengel last week at the Azteca Gym in Bell, California. Hey, Brian, none of us are younger than we were ten years ago. As you tell him this, he starts laughing. "But I guess my days are numbered; I just feel like every fight is going to be that much more special, that much more important for me. I can't lay off from fight to fight; I have to really keep it at my top peak as much as possible. So with the fights coming in the next couple of years, I don't know how long I'm going to be in this game. I think I got a couple of more years left."

It's hard to believe ten years has passed since Viloria turned pro after representing the United States in the 2000 Olympic Games in Sydney, Australia. Where does the time go?

"It flies, man, when you're having too much fun," he said, laughing again at the thought. "This sport, you really do have a small window frame and for all the upcoming fighters and guys who are just starting as pros, just hold onto the moment; it's going to fly right past you."

When he first inked Viloria, manager Gary Gittelsohn had him living at his home for a spell as he settled into Southern California, a year or so before Viloria could legally buy his first drink. Gittelsohn has often said that Viloria is like a son to him. "I can't believe it; I can't believe that the 2000 Olympic Games were 11 years ago because I remember those kids like it was yesterday. Jermain [Taylor] and Ricardo [Williams] and Brian was the baby; I mean, he was 19 years old when he came out of those games."

Last week, this reporter tweeted that he was going to visit Viloria at the gym. @chrisstrait pointed out, "He's one of the last 2000 Olympians still competing at the higher levels." I hadn't thought of that and outside of perhaps Miguel Cotto, there aren't that many amateurs from that class still at the upper echelon of the sport. As it relates to the United States alumni, Viloria is the last of the Mohicans and he wants to be the last man standing for awhile.

"I thought about it; I mean, I've seen my friends win championships and leave, Jermain Taylor, Jeff Lacy and Rocky [Juarez] and those guys. And those guys hung it up and I don't want to look at it that way; I just want to say I feel young as far as I'm concerned. But in reality, I don't have that much time left, so I look at each fight as being very important and try to make my mark as quickly as I can."

Viloria, who was married last year to his longtime girlfriend, Erica, admits that he has thought about the next stage of his life beyond boxing. "At this point in my career, it's in the back of your head. When you look at fights and you're training, sometimes there'll be days when I'm like, 'Alright, I think I'm going to have to look into my next career and see what it is' and try to figure it out, my exit strategy out of this game."

Before you give Viloria a gold watch, though, he'd like to capture another trinket. By most accounts, anyone that has won two world titles has had a fruitful career. What has been disappointing is that his two runs as champions were halted in his second defenses. And it's not like he was losing to Ricardo Lopez or Mark Johnson. Back in 2006, he lost his WBC light flyweight crown to Omar Nino and early in 2010, he was shocked by Carlos Tamara in the 12th and final round to give up his IBF title.

Yeah, he's had the belt but it's also been for just a cup of coffee, not a full three-course meal. Fighting at a consistently high level has been a problem for Viloria. He admits, "Yeah, it's always a disappointment looking back at it. Sometimes you just wanna stay on the horse and not always fall off but it's a learning lesson, I guess, for me. I know how hard it is to stay on that horse and you have to work just as hard to try to get a world title but you have to work harder if you want to stay as a world champion. So knowing that, I want to get this world title but also want to work hard and do my best to try and stay on top of things."

Gittelsohn, who went through hell and high water to secure this opportunity for him, said, "I think there have been fights where he has surprised people both ways. The fight against [Ulises] Solis [in April 2009], I think he fought the very best Solis and I think he performed so brilliantly that he exceeded everyone's expectations. He went into that fight a serious underdog and he was brilliant. And then he followed that up with a performance against Tamara where he just basically ran out of gas after being ahead on all the scorecards. There have been times when I think he went into a fight with a lot on his mind, a lot of personal family problems- all of which have been resolved with a very good and healthy marriage to a terrific girl and I think he's going into this fight, this world championship contest against a very good champion with the right mindset.

"And I know that he's trained hard for this fight. I know that he's in the best shape of his life."

This much is clear, if Viloria wants the long, productive- and most importantly, lucrative- championship reign that has eluded him before, it has to get done now. That will have to begin by overcoming a typically hardnosed fighter from south of the border.

'It's going to be a tough fight," said Viloria, who has notched two victories since his defeat to Tamara. "J.C. Miranda is a really rugged Mexican, stays in the pocket and throws a lot of punches, put a lot of weight behind his punches. I'm just going to go out there; I'm going to have fun. I think I'm a lot faster than he is. I need to box; I need to throw three, four-punch combinations and get out of his way. Try to make him feel uncomfortable in the ring and show him a lot of speed, lot of movement."

Viloria feels this isn't the final chapter but the beginning of what will be another chapter in a book that still has a lot of pages left to be written. He's no longer that wide-eyed, naive, fresh-faced kid from Hawaii but the hardened pro that has been through the ups and downs of this business. Nonetheless, to this day, he still has a passion for the sport.

"Oh, yeah, I do still have the same passion but I see it more as business. The amateurs are more about fun, more about trying to see where you were in the game and the losses, you didn't really care. It didn't really affect you as much as it does when you're a pro. So having said that, I think being a professional taught me a lot about life and how things work. Right now, I still feel passionate about it. I'm still having fun and I just want to keep this going for as long as I can."

REX

I know it's Dan Goossen's- or any promoter's- job to spin a bad/controversial decision that goes in his fighters favor but I have to say that he went above the norm in speaking to my buddy Lem Satterfield at Boxingscene.com (http://www.boxingscene.com/paul-williams-promoter-jabs-roy-jones-answers-coo--41413) Even Bob Arum can't believe some of the things that came out of Goossen's mouth.

OK, a few thoughts...

-Well, geez, if perhaps us guys in the media, the HBO crew or all the fans who watched the fight are all biased or don't know what we're looking at, certainly a 12-year-old- in this case, Dan's son, who is only raised and lodged in his household, fed, clothed and is given his annual xBox and in six years, given his first BMW and college tuition paid for by the man- will certainly give a fair and balanced view of things, right?

- I propose this: next time there is a close and controversial decision that is rendered, we all refer to Goossen's son's scoring. This will end all disputes and he will be the arbiter of what is a just verdict. We'll call it, "pulling out the Rex Card," because he's just watching the fights while Dan has his mouth shut, not distracted by anything else. When Harold Lederman steps down, it's clear who Goossen will want to replace him as HBO's "unofficial official" scorer.

- Also, judges don't sit "shoulder to shoulder" as Goossen stated. They are seated at three opposite sides of the ring away from each other. Just thought I'd clarify that.

LINE MOVE

Reader Erik Fors sent me an email in the aftermath of Lara-Williams, pointing out that the betting line for that fight moved pretty significantly. He stated that the number, "was -320 for a week before fight and went to -390 all in hour before fight. Same exact thing happened years ago Lewis vs Holyfield. Line went from -120 to -185 on Holyfield in the hour before fight. Line moves like the messes we have seen college hoops. Steve. I have read your work for years on Max Boxing. You are a hard worker and are a credit to your profession."

I asked my friend, J.P., who keeps track of odds and such (for entertainment purposes only, of course) and he replied, "It's 100% true. I watched the line move myself, and have seen several big gamblers comment on it this week. Line didn't move all week, then spiked to almost 4:1 minutes before the bout. There are two theories on this:
1. After Cintron lost (another big favorite), the big money tried to chase their losses and piled quickly on PWill. But this just doesn't seem right. It would take A LOT of money to move the line that quickly before Williams and Lara entered the ring.
2. Something fishy was going on from the start. Somebody knew something."


Interesting, that's all I'll say.

JERSEY SHORE

Then I received this email from a disgruntled fan from the "Garden State," Robert Young:
Once again we had to watch a bad decision, once again in New Jersey and once again Hilton Whitaker was one of the judges. The New Jersey Boxing Commission has became a joke. Commissioner Aaron Davis (not the former fighter), hasn't realized that he is not longer running boxing in Kansas. You can see him, show after show, seating at ringside, doing ABSOLUTELY nothing
The clubs shows that he approves are pathetic and the officiating is getting worst. This past weekend Erislandy Lara was robbed against Paul Williams. All the officials were appointed by Mr.Davis. Al Bennett (114-114), Don Givens (115-114) for Williams, never worked a major fight before and Hilton Whitaker (116-114) This is the same Hilton Whitaker that scored for Zab Judah against Lucas Matthysse, another Jersey robbery,
Aaron Davis a political appointee, and a former basketball player with no boxing experience before 2005, is destroying boxing in New Jersey.


To make your feelings known to the New Jersey State Athletic Control Board, you can email them at: www.nj.gov/oag/sacb/feedback.html.

JUDGE DREAD

Keeping up with this theme, I had been meaning to put this email in for awhile. It comes from D. Flynn, who points out that there seems to be a particular judge who is a hired gun for "house" fighters:

"Hey guys, I wanted to let you know about something fishy I noticed. In Devon Alexander's last two hometown fights Don King hired a 75 year old judge named Denny Nelson who of course scored both fights for King's guy.
He provided the swing vote against Lucas Matthysse and also had Devon winning eight rounds against Andriy Kotelnyk in a fight that looked more like a draw- though to be fair the other two judges saw it the same way.
I did some research and found this article claiming Nelson was not even licensed during the Kotelnyk fight.
And this weekend Nelson travelled to Argentina where he provided the swing vote for hometown fighter Jonathon Barros against Celestino Caballero. Nelson had Barros winning by five points even though he was knocked down twice. The Argentine broadcasters and Dan Rafael scored it for Caballero by a wide margin."


Again, this points out that just because judges may be neutral in terms of geography, they may not necessarily be neutral in their intentions. To be fair, however, I just watched the Jonathan Barros-Celestino Caballero fight. I'm not sure if it was really an awful decision; I do think, however, it was an awful fight for the most part.

TWITTER

One of life's small joys is playing around on Twitter, whether dropping boxing tidbits, opinions on anything that comes to mind and sometimes just blocking people (what I call "Mutombo-ing"). I can't lie; I really enjoy Twitter. On Monday night, I re-tweeted something from Jean Pascal- the real McCoy- @jeanpascalchamp- who said if he reached 10,000 followers, he would up his donation to a local charity.

To which @weakdubman replied to him: "I still won't follow you cuz your Canadian #sorry"

See, he went all "South Park" on him. That was so rude but being the champ he is, @jeanpascalchamp responded: "it's ok my friend...I still like you"

At which point, this deft and gracious bit of counterpunching had "Mr. Fine" backing up and stating that he looked forward to being in Montreal to seeing Pascal's next fight. Oh, so now you want to kiss Pascal's Everlasts? My good friends in Canada, please tell @weakdubman he is no longer welcomed in your fine country.

TICKET INFO

For any of you that want to attend Viloria's fight at the Blaisdell Center, tickets are priced at $225, $175, $135, $85 and $55. They can be purchased by calling 800-745-3000 and any Ticketmaster outlets, including Walmart and Windward Mall Sports Gear.

ALL-STAR FLURRIES

@JTangTRBoxing, Jason "Rocky Top" Tang, says that Juan Manuel Marquez's bout this weekend in Mexico will be streamed on TopRank.com...For all the outrage of what Paul Williams received this weekend ($1.5 million) from HBO, the outrage at him and his adviser Al Haymon is misguided. Again, part of their gig is to get the best deal possible. The blame here lies on those who enable this. Just remember this as you are forced to fork out $50-plus for Bernard Hopkins-Chad Dawson on pay-per-view...It's ironic that on the same day the ticket release went out for Kelly Pavlik's August 6th return to Youngstown, there are reports in the local paper, the "Vindy," that he got into a fight with his brother and was drinking alcohol. Pavlik is denying it but you get the sense these things will always be an issue with "The Ghost" from here on out...Rico Ramos' turn as the WBA 122-pound champion might be very short-lived as he is now obligated to face Guillermo Rigondeaux in his next bout by December 9th...So Floyd Mayweather was burning $100 bills in Atlanta? Maybe he was just doing his impersonation of General Sherman...I had an "Asian Driver Moment" on Saturday night after the fights in Carson. We all escaped harm but it's a good thing I could brake like Fred Flintstone; let's put it that way...Al Golden is not playing any games as it comes to recruiting at the University of Miami but I have to say, the recent commit of James Burgess Jr. had me feeling, well, not-so-young. I remember his father being a highly touted recruit in the class of 1993 that featured Jammi German, who was the top ranked player in the country at the time...
I can be reached at k9kim@yahoo.com and I tweet at www.twitter.com/stevemaxboxing. We also have a Facebook fan page at www.facebook.com/MaxBoxing.