Things Have Changed. No, Seriously…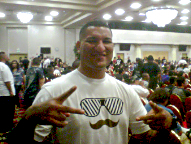 Chris Arreola


This

past Friday night,

a rather slim Chris Arreola was at the fights at the Commerce Casino. In the past, when you saw him at a card, he always seemed to have a Corona in his hand. On this night, however, Arreola, who faces Friday Ahunanya

on Saturday night

in

Atlantic City, New Jersey

, sipped water the whole night. He was there to see a fighter who works with his trainer, Henry Ramirez. Plans were set to talk to the duo on Monday (the Fourth of July) and talk about the fighter's newfound commitment and professionalism.
As I called Ramirez that afternoon, he told me that Arreola informed him that he would be skipping that day's work at the gym. What do they say about the more that things change, the more they stay the same? However, Ramirez insists this is a new and improved Arreola.
"Overall, he's been much more accountable, showing up every day, doing and living the part of a fighter, an elite fighter," he told Maxboxing, that day's no-show notwithstanding. "I truly, truly believe that. Leading up until May 14th at Home Depot Center [prior to Arreola's fight against Nagy Aguilera], he told me, 'Y' know what? I'm tired of the weight; I'm tired of people talking about it.' Before, it never used to get to him; now, I finally think it started getting to him and then I think hitting 30 this year, the maturity factor, maybe knowing he squandered some opportunities. Overall, it's been a far, far improvement."

Ramirez understands that working with the mercurial Mexican heavyweight will always come with certain issues. He is who he is. That simply will not change but this is as good as it's ever been. Perhaps, much of it has to do with a shrinking bottom line. After all, nothing can get a boxer's attention like running out of money. "Uh, maybe," said Ramirez, laughing, "maybe not making seven-figure and high six-figure paydays, maybe the old bank account took a hit. I'm not sure what the situation is but maybe that also had to do with some of his motivation."
Arreola will always be a promotable entity. Putting aside that he is a boxing oddity- the Mexican who competes at the heavyweight class- he's also a fan-friendly fighter with a colorful personality. But was he given too much too soon? Was he really ready to face WBC heavyweight titlist Vitali Klitschko back in September of 2009?

"Y' know, looking back, to be honest, Chris would've been Chris, no matter what," Ramirez said, bluntly. "There were points in time where I felt, 'Hey, we're really on to something here. I think he's finally getting it,' and then other times, I'd sit at home scratching my head and saying, 'What the f**k is this guy thinking?' I think, no matter what the outcome was, looking back, it's easy to say, 'Hey, we should've done this; we should've waited for Vitali'- but at the rate Chris was going, after the Jameel McCline fight, he blew up to 295. Who's to say he wouldn't have overlooked the next guy had it not been Vitali? And we would've never got the opportunity anyway.

"I think taking the Vitali Klitschko fight when we did, mind you, we had to take it on short notice because David Haye pulled out. We were supposed to fight Oleg Maskaev a week later on October 3rd of '09 at the Home Depot Center. Looking back, the way things played out, in this business when opportunities present themselves, you go for it and to be honest, we were in a no-lose situation anyways. It put Chris' name out there to a bigger audience and yeah, the fight was one-sided and we lost but hey, isn't that the status quo with all the Klitschko fights these days? The loss that really hurt Chris was the Tomasz Adamek fight. That's the loss that really set him back."
The loss to the Polish star in April of 2010 relegated him to being back on ESPN2-level shows and by the summer of 2010, he was plodding his way to a 12-round verdict against Manuel Quezada at 256 pounds in front of a rather sparse crowd at the Citizens Business Bank Arena in Ontario, California. It seemed that the public had had enough of Arreola and his slovenly ways.
The 2011 plan was to keep Arreola as active as possible, TV slots be damned. Idle time is a fighter's worst enemy and it was no coincidence to Ramirez that his fighter's weight ballooned as they waited around for fights. Arreola isn't Bernard Hopkins as it related to staying in the gym in between assignments. Heading into the second weekend of July, Arreola will have fought four times this year. By today's standards, that is extremely active for an established prizefighter. And this fight versus Ahunanya (which takes place on the card featuring the return of Paul Williams against Erislandy Lara on HBO) is untelevised, as was his fight against Aguilera, who he stopped in three rounds in Carson, California.
The money he earns for these bouts is just a fraction of what he earned not too long ago but Team Arreola had full cooperation from its fighter. "He was all for it; he was like, 'Y' know what? I just want to fight; I want to stay active. I don't care what the money is; I just want to stay active.' And it was funny; after the May 14th fight, I found out about May 27th, maybe a minute after the fight," Ramirez recalled. "Dan Goossen pulled me to the corner in the ring, him and I real quick, and he said, 'Josesito [Lopez] pulled out, we still have the slot available [on "Friday Night Fights"]. How do you feel about putting Chris back in?' So Dan and I agreed to put him right back after the fight, in the ring, the May 14th fight."
After that fight on that Saturday night, Ramirez broke the news to his fighter.

"As soon as we hit the dressing room, I said, 'Hey, how do you feel?' 'I feel great.' I said, 'Great, you're fighting in 13 days, so don't do anything you're not supposed to.' And he looked at me, 'You're serious?' I said, 'I'm dead serious; I'll see you Monday at the gym.'"
After taking Sunday off, Arreola dutifully showed up the next day. Throughout this process, his weight has come down. After coming in at 249¾ pounds against Joey Abell in January, he has now settled into the mid-230s and the loss of poundage is noticeable. Ramirez is comfortable with Arreola being in the range of 235 and 240 pounds.

"Absolutely, anywhere between that, '35 and '40, makes no difference to me. Some people prefer him closer to '35; other people in our camp prefer him at '40, '42. Me, wherever he feels comfortable in-between that number, I think is going to be best for him, his optimal fighting weight. And I think it showed in his last two fights, granted it was Kendrick Releford and Aguilera but you've seen better waist movement, a little more fluidity, back to the combinations, lighter on his feet and it's good. It's great he's getting work in at this weight."
In chatting a bit with Arreola last week, you could sense he was a happy guy, content with his new course. And despite taking Monday off, Ramirez is satisfied with the way things are going, "You saw him at the fights

on Friday night

; he looked in good shape. He certainly looked like a guy who was fighting in a week."

As Ramirez noted, they haven't exactly been facing a murderer's row; in fact, it's been a cavalcade of mediocrity but the plan all along was to replace quality for quantity, as Arreola regained focus in his career. If everything goes well this weekend, look for Arreola to get back to the big leagues in his next outing.

"100 percent and it's just that we had to get him to understand that, 'Look, you're not going to get back with the elite level fighters without getting in shape first,'" said the trainer. "It's showing the people at HBO and whoever else, observers, fans and more importantly, himself and us, that he needs to be in optimum fighting shape, no matter who the opponent is. And I think he's starting to show that, where I think he's starting to get a little more buzz about him again, people are starting to talk about him in a positive light. Granted, everything I still read is guarded optimism which, hey, I completely understand. It is Chris Arreola."

So what was Arreola up to on the Fourth?

"Knowing Chris, he's probably barbequing at the house."

EARLY WEEK FLURRIES

Based on his how the fight went, you could make an argument this is the third time David Haye turned down a fight with a Kltischko. "@jdestefano5" on Twitter responded to this by stating: "That's TOE-tally true."...Yes, the talented Jorge Linares has arrived at the Wild Card Boxing Club to begin working with Freddie Roach.

On Tuesday afternoon,

he was met by Rudy Hernandez and Teiken CEO Akihiko Honda at the gym. So yeah, the eagle has landed...Cruiserweight Ola Afolabi, who might have scored the "KO of the Year" versus Terry Dunstan this past weekend in

Germany

, will fight on the

September 10

undercard of Vitali Klitschko and Tomasz Adamek in Poland...A bout between WBC 122-pound titlist Toshiaki Nishioka and Rafael Marquez is very close to becoming a reality on October 1st in

Las Vegas

, I'm told...For Ray-ven Lewis to be ranked number three in the NFL Network's top 100 players (which was voted on by his peers) at this stage of his career is a testament to his greatness. He was drafted in 1996 out of

Miami

and is

e was dment to his greatness. D

still a linebacking stalwart...Seriously, do you think that the Casey Anthony verdict was the worst decision since Whitaker-Chavez in

San Antonio

in 1993? The real question is, which clubs will she hit when she hits the streets?...I can be reached at k9kim@yahoo.com and I tweet at www.twitter.com/stevemaxboxing. We also have a Facebook fan page at www.facebook.com/MaxBoxing.