They May Not Play in Peoria but They'll Play in Poland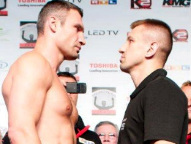 (Photo © KMG/ Dmitriy Abramov)


When Vitali Klitschko defends his WBC heavyweight title this afternoon from the brand new Stadion Miejski in Wroclaw, Poland, an estimated crowd of around 45,000 will be in attendance. In addition, television ratings and viewing throughout Europe will be robust. While the Klitschkos may be looked upon as rather boring, safety-first performers whose outings are devoid of any sustained action or drama in the United States, in this part of the world, they are iconic.
In two fights in 2011, both Vitali and Wladimir (who decisioned David Haye a couple of months ago in front of a crowd of over 45,000 at the Imtech-Arena) will have fought in front of crowds totaling right around 90,000.

"The Klitschko brothers have really become rock stars in Europe. Their television ratings on RTL-TV, our television partner- it's network television- it really gives them great exposure, just like the fights used to be over here in the States when they were broadcast on ABC or CBS, back when Sugar Ray Leonard was fighting or [Muhammad] Ali," said Tom Loeffler, managing director of K2 Promotions. "That's really where I think the biggest key is in them becoming so popular because it's on network television and their fights are also broadcast worldwide in so many different countries. The Haye fight was in over a 150 countries; the unification fight with Wladimir got over 16 million viewers in Germany, which was the highest rating they ever got for a Klitschko fight. It was a phenomenal rating; it's higher than the German soccer team."
To put it into perspective, the ratings for that fight is greater than what the Super Bowl does here in the States (http://www.rtlgroup.com/www/htm/home_news.aspx?ID=762C4460F67E40BFA3A1D736AB387242). Loeffler says, "The market share is huge, especially over there in Germany. It's really an event over there where people stop or plan their vacations; they plan their trips around the brothers' fights. They'll come to the event and go to one of the big soccer stadiums or they'll make sure they're in front of a television set at 11 o'clock at night to watch the fight."
"So the first key is network television, then the second key is that both brothers are so marketable and so personable. That creates its own buzz around their career," added Loeffler.
While soccer is king in Europe, unlike America, this country's boxing business does not have the NFL, NBA, NHL or Major League Baseball to compete with. That said, they also have boxing featured on terrestrial television outlets. Loeffler points out that in addition to RTL, Sauerland Events has a deal with ARD and at one time, Universum had an agreement with ZDF. These are the three major over-the-air networks in Germany.
HBO and Showtime can only provide a limited amount of exposure to any boxer. For boxing to become more than just a niche sport in United States, it needs bigger platforms.
"I think it's important. Showtime does a good job. HBO does a good job in terms of showing boxing but I think it's on a much bigger platform when it goes on to network television," stated Loeffler. "Whether it is a Fox deal, which is great exposure for the UFC, something like that would definitely be helpful for the sport of boxing."
Another contrast to the American market is that major championship fights in this part of the world are more often than not held in large venues with sizable audiences. No need for the Chumash Casino or Beau Rivage over here. "We're predicting about 45,000," Loeffler said of the expected attendance on Saturday in Poland. "It's a great arena. It's brand new. They built for the Euro Cup, which is going to be held next year and this will the first sporting event, really the first big event in the stadium and it's for Poland- I mean, the Klitschkos have had big events in Germany- off the Richter scale in terms of bringing a heavyweight championship fight and having Tomasz Adamek, who's very popular in Poland fighting for the title. This has really become a huge event. The whole city- really the whole country- is behind it and anticipating the event.
"We're looking at doing closed circuit in theaters. It's going to be on pay-per-view in Poland and in over a 100 countries worldwide."
You'll never hear that boxing is dead in these jurisdictions, only in the land of TV packagers and inept network executives. 2011 has marked a return of the Klitschko brothers, who had not appeared on HBO for a spell, to the network. Neither has fought in the United States for a couple of years (Vitali faced Chris Arreola in Los Angeles in 2009 and Wladimir took on Sultan Ibragimov in 2008) The question is, do they even need to come back- and do they need to? (Of course, others would argue if they're even wanted over here. For all their dominance of the heavyweight division, they are looked upon by many as dull inside the ring. And not helping matters is that there is no real legitimate threat from the ol' US of A. Where have you gone Earnie Shavers, Ron Lyle and Jerry Quarry?)
"They would both like to fight in the States. Vitali still has a house in Los Angeles. Wladimir has a place out in Florida," Loeffler points out. "Wladimir loves New York. He's fought at the Garden a number of times. Vitali fought at Staples Center three times. So they both like fighting over here. The problem is the economics. It would be like Manny Pacquiao, 'Like, Manny, why don't you fight in Canada or some other country?' But if you couldn't be on US pay-per-view or the time zone is different, it wouldn't make sense for [Pacquiao] financially. It's the same thing with the brothers. Now it's become so skewed because RTL, as our television partner in Germany, has a very lucrative contract because of the ratings and if you sell out these soccer stadiums and the ticket prices are in Euros, it really becomes a lucrative event. Where over here in the States, we don't see the same support financially from HBO that they used to give the heavyweight division when Lennox Lewis was fighting or some of these other champions.
"If they really got behind the Klitschkos and really marketed them well, I think they would be as well-known and as well recognized over here as they are in Germany because they both speak English; both are very intelligent and they're both marketable guys."
I've thought long and hard about this- but have bet none of my own money- and I am going ahead with the "upset special" and tabbing Tommy Adamek to take this title from Klitschko. Yes, I realize he's facing every physical disadvantage but I think a few intangibles play into his favor here this weekend. First, he has home canvas advantage and I think he'll be spurred on by the emotion of his countrymen. No, this alone won't win a fight but it can carry him early on. Also, I think fans are overlooking the fact that Klitschko is 40 years old with a history of injuries. There has to be some physical erosion. If there was ever a time to topple Vitali, this just might be it.
While I think Adamek may not have the pure physical attributes, I think he has the character and professionalism to get this done. Simply put, unlike a David Haye, who was all bluster and whose real goal seemingly was to just get the biggest payday through years of tastelessly goading the brothers, Adamek will actually come to compete and win. Yeah, that sounds so simplistic but I think a lot of Klitschko foes are defeated before they even come into the ring. Adamek is among the most accomplished fighters in the sport; if you carefully comb his résumé, you'll notice a certain steadiness. I don't think the moment will overwhelm him. Strategically, he'll have to move fairly consistently and utilize his superior footwork to create angles and opportunities in order to get inside the jab and work inside on Klitschko.
I'm not sure Adamek can do what Michael Spinks did to Larry Holmes in their first encounter in 1985 but I've always felt that was the blueprint that should be followed (hitting on the fly, never working in a straight line for too long and using advantages in quickness in specific spots to open up offensively).
Now, if Adamek gets blown outta there, this passage will be quickly erased and it will be like it never existed but if I'm correct, expect me to pat myself on the back incessantly. And trust me, I'll be insufferable.
Programming reminder: HBO will air the Klitschko-Adamek fight live at 4:45 PM ET, then later on at 10:30 PM ET, paired with the Yuriorkis Gamboa-Daniel Ponce de Leon fight from Atlantic City...Also, ESPN3 will be streaming the 12-round WBA junior welterweight elimination bout between Breidis Prescott and Paul McCloskey at 3:45 ET...Justin Blackmon of Okie State is like Baby "T.O."...Seriously, is the Packers' Aaron Rodgers the best player in the league?...Is it safe to say that the game between Duke and Stanford will have the highest combined GPAs and SATs scores on the field at the same time of any game this season?...I can be reached at k9kim@yahoo.com and I tweet at www.twitter.com/stevemaxboxing. We also have a Facebook fan page at www.facebook.com/MaxBoxing.