The Trainers: "You get into it for the love of the game."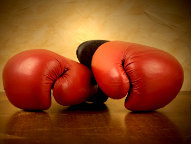 --


So much in the sport of boxing is focused on the fighters. Fans clamor for fantasy match-ups and pound-for-pound battles, poring over the great old clips of Sugar Ray Robinson or modern greats like Bernard Hopkins and marvel at their accomplishments. The promoters themselves have been a prominent focus as well throughout the sport's history from Tex Rickard to Don King's hair. In the age of social media and its endless clamoring for news, the managers have begun to come to the fore. Advisers like Mike Koncz get endless press that never clarifies what exactly it is that they do.
What is lost in the background is the foundation of our sport, the trainers. They are the ones who impart their skill, experience and knowledge of the ins and outs of the game. They are the fathers, mothers, teachers, psychologists, doctors, nutritionists, and sometimes priests to our treasured warriors.
At the same time, they are seemingly the disposable part of the grand equation. Out of the quartet of fighter, manager, promoter and trainer, only the teacher is the one who is not protected by law. On fight night, the other three go to the commission office and pick up their checks. The fighter gets what's left, often times after the managers have taken their 33 1/3 percent. The trainer is left waiting to be paid his standard ten percent by the fighter. Sometimes that takes weeks; sometimes that never happens. Win or lose, the time between the final bell and check-in-hand is nervous one for all trainers who most of the time don't bother with anything but a handshake agreement.




"How it works is the fighter usually seeks out a manager because the manager has a contact with a promoter," veteran trainer Joe Goossen told Maxboxing.com recently. "If the manager has a talent that the promoter likes, then the three will contract with each other, fighter to manager, and then the manager will sign the promoter as well. There's a set amount of time, usually three to five years. Five years is the normal time to contract to each other. It takes time to get to a championship if you start from scratch. If a manager, if you took three years worth into the project, because it takes money to be a manager, you can get a fighter up to 15, 20-0 in three years. Then [the fighter] might decide that they can go shop for a better deal now that they are in a top ten or 20 ranking. So the manager would be at a distinct disadvantage and so would a promoter. So a five-year contract is usually the running time because it allows the manager and promoter time to get you there and hopefully make some money back.
"Now, the fourth person in the equation would be the trainer," continued Goossen. "Now he has his investment that he makes, as does the manager into the fighter. The promoter is usually separate and apart in terms of distance and relationship. It is usually the manager and the fighter that spend a lot of time together but it's usually the trainer that spends the most time with the fighter. You know, six or seven days a week. And trainers wear a lot of different hats because there are a lot of issues that come about when you have a young fighter. There is a lot of mental training, physical training and sometimes spiritual training. You are a father, a doctor, a mentor. You spend a lot of time outside of the gym because you want to build that bond up because ultimately, you are sooner or later going to ask them to put a lot on the line in that ring. It is a dangerous sport and the fighter has to have a lot of trust in his trainer, especially when it starts to get rough. They look to the trainer as really the only other set of eyes that is watching out for them. You've got to build that sort of relationship and that takes a lot of time and effort."
Among the many hats trainers have to wear is that of matchmaker/manager. To hear Goossen tell it, in today's landscape of newcomers to the sport, it's the veteran trainer who can end up making more decisions than he bargained for.
"So what you are doing is you are investing your skills and experience whereas a manager is investing time and money," said Goossen. "He is spending a lot of time on the phone with promoters and managers but then again, the managers of today are not the same as the managers of old. I'm not saying everybody but on the whole, I contend that the managers of yesteryear were a whole lot more part of the game than the managers of today. Today, you have managers that just want to get in the game, make some extra money or want some excitement and they will invest in fighters without really knowing the intricacies of the game like how to deal with matchmakers, promoters, and other things. So a lot of times, if you have an experienced trainer, they're advising managers on how to get things done. Sometimes you are a quasi-manager because there again, the manager could just be the money guy who pays for the rent, food money. It can go from a little to a lot.
"The experienced trainers get to make a lot of decisions," Goossen continued. "You wear a lot of hats and I believe the experienced trainers get highly involved. Freddie Roach makes the decision on who Manny Pacquiao gets to fight. He's not the manager. He's the trainer. So quasi-manager and he is not the only one. I get to do that quite a bit myself, so we are making big investments. If you have been around a long time as a lot of trainers have, you are also sharing your experience with these managers although you are not getting a cut of the (33 1/3 percent) management fee. You share your experience. You lead them in the right direction. You let them know where the pitfalls can be. You tell them because you know the fighters so well what style of fighter is best for him to fight. And so you are very invaluable if you are doing your job right and you've got the experience. You are very much a part of the promotion. A promoter loves it when they have an experienced trainer who understands the minutia of the game and the intricacies of how the moving parts work. You are a value to the fighter, a value to the managers and the promotion. You protect the investment that they make. They need the fighter to win. They put up the money to put the fighter on the card, the opponents, insurance, travel, venues, room and board. They have a big investment."
That investment takes time to mature, however. Your blue-chip prospect probably only makes $1000 a round for four-rounders if he is lucky. He spends the first five to six fights fighting those. That can be a year in the life of a trainer and fighter. Even if a trainer had five of these fighters, that's nothing at all. The real money is in four years down the line if you are lucky.
"Now first of all, there is no money in a four-round fighter. There's no money sometimes until the very end," said Goossen. "It can be a three-to-five year commitment monetarily where the promoter is in the red until your fighter hits the top ten. From there, top five, then ultimately get a title. And usually not even the title fight that can recoup all that money that's been spent all that time. You have to defend it and not only that you have to be a guy people want to see. You have to be appealing to HBO, which pays bigger dividends. So it's a lot of work and a lot of wishful thinking and there are many ways for it to go wrong and very few ways for it to go right."
How often have we seen a fighter fire his trainer after losing or a fighter decide to surround himself with a new team once he gets successful? Too often to mention. Most recently, trainer Justin Fortune lost a fighter because he had a falling out with the guy's manager. Joe Goossen's former fighter, top-ranked lightweight John Molina decided to change camps after Goossen and he survived a loss (though they shared the biggest win of Molina's career together). Oscar De La Hoya changed trainers like they had expiration dates, almost always after a bad performance yet the trainers get nothing for their efforts. No severance package. No compensation for what Goossen refers to as "intellectual property" they have imparted. This is the man who showed you your flaws and gave you a lot of your strengths. They shepherded you through tough rounds and ups and downs. Yet when the purses get bigger or the grass gets greener, a good trainer worth his salt can get ousted with less compensation than a Starbucks barista.
"You could be a promising [fighter] and still not make much more than $7500 for a ten-round fight," said Goossen. "A trainer, their flat fee is ten percent. A manager can get a 33 1/3 percent by law. A promoter can get 33 1/3 percent by law. A trainer, you've tapped out at 10 percent just because it's the way it is."
"So everyone has something to gain and everyone has something to lose. Like I said, there are many pitfalls," continued Goossen. "Physical pitfalls, social pitfalls, they're all over the place but at least this, the fighter, the manager and the promoter all have contracts. So if there is a dispute or some sort of falling out, at least they have a contract and they can take issue with that to the commission or the courts. In California, full jurisdiction falls to the CSAC itself when it comes to adjudicating contract disputes between fighter, manager, promoter and their word is final."
So why aren't trainers protected like the managers and promoters? It's in part due to not taking the full monetary investment. Sure, they get the fighters in gear or drive them to medicals and are probably spending a few hundred at least on incidentals but, generally speaking, they aren't putting on a full show, marketing, etc. They are paying the fighter a monthly stipend like the manager is.
Another reason, and perhaps the main one, is that the freedom to grow and move on is essential for some fighters.
"That agreement has to come between the fighter and the trainer because the manager could be gone tomorrow and that agreement goes out the window," said Abel Sanchez, who trains among others WBA middleweight titleholder Gennady Golovkin at his Big Bear, CA gym, Summit Camp. "If you have that kind of relationship with a fighter, then it works. But the problem comes up that what if the trainer he signed with when he came up is not good enough? Then the kid is now signed up but gets to a point where it is time to move on…then what? He's tied up and can't develop."
One such case is Frankie Gomez, a young junior welterweight contender for Golden Boy Promotions who came to Big Bear three fights ago after finding the transition from the amateurs to the pros difficult. Gomez's trainer simply had taught him all he had to offer and it was time for a pro trainer but still, should Sanchez not work out, who is to say that he is not expendable either?
"So what happens, we can put one, two, three years into it; if you go for three years and you have top ten rankings and championship in your sights," said Goossen, "you can get a guy to 15-0, 20-0 or more and sitting on the precipice of finally getting some returns on your labor, value experience and know-how, and everyone can walk from you. And by that, I mean promoter, manager, or fighter. There is nothing out there from the commission to the promoters or any of the prevailing powers in boxing that has any provision at all that covers the trainers legally that covers his work efforts and dedication to the fighter, manager and promoter. They can all just walk away from that trainer, regardless if you are winning.
"Again, and I think you are getting the picture, is that there is someone being left out of the picture here contractually. It's the trainer," said Goossen. "And normally, and I am not speaking just about me but all trainers, they are the straw that stirs the drink. They're the ones that ultimately walk into the ring on fight night with the fighter. The manager and the promoter sit ringside. Ultimately, there are two people up there trying to win and it is the coach and the player and a lot rests on us winning."
So how does a trainer protect himself? Fighter to fighter and trainer to trainer, it depends. For legendary trainer of 22 world champions Nacho Beristain, being Nacho Beristain helps a lot.
"I never had a contract with my fighters because when I get frustrated with them or angry with them, it leaves me free to tell them to go away," Beristain told me in Mexicali this past weekend. "Ricardo Lopez was the only fighter I retired undefeated. He never lost. He made me so angry one day, I told him to get lost. He came back, chasing me. I said, 'OK, you want to come back, you are going to pay me $100,000 for every fight from now on,' and he did and I charged him before the fight."
For Abel Sanchez, having a contract depends on who he is dealing with.
"I have a coaching contract with some of my fighters," Sanchez told me in Big Bear on Tuesday. "In the end, if they don't want to be there, it's like a bad marriage. We could stay together for the kids but really, who is that doing any good to? I do believe that coaches get raked over. We develop them up to a certain point and they want to go over to somewhere else. There's got to be come kind of compensation after I leave but there's generally isn't. But it's always been that way. But I tell you what; I don't want to work with someone who doesn't want to work with me."
Oft times, Fortune will work through the manager of a fighter and get his contract that way. But really, when it comes down to it, Sanchez got it right. If a fighter wants out, why stop him?
"Depends on who the manager is, really. That's basically it," said Fortune. "If the fighter doesn't want to train with you, then it's hard to enforce it. If he trains with you and he doesn't like you, he won't perform and it's a reflection on the trainer. Trainers are probably in the worst position in boxing. We get f**ked over all the time."
Fortune agreed that another reason this is a common occurrence is that boxing, in and of itself, is a self-serving, greedy business. It's every man for himself out there and if you can make a buck off some other guy's work, so much the better.
"It's the nature of the sport," said Fortune. "It shouldn't be but it is."
"We put in our own time, effort and our own money, by the way. Don't think we don't put our own money into this," said Goossen, "especially if you have your own gym (Goossen owns the Ten Goose in Van Nuys, CA). "You're paying for the gym, lights, water; sometimes you are buying equipment. So you have a monetary investment beyond your talent, contacts and experience. And all that, you get a guy to number two in the world and he still leaves."
"There should be some kind of compensation after," said Sanchez, "but really, what compensation is fair?"
What would the compensation be for? Services rendered? Goossen had an interesting and logical take on just what was leaving the gym besides a fighter.
"What can you demand? Health benefits? A lifelong pension? You're not going to get it," said Goossen. "The only thing was you could still- let's say the system was still in place that nothing of monetary value changed but a protective contract where if you are doing your job and moving your fighter forward, that they cannot just come in and steal your schematic and walk away with it. To me, that is intellectual theft and you can't do that if you work for certain industrial or technological companies. You just can't work there and see how they do things and then take that intellectual property and take it to a rival company and not be somehow liable for theft.
"Hey, go to an amateur trainer," said Goossen. "If you come to me, you are saying I need your skill and experience. I need your template because it seems to be working for a lot of fighters and they steal it."
What can be done? Perhaps a union among trainers could help. Beristain told me though that there were groups such as this in Mexico but they ended up fighting amongst themselves more often than solving problems. Recently, a promoters' association was formed among all the promoters in boxing. To date, I couldn't tell you what they do.
Maybe a group or association isn't the solution but rather commission legislation that protects what Goossen aptly calls "intellectual property." How a fighter stops using what Goossen taught him is the real question. Perhaps the trainer gets monetary compensation that ratchets up depending on length of service. It is certainly an issue I will press various commissions on going forward.
This is not a piece about whiny trainers with violins playing in the background. It is a look at the harsh realities of the men who help make the men we admire come fight night. It should be known that none the trainers, excluding Nacho Beristain, made any mention of any fighter that had left them or screwed them over in some way, either on or off the record. None had an axe to grind or even contacted me to do this story. Any mention of any fighter was done out of research by this writer. Ultimately, each man loves what he does and takes great pride in his work.
"I don't need a strength coach because I'm the strength coach. I don't need a trainer because I'm the trainer. And I sure don't need a nutritionist because I am a chef by trade. I have all the knowledge for nutrition right there. That's what trainers used to be," said Fortune, who runs Fortune Gym in Hollywood, CA. "They used to be everything. Now it's, 'Oh, I need a strength coach and I need a this-coach' and all this other bullsh*t. Jesus, dude. Then the fighter ends up forking over more money to whomever he makes deals with. To me, you're a trainer. You should have knowledge of all those training aspects because otherwise, what the hell are you in the training business for?"
If each man didn't know the pitfalls going into the game, they know them now. Still, it doesn't deter them from the love of the sport.
"You can't describe the feeling of training from someone from young to winning the Golden Gloves, training them as an amateur to training them as a professional and winning a world title," said Beristain who runs the Romanza Gym in Mexico City. "You can't describe the feeling. It's an indescribable emotion. There is no money that can be paid that can take me from my fighters."
"I think that if we just do our jobs as coaches and managers as well, they have to want you to be there," said Sanchez. "And every guy that I have, Gennady Golovkin is coming from Kazakhstan. He could be training with someone in Kazakhstan but he wants to come here to train with me. You have to have something that they want. They have to believe in you. They have to believe that you can get them to that Promised Land. Better shape, better technique, maybe how you wrap hands. I think that for, they've told me a lot of it has to do with how I wrap the hands. That part of it is that I work them like they are on a championship level, no matter who they are. I work as hard as they do and they see that, so that's why they want me here. If I can continue that, then they are going to continue that. If I get complacent, I don't deserve to be here."
"Taking a guy from scratch to a championship can take up to five years. Five years of your life can eat up a lot of time. You do that five times, that's 25 years gone by," explained Goossen. "You don't get into the game because you think 'I'm going to make a lot of money.' You get into it because you love boxing, number one. Then you learn to love fighters, number two, and that's kind of the upshot of it. You get into it for the love of the game."
You can email Gabriel at

maxgmontoya@gmail.com

, follow him on Twitter at

www.twitter.com/gabriel_montoya

and catch him on each Monday's episode of "The Next Round" with Steve Kim. You can also tune in to hear him and co-host David Duenez live on the BlogTalk radio show

Leave-It-In-The-Ring.com

, Thursdays at 5-8 PM PST. Gabriel is a full member of the Boxing Writers Association of America.