The ShoBox TV Cheat Sheet- Sept. 9, 2011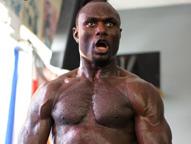 (Photo © Miguel Salazar)


For my money, "ShoBox" is the most undervalued television franchise in boxing. "ShoBox's" track record of pairing talented young prospects against each other is unequalled; the series fills a niche because ESPN2, Telefutura, and FOX Sports fail to consistently demand competitive matchups for aspiring fighters on their airwaves. "ShoBox" has been key in the maturation process of champions like Andre Ward, Robert Guerrero, and Tim Bradley to name three graduates who have recently been in the headlines. It is great to see the series is ramping up for an autumn run with five shows between now and Halloween. Tonight is proof that boxers who are exciting need not have an undefeated record to headline an event and "ShoBox" decision makers have invited back fighters who have lost in thrilling fashion. Yet another reason to support "ShoBox."

At the Grand Casino, Hinckley, MN
(Showtime) Hector Sanchez (19-1) vs. Vincent Arroyo (11-1)
(Showtime) Lateef Kayode (17-0) vs. Felix Cora (22-5-2)

Felix Cora – Texan was considered a solid prospect in the early 2000s but plateaued at gatekeeper level after three losses to B-level opposition between 2006 and 2009. Probably best known for participating in the fourth season of "The Contender," gaining fans with an unpretentious personality and knock-out-or-be-knocked-out fights. As an amateur, Cora won several state and regional titles, ending with a 70-10 record, but never came through at national tourneys. Did do well in the 2000 Olympic trials (becoming an alternate), losing a controversial decision to Army representative Olanda Anderson. A durable boxer with good skills, Cora is now an 11-year pro with 164 rounds to his credit. When coming up, sparred with champions like Evander Holyfield and Reggie Johnson but never adopted the relentlessness of that duo. Cora has gone 12 rounds in his last two outings against legit contenders, losing to unbeaten local favorite Pawel Kolodziej in Poland and German Enad Licina. Best wins
came over equally disappointing prospect Michael Simms and a faded Arthur Williams. Cora remains a risky foe and a smart southpaw, always trained by his father (who was a National Golden Gloves champ), and is still physically strong in the trenches. Is beatable because Cora does not assert himself for long stretches, delivering intermittent volleys of punches before retreating into a shell of inactivity. A slow starter as well, shown by his only getting stopped early in fights, Cora finds himself needing to win judges' favor again with extra work in the middle rounds. When Cora gets going, he is fun to watch, pressuring and using angles to land clean shots despite lacking world-class power. Could be an old 31, having been through a lot of tough fights and working in a boxing gym since age 12. Cora has the right attitude about boxing, "I think nothing negative and I go in the ring smiling. I think nothing but positive thoughts because if you get in the ring with any doubts, you've lost." If only Cora's actions matched his thoughts.
Lateef Kayode – California-based Nigerian has an impressive kayo ratio (82%) with 14 kayos in 17 bouts and was on a 14-bout stoppage streak before his last two opponents lasted the ten-round distance. As an aside, Kayode's last name is simply made for boxing and he is making his seventh "ShoBox" appearance. Nickname of "Power" does nothing to conceal Kayode's most potent weapon and highlights why he has a solid following. You only need to know one thing about his potential; Kayode is trained by Hall of Fame-bound Freddie Roach and has been given positive reviews by veterans at the Wild Card Gym. Rounded out a solid international amateur career by placing second at the All-Africa tourney, losing to Tunisian 2008 Olympian Mourad Sahraoui. At 28, is a mature prospect and physically able to make the choice to be a small heavyweight or big cruiserweight. I rate him along the lines of a Jean-Marc Mormeck in that sense. Kayode has never scaled above 210 pounds and since 2010, has scaled a rock-solid 199 pounds. Despite kayo ratio, I don't consider Kayode a one-punch knockout artist; instead, he puts great leverage into punches and snaps the punch just before impact. Sleek and elongated build is not as perfectly sculpted as some cruisers (Steve Cunningham, for instance), with his chest and arms able to hold ten to 15 more pounds of muscle comfortably. I would say Kayode actually looks larger than he is. On defense, holds a high guard when pulling out of engagements but needs to move his head more instead of only bobbing at the waist. Pops a solid jab and dealt well with a speedy Matt Godfrey's punches but looked one-dimensional and lacking options in a pedestrian win over Alfredo Escalera Jr. Has a penchant of moving his hands needlessly before punching, might just be a tick, thus taking away some accuracy. Right hand is Kayode's payoff punch and a looping left has straightened under Roach's tutelage. Added another weapon to the arsenal, stopping Ed Perry with a body punch. Despite looking like a killer S.O.B., has a great work ethic and behaves in a courteous manner to all outside of the ring. Kayode has gone ten rounds now, so stamina not an issue. Ranked in the top five by all four major boxing organizations and if bulked up properly, Kayode could develop into the best young American-based heavyweight along with Seth Mitchell.
Verdict – Energy and motivation, Kayode has these in abundance over a Cora who is on a downward trajectory. Kayode is on the upswing while Cora has plateaued at a beatable level. If Cora gets off to a slow start, he could be gone before the third round ends but I expect a better Cora since this is his first televised bout (in America) in a while and he is a proud fighter. It could get interesting if Kayode struggles against Cora's southpaw style- which Kayode has not seen at a high level- but because Cora has slowed and prefers to work on the inside, I don't see it playing a major factor. The southpaw factor alone is enough for Cora to get by Kayode anyhow (or Freddie Roach's game plan) but Cora will steal some of the middle rounds and lose seven rounds to three.
Vincent Arroyo – Aggression and power-punching is what Arroyo has been groomed for since his first day in the ring, as nickname of "Vinsanity" denotes, forgoing the niceties of set-up punches for whistling left hooks. Arroyo was raised in a boxing household (his father was a Golden Gloves champion) and was a good amateur, beating Danny Jacobs twice and winning two National Junior tourneys. Preferring power and pressure, Arroyo did not fit the pinpoint jab-and-counter style now preferred in the amateurs and turned pro as soon as he could at age 18. Has matured into a 24-year-old banger with a muscular upper body and tons of torque generated by a wide center of balance and compact punches. Arroyo enters the fight having beaten two undefeated prospects, to include hyped 6'3" Willie Nelson on "ShoBox" five months ago. Dropped Nelson three times but could not finish the seasoned amateur and before that, won an exciting affair against two-time National amateur champion Jeremy Bryan. In the Bryan victory, Arroyo charged back and needed a stoppage to win. Arroyo displayed great determination, scoring a final round stoppage after previously wearing on Bryan with consistent bodywork. Despite solid kayo ratio, stopping seven of 11 victims, Arroyo needs to improve on finishing skills and not allow hurt opponents to tie him up or smother his own punches. Only loss was a respectable setback to talented Mike Dallas, where Arroyo nearly scored another final-round stoppage. A major flaw Arroyo needs to overcome is penchant for starting slow- more to the point, inaccurate starts- where his hooks fly over the target. Arroyo lacks the patience to place punches early instead of trying to bury them. Actually looks to be an underrated counterpuncher, Arroyo is willing to stay in the pocket to take a punch in order to get off a punch of his own. Has a great work ethic, shown by never wavering in weight, staying between 141 and 144 pounds over six years but Arroyo needs to improve on defense
if he expects to move past the "ShoBox" level. Fights out of Buffalo with Rick Glaser as manager, who is obviously not afraid to match his kid tough, taking on a fourth blue-chip prospect in a row.
Hector Sanchez – Lanky Puerto Rican stylist understands he needs to make the most of "ShoBox" airtime after inexplicably losing to underrated journeyman Cleotis Pendarvis. A physically striking prospect, standing 6'1" with long arms and barbwire frame, Sanchez reminds of Maurice Blocker in his body type and boxing style. A talented amateur, Sanchez compiled a 72-10 record, winning two national championships on talent-packed island. Did well at the international level too, a Junior Olympics bronze medalist, and won silver at the International Cup. Started to box at age 14, motivated by watching a prime Felix Trinidad and signed with Golden Boy Promotions out of the amateurs. Is now with Team Puerto Rico and Gary Shaw but has not been active entering this fight off a one-year layoff. In fact, has only fought three times since 2008. At 25, Sanchez is in his prime and needs to crack the rankings as it looked like he was going to do when Sanchez defeated DeMarcus "Chop Chop" Corley in 2009. A solid puncher but Sanchez's blows sting more than they hurt as nine stoppages in 19 wins demonstrates. Started 18-0 but was upset by southpaw Pendarvis in a fight Sanchez was winning handily (scoring two knockdowns) before running into a punch he could not recover from. The fight ended in a debatable stoppage with Sanchez on his feet and protesting. However, Sanchez was dropped by Corley, as well, and some thought Corley did enough to win. Despite height and lithe look, is a volume puncher and Sanchez would be better off using his jab more and being more selective instead of reaching for everything with big right hands. Has crisp punch that causes cuts and has shown good stamina. Chin remains a question mark but Sanchez should be commended for getting up and fighting with conviction after knockdowns. Goes well to body for a tall boxer but places rather than powering into body shots. Gets too comfortable in the middle rounds, falling into defensive lapses after good, early starts. Sanchez says of his boxing, "My style is basically to throw punches in bunches, have good defense and connect with punches. What I do is overwhelm my opponents with my high volume of activity."
Verdict – A real tough fight to call since Arroyo is a weaker boxer but better banger, while Sanchez is a better boxer with a weaker chin. Whose strength wins out? I am going with the streaking Arroyo since Sanchez enters the fight off a 13-month layoff and has been hurt more often than Arroyo has been outboxed. Sanchez also has the wrong style for Arroyo, throwing too many punches for his own good, leaving openings for a hard puncher like Arroyo to exploit. Look for Sanchez to get caught and dropped by the fourth or fifth round. Sanchez survives the first knockdown but a second knockdown in the next round drops him hard. Sanchez is rescued by the referee when Arroyo follows up with hooks he puts his full weight into.
Prediction record for 2011: 87% (111-17)
Prediction record for 2010: 85% (218-40)