The Big PPV TV Cheat Sheet- Sept. 17, 2011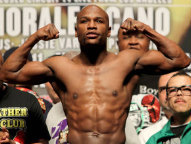 (Photo © TomHogan - Hoganphotos, Golden Boy Promotions)


When it comes to creating butterflies in the stomach, nothing surpasses a big fight night. Tonight's pay-per-view could spawn its fair share and is unique for offering a split telecast (from Los Angeles and Las Vegas) to add depth to the event. Having said that, I doubt the benefit of Saul "Canelo" Alvarez justifies a $70 price tag for the high-definition telecast, especially for a card in which the three attractions are at least 7-1 favorites. The only reason Alvarez was added to the card is to expose a potential star like him to a wider audience and perhaps get Hispanic fans accustomed to paying for Alvarez appearances. Diehard Erik Morales devotees might tune in to watch the WBC gift him a bogus title, which frankly discourages me (as a historically conscious observer) from watching. At 70 bucks, the boxer with the "Money" nickname might be the only person with surplus cash to afford a PPV telecast in these tough economic times.
At Staples Center, Los Angeles, CA
(PPV) Saul Alvarez (37-0-1) vs. Alfonso Gomez (23-4-2)
(The Ring magazine #3 junior middleweight vs. unranked)

Alfonso Gomez –
Became a recognizable name due to his success on "The Contender" but achieved legitimacy rebounding from a beatdown at the hands of Miguel Cotto to register five consecutive wins. Gomez started boxing age ten, had an 80-10 amateur record, winning a Mexican title but did not qualify for the Olympics. In best win, surprised some by repelling the aggressive onslaught of Jesus Soto-Karass and picked apart Soto-Karass with fluid counters and well-timed hooks when moving forward. Showed a lot of heart in Cotto loss and has worked hard to correct the flaws exposed by Cotto. Remains trained by his father, who has coached Gomez since the amateurs. Was cut against Soto-Karass, which caused the fight's stoppage, and has had problems with cuts in other fights. Showed a quick and consistent jab beating Jose Luis Castillo but has only had one keep-busy win since the Castillo fight in early 2010. Will Gomez continue to utilize a previously underused jab, which he popped out at a solid pace against volume-punching Soto-Karass, as well? Gomez has shown in wins against the faded Arturo Gatti, Ben Tackie, Soto-Karass and Castillo that he has the brains to overcome an opponent who lacks the speed to produce offensive variety. Did well counterpunching Gatti and Tackie and his blows do more damage than a 41% kayo ratio indicates. Has ring smarts (did not retaliate despite Soto-Karass' multiple fouls) and aggression to overcome a lack of world-class hand speed but Gomez needs to be careful not to start combinations from a distance. When successful, it is largely because of Gomez's feet, which are good and place him in a position to lead or counter. Gomez admits to being a brawler at heart. "I put pressure on, come forward, throw a lot of punches." It is good to see Gomez's hard work rewarded but at age 30, many think Gomez has seen his best days…like the TV show that made him famous.
Saul Alvarez –
The newest Mexican sensation has fiery red hair and a face full of freckles; basically, Alvarez looks like "Opie" of "The Andy Griffith Show" with muscles and a mean streak. Is still only 21-years-old but boxes with the calm and certitude of a battle-hardened veteran. The youngest of six brothers, Alvarez comes from a boxing family and only participated in 20 amateur fights (but won a junior national title) before turning pro at age 15. That is when Alvarez suffered his only blemish (a draw) and his level of opposition is far above average, considering Alvarez's youth. Enjoys a fanatic fan base in Mexico, where his fights reportedly draw nearly the same ratings as the national soccer team, which is unheard of. Has delivered on the big stage, knocking out Carlos Baldomir and proving he has no stamina issues, winning a vacant world title belt against Matthew Hatton and defending it against Ryan Rhodes over 12 rounds. Golden Boy promotes Alvarez in America and he keeps busy fighting in Mexico to improve further. Graduated to HBO and now PPV bouts and it looks like Alvarez can deliver on his hype. Alvarez has a well-defined body, standing 5'9" with 71-inch reach, but more importantly, sports natural punching power. Timing and balance accentuate punches but placement is what separates Alvarez. It is a style reminiscent of Hall-of-Famer Julio Cesar Chavez Sr.; of course, Alvarez has a long way to go to merit comparisons to that Mexican legend. Alvarez throws punches for effect, not to look smooth or flashy. A methodical stalker, the redhead does not care if his punches are part of an overall scheme or if they look pretty. Takes small but measured steps forward, delivering quick blows at very straight angles that split guards like a machete. There are holes in defense; Alvarez leaves his head high while overusing his right hand in finishing flurries and his chin was dinged by an ordinary Jose Cotto. Alvarez battles expectations as one of the most popular athletes in Mexico but seems unfazed by the responsibility. Saying of the pressure, "I accept it and it motivates me. It makes me hungrier, so I accept it and I'm ready to deliver." For my money, Alvarez is the most exciting product to come across the border since Salma Hayek.
Verdict –
Alvarez can win this fight on pure strength alone, since Gomez has not shown he can fight effectively while backing up and was overpowered by a smaller Miguel Cotto. The Cotto fight was at welterweight, and Alvarez is a big junior middleweight who cuts off the ring on foes with limited lateral movement, like Baldomir and Rhodes. Gomez will battle hard and for as long as his legs allow but once he takes the first backward step without a guarding jab, Alvarez's momentum roars down on Gomez like a freight train. The heavy hands of Alvarez show up big, causing swelling and contusions that force a stoppage by the end of the seventh round.
At the MGM Grand, Las Vegas, NV
(PPV) Victor Ortiz (29-2-2) vs. Floyd Mayweather Jr. (41-0)
(The Ring magazine #2 welterweight vs. unranked)
(PPV) Erik Morales (51-7) vs. Pablo Cano (22-0-1)
(The Ring magazine #7 junior welterweight vs. unranked)
(Vacant WBC junior welterweight belt)
(PPV) Jessie Vargas (16-0) vs. Josesito Lopez (29-3)
Josesito Lopez –
Began paying attention to Lopez after an impressive losing effort in a war with the bigger Edgar Santana but Lopez has not lost in seven fights since that setback. That includes notable wins over stylistically diverse Mike Dallas Jr. and Marvin Cordova. In the Santana loss, it looked as if Lopez was going to dominate, winning the first three rounds but then losing the ensuing five. In the eighth, Lopez turned the tide dropping Santana twice (first with a body shot), only to be staggered in the ninth and barely surviving to hear the final bell. Santana emerged a majority decision winner, though a draw seemed the best result. Lopez has little problems with pressure fighters but looked frustrated chasing down speed guys (like Wes Ferguson, whom he lost a split decision to) who gave angles before registering that win over Dallas. Employs the same trainer as Chris Arreola, sparring often with former champion Julio Diaz. Like Arreola, Lopez has had to overcome nutritional lapses and not committing 100% to training. At age 27, seems to have found himself as a boxer and might be peaking at this moment. Victories over Venezuelan Olympian Patrick Lopez, scoring a late knockdown to seal the decision, and solid Sergio Rivera and Marvin Cordova suggest Lopez is a borderline contender. Lopez has fought good opposition to ready himself for a young gun like Vargas and a title shot is within reach after a high-profile bout such as this. Lopez moved up in weight last year, which seemed to aid his stamina without dulling the zip on his punches. Despite suffering a couple knockdowns, Lopez has a solid chin, which would have to be the case for him to regularly spar with ill-fated champion Edwin Valero. Josesito has made for great fights but is that due to his limitations or only fighting up or down to the caliber of his opposition?
Jessie Vargas –
A decorated amateur who, unlike American Olympians of recent vintage, has been moved fast and not shown signs of slowing or buckling under the learning curve. Vargas won an American Junior National PAL (and two junior Golden Gloves titles) tourney but decided to fight his way onto the 2008 Mexican Olympic team before graduating from high school. Is now a hot 22-year-old prospect and developing nicely under the watchful gaze of Roger Mayweather, who trained Vargas since the age of eight and guided him to a 135-20 amateur record. Because of the Mayweather influence, Vargas' defensive movement, spacing, and combination punching is elevated. Did recently change to trainer Robert Alcazar, who worked on the traditional hook to the liver preferred by Mexican boxers, while Roger concentrates on his nephew. Vargas grew up in the sport, calling the fight capital of Las Vegas his home and is seemingly at home in a ring as blood is on the canvas. Cannot help but improve and mature as a sparring partner for Floyd Mayweather Jr. and beaten solid veterans, rarely dropping a round or looking intimidated. Best win was a methodical breakdown of Arturo Morua, a two-time title challenger, stopping him in six rounds by working the body before destroying the head. In his last fight, landed a "Knockout of the Year" type hook against Walter Estrada, that left his opponent unconscious and his legs quivering. Vargas did lose his temper and hit Trenton Titsworth on the break and was deducted two points for an intentional foul, after Titsworth planted a kiss on his neck during a clinch. Vargas composed himself and won the decision but it suggests others can get in his head. Did well getting rid of southpaw Ernesto Zavala, only needing a round to adjust to different angles a lefty presented, taking out Zavala early in the final round. Best asset is Vargas' incessant pressure. While not overwhelming, his punches force opponents to think and react rather than attack. I appreciate Vargas' adaptability to box at range, if need be, and even go to a speed game because of the timing and zip on his punches. Power looks equal in both hands but he finishes with a right hand over the top. Vargas' counterpunching could be better since he has the reflexes to excel but that could be for lack of need so far. Names Julio Cesar Chavez and Oscar De La Hoya as his idols and is trying to fuse their styles to create his own legacy.
Verdict –
I get the sense that if I go to the gym, I would see Lopez throw a thousand left hooks before landing the perfect one, then Vargas would walk in minutes later and throw ten punches before uncorking that same perfect hook. Vargas has the natural ability Lopez must work extra hard for; it's not fair but it is life and why I favor Vargas. Speed and timing are aspects at which Vargas enjoys distinct advantages and Vargas has not struggled as Lopez has against comparable opposition. For Lopez to win, he must drag Vargas into a brawl and I doubt he has the feet to cut off the ring or hand speed to force infighting upon a slick Vargas. A gritty Lopez has a habit of doing just enough but can't overcome most stylists in split and majority decisions. The cleaner punches and higher connect ratio of Vargas impress the judges, who award him a win on the margin of 97-93.
Pablo Cano –
Golden Boy Promotions has been making moves into Mexico, signing some of their talented prospects before they make a name for themselves on that tough boxing circuit. Other than Saul Alvarez, Cano is the most obvious example of this and is a fighter fans on both sides of the border are envisioning as a future lightweight champion. Cano turned pro at age 16 and still managed to score 17 stoppages against mostly grown men but until last year, had not elevated his level of opposition. Keep an eye out for Cano's right hand; it has that thrilling combination of natural power, straightness, and accuracy. Fights about five times a year to maintain that accuracy and Cano's six-foot frame is filling out with muscle that will be deployed through sound balance to generate even more power. I appreciate Cano's grit, traveling to Colombia and knocking down touted local boy Fabian Marimon late in the fight to earn a split decision win. Cano still comes at opponents too straight but his power and underrated speed rip openings through foes who see it coming but do not have the strength or skills to deal with him. I would not say Cano is a "natural" but he is doing things instinctually now that more seasoned pros work at perfecting. Should go to the body more but because only three stoppages have come past the third round, Cano has not had to set up victories. Has gone ten rounds without stamina problems and the volume did not dip noticeably in the late going. Defense has not been tested much but Cano absorbed some punches from Marimon and Oscar Leon without hesitating to throw back. Limited time to prepare is a factor physically but mentally, might be good for Cano since he could not dwell on his Hall of Fame foe. Does not lack for confidence tonight, "I have grown up watching Erik Morales. I know his strengths and his weaknesses. I'm prepared mentally and physically for this. Trust me; I want this. I'm very, very hungry for this. This is the beginning of big things for me." I was interested to find out if Cano's feet are up to fighting guys who can dance but that will not be his problem in facing Erik Morales. Still, to date, Cano has delivered what has been promised of him.
Erik Morales-
Until his return to the ring in early 2010, Morales had enjoyed a well-earned two-and-a-half year stint of retirement, time off initiated by a close loss to David Diaz and was preceded by three losses total to Manny Pacquiao (twice) and Zahir Raheem. Making weight and a host of other excuses surfaced to pave the way for Morales' return but credit him for moments of real brilliance in his comeback. Morales earned more praise and plaudits for his loss to a prime Marcos Maidana than most champions receive for lopsided wins. Fans loved the prime Morales and win or lose tonight, Morales is a shoo-in for the Hall of Fame. I remain hesitant to fully welcome back Morales for fear of the eventual bad ending that could be in the cards. That said, at age 35, a rested Morales had good moments against Maidana and Willie Limond that cannot be discounted. At his best, Morales was a thinking man's destroyer, finding and exploiting opponents' holes to maximum effectiveness with an intelligent punch selection. His long arms were like laser-guided missiles and weaved their way around elbows or gloves to hit the target flush. Those are the traits that made Morales the last man to defeat Manny Pacquiao. However, it was Morales who exited that trilogy the more damaged party. Morales lost four subsequent fights and was twice stopped by Pacquiao in revenge matches. Pictures and the promotional fight video show Morales looking less paunchy than in his previous comeback bouts and he underwent a cranial cat (CT) scan to ensure safety. Alternatively, maybe that is my interpretation because I am used to Morales' svelte form at junior lightweight. Morales has not won a fight above 130 pounds against a top ten-level opponent and this bout will be contested at the junior welterweight limit. Morales fans can take consolation that he is coming back for the right reasons of pride and love for the sport and is not forced back into the ring by monetary problems. I believe a veteran like Morales when he says the change of opponents will not affect him. "Every time there's a change in opponent, it forces you to make changes but I've been in this sport long enough to adjust without a problem." Morales is one of the most understated legends of his era, whose intelligent punch selection speaks volumes so he does not have to.
Verdict –
If there is an upset on the card tonight, I could see this as the one to bet on. What prevents me from calling it is Cano's lack of progression in opponents. Cano has not faced a faded former champion or fellow contender, which would give him the tough but winnable bout he needs to learn and mature from. Even worse, Cano struggled against faded title challenger Oscar Leon three outings ago. In the Leon fight, Cano showed hesitancy and that will sink Cano against a fighter of Morales' caliber. Not wanting to make mistakes, Cano acts indecisive and those small voids of action or a half-cocked hook will be filled by Morales jab and right hand. Morales is slower than Cano but he will throw sooner and at the right distance to disrupt and discourage the younger man. There is always a chance that Morales gets old overnight and except for the Maidana fight, Morales has not looked tremendous. Morales figures Cano out by the fourth round and sweeps the final eight stanzas to win the bogus title fight nine rounds to three.
Victor Ortiz -
Can Ortiz become a modern-day Roberto Duran and overcome the bad image his loss to Marcos Maidana created as Duran did after his "No Mas" bout against Sugar Ray Leonard? The likable Ortiz made headlines as much for his post-fight comments (seeming to lack a commitment to continue fighting) as the actual kayo he had just suffered. Ortiz started boxing at age seven, advancing through various stages to become an American international representative. Won state and regional titles but was eliminated in the quarterfinals of the Olympic qualifiers finishing with a 141-20 amateur record. A huge advantage Ortiz gave himself was converting to a southpaw style, allowing him to lead with a naturally stronger right hand. In 2008, Ortiz was chosen as ESPN's "Prospect of the Year" and I took notice of how Ortiz put forth his best performances on the biggest stage. With maturity comes punching power (in both hands), which the 24-year-old Ortiz proved by knocking down elite opponents like Marcos Maidana, Andre Berto and Lamont Peterson. In the process, Ortiz earned the nickname "Vicious" but also showed versatility and patience in wins over Emmanuel Clottey and Nate Campbell. Ortiz does not mind facing southpaws; taking out fellow lefties Mike Arnaoutis and Carlos Maussa shows Ortiz has the offense to deal with various boxing styles. In last fight against Andre Berto, Ortiz gave an uneven performance, dropping Berto, but lacked the killer instinct to finish him. Ortiz totally abandoned his jab as well. Ortiz landed well, considering he was not using a range finder and physically, Ortiz looked the part of an intimidator at the weight. Ortiz has recovered that sense of malice, which made him a potential star and always sported one of best short hooks in all boxing during infighting. Because of offensive talent, Ortiz's defense, which has gotten better since his loss, has been undervalued and left unreported. His head is not as stationary as before and seldom does Ortiz pull straight back or come out of a crouch with a low guard. There are very few intelligent kayo artists and Ortiz could still develop into someone who falls into that special category. I point to Kostya Tszyu as a boxer who got better after a loss but it takes the right kind of attitude and personal introspection. Does Ortiz have this? There is no better way to find out than facing a boxer of Mayweather's caliber.
Floyd Mayweather –
Everything there is to be said about Floyd Mayweather Jr., positive and negative, has been regurgitated by HBO's "24/7" the last few weeks- so there is little need for me to review a boxer of Mayweather's historical proportions. Love him or hate him out of the ring, fans need to appreciate the skill and artistry of Mayweather between the ropes. Mayweather is simply the most maddening defensive force since Pernell Whitaker. This Mayweather, coming from a fighting family, gained fame as much through unbridled egotism as he did with what he calls "God-given" talents. That's where I beg to differ because Mayweather works like a fanatic to get his body in optimal condition to frustrate opponents as a fight progresses. Reflexes and innate ring sense on Mayweather are second to none; Mayweather picks up punches with his eyes and starts evasive tactics at the same instant. His abilities are uncanny, unnerving, and infuriating for opponents, in addition, unbeatable to this point. Mayweather was also an elite amateur with an 84-6 record, winning a bronze medal at the 1996 Olympics in Atlanta. A three-time National Golden Gloves champion as well and one-time U.S. Amateur champion. The closest Mayweather came to losing a fight was against Jose Luis Castillo (in their first outing at lightweight) and Oscar De La Hoya, this despite fighting a roster of challengers that is only second to Manny Pacquiao. Most are surprised to find out Mayweather has a 61% kayo ratio, despite elite opposition, and when Mayweather is assured of an advantage, he throws awe-inspiring combinations. Otherwise, Mayweather is happy to evade a punch and counter with one accurate punch before gliding away and setting up his opponent for the next frustrating counterpunch. On the negative side, enters this fight off a 16-month layoff and Mayweather is not getting any younger at age 34. To most, Mayweather will always be a self-centered braggart and unlikeable to the core but until beaten, that is his unchallengeable right.
Verdict –
With a combination of speed, accuracy and offensive daring, Ortiz has knocked down his last seven opponents (all good) 13 times and I would not be shocked if Mayweather is added to that list. However, I would be shocked if Ortiz wins the fight. I don't hide my prejudices and want Mayweather to taste defeat and I will be rooting for him to lose. What I won't be doing is betting on Mayweather to lose. At age 34, Mayweather has learned to rely on his vision and timing to make up for slowing reflexes, retaining the muscle memory to avoid getting tagged consistently. Mayweather also showed against Shane Mosley early and Oscar De La Hoya late that when challenged, he will rise to the occasion. Big punches landed on Mayweather actually sharpen his senses. Even when Ortiz rocks or knocks Mayweather down, Ortiz has lacked the finishing skills to keep his foes on the canvas in the past. I considered age (Ortiz is ten years younger) and also ring absence but neither has fazed Mayweather previously. Referee Joe Cortez probably works in favor of Mayweather, since Cortez quickly separates boxers on the inside and will limit Ortiz's chances to land short hooks. Those short hooks and uppercuts are Ortiz's best weapon along with his natural strength, none of which can be used at a distance where Mayweather wants to operate. Whenever Cortez does not break the pair, Mayweather will shoot a quick uppercut or elbow before clinching. Mayweather is an inch shorter than Ortiz but has a two-inch reach advantage to work his jab. In Ortiz's win against Berto, he did not throw jabs and Jose Luis Castillo and Oscar De La Hoya showed it is the accurate range finding jab that gives Mayweather trouble. Too many factors are working against an Ortiz who needs absolutely everything to go right. Give me Mayweather by unanimous decision (around 116-112 or 115-112, to include a two-point round for Ortiz) or a late stoppage due to swelling of Ortiz's eyes.
Prediction record for 2011: 87% (113-17)
Prediction record for 2010: 85% (218-40)