The Battle for Pacquiao-Marquez III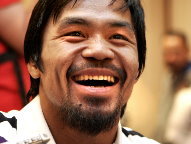 (Photo © Chris Farina / Top Rank)


On November
12, Manny Pacquiao will face Juan Manuel Marquez for the third time at the MGM Grand in

Las Vegas

; that much is known. However, what is still to be decided is just who will handle the pay-per-view broadcast. Will it be Showtime/CBS, which distributed Pacquiao's last bout versus Shane Mosley, or HBO Pay-Per-View/Time Warner?


The bidding has just begun.
Bob Arum, whose company, Top Rank, handles the "Pac-Man" told Maxboxing on Friday, "All I can tell you is what's happened; last night we got the proposal from HBO, which frankly, blew [Top Rank President]Todd [DuBoef] and myself away. It's the most unbelievable proposal for a company wanting to be involved in a pay-per-view that I've ever seen. Huge, huge, huge, investment in assets both in Time Warner and outside of Time Warner. Just incredible. I don't want to get into details but it looked to me like it's $15 million worth of commercials and that type of thing. It's being analyzed now by our media buyers. And based on that- and it appears to me to be much bigger than even the great amount that we got from CBS for the last fight- we will take what we have to CBS and see what CBS and Showtime come up with."

When asked if both entities will get one shot to make a pitch or if they will go back-and-forth with counter-offers, Arum said, "I don't know; we haven't decided that but that really wouldn't be fair at all. But at some point, it's gotta stop. At some point, we'll say, 'Hey, you take the fight; just give us the money' and we'll walk away."
Arum chuckled as he said this because he knows his company and Pacquiao are in a win-win situation here. The decision to move Pacquiao to Showtime's pay-per-view franchise caused quite the stir back in January. Not only did HBO lose one of the two big bona fide pay-per-view franchises in the sport (alongside Floyd Mayweather) but the new deal had the promise of utilizing other platforms to market the event instead of the stale, formulaic cookie-cutter that Top Rank believed had run its course. In what is now a multi-platform media age, it wasn't just enough to promote on the network itself. The move to Showtime included their version of "24/7" getting airtime on CBS.

It's hard to say just how much of a game-changer this was. One could make the argument that any Pacquiao fight would reach a certain benchmark. Others would argue that despite facing an opponent that was thought to have almost no chance of winning, the Mosley event on May 7th did around 1.3-1.4 million pay-per-view buys, the most ever for any Pacquiao promotion.
At the very least, it may have awoken the sleeping giant that was HBO.

"Well, I think we changed the whole nature of the business of promoting boxing on its ear; no question about it," said Arum, who did not deal with Ross

Greenburg

or Kery Davis, when he met with HBO, but skipped them on the corporate ladder. "Up to this point, HBO's model was relatively limited to HBO. They did a good job but it was limited to HBO. Of course, that's how they liked it because if you put the HBO assets against Showtime's assets, there was really no contest. HBO is bigger, although that gap has narrowed. Now, we've brought in CBS and the network exposure that changed everything and now HBO, Time Warner is playing defense and they gotta come up with something to counter it and indeed exceed it- which they've done."
The paradigm seems to have shifted and it seems to be more of a two-horse race as it relates to landing the sport's biggest pay-per-view attractions. Now Top Rank gets to play two media titans against each other. Even Scott Boras would be impressed.

"It's really closed [the gap]," stated Arum, "and that's to the tremendous advantage of Top Rank, which first of all, knows what they're doing as far as marketing a fight and secondly, the ability to interface with both companies."
Another fight that both networks will vie for is the December 3rd rematch between WBA junior middleweight titlist Miguel Cotto and Antonio Margarito.
"Each of them wants to do it and we have to do a separate deal for that fight but that fight's pretty well made. Margarito has agreed to terms; Cotto has orally agreed pretty much to terms. We're going to finalize that next week and then we'll see," said Arum.
Once again, EPIX dips its toes into the boxing waters as they will broadcast the WBA middleweight title fight between Felix Sturm and Mathew Macklin from

Germany

, beginning at

4 PM East

ern time, also streamed live on

EPIX.com

. The network is offering a free two-week trial for anyone that logs on to view the fight. In the previous months, they have aired the WBC heavyweight title bout between Vitali Klitschko and Odlanier Solis and then the

UK

grudge match between George Groves and James DeGale.
According to EPIX President, Mark Greenburg, they had nearly 100,000 people logged onto their website during the Klitschko-Solis fight. The problem was that those hoping to see that fight on the internet side of things had problems logging on, among other issues. Groves-DeGale was also plagued by a choppy stream.
On the bright side, the problems indicated that there was an audience tuning in.
"I wouldn't say we were surprised; it was a heavyweight fight. We knew that there would be a big outcry for it. We didn't realize to that magnitude of how many people wanted to see it on the internet and I think that it really is part of what we're trying to do differently, going to a different platform, serving an audience who consumes TV a different way than just a linear television set," said Travis Pomposello, the Chief Creative Officer of EPIX, who also runs their boxing program. "We expected a lot of people to watch it on TV but we opened it up to people online and it really proved us right. Unfortunately, we were crushed by success, if you will. It was more than our little engine could handle. Now, we've upped that capacity, expecting that same kind of volume again."
It's great that another network has jumped into the fray. However, as of now, EPIX doesn't have the strongest distribution and the reality is, if their legal stream isn't up to snuff, there are dozens of others that will hold up. They may be down to their last strike to get this right. "We made vast improvements to our experience with that, from customer service and online chat help and pulling out all the stops to make sure everyone gets to see this fight, who wants to see it," said Pomposello.
So three fights in, is it safe to say that EPIX has a boxing program now?

"Yeah, look, one of the things we want to do is to service the fight fans," said Pomposello. "Stuff that wasn't necessarily going to get seen that really should be seen and as long as those opportunities come up, we'll continue to go in this direction. It's definitely part of our business plan, always was from the beginning."
Earlier this week, Arum got an official account on Twitter (@BobArum) and now Don King has his own iPhone app. Here's what was sent to me in a press release:
The app is as unique as Don himself and provides fans of all ages an opportunity to get to know the world famous
boxing promoter
, known for his hairstyle and flamboyant personality. The app gives users an inside look into Don King's personal and professional life, with features that include:
An in-depth biography of Don King

Never before seen videos from his legendary career

Some of Don King's most memorable photos from over the years

Users Can shake their iPhone and hear one of Don King's most notorious quotes

Learn more about Don King's current roster of champion fighters
If you happen to be around

Times Square
in
the "Big Apple
"

on Saturday afternoon
, the big JumboTron there on Broadway between 44th and 45th Streets will feature the EPIX broadcast...Kelly Pavlik will return to

Youngstown
in a special edition of "ShoBox" on August 6th
, with the hopes of getting a fight with IBF super middleweight king Lucian Bute

on November
the 5th. Top Rank officials will be meeting with InterBox early next week in hopes of securing the deal. I assume the promotion will try and get Pavlik a southpaw as a warm-up...Arum said that both JC

Burgos
and Daniel

Ponce de Leon
are in the running to face Yuriorkis Gamboa on HBO on September 10th
in Atlantic City...Speaking of Ponce de Leon, he is slated to fight in

Mazatlan, Mexico
on July 30th
versus Carlos Manuel Reyes...Along with the tripleheader on HBO

on Saturday night
, Mike Jones headlines another edition of "Top Rank Live" on FSN...I didn't know this till Mr. Erdman pointed it out on our show but Bermane Stiverne is the younger brother of Jean Stiverne, who was a back-up cornerback in the late-'80s/early-'90s at the

University of Miami
. I remember him; he wore #41...Yeah, y' know, Scottie Pippen didn't really have to clarify that MJ was the GOAT, not LeBron...So Kurt Rambis got fired by the

Minnesota
T-Wolves? I think he got lucky...I can be reached at k9kim@yahoo.com
and I tweet at
www.twitter.com/stevemaxboxing
. We also have a Facebook fan page at
www.facebook.com/MaxBoxing
.