Tarver Wants to Be Heavy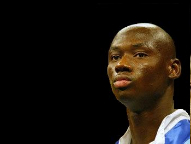 Antonio Tarver


While Antonio Tarver easily shrugged off Danny Green in Sydney, Australia back on July 20th at the Entertainment Centre in nine, mostly dominant rounds, he still hasn't shaken off the effects of jet lag since returning to the States last week. After his fight "Down Under" on Wednesday, he was in Las Vegas this past weekend before finally heading back home to Tampa, Florida. While still talkative, the usually effervescent Tarver was a bit groggy as he got on the line.


"I've been sleeping ever since; it's been crazy," said Tarver, who captured the IBO title with his destruction of the "Green Machine." Team Tarver spent a good two weeks to get used to their foreign surroundings.
"Soon as we got off the plane, we got a workout in, try to get acclimated to the time and that was about four days. We got into a rhythm of training every morning and afternoon. We got into our little schedule but the time over there was good," said Tarver, who stressed that this was strictly a business trip. "We were focused; I didn't do anything but get rest. If I wasn't training, I was getting rest. The fight was great, man. I told everybody I think it's sexy going abroad, fighting in someone's hometown in front of all his fans and we were just the villain, just take on that villain role and it takes a lot for a fighter to go over there in hostile territory get to the job at hand. Just real focused, man; it came together and we worked hard. The training camp was great. We didn't over-train; I felt it a lot less on my body. I didn't leave it on the road running, didn't leave it in the gym. Everything was just perfect timing. We peaked on the 20th. We peaked in the fight."

From the opening bell, Tarver not only controlled the center of the ring, surprisingly, he spent most of the time backing Green up and keeping him at bay with the jab. Outside of perhaps the seventh frame, Green didn't have any real success getting in close and banging away at Tarver's tall frame. But for much of the night, it was Tarver's sharp boxing and accurate punching that made this a one-sided affair.
It went exactly as Tarver had envisioned.
"If you look at any interview I did, it's like I really prophesized the fight," he stated, "because when I told people how the fight would go, I don't know why they weren't listening but I really mapped it out. I put all my training videos online every day. We had something to let everyone know that I was serious and I was ready to go but it went just like I planned. I thought he'd be just looking for that big shot. I felt I had the boxing ability to move around that."
What was also vital to Tarver's attack was investing down low and a punch that they had sharpened in the gym. "When [Green] came close to me, I was digging to the body. It was something we worked on really hard in the gym, that left uppercut. It was almost like a bolo punch and that's the one that hurt him and set up the TKO. He couldn't see it, couldn't brace for it. I got that in and he froze. He just went back to the ropes; I knew he was hurt, so it felt really good with the outcome of the fight because again, Danny's one of these tough fighters that's never been really hurt in a fight; he can take a punch. He's got a good chin, so we really had to work to get him outta there. I felt confident we could do it."
Tarver's knifing uppercut floored Green in the second. And in the ninth, it set up a barrage of punches on a dazed Green, who was so out of sorts that he raised his arms, believing that the fight was over, at the end of the frame. As he got back to his corner, the fight was mercifully halted. It seemed as though Tarver, who looked so tired and listless versus Chad Dawson a couple of years ago and then bloated and slow in a heavyweight contest against Nagy Aguilera last October, had found the fountain of youth. Maybe it was Green's methodical, come-forward, one-dimensional style that created a bit of a mirage but this is perhaps the sharpest he has looked in years. His legs had bounce and his ability to pull the trigger was evident.
It's clear; cruiserweight fits Tarver to a tee.
"I do agree with that," he said, "I felt like I outgrew the light heavyweight division a couple of years back but I was still the best light heavyweight out there. So we kinda had to stay there and take some fights but for that heavyweight fight, we were in training camp for that fight and I was weighing in at 209 and we knew Nagy would came in at about 230-something, so that's why we really got heavy. Because I felt like I needed the weight, rather than just be electrifying at a small weight. I felt like I needed the weight because that was unchartered waters for me. If I ever go back up to heavyweight, I'll probably be right around 215, 220, somewhere like that."
While cruiserweight might be the optimum weight division for Tarver at this stage of his career at age 42, he wants bigger fish to fry. While he respects the likes of beltholders Marco Huck and Steve Cunningham, Tarver considers this weight class a "pit-stop" on his way to a heavyweight title shot. "In my mind and in the heart of all hearts, that's what I want; I want a crack at the heavyweight title. I just feel like I got one more big, big moment in my career and becoming heavyweight champion could be that moment." When asked about a bout versus Cunningham, who hails from Philadelphia- and a fight that seems to make sense- he stated, "I gotta make the best opportunity and the best decision for me. I've been in this game a real, real long time. I think if you look at what I've accomplished, I shouldn't have to prove anything to anybody. I feel the people know what I've accomplished and how hard I've had to work to get what I have. My whole thing is, I want the big, big payday, the big opportunity and that comes with the heavyweight championship of the world."
Problem is, that comes with facing the big, big brother combination of Wladimir and Vitali Klitschko, who dwarf him and just about any other heavyweight. Perhaps if Tomasz Adamek upsets Vitali for the WBC crown on September 10th, that would be the opening he needs. When asked about perhaps earning redemption against Bernard Hopkins, who whitewashed him back in 2006, Tarver actually shifted gears and brought up a name he had never faced.
"There's one fight I want, that I feel like I should have had the opportunity to have back in the day and he decided to go around me for whatever reason and his name is Joe Calzaghe. He fought everybody- but me. I felt like at the time it should've been me instead of Roy Jones. I had already knocked Roy out; I already defeated Roy. I didn't feel that fight made sense at the time they did it but whatever reason, he chose to fight Roy. I think Joe needs to come out of retirement, fight me and prove that he was the very best light heavyweight-cruiserweight, whatever. We can fight at a catchweight. That's the type of fight that I want because I think I have the type of ability to do some real damage and show the people where I stand in fighting a guy like Joe Calzaghe."
Honestly, it seems as the man from Wales won't be returning to the ring anytime soon, if ever. As for Hopkins, if he should down Chad Dawson on October 15th, Tarver says, "Then it's only natural that [Hopkins] fight me. Give me the rematch I deserve. When he lost twice to Jermain Taylor, he was a forgotten man, I gave him an opportunity to revive his career and put it in motion where he's at today. I think I deserve that rematch and I know, given that opportunity, what took place in that first fight wouldn't happen again."
Regardless of what Tarver embarks on in the future, he proved that for the time being, he's still a boxer who happens to have a side gig as an announcer, not vice-versa.
"Yeah, basically, boxing is my first love, man. That's my passion and I still love what I do," he said, chuckling, "and I feel like I fought Green with a passion that demonstrated that. The commentating job is great; it gives me an opportunity to really brush up on my skills as a broadcaster, trying to be a better announcer. The position at Showtime is one I'm very blessed with but when I sit ringside at these major, major fights, I can only see myself being in those type of fights and trying to get myself back into the big, marquee picture."

BUDDY

Tarver's co-trainer, Buddy McGirt, believes that where his fighter will have optimum success is at 200 pounds.

"I told him from day one, when he said, 'Buddy, I'm going to heavyweight.' I said, 'Antonio, I love you but you're not a heavyweight, dog. 190-200, that's you,' because like when he used to come to camp, for instance when he fought Montell Griffin, he was boxing with Sherman Williams- now Sherman's a natural heavyweight. Antonio was in the 190s when we started training and he was handling Sherman very well. I'm like, 'You're a cruiserweight, dog, once you get through with the light heavyweights.' When I got to Australia and I got to look at him and I knew he was ready. When I got there that morning and I saw the agility on the treadmill and I saw the agility he had and I saw the glow to his body, I said, 'Danny's in trouble."

When asked if he felt his charge was the best cruiser on the planet, McGirt didn't hesitate," Right now, yeah, for sure."

McGirt was in charge of making sure that everything was kosher in terms of Green's hand-wrappings, which Jones had claimed were illegal and loaded.

"I watched everything; they allowed me to watch everything. They let me look at the wraps when they took 'em out of the package, everything. He puts a lot of tape on his wrists but my thing is, he's not hitting the guy with his wrists. So as far as the hand, nah, everything was good," said McGirt. But there was an issue with the gloves that nearly had Tarver walking away from the fight. "Oh my God, it was crazy, "McGirt said, laughing loudly. "This was the issue; Antonio felt that when Danny Green got his gloves from Grant, it didn't say Grant on it. So his thing was they had to take it out of the package with 'Green Machine' on there. So he says, 'The glove must've been tampered with.' I mean, Antonio's about ready to walk out and then I put my hand in both gloves and I looked at Antonio and said, 'Man, put this f**king glove on'- he had the better glove.

"I mean, when I stuck my hand in Antonio's glove and I stuck it in Danny Green's glove and [Tarver] gave me that look like, 'Should I?' and I looked at him like, 'You better put this f**kin' glove on!' Soon as he put his hand in there, he was like, 'OK, fight's back on.'"
It was widely reported for a few weeks that the October 15th between Bernard Hopkins and Chad Dawson would take place at the Prudential Center in Newark, New Jersey. On Thursday afternoon, the official announcement was made that this pay-per-view card would be staged 3,000 miles west at the Staples Center in Los Angeles. A guy I don't see enough off anymore, my pal, Keith Idec, had the lowdown on why this show was shifted:

http://www.boxingscene.com/hopkins-dawson-lands-staples-shifts-over-duva-rift--42058

OK, a few thoughts, whether you agree or disagree with Kathy Duva protecting her territory (I believe she is very concerned about tickets being given away- which can ruin a market- with Golden Boy's propensity for dealing with ticket brokers and the plenty of freebies given away this past weekend in Las Vegas, where Main Events co-promoted with Golden Boy on the Khan-Judah show at the Mandalay Bay), she is only doing what others do in this business, protecting her own.

I find it ironic that Gary Shaw has a problem with this type of arrangement, given that for many years, anyone who wanted a slot on "ShoBox" had to basically sign on with his company. I wonder what would be the reaction if someone moved in on his territory in Chumash? (Just for kicks, Duva should try that) As for Golden Boy, when it comes to appearing on their "Boxing After Dark" slots on HBO, you have to basically be a fighter under their umbrella or give up options, I'm told.

It is what it is, the cold, hard world of the boxing business.

But what's good for the goose is good for the gander, as they say.

FRIDAY FLURRIES

Andre Berto-Rivage will face Jan Zaveck on September 3rd in Biloxi, MS in the same venue where he went life-and-death with Luis Collazo a couple of years back. It looks more and more like Gary Russell Jr. will open up this Labor Day weekend broadcast. Get your tickets (please!)...I really like the addition of the junior welterweight scrap between Josesito Lopez and Jessie Vargas to the Victor Ortiz-Floyd Mayweather bill on September 17th in Las Vegas...In Los Angeles, on that same night at Staples Center, prospect Antonio Orozco will perform on the undercard...This week's edition of "Solo Boxeo" on Telefutura has WBA light heavyweight titlist Beibut "O-for-two-against-Gabriel Campillo" Shumenov against Danny Santiago..."Friday Nights Fights" has a pretty interesting bout between Lamont Peterson and Victor Cayo in an IBF 140-pound eliminator...Word is that the Khan-Judah fight on HBO did a solid rating of 3.1...On August 13th, before Joseph Agbeko defends his IBF bantam belt against Abner Mares, Luis Ramos faces David Rodela in a non-televised affair...Featherweight Ronny Rios will headline the September 23rd edition of "Solo Boxeo" from the OC Hangar...I'll have plenty to say about the WBC and their machinations, regarding their junior welterweight title in my 15 Rounds column Monday morning...When did Bill Belichick of the Patriots suddenly become Father Flanagan?...So the 'Phins traded for Reggie Bush? Who's next, Dwayne Jarrett and LenDale White?...Just watching him spar, I think Jorge Linares has some of the quickest hands in boxing. Maybe not Gary Russell-fast but there in an elite class in terms of hand speed...I can be reached at k9kim@yahoo.com and I tweet at www.twitter.com/stevemaxboxing. We also have a Facebook fan page at www.facebook.com/MaxBoxing.