Tarver upsets Green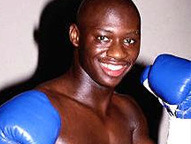 Antonio_Tarver_H1.jpg

By Adam Santarossa at ringside:

Antonio "The Magic Man" Tarver pulled off the biggest upset of the year so far, when he scored a stunning ninth round knockout victory over local hero Danny Green to claim the IBO Cruiserweight title at the Sydney Entertainment Centre in Sydney, Australia tonight.

Tarver entered the ring a significant outsider with Australian bookies and most of the thousands in attendance before the fight.

The fight was delayed for some time due to both camps calling in the IBO Commissioner following protests over the way both boxers elected to wrap their hands before gloving up.
When the fight did eventually get underway it was a cagey affair with each man taking their time to feel each other out. Green was the busier early on and landed the cleaner blows. Green hit the canvas following a wrestle in the clinch, before a great shot from Tarver sent the Australian crashing against the ropes.

Tarver continued his assault in the second round by sending Green to the canvas, with a left hand to the midsection, which although not thrown with the greatest of force, did catch Green off balance, whilst coming forward and the referee took up a count.

Tarver continued to beat Green to the punch, with his iron jab continually scoring on a helpless Green. Tarver finished the round by loading up a huge right hook that sailed high over the head of Green, but was a clear signal of intent, that the "Magic Man" was feeling good.

Both men traded shots early in the third round but again Green had no answer to Tarver's southpaw jab as the American challenger continued to pick off Green as he was coming in. Tarver, landed some solid combinations with Green also scoring successfully to the body, but Tarver again did enough to win the round.

Green showed no urgency in the fourth round despite being behind on points by a significant margin. Green later began to engage, and had his best period of the early round by landing a good four punch combination, only for Tarver to answer straight back with four scoring punches of his own. Tarver continued to score big time with the jab, as Green looked as if there was simply, no Plan B.

Tarver continued to dictate the pace, in a fight that was fast slipping away from Green.

The fifth round saw Tarver again wasting little time maintaining the distance with that jab as Green began going to the body. Green landed some good body shots that seemed to hurt Tarver. Green continued to have a good period, and was warned for a low blow, as he continued tee off at the body. An even round, which the judges may have shaded to Green due to work rate.

The sixth round saw Tarver land a big uppercut that buckled Green, giving Tarver back the momentum, just as it looked as though Green was starting to come back into the fight. Tarver scored a good left hand only for Green to again get some rewards from going to Tarver's body. Green then began backing off, trying to entice Tarver into an exchange, by sucking him in but this manoeuvre did not work on the wily 42 year old, who took up the advantage by landing several shots that were enough to perhaps pinch the round.

Tarver seemed to slow down as Green's work to the body increased in the last few rounds. He started the seventh by sending four shots to the midsection, that again shortened Tarver and brought the crowd back into the fight. Tarver was now looking to clinch, and wanting to get into a wrestle, to prevent Green from continuing his good work in the round. Green landed some good shots and it is by far Green's best round as the crowd rose to their feet, sensing something special.

In the eighth round Green landed a big uppercut that buckled Tarver and Green continued to slow Tarver down with work to the body. Both men went toe to toe and exchanged a series of punches which had both of them hurt. Green had begun to start to get inside Tarver's jab as he slowed and landed some good shots. Tarver seemed reluctant to match his work rate, leaving many wondering Tarver could make it the distance. Just as the thought entered this reporter's mind, Tarver landed with a five punch flurry that may have just pinched the Eighth round on the judges cards.

Any doubt there was regarding Tarver's engine slowing, was dispelled in the ninth round. Green needed to force the fight and in his haste, walked into a short hook from Tarver, that set him back on his heels. Green answered back with more body punching, but was again warned for a low blow. Tarver's jab, as it had been all night continued to score easily, and leave Green helpless.

A left hand from Tarver buckled Green, who was sent against the ropes, only for another big shot to have Green ready to go. Green, through, desperation threw a flurry of punches downstairs only for Tarver to buckle him Green again. Sensing this, Tarver rained in 15 unanswered punches as the bell sounded to end the eighth round. Green was in a world of trouble and if not for the ropes would have been down. Green does not know where he is and went to the wrong corner before embracing Tarver as if it was the end of the fight.

Seeing this, Green's trainer, Angelo Hyder had no hesitation in sending in the towel, and the crowd, along with this writer is stunned.

Danny Green was simply out-boxed by a superior boxer and he continually had no answer for Tarver's jab. Tarver managed to keep Green at a distance, and whilst frustrated Green would simply time and time again walk forward straight into Tarver's jab.

The pre-fight taunts from Tarver's camp suggested Green fought a primitive style. Green did nothing but back up those claims tonight.

Danny Green again showed a deficiency against a southpaw, with Green now having been beaten comfortably by both Tarver and former WBC Super Middleweight champion, Markus Beyer, in world title fights.

In the post interview Tarver thanked the Sydney crowd for making him and his team so welcome, and suggested he may be back for a rematch.

Tarver also dedicated his performance and world title to former Showtime colleague, Nick Charles, who sadly lost his battle with cancer last month.

Danny Green on the other hand was inconsolable in the ring and wept as he spoke. The crowd showed great appreciation with Green telling them, "sorry I couldn't do it for you guys, and I let you all down".

Green showed flashes of what he was capable of and had moments where Tarver seemed to be hurt. But he had no answer for the piston like jab of Tarver and Tarver simply out boxed, out thought and out maneuvered the champion.

Tarver becomes the first man to ever stop Danny Green in 32 fights.

At age 42 and after just one fight in 18 months, Antonio Tarver stands top of the boxing world again, and in one gigantic swoop, "The Magic Man", made the doubters disappear.