"Star Power" at Staples Center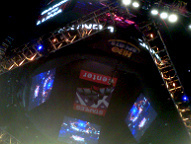 New Panasonic scoreboard/JumboTron in Staples Center (Photo © MaxBoxing)


While the main event between WBC welterweight champion Victor Ortiz and Floyd Mayweather and two other support bouts on the "Star Power" pay-per-view bill are taking place at the MGM Grand in Las Vegas, the Staples Center in Los Angeles will host the match-up between WBC junior middleweight titlist Saul Alvarez and Alfonso Gomez prior to the main event.
"There will be four preliminary bouts and then the 'Canelo' fight," said Golden Boy Promotions CEO Richard Schaefer of the schedule, "but what's going to happen is that they're going to be the preliminary bouts and then the arena will go dark and you will see the fight between Jesse Vargas against Josesito Lopez, then followed by Eric Morales against Pablo Cesar Cano and then after that, it will go live to Staples Center. The lights will go back and then you're going to see the Gomez and 'Canelo' fight and then after that, when the fight is over, it's going to go dark again and you're going to see the Mayweather-Ortiz fight."
Following the main event, a concert at the Staples Center featuring two popular Mexican bands will be staged.

And yes, if you attend either fight card, you will have the opportunity to see all the pay-per-view fights inside the venues.
"We actually had a Los Angeles company construct a special, made-to-order, state-of-the-art screen from the MGM which will come down from the ring," stated Schaefer, who believed that the four screens at the corners of the MGM Grand Garden Arena simply were not sufficient. "There will be screens coming down in Las Vegas to basically give everybody a great viewing experience for the 'Canelo' fight in Vegas."
The Staples Center recently installed a brand new Panasonic scoreboard/JumboTron that hangs above the ring, which actually has angled screens underneath it that allow those closest to ringside to view the action, unobstructed.
Antonio Orozco is part of the undercard that takes place at the home of the Lakers, Clippers and Kings. The newest addition to the Golden Boy stable faces Fernando Rodriguez in a scheduled six-rounder. For Orozco, this is his first fight on a major show and a major league venue.
"Bright lights," said Orozco, when asked to gives his thoughts on performing at the Staples Center. "I better perform at the best of my abilities, put on a great show." He admits to being excited about not only the setting but fighting on a card of this magnitude. "Staples Center, under the 'Canelo'-Gomez card, the whole 'Star Power,' it's something. It's really something and it's something that I know a lot of prospects look forward to and I'm just real thankful I've gotten this opportunity to be able to participate on the card itself."

Orozco's manager, Frank Espinoza, told Maxboxing, "This is a great step for him. This is what he's been looking for. This is what every prospect looks forward to, fighting on a big venue like Staples Center. So we're really happy and I know he's excited about fighting on Saturday night."
As he told Orozco about this assignment, the manager said his boxer was, "thrilled fighting in San Diego and fighting here on club shows, so he was excited, knowing that this was his first fight under the Golden Boy banner and fighting at a big venue like the Staples Center. I think every fighter looks forward to that."
According to Eric Gomez, matchmaker for GBP, the doors open at Staples Center at 4:30 PM. Orozco most likely be fighting in front of just a handful of fans but it's still a momentous occasion for any young prospect to be given a chance to ply his trade in a big building. Orozco admits to feeling some butterflies. After all, it is a bit different than boxing at the OC Hangar.
"Nervousness? Always, always for a fight," he says, "but you step into the ring, it's another fight, another win and that's why we get prepared to come with our best arsenal and that's how I'm seeing it."
The three other bouts scheduled for the Staples Center are: Oscar Godoy-Carlos Lozano, Hugo Centeno-Willie Walton and Ray Rivera-Rudy Gonzalez.
Tickets for Alvarez vs. Gomez, priced at $300, $150, $75 and $50, are on sale now and available for purchase online at ticketmaster.com and via Ticketmaster charge-by-phone lines at (800)745-3000. Tickets are also available at the Staples Center box office.
Speaking of which, I keep hearing that ticket sales for the Vegas portion of the show aren't doing all that well. If you look at all the ticket-brokering websites (for the primary and secondary market), there are plenty of seats to be had and there seems to be more than just a few rooms available at the MGM Grand.

It'll be interesting to see what the announced attendance will be on Saturday night.

PPV

This email here seems to be the consensus in terms of the responses I've gotten to my Monday article (http://www.maxboxing.com/news/sub-lead/dimmed-star-power):


"I follow your tweets, and to answer your question to your followers, Matthyse pulling out of the fight made what was a "must buy" to a fifty-fifty, and now the $70 price tag just killed the idea for me. I'm fortunate to have job security but I can't justify spending this amount, despite the Tecate rebate and a friend or 2 over. It would set a bad precedent for the industry. In comparison, I just watched a UFC PPV the night of Hurricane Irene here in NY (the night of the would-be Maidana-Guerreiro fight) for $45 and I must say that the card was stacked with exciting matches of consequence. Again, I'm old-school, so I'm a boxing guy, but I have great admiration for Dana White's foresighted, practical approach to growing his business. As for purchasing the other 3 PPV cards, I'm a definite yes for Cotto-Marg, 50-50 for Paq-JMM depending on the undercard, and no way for Bhop-Dawson. Finally, I'm disappointed that bob Arum didn't respond to Dana White's insults and direct challenge by not inking a deal with CBS. I guess Arum feels that the idea of boxing returnng to free network TV needs to marinate.
Rob"


My guess is that while there is some backlash over the price (up to $70 for the HD broadcast) and extreme disappointment over the Erik Morales-Lucas Matthysse fight being scratched, I think "Star Power" still does between 1.3-1.5 million buys when it's all said and done.

STAR POWER FLURRIES

Showtime made the official announcement on Wednesday that the bout between WBO super middleweight titlist Robert Stieglitz and Mikkel Kessler has been added to their Nov. 5th broadcast featuring Lucian Bute-Glen Johnson...TopRank.tv will provide live coverage of the Mike "Subway" Lee card from Notre Dame this Friday beginning at 9 PM, ET...Ivan Calderon will face Raul Garcia on Oct. 29th in Puerto Rico as part of the WBO convention...Tickets for the Oct. 22nd show at the Theater in New York featuring the "Filipino Flash" Nonito Donaire versus Omar Narvaez go on sale today. They are priced at $200, $100, $50 and $25 and are available at www.thegarden.com and all Ticketmaster outlets...The word is that the WBA bantamweight title tilt between "Runnin'" Rico Ramos and Guillermo Rigondeaux could land on the Miguel Cotto-Antonio Margarito II undercard at Madison Square Garden on Dec. 3rd. I might be stuck having to watch that potential track meet live...I just saw a photo of Kirstie Alley. Whoa, what happened to the rest of her? This is when downsizing is a good thing...Seriously, is it possible that the Steelers have gotten old? Ya' never know...By the way, ESPN3.com better work for me at the Staples Center on Saturday because that's when the Miami-Ohio State game starts. It will work, right?!...Could it be that Tigers hurler Justin Verlander isn't just the AL Cy Young Award winner but the MVP too?
…I can be reached at k9kim@yahoo.com and I tweet at www.twitter.com/stevemaxboxing. We also have a Facebook fan page at www.facebook.com/MaxBoxing.