So What's Changed?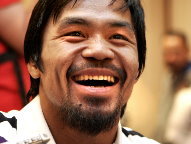 (Photo © Chris Farina / Top Rank)


On Friday, Top Rank Promotions announced that the November 12th rubber match between Manny Pacquiao and Juan Manuel Marquez would be televised and distributed by HBO Pay-Per-View. This after the "Pac-Man's" last outing was shown under the Showtime/CBS corporate umbrella, in a move that stunned the boxing industry at the beginning of the year. However, after that brief dalliance, Top Rank has decided to move back to the other side of the street.
So is this a return to the status quo or have things really changed?
Todd DuBoef, President of Top Rank, told Maxboxing on Friday afternoon, "They were two incredible offers, I mean, unprecedented proposals. They hit everything that they had heard were my issues before in creating a bigger audience to be exposed to our product. And both entities, both media companies responded appropriately and when we looked at the overall deal, we looked at how big of an audience reach we're going to get prior to the fight. They were both amazing. There wasn't like one thing that made it; it was collectively breaking up all the different categories from digital to print media to cable nets to premium channels. We had to look at everything."

For the Pacquiao-Shane Mosley promotion, CBS aired "Fight Camp 360" alongside Showtime and aired ads for the fight during the NCAA basketball tournament in March. DuBoef didn't believe it was appropriate at this time to discuss specifically what platforms would be utilized by Time Warner but you can expect that such entities as TBS, TNT, CNN, Sports Illustrated, AOL and the like will be exploited in one form or another. "I can tell you that the overall support, what we got from them and what was proposed was so deep and so detailed, it ended up being a terrific proposal," he said.
So has the paradigm changed at least in terms of the way major pay-per-view events are now promoted and marketed?
"Yes" is DuBoef's answer. "Based on the proposals we had, it's totally changed and I couldn't be happier with seeing corporations and media companies wanting to put their arms around the boxing product. Us moving off of the platforms that they were so limited on before. Not that they were bad platforms but only that we were choking off the content to the masses and a bigger audience. We know how compelling the stories are. We know how compelling the athletes are and [platforms and content] had been dormant."
HBO, for all its clout, has a subscriber base of around 30 million, which pales in comparison to the likes of ESPN, which is now in over a 100 million homes. Premium cable networks have just a finite audience that can be reached. There had to be a way to break out of this small spectrum and reach a larger audience.
"What was the straw that broke the camel's back?" asked DuBoef rhetorically to a question about when this formula had jumped the shark, relating to the 21st century. After a rather long pause to contemplate things, he said, "I would say there were three major occurrences that happened. I would say in 2007 when we put the first fight on terrestrial television in Mexico. I was told that nobody cared; nobody wanted to do it. The bigger companies were like, 'Boxing isn't really popular here. It's a soccer country,' this and this. And to see the huge success, it kinda gave me faith in: Don't listen to rhetoric, listen to everything that you have. And all my research and indicators said it was going to be robust, so I think that was one of them. Where is showed how much popular the sport could become just by freeing it off- and at that time it was solely put on SKY, which was pay-per-view in Mexico- and now it's been freed to 20 million-plus homes, whatever million homes they have in Mexico. That was one of them.
"I think that the power of '24/7,' when it first came out, the 'Countdown' shows, and people that I would meet were like, 'Wow, I saw this product; I saw this show- that was a great show,' that were not hardcore boxing fans and those stories cut across all ethnic groups, all age groups and touched America. That was one of them. And I would say the other thing that kind of frustrated me the most was some of the arbitrary decision making that was made whether or not to do a '24/7' 'or a 'Countdown' show and it really wasn't being done in my particular opinion with objective behavior- and telling those stories would create more awareness."
DuBoef says a key aspect in the ascension of the UFC is the fact they are featured on large stages for public consumption. "If you look at the stories being put on bigger platforms, I mean, we could all look at the success of the UFC as a direct component of what happened when they went to Spike, right? Their product went to a bigger platform and all of a sudden- boom- they hit lighting in a bottle and created a massive business when they were on their heels. We have to look at it that way."
It was thought that having an alliance with Showtime would create a natural pathway for boxing to return to the over-the-air networks (namely CBS). According to DuBoef, going back to HBO/Time Warner does not hurt those chances.
"I don't think it affects it at all," he stated. "I think it's still very bullish. I think that we're playing to larger platforms. We're playing to bigger cable nets. We're playing to bigger terrestrial components, television networks. We're speaking to corporate America in a different fashion today. Corporate sponsors, marketing companies and we're seeing companies like Hewlett-Packard; they got behind Manny Pacquiao and Nike got behind Manny and Tecate and ATT, all of these companies are going to need to create those opportunities to become more prevalent, right? And that has always been the missing link of terrestrial television is that the boxing product got divorced from the sponsors. Sponsors are what pay for terrestrial television content. It doesn't matter what it is. It's $2.5 million for a 30-second commercial in the Super Bowl.
"And I think this process of breaking down the walls of creating synergies between boxing content holders and corporate America and letting them look at the multi-cultural dimension of sponsorship and all the different groups that it hits. I think it's part of the process. I don't think it affects it at all."
For every winner, there is a loser. In this case it is Showtime, who in recent times has forged a solid working relationship with Top Rank with the likes of Brandon Rios and Bob Arum is close, personal friends with the President and CEO of the CBS Corporation, Les Moonves.
"Listen, we were all disappointed, y' know? They were disappointed and I was disappointed I had to give them the news that they didn't get it," DuBoef said. "I don't want to have a fractured relationship. They were architects with me in creating this new model and I wasn't looking to 'one-and-done' and use them for anything. No, it was looking to grow our business and they were instrumental in this."
So will now this be the norm, companies bidding for individual events, offering up their corporate holdings in providing the most expansive marketing opportunities?
"Listen, you look at the NFL, it's on CBS, Fox, NBC, ESPN and the NFL Network. Five major media companies are all showing NFL product," pointed out DuBoef. "I think the more aware and the more that your product is on different platforms, the more robust and successful your product will be and I think that is very hopeful. I mean, it's just helpful to have these companies engaged into seeing the robust behavior of boxing, in general."
- I know some believe that perhaps the departure of Ross Greenburg was a factor in Top Rank bringing Pacquiao back to HBO but honestly, I think this has more to do with the relationship Arum and DuBoef have forged with Richard Pleplar and Michael Lombardo (two of the major heads at HBO). For some time now, Top Rank never even really dealt with Greenburg or Kery Davis. They just simply went above their heads and got fights like Julio Cesar Chavez Jr.-Sebastian Zbik green-lighted on the network. It was their belief that Pleplar and Lombardo "got it" that restored their faith in HBO.
- Adding to what DuBoef said about the rather arbitrary nature of when a "24/7" or "Countdown" show would be produced, I vividly recall back in 2008 at the beginning of the press tour for the first bout between Antonio Margarito and Miguel Cotto that Arum was steamed that Greenburg told him there would be no preview show for this fight. One of the flimsy reasons given was that neither guy spoke English as a first language (even though the network did one for the fight between Juan Manuel Marquez and Marco Antonio Barrera). The agenda here was simply an anti-Top Rank bias. Arum went on the offensive with me and the day I was going with the story, I got a call from DuBoef, on behalf of Davis, who basically wanted to know when it would be published. He requested that I wait a day as they would try and sort this out. I really saw no problems with that.
Eventually, HBO was cajoled into doing the right thing. A countdown show was made (a very good one at that) and my story was never typed out. But I had a helluva time transcribing Arum's vitriol anyway. He was really on a roll.
- Speaking of Cotto-Margarito II, as reported earlier, it was never a package deal with the Pacquiao fight and Showtime still has a position on Cotto based on them doing the pay-per-view fight with Ricardo Mayorga in March, according to DuBoef. This rematch takes place on December 3rd at the Madison Square Garden in New York.

WEEKEND FLURRIES

I don't know about you but I'm still bummed that Kelly Pavlik pulled out. Hey, boxing is boxing and now, there is none tonight...As for when Brandon Rios, Miguel Garcia and Nonito Donaire will fight next, DuBoef says that figuring who would televise Pacquiao-Marquez III was the first domino to fall and from there, the process of filling the slots would take place...I was a guest of Joe Tessitore's "Heavy Hitting" boxing podcast this week on ESPN.com. Just go to their boxing section and look on the bottom of the left-hand side...Wale "Lucky Boy" Omotoso will make his Top Rank debut on September 10th on the Yuriorkis Gamboa-Daniel Ponce de Leon card in Atlantic City...Just wondering- is the newest Hall-of-Famer, Marshall Faulk, the greatest all-purpose back in history? He's certainly up there with the likes of Walter Payton, Thurman Thomas, Roger Craig and Marcus Allen...Congrats to one of my favorite players, Shannon Sharpe, a true character and personality of the NFL...Stuff just always seems to find "A-Rod," doesn't it?...I can be reached at k9kim@yahoo.com and I tweet at www.twitter.com/stevemaxboxing. We also have a Facebook fan page at www.facebook.com/MaxBoxing.