Saturday Night at the Berto Rivage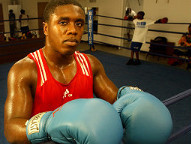 Andre Berto


This upcoming weekend marks the start of the college football season with a few marquee match-ups (LSU-Oregon and Boise State-UGA) but boxing also kicks off the first weekend of September as IBF welterweight titlist Jan Zaveck defends his belt against Andre Berto from the Beau Rivage Resort and Casino in Biloxi, MS on HBO. This past week on a national conference call with reporters, Lou "Mount St." DiBella, who "promotes" Berto, erupted at suggestions that Zaveck was only chosen because he had a major world title and that the titlist was another in a long line of no-hopers that Berto has faced on the network while collecting exorbitant checks.
In defense of this fight, Zaveck, a 35-year-old Slovenian, is probably the second-best foe that Berto has been paired with on the "Network of Champions," behind Victor Ortiz and is comparable to the likes of Luis Collazo and Juan Urango. While some might believe that it's actually an indictment of the kid-Everlasts treatment afforded Berto by HBO (that after a dozen or so appearances on the network, somehow Zaveck represents one of his sternest challenges), Zaveck is not a bad fighter by any means. No, seriously.

In watching his last several fights, this guy reminds me a bit of Arthur Abraham, with his high guard and catch-and-counter style. However, one major difference is that Zaveck does seem to initiate much more offensively than "King Arthur" and has a wide array of punches. Zaveck has a record of 31-1 with 18 stoppages with that one loss- a split verdict against Rafal Jackiewicz- avenged recently. While he may not be Arturo Gatti, Zaveck is a pretty entertaining fighter who isn't afraid to mix it up. The question is just how much of a difference is there in class between the Jackiewiczs, Paul Delgados and Rodolfo Martinezs of the world to "The Assassin"?
Berto, at the very least, brings not just a certain blend of speed and power but an overall game that didn't need to be particularly refined while feasting on a collection of Al Haymon and Ross Greenburg/Kery Davis-approved no-hopers. Victor Ortiz was thought to be one of "'dem guys" till he showed a spirit and a gumption many believed was beyond him in beating up Berto this past April for the WBC 147-pound strap. While his strength and conditioning can be revamped under the tutelage of Victor Conte, the question is how does Berto's psyche hold up now that his cloak of invincibility (which seems more important now than ever) has been ripped and torn?
These factors make this a fight with some intrigue. It might even be compelling. So, relax, Lou. After the likes of Freddie Hernandez, Steve Forbes, Michel Trabant and "Nito" Bravo, you don't need to be soooo defensive.
Make no doubt about it; this match-up was approved because Zaveck has one of those "trinkets" that Max Kellerman and the rest of HBO will tell you isn't worth anything. The irony is that this fight was essentially green-lighted because Zaveck, who has fought his career extensively in Germany and then his home country, brought one thing to the table- this IBF belt- and nothing more. Without it, he's just another foreign boxer with no value or profile in the States. Last fall, there was talk of matching up the two in what would have then been a unification tilt (you know, the type some believe give boxing the all-too important "clarity") but for some reason, HBO didn't deem it worthy of its precious air time. Now that Berto is beltless, guess what? Zaveck was suddenly approvable. Don't fool yourself folks; you can say that this IBF title is meaningless; the truth is it's the primary reason Zaveck-Berto got made.
What's interesting about this promotion is that despite being the defending champion (perhaps because of a certain sense of honor or even the inducement of a career-high payday), Zaveck is leaving Slovenia, where he plays to huge crowds at venues like the Sportpart Arena and the Tivoli Arena, which are usually packed to the brim with his supporters. Now he becomes the latest foreigner that soon finds out that coming to the States is basically an opportunity to face the best boxers in the world in front of the smallest audiences. This promotion is being staged in another small casino ballroom, this time in the "Redneck Rivera," a small theater that has a capacity of 1,500. Given Berto's history of fighting in front of empty seats (Berto once sold 942 tickets for his bout against Carlos Quintana near his hometown in Sunrise, Florida, a fund-raiser billed as "Fighting for Haiti." HBO's Jim Lampley, noting the sea of emptiness, cracked that nobody showed up to fight for the earthquake-ravaged country), these are familiar haunts. In fact, Berto went life-and-death with Collazo in 2009 in this very same building. From that point, while HBO continued to anoint him as one of the sport's future stars, his popularity and Q-rating have actually diminished. The arc should be that young fledgling boxers play in small venues, eventually working their way to being bona fide attractions. This natural and expected progression no longer takes place and why should it? If you continually collect seven-figure paydays while playing in front of audiences smaller than those at a Florida Marlins game, why even try to sell tickets? It's more than a touch ironic that Haymon, who made his bones promoting concerts, has made a racket in this industry by making that particular component (putting asses in seats) totally irrelevant.
There used to be a time when getting on HBO meant that you had either arrived as a prizefighter, commanded a certain type of public demand or both. Unfortunately, during the disastrous Greenburg-Davis administration, it was more a vital prerequisite to be "advised" by the Machiavellian Haymon, whose influence on the network is one of life's great mysteries. DiBella might be the front man but like every other promoter (Dan Goossen) or TV packager (Gary Shaw) who decides to get into business with the Haymon Boxing Organization, they are merely a band of Pinocchios to his Geppetto. DiBella didn't even know that HBO had taken the unprecedented step of clearing this Labor Day weekend date for Berto. While it's technically his date as the promoter, the opening slot on this HBO (Home Box Office) is being filled by Gary Russell Jr., who is certainly among the most talented young boxers in the sport, gifted with incredible hand-speed and quickness. However, Russell is actually promoted by Golden Boy Promotions but more importantly, "advised" by Haymon (And in a further case of the tail wagging the dog, Russell, who was promised this slot last month, didn't have a dance partner till around a little over a week before showtime. Eventually, after much hand-wringing and debate, Leonilo Miranda was chosen and approved as his foe. This is the same Miranda who, in fairness, might have beaten Luis Franco on "ShoBox" earlier this year but still comes into the Russell contest having lost three of his last five bouts). Yeah, it doesn't take as much to get on HBO as it used to; does it (that is, if you're aligned with certain advisers)? Let's make this clear (again); Haymon is just doing his job.
The enablers are those at fault. While Greenburg "resigned" his post as the president of HBO Sports recently, it looks like the same person, for now at least, is still running the show.
Late last week, I received this email from the friendly neighborhood Matt Swider-man, whom I jokingly refer to as "the last white boxing fan under the age of 30 in America" since he actually spends several thousand dollars a year traveling to fights across the country (while living in South Florida). How much of a boxing fan is he? He actually made the trip out to Detroit/Pontiac for the Timothy Bradley-Devon Alexander disaster at the Silverdome back in late January.
Swider is frequently checking up on the statuses of how fights are selling and he sent me this missive...
"Just did my usual check of tickets for Mayweather-Ortiz (just for my information, i would never go to that bullsh*t)

Just on ticketmaster (the primary market): No seats available in $300 or $150 range... but for the remaining price ranges of $600, $1000, $1250 you can buy as many as 10 tickets together. That means rows and rows of seats are currently unsold on the PRIMARY market. And we know that Mayweather/Haymon have loads of tix in hand for the secondary market.

I was shocked that Manny v Mosley did as well as it did (and it was a legit, sell out) but i think that barring Manny v Floyd, the days of true sell outs for fights at these prices is over. Id say as of today (a lil more than 3 weeks before the fight), looking at how that arena is configured (the 300s and 150s are a small number of actual seats) Id guess that less than half the tickets for that fight have been sold. And this is with a bonafide star attraction, and as good a co-feature (Morales v Mattyhsse) that you can make.

And ill say it right now, the prices discussed for Cotto-Marg are too freaking high, also. You're not appealing to the Goldman Sachs crowd in NY for this one. $300-400 just to sit in the lower bowl at MSG is obscene, especially when much of your target demo is hurting, if not unemployed, especially as the holidays approach."
Yeah, for the record, Swider's not a Mayweather fan (as you can probably tell) but he will be in the Big Apple for the rematch between Antonio Margarito and Miguel Cotto at the Garden. I'm going to say this again; the boxing industry- specifically in the States- needs to do a better job of not only putting fights in the proper locations but also making sure that "Joe the Plumber" isn't completely priced out of the picture, either through inside deals with ticket brokers/scalpers or deceiving seating charts (where the definitions of "ringside" and "lower bowl" now mean you are crammed closely beneath the roof of the building staging the event).
You can only abuse the fans for so long, right?
Now, I find it fascinating and very telling that Jerry Jones realizes just how important it is to have a large crowd and an atmosphere for televised events. Despite a down year in 2010, his franchise, the Dallas Cowboys, led the NFL in attendance (

http://espn.go.com/nfl/attendance/_/year/2010

) with 696,377 patrons who came through "Jerry's World" in Arlington, Texas (where Manny Pacquiao performed twice last year) for an average of just over 87,000 per game. Meanwhile, HBO has mastered the art of putting up multimillion-dollar license fees for bouts that couldn't fill a broom closet and TV packagers like Shaw, who went on record saying that they didn't care if 500 people bought tickets for the Bradley-Alexander fight.
On Saturday night, I got this email from my colleague at Boxingscene.com, Jake "The Un-fake" Donovan:
"I'm officially confused. Both are claiming to be live, yet same show....

TRL has Garcia-Fuentes bout on (as announced yesterday)

Azteca online feed (also advertsided as LIVE) has Solis fight on.



This goes beyong the usual bizarre BS this series has offered.

- Jake"
OK, here's what Mr. Donovan is referring to: on Saturday night, both Fox Deportes ("Top Rank Live") and TV Azteca ("Box Azteca") listed that they were going to show Ulises Solis take on Jether Oliva for "Archi's" IBF light flyweight crown. In Los Angeles, "Top Rank Live" ran from 7-9:30 PM. "Box Azteca" aired from 10PM-Midnight. Well, TRL aired Moises Fuentes winning the WBO minimumweight belt from Raul Garcia from the Auditorio Benito Juarez in Guadalajara, in what was a decent scrap. Later on, from the same venue, Azteca did show Solis winning a 12-rounder over Oliva.
On Twitter, I was told that some Azteca affiliates cut away from the main event in the middle of the fight to go to infomercials. Personally, I was able to see all dozen rounds. I mentioned that it's a good thing that Fernando Beltran and Azteca/Fox Deportes don't have the NFL package, to which @linusesq tweeted back at me, "What's Spanish for Heidi?"
I would ask Top Rank about this mess but the truth is they are as confused as everyone else.
As you know, I get a kick out of Twitter and when stuff like the Mayweather family implosion on HBO's "24/7" comes off, you know it's Twitter gold. I know some of you have asked me my thoughts on this whole issue. Well, here were my tweets on what I saw...
- Some thoughts on 24-7: Floyd and Floyd Sr. have the most contentious father-son relationship since Marvin Gaye and his pops

#

boxing
- I mean, how bad is an argument, when Roger Mayweather of all people, have to be the voice of reason and peacemaker?

#

boxing

#24/7
- I'll say this, I think if I'm Jeff Mayweather, I'm awfully upset I wasn't even mentioned in this whole argument

#

boxing

#24/7
- The ghost of Richard Dawson wants to see an episode of Family Fued between the Mayweathers and the Garcia.

#

boxing

#24/7
- Honestly, I think it's time for another Mayweather Foundation banquet to settle all this

#

boxing

#24/7
- Honestly, IMO, Floyd Sr, wants to be the fighter his son his. Jr. wants to be the street guy/hustler his dad once was

#

boxing

#24/7
- that was great when Floyd Sr said '41-1'. Honestly, he should said 40-2, I thought Castillo beat him the first fight

#

boxing

#24/7
- Seriously, I dont think I haven't seen the Black Mamba that uncomfortable since JC Chavez Sr was in the ring with him

#

boxing

#24/7
- I keep re-watching this argument, I mean, it's the best fight Floyd Mayweather Jr has ever been involved in
- This episode of #24-7 shows that when its all said and done, Mayweather's gonna Mayweather.

#

boxing

#

hbo
- After watching that #24/7, Dave Chappelle even said,'Man, thats when keeping it real goes wrong."

#

boxing
Thank you, thank you; I'm here every day: @stevemaxboxing. Try the veal, please (Seriously, I kill myself sometimes).
I also got this from "The Executioner," Bernard Hopkins (@THEREALBHOP) at 3 AM, no less: Floyd call hmslf $$ but he cant buy class.. 2011 Stephin Fetchit. Hes a trainwreck waitin to happen!!

#

boxing
Now, later on, I'm told he deleted this tweet for some reason. Geez, I really hope he doesn't accuse me of misquoting or mis-retweeting him or anything like that. Last time that happened, I had to go to court. Worst of all, I had to go all the way to New York!
OK, Epix again had more problems with its streams, according to a lot of fans. Y' know what they say, strike four and you're out. But the fights were actually solid. I thought Alexander Povetkin pulled away late from Ruslan Chagaev and Robert Helenius emphatically closed the show on the game Sergiy Liakhovich...Seriously, if Matt Stafford can stay healthy, I like that football team in Motown...Was Irene the only hurricane of recent memory not implicated by Nevin Shapiro?...Could the Garcia family dispute not really be over Victor Ortiz but the fact Robert likes Pepsi so much?...I have a rule in predicting college football games: always pick the SEC in non-conference games so I'm going with LSU and Georgia this weekend...The thing about the Mayweather's is this, as long as it's not you on that Amtrak, train wrecks are great fun to observe...Frankie Gomez had a tough eight-rounder with Adrian Granados but I still wonder if he's technically developing at all
…I can be reached at k9kim@yahoo.com and I tweet at www.twitter.com/stevemaxboxing. We also have a Facebook fan page at www.facebook.com/MaxBoxing.