Salido Stays Active: Is It a Growing Trend?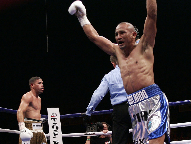 (Photo © Chris Farina / Top Rank)


Back in mid-April, Mexican tough guy Orlando Salido went to the island of Puerto Rico and promptly bludgeoned Juan Manuel Lopez over eight rounds to take the WBO featherweight title. This weekend, he takes on Kenichi Yamaguchi in what is a homecoming title defense in Ciudad Obregon, Mexico. Following in the trend of other standout, south-of-the-border fighters from like Jorge Arce, Humberto Soto and Fernando Montiel, Salido is opting for a quick turnaround to stay active. Most fighters nowadays at this level perform about every half-year but there's a simple reason why Salido is boxing just three months after his title winning effort.


It's because he can and he's willing to.
With the presence of Televisa and Azteca, two huge, terrestrial networks in Mexico that regularly televise the sport, the opportunities are plentiful for boxers like Salido.
"Both big networks are going with weekly programs, so you're talking about close to 90 shows a year between the two of them that they have. They're both going up against each other 45 weeks each. As a result of that, you have incredible opportunities for all these fighters," explained Todd DuBoef, President of Top Rank, which handles Salido's career in association with Zanfer Promotions. This bout is being shown on Azteca in Mexico and on the "Top Rank Live" series in the States on Fox Deportes/Fox Sports.

DuBoef believes it isn't so much that Mexican fighters want to stay busier than their American counterparts; it's that they have more chances to do so. "I think you're seeing that the opportunities are right now are so strong in Mexico with the television and the weekly programming that you're seeing the guys in the ring on a much quicker basis than we are seeing here, where the ability between Showtime and HBO is twice a month, it's not nearly as much as four times a month. So I think we're seeing guys turn around differently; we're seeing the economic expectations- they're not sometimes as reasonable as we see when the pay TV becomes involved- so I think it's a more functional role and it helps the environment that's going to create a lot of boxing stars in the future."
Salido defeated Lopez on Showtime. This fight will come with a decidedly marked down license fee. The reality is that a fighter must understand the economics involved with each promotion and adjust his expectations accordingly. In other words, just because you might have been paid 'X' amount by one of the premium cable networks, there is no reason to believe that that is some sort of threshold that simply cannot be lowered. Many boxers carry this attitude; until that changes, they will sit on the sidelines for months at a time until their turns come up on HBO and Showtime.
DuBoef says, "I see that more in America than I do anywhere else and I think that that paradigm is slowly going to get broken down. I remember the year when Oscar [De La Hoya] fought five times in one year (1997). Ray Leonard, what, did he fight like eight times that year before he fought Wilfredo Benitez? I mean, in one year. So I think it's just that kind of environment here. The environment here is, you get to a certain level and you wait for a date and it could be once every six months and I think we have to change that and make it so that it isn't set up that way and so these guys capture the opportunity on a regular basis, which obviously keeps him in the game regularly, keeps them in better shape, obviously, keeps them sharper also. Out of sight, out of mind.
"We gotta turn the clock back and I think we're getting very close."
You can make an argument that the last real full-time American fighter was James "Lights Out" Toney, who, from 1991-1994- as he became one of the best boxers in the sport- fought 23 times during that stretch. During that run, even as he became an HBO staple, he fought in interim fights on various platforms from ESPN, ABC, TVKO, USA and a fight or two that weren't even televised.
"James was a throwback fighter," said DuBoef, whose company promoted Toney during his heyday, "He had Bill Miller as his trainer. He wanted to be in the gym; that's all he knew how to do. He was tough. You had ESPN going on a premium level; they were paying nice fees, usually for big fights, like for a Tommy Morrison and Michael Carbajal or James. You had ABC out there a little bit in that time. I remember [Toney] fought a couple of times on ABC and CBS. He understood the big picture, 'I gotta get out there all the time. I gotta get popular. I gotta be exposed and I want to stay active and keep me in the gym. Just line up the guys and I'll go fight.' That's the throwback mentality. I think we'll see more often once these opportunities arrive."
Unfortunately, ABC or CBS are no longer in the boxing business and when USA's "Tuesday Night Fights" franchise folded up its tent in the summer of 1998, another avenue for fighters to ply their trades on a regular basis was closed. However, the loss of these platforms wasn't the sole reason for this systemic failing, where so few crossover stars are created nowadays.
"I think the breakdown happened when multi-fight agreements were started in the '90s," opined DuBoef. "It was really prevalent in the late '80s and '90s between both the premium networks and they started locking up talent. As a result of that, they had to offer a certain minimum of bouts and they usually could only do two. Therefore, the gap between those bouts and other bouts became so great that everyone just started getting used to taking two fights a year from the premium channel and that was it- and maybe doing a one-off pay-per-view- or something like that. So that's when it kind of started."
So while guys like Salido and the like have the option to fight regularly, earn steady income and build themselves into attractions, fighters in the States don't have that option- for now.
"I think we're moving towards getting to that point, where hopefully, we get other avenues here in the United States that would supplement and complement the shows of HBO or Showtime and ESPN and Fox and everything like that," said DuBoef. "That would be a nice mid-level show but I think it takes time and we're building there. We're getting close, one step, one day further."

JUANMA

On the other side of the coin, Lopez looks like he's not going to take an interim bout before facing Salido in a return bout later this year.

"I think 'JuanMa's' a really exciting fighter. I think he had some alibis coming out of the fight, which I didn't like. He wasn't focused; he didn't take it seriously. It was a terrific fight; he wasn't prepared 100 percent. He learned the hard way. Do I think he should be fighting between now and a rematch with Salido? I think he should get in the ring and keep himself active," said DuBoef, candidly. "He's young; he should show his dedication, get back. And should you be concerned [about that]?

"I mean, I can't do the training. I can't get these guys to do what I think would be the right thing, as it relates to their training and everything like that. I can line up the opponents for them and they have to be prepared to get in the ring."

SKED

As it relates to the fall schedule, including Salido-Lopez II, DuBoef explains much of that will be sorted out as soon as a decision is made on which network will distribute and televise Manny Pacquiao's bout versus Juan Manuel Marquez on November 12th. Of course, how much is left in the boxing budgets of HBO and Showtime will determine the remaining schedule.
Salido-Yamaguchi will be televised by Fox Deportes on Saturday night at 10 PM, ET/PT but that's far from the only-televised card. ESPN2 has Anthony Dirrell-Kevin Engel on Friday night at 9 PM ET/6 PM PT and Telefutura features Christopher Martin taking on Jose Silveira at 11:30 PM, ET/PT...The Saturday afternoon heavyweight bout between Tyson Fury and Dereck Chisora, which can be purchased on pay-per-view through Integrated Sports, begins at 3 PM, ET...Of course, HBO has Judah-Khan at 10 PM ET/7 PM PT...I loved the most recent edition of "Real Sports" on HBO. I thought all four segments were outstanding. For all that Ross Greenburg bungled in terms of boxing, shows like this cannot be forgotten about...Tiger Woods gives his caddy the ax? Who else is he going to throw under the bus?...What in the name of Andy Van Slyke is going on in Pittsburgh? The Pirates are in first place?!...I can be reached at k9kim@yahoo.com and I tweet at www.twitter.com/stevemaxboxing. We also have a Facebook fan page at www.facebook.com/MaxBoxing.