Rios Wins War of Attrition with Antillon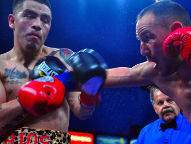 (Photo © German Villasenor)

By Ryan Maquiñana at ringside


CARSON, CA – Brandon Rios wasn't going to take no for an answer.

In a splendid scrap that had "Fight of the Year" written all over it had it lasted longer, "Bam Bam" successfully defended his WBA lightweight title for the first time by flooring Southern California rival Urbano Antillon twice in a dynamic third-round stoppage.

"I said before this fight would come down to who could take a punch best. I was that guy. I knew I was going to win because I was younger and stronger," said the 25-year-old Rios, whose hellacious pressure helped him run his record up to 28-0-1 (21). "I'll fight anyone at 135. Give me all the big names. I want them all!"

Asked whom he'd like to encounter next in Spanish by TV Azteca ringside interviewer Marco Antonio Barrera, Rios looked right at him and asked, "Well?"

The future Hall-of-Famer replied, "You've improved a lot!"

Antillon descends to 28-3 (20).

BRANDON RIOS TKO3 URBANO ANTILLON
WBA lightweight title

Rios, 135, had wrested the WBA strap from Miguel Acosta's grip in February by systematically wearing him down in the tenth round and this fight would be no different. Antillon himself, 134.75, was a member of a "Fight of the Year" candidate last December in a valiant but fruitless challenge for WBC champ Humberto Soto's title that would have been a draw had he not been a deducted a point in the fifth.

Jimmy Lennon Jr. commenced the festivities of the main event with a ringside tribute to three boxing greats—announcer Nick Charles, writer George Kimball, and trainer Bouie Fisher, who had all recently passed away.

In a regional rivalry, Rios represented Oxnard while Antillon hailed from Maywood. Even the fighters' choice of Mexican music contrasted, as Antillon's norteño con tuba was succeeded by Rios's traditional
banda.

Off the bat, Antillon's stiff left jab scored as he doubled it up. He followed it with a left hook to the body and it seemed to coerce Rios into throwing some volleys of his own. Rios unleashed his left hook and right uppercut to the delight of the crowd. Antillon threw a four-punch combination. Rios rocked Antillon with a left uppercut but the latter seemed to take it well, giving Rios a left hook to the ribs of his own. At this point, the war of attrition had been fully ignited and both fighters scored before the round came to a close.

With the crowd beckoning for more, the bell signaled round two. In the center of the ring, the two traded jabs and left hooks, with Antillon's landing more cleanly. However, Rios felt it was much better to give than receive and backed Antillon into the ropes with a left hook and uppercut on the inside. The pace slowed a bit but it didn't last long, as Rios pushed a jab into Antillon's face and found a home for his left hook downstairs. Antillon clipped Rios with a short left hand and an overhand right as the two continued to trade in a phone booth. Rios let loose with his hands a split-second later with a shower of shots highlighted by that left hook to the body. To close the round, Antillon then threw a hammer of a left hook that unfortunately for him, found Rios' bicep.

Round three began with the inevitable offensive outburst from Rios, whose shots seemingly had more sauce to them. After the two fighters returned to battle, both scored on the inside until a right hand and
subsequent left hook from Rios crashed on top of Antillon's dome, sending him to the canvas. As he ascended, Antillon defiantly barked something at referee David Mendoza. Rios took advantage of the slight lapse in concentration and rammed him into the ropes, landing a variety of left hooks and right hands. Antillon buried a straight right into Rios but again, the impact from his shots was greater, especially the uppercuts on the inside, and he doggedly gave Antillon nowhere to go. Finally, with Antillon crouched over, a booming right hand over the top from Rios had the Maywood fighter tumbling forward. The brave Antillon refused to quit, taking a stand for the final time, but he wobbled around the ring, in no shape to continue.

Mendoza stopped it at 2:49.

Rios landed 34 of 88 jabs (38.6%) and 55 of 111 power punches (49.5%), while Antillon's output was 17 of 43 jabs at a 39.5% clip and 65 of 146 power shots with 44.5% accuracy.

"I've got power in both hands," said Rios, who will likely fight once or twice more at 135 pounds before moving up to light welterweight. "In training, we watched tape and saw his mistakes from his last few fights. I thought he might make it into the early rounds but he didn't."

"Rios is an emerging superstar," added Top Rank CEO Bob Arum. "In a year or two, I would have him in with Manny Pacquiao. I think he's a guy who can match his speed and power."

"I got caught," said a gracious Antillon in defeat. "Soto's a great champion but is much better defensively. This guy Rios is much physically stronger than Soto and a bigger puncher."

"The first knockdown did all the damage," said Antillon's trainer, Abel Sanchez. "The left hook was a devastating punch and took it out of him. The rest was an accumulation of punches."

CARLOS MOLINA UD10 KERMIT CINTRON
Light Middleweights

"King" Carlos Molina proved too much for former IBF welterweight champ Kermit Cintron

Houston's Cintron, 149.25, returned to the scene of his controversial technical decision loss to Paul Williams over a year ago where he flew out of the ring in a single bound, leaving him unable to continue.

Meanwhile, Chicago's Molina, 151.75, looked to make a statement. The man who scraped by with a draw against him last March, Cuban Erislandy Lara, saw action tonight on the other side of the country in a main event against Paul Williams.

The first round was a close one highlighted by inside fighting and could have gone either way. Both fighters did some good work to the body despite the numerous clinches and Molina was aware of Cintron's heavy right hand, slipping it whenever he could.

In the second, Molina found success with the straight right hand, which followed an accurate jab that he often doubled against Cintron. The Puerto Rican tried to counter off the back foot with the left hook but Molina scored often with the basic one-two to take the frame.

Molina now utilized some head movement to work his way inside, mixing up his attack with the intermittent left hook to the ribs. Cintron bounced on his toes and pumped the left jab but he had trouble finding an opening. "The Killer" was not living up to his name, as he tentatively seemed to throw one punch for every three for Molina.

Cintron continued to have trouble solving the puzzle presented by Molina's head movement and rhythm. Every time the Puerto Rican wanted to initiate his offense, Molina stuck his jab in Cintron's neck, following it up with an overhand right. There seemed to be no sense of urgency in Cintron as he allowed Molina to push him into the ropes without retaliation.

Down at least three rounds in my book, the onus was on Cintron to establish himself in the fifth before the fight turned one-sided. Sure enough, he began to increase his punch volume, landing a one-two of his own and a left hook to the body. However, buoyed by the momentum of the first four rounds, Molina's lofty confidence was apparent. Landing an overhand right and an uppercut in close quarters, he once again bullied Cintron into the ropes and scored. By the end of the round, Molina wailed on Cintron with body shots until the bell.

As the sixth began, the drops of blood that trickled down Cintron's nose in the corner had traveled to his right cheek, possibly the result of the Molina cross that connected with frequency. Cintron found a home for his overhand right that caught an unsuspecting Molina and drew "oohs" from the crowd but the Windy City fighter finished strongly, landing a looping right and pushing a jab into Cintron's left cheek to close the frame.

Cintron needed to take some risks in the seventh and he showed signs of doing that with a lead left hook that was a good idea in theory but not in practice when it did not find paydirt. He quickly abandoned that strategy and pawed his left jab. Unfortunately, it seemed to leave the opposite effect that Cintron desired because Molina took advantage of Cintron's propensity to bring that left hand back to his hip by launching another lead right followed by a two-punch combination to the body. Cintron regrouped but seemed too reluctant on the trigger to get anything going.

In the eighth, Molina reasserted himself with an assault to the body to open the scoring. Cintron popped a left jab that scored but he couldn't put anything behind it. Molina now resorted to his overhand right and flurried but Cintron slipped the four-punch barrage. However, time and time again, Cintron's lack of activity put him behind. Molina now took control and with Cintron's back to the ropes, had the Puerto Rican hurt and in trouble with a furious flurry but the bell intervened.

With two rounds remaining, there seemed to be only one fighter trying to win. He punished Cintron with a digging right hand to the midsection and threw an overhand right before referee Jerry Cantu separated the two combatants. Cintron now reached with his jab and was caught by a Molina left hook to the jaw. Molina then returned to the body and walked Cintron down to end the stanza.

Three minutes now separated Kermit Cintron from a possible shutout loss and he instantly threw a wide left hook that bounced off Molina's right elbow. Molina was just as active as he was in the previous nine rounds and a series of hooks upstairs had Cintron backpedaling into the ropes. Finally, Cintron's left hook touched Molina's chin, but the latter would not be denied tonight and shook it off. Molina then turned the tables, assailing Cintron with a four-punch combination followed by a three-puncher that stopped the Puerto Rican in his tracks. It was more of the same as Cintron made it to the finish line.

Chalk up a win for the Mexican in their long, illustrious rivalry with the Boricuas. Max DeLuca, Pat Russell, and Marty Denkin all scored the fight 98-92 for Molina.

"I wasn't hurt at anytime and I thank God for that," a grateful Molina declared. "I drove here myself on July 4th. I took a three-day journey. I was prepared. I'll take on anybody next."

"[Kermit] had a great training camp," said Ronnie Shields, Cintron's trainer. "He trained for eight to nine weeks. There were no excuses out there. He couldn't just get off."

Molina now rises to 19-4-2 (6), while Cintron drops to 32-4-1 (28).

MERCITO GESTA TKO3 JORGE PIMENTEL
Lightweights

Clad in the red, blue, and yellow of the Philippines, Mercito "No Mercy" Gesta made both his countrymen and new handlers at Top Rank proud with a third-round stoppage of late replacement Jorge "El Tigre" Pimentel.

Gesta, 137, was coming off a third-round stoppage of Genaro Trazancos in February, whom he had already previously knocked out. Pimentel, 138.25, traveled into town when former world title challenger
Francisco Lorenzo had visa issues. He came in a marked underdog, having incurred back-to- back stoppage losses, the last coming in April at the hands of Rosbel Montoya.

The opening moments of the fight were uneventful but toward the conclusion of the first round, the southpaw Gesta sliced through the taller orthodox Mexican's guard with an attack as sharp as his spiky Mohawk. A right hook followed by a straight left bounced off the top of Pimentel's head and sent him to one knee. While "El Tigre" easily beat the count, it was only a precursor for things to come.

Gesta, who had unsuccessfully looked to land with a counter right uppercut in the first, went to that. A six-punch combination to the body and ended upstairs landed without rebuttal. Pimentel pumped the lead straight right in textbook fashion in hopes of keeping Gesta at bay but the southpaw flipped the script on him, switching to orthodox and connecting with a right uppercut that decked Pimentel. Again, Pimentel rose to his feet but by this time, he had been introduced to the Filipino's power and began to retreat before the bell.

As the third stanza started, Gesta began to pressure his foe. Pimentel, to his credit, stood in and threw a two-punch combination to the body. However, Gesta was undeterred and continuing to start his attacks with a lead right uppercut, peppered Pimentel and darted in-and-out. Moments later, the end would come via an avalanche of punches punctuated by a rocket of a left cross that floored Pimentel and immediately prompted referee Raul Caiz Jr. to halt the bout at 2:23.

Gesta made sure to advertise his roots, having shaved into his head the sun of the Filipino flag as well as an interlocking S and D for his new home of San Diego. He moves to 22-0-1 (12).

"I'm so happy to finally get to fight," Gesta said. "I think the fans enjoyed it. I was able to hit him with the uppercuts and he was strong but once I hit him, I think my power punches hurt him."

Standing at number two in the latest WBO rankings, he might be looking at a fight with Alisher Raimov of Uzbekistan next for the vacant title. For now, Team Gesta will savor the victory.

"We're going to wait and see what Bob has for us next," trainer/manager Vince Parra stated "but we're ready for anything while we enjoy this."

Pimentel, of Guaymas, Sonora, Mex., falls to 23-12 (17).