Rios is Given a Clean Bill of Health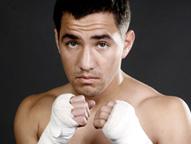 Photo © Hoganphotos/Golden Boy Promotions


In a matter of moments, featherweight Ronny Rios was an up-and-coming 13-0 featherweight preparing for his next outing this past spring. And then just like that, he was a boxer who was looking at mandatory retirement. Several months ago after going through a routine testing process that all fighters must adhere to, Rios was diagnosed with hepatitis C. Any fighter afflicted with this disease loses his boxing license in the state of California.
The 21-year old boxer from Santa Ana was stunned by the test results.
"I've been with the same girl for two years- protection, of course- we don't do drugs. I try not to stay out late but sometimes you gotta get that party in there too. But I think a couple of days before that test, we went to Vegas and I didn't drink too much. I only had like four beers in two days. So they say that that could've thrown off the test or using a protein shake. It could've been a combination of things. But yeah, I was a little scared."

His manager, Frank Espinoza admitted, "I was shocked; I really was. The last person in the world I thought this could happen to was Ronny because of the way he loves boxing, the way he takes care of himself. He has no bad habits. I was really shocked when I heard that. Of all the kids, I was really surprised." His trainer, Hector Lopez, who shares a close-knit bond with the fighter, stated, "It was one of the toughest things I've ever had to go through. This kid has been with me since he was a little kid and it was scary. Not knowing what the hell was going to happen, obviously, you try to be optimistic and tell him, 'No, no, no,' but like everybody else, it was a very scary time. I don't want to go through that again."
Team Rios began the process of seeing if somehow the test results were a false-positive. Rios eventually took a test at U.S. Health Works Medical Group, where Lopez has worked for two decades. "I will tell you this; the night that we got the final test like at three or four in the morning and my computer was rigged to our laboratory. It was probably one of the happiest days of my life. It was just a relief; it was so stressful." Lopez ended up delivering the good news to his fighter.
"He called me at 6:43 in the morning," recalled Rios, of that fateful call. "Right before we were leaving for my little brother's tournament and he's like, 'Ronny, let me be the first to tell you that you're healthy,' and I screamed and everybody in the house woke up and was like, 'What happened? What happened?' And I was like, 'I'm good; it's negative, 100 percent negative.' It was just the [happiest] day of my life right there."
During this period of exile, Rios had begun to make plans for life without prizefighting. He really had no other choice at the time.
"Honestly, I was scared but y' know, like most fighters, you gotta bounce back right away. My mom has this cleaning business; it's not really expanding so when I found out about the hep-C, I was like, 'Y' know what? Gotta keep my head up, move on, try to expand my mom's business.' I started talking to a couple of clients and I have a couple of clients in the making right now for the business, so I'm trying to get that going."
But boxing is what Rios really wants to do; it's what he has invested much of his life in. The cleaning business can wait. Espinoza said he could see the weight of the world on Rios' shoulders. "This is what he worked for; this is what he knows. He has a passion for boxing and as a boxer, how much more devastating a word can you get than this? I mean, having your career taken away from you, not losing it in the ring but losing it in the lab. So yeah, he was very, very depressed."
After his reprieve in March, he was back in the ring versus Georgi Kevlishvili on May 20th at the O.C. Fairgrounds in Costa Mesa. Rios won a hard-fought eight-round decision.
Rios says of his return, "I don't want to sound too skeptical but I felt the ring rust a little bit. That was my longest layoff from a fight, five months. So the camp was good but just the ring rust…I didn't stick to my game plan. I increased those four hard rounds trying to break him down and in the process, I tired myself down a little bit. So the last four, I wasn't like I usually am. I usually start off slow, start working the body, breaking him down and the last four rounds, go all out. This time, I did the opposite."
Lopez called the outing "a good fight back," which he was expecting, believing that the layoff and drop in weight was inevitably going to affect his charge. They now prepare to face Noe Lopez this Saturday night at the Mandalay Bay on the Zab Judah-Amir Khan undercard. On this day at the Maywood Boxing Club, they sparred with Daniel Ponce de Leon in anticipation of facing a left-hander.
Rios knows it's a tough way to make a living but for now, there's nothing else he'd rather be doing.
"I've always appreciated it. I never took it for granted. There are occasions when I don't run; I'm too sore but I always put in the work," said Rios. "There are some times where you can't because your body is telling you to rest. Sometimes you over-train; sometimes you hurt your shins or whatever but I've always taken it for real. Boxing, that's my career."

MANDALAY FLURRIES

With the WBC now ordering negotiations to take place between Jorge Linares and Antonio DeMarco for their vacant 135-pound title, look for it to take place on the Bernard Hopkins-Chad Dawson undercard in Newark, New Jersey...Also, there was some talk of Danny "Swift" Garcia facing Kendall Holt on that show but based on what he said on Twitter (@Kholt456), Holt wants bigger fish to fry...It looks more and more like Toshiaki Nishioka will defend his WBC 122-pound title versus Rafael Marquez at the MGM Grand in Las Vegas on Oct. 1st (as part of the WOWOW Network's 25th anniversary in Japan), powerhouse junior flyweight Roman "Chocolatito" Gonzalez could be added to that bill. Honestly, this is superior to the card brought to you by HBO with Sergio Martinez facing Darren Barker in Atlantic City...It was announced at the final press conference on Thursday that HBO will air highlights of Peter Quillin and Gary Russell Jr., who perform on the untelevised portion of Judah-Khan at the Mandalay Bay...Speaking of "The Bay," I wish every fight in Las Vegas was on this property. It's still my favorite hotel on the strip...If the NFL can get this lockout ended, I don't think I'll ever look forward to a Hall of Fame game like I will this season...So Manny Pacquiao is now being handled by a group called VisionQwest? When I think of that, I think of Matthew Modine as a high school wrestler and this from Madonna: http://www.youtube.com/watch?v=A2pYLcdrcQs&ob=av2n...I can be reached at k9kim@yahoo.com and I tweet at www.twitter.com/stevemaxboxing. We also have a Facebook fan page at www.facebook.com/MaxBoxing.