Ponce de Leon Comes off "Win" to Face Gamboa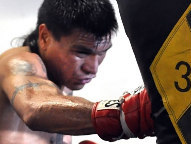 (Photo © German Villasenor)


The last time Daniel Ponce de Leon faced an opponent who held advantages in speed and quickness was on the night of March 5th at the Honda Center in Anaheim, California, when he squared off against Adrien Broner. After ten rounds, many observers believed that the hardnosed Mexican southpaw had done more than enough to win. Instead, he was on the short side of what was a controversial verdict that evening.
While the official record has the fight down as his third professional loss (against 41 victories), Ponce de Leon and his team put that fight in the "W" column.
"I felt I won," Ponce de Leon said through interpreter Marco Lopez, last week before his days work at the Maywood Boxing Club, "I feel he didn't do anything to me. I felt I was landing the punches and I feel I won that fight. Everybody knows I won and don't even count that fight as a loss. That fight gave me a lot of experience though."

His trainer, Dub Huntley says, "We know it was a win; I told Ponce, 'Ray Charles, he's blind but he called me and told me you won the fight.'" His adviser, Mark Hernandez, commented, "Depending on who you talk to, some thought Broner won. We felt Ponce had done enough to win that fight and even though he wasn't given that decision, it was a fight that we could leave behind us and move on, knowing that we actually looked pretty good in that fight."
Both Ponce de Leon and Broner are under the same promotional banner of Golden Boy, which means that in the immediate aftermath of a bout of this ilk, someone has to go in there and console the losing side. Often times, it's an unenviable task where accusations can be thrown around and fingers pointed.
"It's very uncomfortable; I gotta tell you," said Eric Gomez, matchmaker for GBP, who's had to do this more than once." The first thing for us, it's always uncomfortable when you represent both guys. It was uncomfortable going in the locker room with [Marco Antonio] Barrera, when he fought [Juan Manuel] Marquez because [Team Barrera] felt they won and you have to kind of go in there, almost defending yourself because they start thinking these crazy things, 'It's a setup,' this and that. So Ponce, it was kind of the same thing; you go in there defensive. But the kind of person he is, the team around him, we've all grown together. We've all grown together and we understand one another and we appreciate each other.
"They knew- even though they lost- they really won because the fans let him know it. And all we did was concentrate on the positive and be like, 'Hey, look, you're going to get a big fight again. You're going to be back on HBO. You put on a helluva performance. You're going to be back; we're going to make sure of it. We're going to do whatever it takes to put you back.' I didn't think it was going to be this soon."
This weekend at the Boardwalk Hall in Atlantic City, Ponce de Leon faces the talented Cuban Yuriorkis Gamboa, back at his natural weight of 126 pounds. However the scorecards came out back in March, Ponce de Leon was treated as if he were a winner versus Broner.
Gomez said, "Yeah, definitely, definitely, it was a very close fight but I'm very proud of [Ponce de Leon]. He has been great to work with. He's never turned down any challenge, any fight. I knew this was a tough fight. I was worried for him in this fight because Broner was such a bigger fighter, better technically. He's a counterpuncher, defensive. So I was a little afraid for him but he really, really impressed everybody and he did great. He did really, really good and it was a blessing in disguise because now he gets the Gamboa fight."
Like Broner, Gamboa has decided advantages in speed, reflexes and technique. When Ponce is asked if his experience against "The Problem" will aid him on Saturday night, he answered, "Yes, because they have the similar styles but Gamboa's a little shorter, stronger and throws more punches and a little faster." He also believes that Gamboa will be much more aggressive."I believe so," he stated, "because Broner felt my punches and he started running. I believe Gamboa will stand there and fight."
That said, being at a deficit in quickness is not foreign to Ponce de Leon. The reality is that he's usually the second fastest boxer in the ring in just about every fight he's been involved in. And while his technique has been tightened and shored up, he's still not the most graceful or elegant practitioner of the "Sweet Science." What Ponce de Leon does have are heavy hands and natural power. Gamboa, for all his skills, is no stranger to touching the canvas.
The old boxing adage is that timing can neutralize speed. Ponce de Leon will most likely have to catch Gamboa- who is prone to rush in recklessly with his chin dangling in the air- with a precise counterpunch. According to Huntley, who has been with Ponce de Leon for the past several camps, "I tell ya, I know he's fast and a lot of people talk about how he's so fast but I've watched the tape and to me, Ponce's just as fast too. Both of them have a good punch; both of them can hit but I don't think [Gamboa]'s been in with the competition Ponce's been in with. He hasn't been there yet."
While Ponce de Leon is certainly the more battle-tested and seasoned fighter, Huntley's view on the respective quickness of the two boxers is certainly a minority opinion. Ponce will have to utilize his awkwardness to his advantage and somehow find a way to take the fight into the middle and late rounds against Gamboa, who is usually a very rapid starter. The last time Ponce de Leon performed at the Boardwalk Hall against a highly-touted fighter, it was back in June of 2008 and he was zapped in one round by Juan Manuel Lopez. But the feeling is that it's a better version of Ponce de Leon that Gamboa will face.
"Going into that fight, [Ponce de Leon] was on a roll. He was winning most of his fights at that time by knockout. And he felt invincible, so there's always someone out there that wants it more than you and the mindset and the preparation for the fight, it just wasn't there," explained Hernandez. "I mean, this was a few years ago, so it's easy to talk about it now but he has learned from that fight and he's progressed and he's never going to be a slick boxer but he continues to develop his boxing skills. He has better footwork and as long as he continues to improve, then that's all you can ask for. Because from fight to fight, you can see that at least he's trying and the one thing that he does have is he has power in both hands and he has tremendous conditioning. So he has a chance in any fight that he's in."
For those who care about such things (for entertainment purposes only, of course), Gamboa is about a 9-to-1 favorite. However, when the call came, Ponce de Leon's team never hesitated to pull the trigger on this contest. Hernandez explained, "Daniel is the kind of fighter that won't back down from any opponent, regardless of who they are. Same with the Broner fight, going now into the Gamboa fight. Gamboa may be the best 126-pounder out there and Daniel's not a young kid anymore. He's a veteran and this is a good opportunity for him to come in- provided that he win this fight- then he's going to go on to bigger things. So it's definitely a good opportunity for him."
When asked how he plans to attack Gamboa, Ponce de Leon says, "I plan to find out in the ring because he counterpunches a lot, so I'm going to get accustomed to his style in the ring and we'll be fine."
He added, "I've improved a lot and you guys have seen it and what I left behind in Atlantic City, I'm going to get back."
As you've probably heard by now, this is the first time since 2009 that Golden Boy and Top Rank have hooked up on a fight and it was Gomez who was first contacted at his company regarding this fight, which will be on HBO this weekend.
"When I first got the call, I don't think I said anything to anybody for about a day," Gomez recalled. "I waited a day and then I always like to run things by Oscar [De La Hoya]. I always like to call Don Chargin, have him give me his input because Don's my teacher. He's been very instrumental in my development as a matchmaker. So those were the first calls that I made and they made me feel comfortable and then I went to [Golden Boy CEO] Richard [Schaefer] and Richard's like, 'Well, we've got to do it. How many fighters are coming off losing on HBO and get a chance to be back on and get paid even more?'
"So when I finally went to Ponce's team, it was like the next day when I went to them; they had already heard the rumors. There was something out there and they said, 'We gotta do it. We gotta take this chance.' Ponce wants to be on the big stage again. He wants to prove that he belongs and he feels that he's had his eyes on Gamboa for awhile and he feels there's a lot of flaws that he can expose. So it was a natural fight."
I was made aware of this article by @kevinhoward85 on Twitter, http://news.bbc.co.uk/sport2/hi/boxing/14809598.stm, that talked about the possibility of WBO junior lightweight titlist Ricky Burns vacating that title and moving up to 135 pounds. It was widely reported last week that Burns would defend his crown against the aforementioned Broner in "The Problem's" hometown of Cincinnati on November 26th as the featured fight on HBO's "Boxing After Dark."
Regarding this situation, Gomez stated on Tuesday afternoon, "The first time I heard about it was this morning on the internet and I called Paco [Valcarcel, President of the WBO] and Paco said that as far as he knows, everything is good. Everything remains the same. So we're going to continue to go through the motions. They accepted the deal and [Burns' promoter] Frank Warren accepted the deal Richard Schaefer offered him. So I don't know if there's anything different or not. I have no idea.
"We're moving along as if we have a deal. In fact, just over the weekend, [Golden Boy COO] David Itskowitch was working on the provision of services and I saw an email from him to one of Frank's attorneys and it just said, 'Yeah, we need a couple of changes.' But we're moving forward as if we have a deal. But it's news to us."
OK, but if Burns does make the decision to ditch his belt, the vacant title could be up for grabs between Broner and another Golden Boy client, Eloy Perez, who impressively halted Daniel Jimenez in two explosive heats this past Friday night. Perez is rated number four by the WBO. "He looked great. It was fantastic; there was a great showing," Gomez said of Perez's outing. "I thought 'Azuquita' was going to give him a little more of a test but he just looked great and he went after him. He went after him and didn't let go.
"If Burns is off, [Perez] might be the next one in line for the title," continued Gomez. "We would have to talk to them and ask if they're interested, if they want to do it or not. He would be the next one in line, I'm guessing. If not, we'll see. We'll see who else is out there. We'll have to follow the rules of the WBO, see what they tell us to do."
HEAT WAVE FLURRIES
HBO has a full slate of boxing programming on Saturday night, starting at 9:45 PM ET beginning with another edition of "Face Off," featuring Victor Ortiz and Floyd Mayweather. At 10:00, Part Three of "24/7" is on and then at 10:30, the broadcast featuring Gamboa-Ponce de Leon and Vitali Klitschko-Tomasz Adamek kicks off...Paulie Malignaggi said to me at the Wild Card Boxing Club that Gary Russell Jr. reminds him a bit of Eddie Hopson and while he's certainly impressed by his speed and quickness, he noticed that Russell never changes his speed or varies his tempo...More than one observer who was in Biloxi this past weekend told me that Randall Bailey- who is Andre Berto's IBF mandatory- looked pretty ordinary in his fight with Yoryi Estrella...Word is that Sergei Dzinziruk and his reps aren't so keen on facing Erislandy Lara as part of their return bout promise on HBO on November 5th. If they pass, Lara could be facing James Kirkland. Now, if you have a show on that date in Mexico featuring Alfredo Angulo-Vanes Martirosyan and Lara-Kirkland, sign me up...Tough loss in the head coaching debut at Miami for Al Golden, simply too many mistakes and breakdowns to win a game on the road. But they need to feed Lamar Miller a lot more. That guy is a threat to go all the way every time he handles the rock...And speaking of the Terrapins, yeah, they're new uni's from Under Armour? Let's put it this way, I wouldn't protect that house
…I can be reached at k9kim@yahoo.com and I tweet at www.twitter.com/stevemaxboxing. We also have a Facebook fan page at www.facebook.com/MaxBoxing.