Pawel Wolak: A Real Blue-Collar Boxer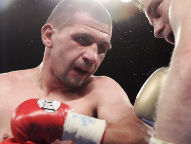 (Photo © Chris Farina / Top Rank)


A few months back during a "Rocky" marathon on AMC, I commented on Twitter that I actually like the second chapter of this iconic series because like many real-life boxers, Rocky Balboa was working a day job to make ends meet. This is the way it is with most fighters, who have to punch a clock in addition to punching someone else's in the gym. Junior middleweight Pawel Wolak (@PawelWolak)- who faces Delvin Rodriguez at the Roseland Ballroom in New York in the main event of ESPN2's "Friday Night Fights"- responded that he was one of those guys.


It didn't surprise me. Wolak has never made the big money in this sport and he always struck me as a hard-working, blue-collar fighter. Turns out, I didn't know how true that was.
"I'm actually a construction worker; I work in New York City. I'm a union member. I work for Adams European Contracting," Wolak told Maxboxing. "We actually build the schools. So listen, yeah, I got a real tough job and I do all kinds of things from scaffolding to brick work to demolition, even roofing. It's really a tough, physical job but I'm not going to complain. I'm not going to say I wish I was just focusing in on boxing. I'm happy with what I do. My boss, he tells me, 'You got a fight, you just tell me. You'll get plenty of time off. I'll even pay for your camp, do what you have to. Prepare yourself the best you possibly can; just win the fight.' They've been very good to me.

"I'm not going to lie; the job is tough. All the guys at my job site…it's tough; it's outside works, in the heat, in the cold. I'm definitely happy with it."
The construction gig is a job. Boxing, though, is his passion.
"Definitely. I want to be world champion. I want to accomplish as much as possible in boxing but my other job, up until this point, has let me do boxing and take care of my family, which is very important. I have a son; I have a wife. Like I said, it's a union job; it's great money, good health care, good insurance, a pension plan, eventually," said Wolak, who has a mark of 29-1 with 19 stoppages. "So I'm happy; put it this way, my job that I do lets me box. And yes, it's tough but it makes it possible for me to actually have fights."
Yeah, Wolak really is an everyday grinder. Carl Moretti of Top Rank says, "In the truest sense of the word- and not only blue-collar- 'blue-collar from New Jersey,' that adds a little more to it." Wolak, who is Polish, migrated to the States at nine years old and now resides in North Jersey.
Nicknamed the "Raging Bull" for his hard-charging, aggressive style, Wolak just looks like a tough guy but there are different ways to define toughness. There's the most obvious way, which is getting in the ring and being a prizefighter. Then there is what millions of others do, just quietly and stoically go about their arduous labor without complaint - and certainly no fanfare- and earn an honest dollar. Wolak is in both realms.
"I work with a lot of blue-collar construction guys; these guys are tough as hell. They don't bullsh*t around. The job is tough and they always tell me, 'I can't believe you bust your butt in the gym and then come to work and you gotta bust your butt again. So they definitely have a lot of respect for me," said Wolak, whose shift in the yard is from 4 PM to one in the morning. He hits the gym in the late mornings and is usually given about six weeks off from the construction site in the lead-up to a fight.
"I could not get ready for a fight if I had to work every day," he admitted. "It would just be impossible but my body- I'm not even kidding- I get home after work- I drive from New York to Jersey- I get home around two o'clock, 2:30 in the morning; I am physically dead. Then I gotta get up in the morning to get my son up. My wife started working a little bit; she's a nurse, so she's trying to keep her degree active and everything. So I don't sleep that much, which is really tough."
Just going through this process motivates him in his pursuits inside the squared circle. This is not a guy who sleeps in silk pajamas. "It definitely makes me hungry. Look, I don't want to be beat by anybody. I prepare for every fight. We train extremely hard; we have great sparring. Even now, fight to fight, we're getting smarter. We know what works for me, what kinda plan we have to assess for each fight. I have great trainers, Tommy Brooks, terrific, unbelievable experience," Wolak said. "They know how I think, how I feel. They cater to my style, which has worked out perfectly."

Many fighters have a situation where they are given a stipend or salary so that they don't have to work a nine-to-five.
"It was an option and I have my manager who did that in the beginning," said Wolak, who is 29 years old, "but then after awhile, I was like, 'Y' know what? I don't need it.' Look, I can pay my own way, meaning that I got a job. I work; my boss helps me out a lot. I don't want anything to be given to me. Listen, this is a crazy environment. It's boxing; it's business. It's very competitive. You gotta be the best. You gotta be hungry. You gotta want it and I believe in my heart that if something's given to you, you won't maybe train as hard. So I personally think if I gotta work for something, I'm going to appreciate it more."
Unless you're in that stratosphere of a Manny Pacquiao, Floyd Mayweather or have made consistent paydays on HBO or Showtime, most fighters don't earn nearly enough to retire off of. [Editor's note: To be clear, approximately two percent of all active fighters make substantially enough to be comfortable.] Wolak, in many ways, is beating the system by getting acclimated to the "real world," with bosses, managers and twice-monthly paychecks. There's nothing boxers fear more than the reality of having to get another occupation.

Wolak says, "It's probably a shock to a lot of people. They're young; they're fighting and all they know is boxing. They don't have much education; they don't have much skills in the real world and definitely once you stop that money flow, it's over. Believe me, it can be a serious problem and as you can see, a lot of fighters do end up broke and not having much after they retire."

Most athletes, not just boxers, are faced with the ends of their careers by their mid-30s and completely ill-equipped to handle civilian life. Wolak admits that while he's on the extreme end of things as it relates to his secondary source of income, boxers have to always be mindful that retirement is inevitable. "I do believe other fighters should work, even if it's not construction- do some security. You gotta be out in the real world. You gotta experience things; talk to people. Boxing is not the end of your life."

Back in March, on the pay-per-view undercard of Miguel Cotto-Ricardo Mayorga in Las Vegas, Wolak impressively halted Yuri Foreman in six rounds. He had hoped to parlay that into a bigger assignment, perhaps against the likes of a Saul Alvarez or Julio Cesar Chavez Jr. Instead, he's back fighting Rodriguez.

"Look, I'm not going to lie; I was hoping to get a title shot but it's OK. You gotta earn your dues and you gotta pay. So the way I see it, right now, I'm just focused on building my fan base," he says. "I'm trying to get as many fans as possible, which is perfect with me. I don't mind. I'll fight on ESPN. It's huge; everyone can see it. That's the most important things for me now but yeah, going back to the original question. I would have liked to have gotten a title shot and fighting one of the top guys, would it be 'Canelo,' Cornelius Bundrage or Miguel Cotto, whoever, but it's OK."

When asked what a decisive victory over Rodriguez would yield Wolak, Moretti told Maxboxing, "We've spoken about a tentative schedule the rest of the year, so as long as things go according to plan and he shines on Friday night and looks good on television, I don't think we'll have a problem placing him on one of the cards between September and December."

Just about any fight with Wolak attached to it is bound to be a good scrap.

"He fits in a lot of ways," said Moretti, "because of the way he fights in the ring and his weight class. So he seems to be rejuvenated or re-motivated. He seems to have really blossomed over the last year but because of his style and his weight class, he fits in, in a lot of places."

What Wolak will do is continue to work. Unlike an Alvarez or Chavez, he's not one of the chosen ones or the heir to boxing royalty. He's one of these guys who will just have to keep pounding away like he does a nail with his hammer or continue to build his résumé steadily like he does as he lays one brick down after another.

"Look, I understand boxing is a business and it's all about the fans, so hopefully, if I keep putting on good performances, hopefully my fights are entertaining. Y' know, people do like my fights, I think. They love my style; they love the way I fight. All in due time, I think it's going to be impossible for me to not fight 'Canelo' or Chavez. It's only a matter of time."

SUSPENDED

My friend over at Yahoo! Sports, Kevin Iole, reported that the trio of Donald Givens, Al Bennett and Hilton Whitaker have been suspended by the New Jersey Athletic Control Board for their dubious scoring of the Paul Williams-Erislandy Lara fight this past weekend in Atlantic City:

OK, here's the thing; if this is the only step taken, then it's a very hollow move. The bottom line is that those who needed to benefit from such a verdict will have gotten away with it and will move onto their next score. Lara? Well, it's not necessarily guaranteed despite all this outpouring of sympathy and goodwill that he will parlay on this performance.

Some, like Lou DiBella, want to commend the Jersey commish, Aaron Davis, for some reason. He should be held accountable for appointing three inexperienced judges to this fight in the first place. Maybe, just maybe, they were placed here for a particular reason. It says here that perhaps all three judges should have their licenses permanently revoked- but remember, Eugenia Williams was still found ringside in the aftermath of Evander Holyfield-Lennox Lewis I. So, fat chance. Davis, himself, for his decisions, should be up for review and asked why he put these judges in this position.

It just makes no sense that on a night with two title fights on the card, in addition to Williams-Lara, why weren't these three judges spread out over those fights? I'm all for breaking in new officials, just not all at the same time on the same fight. This is Jersey, not Montana; they have a solid pool of arbiters to choose from. But to have three green officials working the main event at once just leaves one shaking his head. I have to wonder; why didn't Golden Boy Promotions- who promotes Lara- object to this rather unusual set-up? After all, isn't part of their job to protect their fighter's interests?

Or did they sit back and allow this so not to ruffle the feathers of Al Haymon (who happens to rep Williams), who represents one Floyd Mayweather Jr.? That theory has been brought up to me more than once.

BUFFOON

I had an interesting exchange with one Dan Goossen who took objection to my commenting on this article: http://www.boxingscene.com/?m=show&opt=printable&id=41413#ixzz1S1ZmqV00, where he stated:


"Well, I was watching the fight with my 12-year-old, Rex, Okay? And he doesn't know anything that's going on. But we're watching the fight last night and he turns to me at the end of the sixth round. At that point, I think that Williams has won five of the six rounds. He turns to me and he said, 'Daddy, why are they being so mean to Paul?'
That was my 12-year-old, Rex, without me doing anything but shutting my mouth and scoring the fight again. A 12-year-old saw it."


To which I responded in my article that came out Wednesday:
"OK, a few thoughts...
-Well, geez, if perhaps us guys in the media, the HBO crew or all the fans who watched the fight are all biased or don't know what we're looking at, certainly a 12-year-old- in this case, Dan's son, who is only raised and lodged in his household, fed, clothed and is given his annual xBox and in six years, given his first BMW and college tuition paid for by the man- will certainly give a fair and balanced view of things, right?

- I propose this: next time there is a close and controversial decision that is rendered, we all refer to Goossen's son's scoring. This will end all disputes and he will be the arbiter of what is a just verdict. We'll call it, "pulling out the Rex Card," because he's just watching the fights while Dan has his mouth shut, not distracted by anything else. When Harold Lederman steps down, it's clear who Goossen will want to replace him as HBO's "unofficial official" scorer."


Goossen called me rather angrily for bringing up his son which, of course, I wouldn't have done if, y' know, he hadn't had interjected him into the debate. Once Goossen did, Rex was fair game, which then got Goossen screaming a bit louder and calling me "a**hole." To this, I responded that he should read the interview he did with Lem Satterfield again. He told me he was having a "casual" conversation with Satterfield, almost as if to say that stuff was supposed to be off-the-record but I knew better and I told him I would send him the link so he can be reminded why his son was involved in this discussion (By the way, the points I made weren't even really about his son. They were about the asinine comments of the father).

After I sent him Satterfield's piece, I got this reply from Goossen, "I would strongly suggest you drop it now," at 1:03 PM. At 1:04 PM, I replied, "Yeah, I'm giving you the exact same advice."

About ten minutes later, an angrier version of Goossen called me, this time calling me a "pussy" multiple times and "a**hole" a few other times, while I was on the phone with Iole (who also mentioned the absurdity of Goossen bringing up his son's opinion in his Tuesday mailbag) on my office line. This really, really hurt my feelings, so I called him a "buffoon" in return more than once (But honestly, Compu-Cuss said that Goossen out-cussed me about 15 to five). Goossen also said that I needed to "watch" myself and that I should "be careful" and other not-so-kinda-veiled threats to my health and safety. It's not a good feeling having a big buffoon threaten you; I have to say. I guess I have arrived as a reporter when this kinda stuff happens. Geez, I really hope he doesn't try and beat me up. I mean, I'm a writer, not a fighter (Besides, I have a feeling he'd have the judges on his side, anyway).

It's very simple; don't want people talking about your family? Don't use them as an example of why everyone else is so crazy and wrong. Goossen and I have had a relatively good relationship in the past but as he becomes nothing more than Al Haymon's puppet, I guess things have changed.

Well, there go my credentials for the Tachi Palace.

FINAL FLURRIES

Here are two interesting articles on what may have taken place ringside that night in Atlantic City: http://www.8countnews.com/news/125/ARTICLE/4076/2011-07-12.html
Seriously, will the real Hilton Whitaker please stand up? This is awfully confusing...Gotta say, James Harrison of the Steelers sure doesn't hold back, does he?...All this tomfoolery in Jersey has me wishing for the good ol' days of Larry Hazzard...I can be reached at k9kim@yahoo.com and I tweet at www.twitter.com/stevemaxboxing. We also have a Facebook fan page at www.facebook.com/MaxBoxing.