Paul Williams: the Throwback and the State of Boxing in America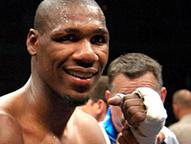 (Photo © German Villasenor)


Tonight at Boardwalk Hall in Atlantic City, Paul Williams returns to the ring to face Erislandy Lara on HBO, eight months after suffering the devastating second round knockout at the hands (or left hand) of World Middleweight Champion Sergio Martinez. For many world-class fighters, an eight-month layoff is hardly unusual in this day and age of semi-annual title defenses and "champions" delaying any possible fight until their slots on a premium network are open.
It is in this new boxing world that Williams and manager George Peterson have enjoyed their longest break in 11 years. Now you can argue (and you'd be correct) that Williams himself has only fought on his premium network dates and made only semi-annual title defenses but the reason for that is because he had to, not because he wanted to.
What, you ask, does that have to do with tonight's fight in Atlantic City? Actually very little but this fight will likely be little more than an over-touted Cuban amateur star, who still punches like an amateur, receiving a beatdown from a true world-class professional. Just look at the body of work each has complied; do you really envision a competitive fight?
So the questions to ask this week have little to do with the actual fight but more about the state of boxing and the business of boxing in America. Why is this obviously lopsided mismatch being carried as a main event on a premium network? Why is an exciting fighter like Paul Williams virtually unknown to the average American sports fan? Because love him or hate him, Paul Williams is an action fighter, win or lose. Wouldn't it have been great if either Wladimir Klitschko or David Haye were willing to take the risk Paul Williams does when he fights?

I asked Peterson this week if he would have had Williams fight "stay busy" or "tune-up" mandatory defense fights on network TV for a purse of $200,000 or so in between his big fights, like they used to. Without hesitation he answered, "Definitely," but added that today that's just not possible; HBO would not allow it. That's what we're now stuck with in America.
So today, fighters like Williams, Brandon Rios, Alfredo Angulo, Tim Bradley or even Sergio Martinez among many more are not anywhere close to the consciousness of the average American sports fan. Rather they are stars in a shrinking universe of a niche sport that once dominated the American sports scene. The boxing establishment itself seems to have no interest in actually expanding the fan base of the sport. Promoters seem blissfully content doing what Danny DeVito as "Larry the Liquidator" in "

Other People's Money"

said was the surest way to go broke, "Keep getting an increasing share of a declining market." They just keep sucking more money from fewer fans.
How bad is it? HBO brags about getting a million-plus viewers for a "big" fight, often distorting actual viewer numbers, while routine Sunday afternoon NASCAR races on TNT- yes, TNT- have averaged over five million viewers during the month of June. NASCAR beating boxing five-to-one? Please tell me how HBO is good for boxing.
We are deprived seeing these "throwback" fighters more often who, if given the opportunity, would fight more and would fight on platforms that would expand boxing's popularity and bring much needed exposure to the sport, drawing more young gifted athletes toward boxing. Just minutes after suffering the knockout to Martinez, in the post-fight press conference, Peterson said of Williams, "This kid's a fighter; it's what he does."
And Williams wants to fight. When asked last week who was on his radar, he quickly responded, "Most definitely, I have Martinez back on my radar. I'd love to get another fight with him to prove to myself and my fans that he didn't deter me from fighting him because he knocked me out. I respect him for that. I feel I'll knock him out next time." Like before, Williams remains willing to go to the weight where the fights are, "If I get a top-of-the-line opponent, like a [Manny] Pacquiao or [Floyd] Mayweather and I have the time, I'll be there. I'll eat a few bread cakes or rice cakes. I walk around at '56 or '57 and have to put on weight for these fights."
But as he remains ready, willing, and able to face anyone from 147-160, or even 168 as he said for the right money, Williams has worked to differentiate from many previous champions by not going broke. Williams talked of his numerous real estate holdings and security he has achieved through Peterson's guidance and hard work. He said their discussions now focus on whether Williams should fight three or just two more big fights before calling it a career.
Other than a third match up with Martinez, it's hard to figure what big fights might be in store for Williams. The likelihood of Pacquiao or Mayweather taking that big a risk against the relatively low-drawing Williams seems highly unlikely. Unless Alfredo Angulo reappears at 154 or James Kirkland somehow recaptures his luster, don't expect a big fight at 154. Does anyone think Saul Alvarez or Julio Cesar Chavez Jr. will be matched against Williams? Does a Margarito rematch seem even remotely possible?
Given the options of both Williams and Martinez, the idea of the trilogy makes a lot of sense. Keep in mind we are not talking about the days of the Four Kings: Leonard, Hearns, Hagler and Duran, all willing to step through the ropes for the money and the glory.
(Rest in peace, George Kimball.)
No, today we live in the HBO, PPV, and Al Haymon era, where the idea of fighters actually fighting the best almost seems laughable. Most seem happy to claim their one-quarter slices of the world title, then brag of winning six, seven or even eight "world" titles. Despite the fact he is both an HBO and Al Haymon property, it's nice to see that even that knockout hasn't deterred Paul Williams from wanting to fight the best.