Nick Charles Signs Off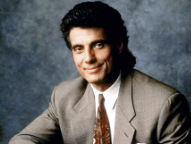 Nick Charles


I woke up to the news

on Saturday morning

via Twitter that Nick Charles, who had courageously fought bladder cancer since 2009 had passed away at his home in

Santa Fe, New Mexico

at the age of 64. I'm sure by now you've read all the bios and tributes to this man, who despite being resigned to his fate and his deteriorating condition, never wavered from his upbeat outlook on life. He understood how precious every day was and he taught many of us that our time on Earth should be cherished.


I can't really do justice to his life and times but this story (complete with videos) does a great job of encapsulating the impact he had on both a personal and professional level to those he touched:

www.cnn.com/2011/US/06/25/nick.charles.obit
But I got to thinking about Nick

on Saturday afternoon

and it came to me- this guy was a huge part of my childhood growing up in

Montebello, California

, as I was a young man who was a lot better at watching and talking about sports than actually playing them. I fondly recall that every weeknight at

8:30 PM

, Pacific Time, I would tune into CNN to watch Charles and Fred Hickman co-host "Sports Tonight." Long before ESPN's "SportsCenter" became this monolithic, iconic show, these two guys pioneered this field. They were the "Starsky and Hutch" of Ted Turner's 24-hour news operation and along with reporters like Jim Huber (who did some of the best vignette pieces you could ever imagine), Dan Hicks and Vince Cellini, Charles and Hickman helped nurture this kid's love of sports. It was a nightly ritual for me; first "SportsCenter" would come on at 8 o'clock but then I would flip over to CNN to see what was going on over there.

(If I dig deep enough, somewhere in my closet full of old VHS tapes is a "Best of 'Play of the Day'" video from CNN that I bought years ago.)
I can recall numerous times in that era between the mid-to-late '80s where they would cover fights live on the scene. In the days leading up to it, Charles and his mane of thick, black hair would interview all the players involved in the promotion and then, report from the press conferences on fight night. Boxing highlights were a regular feature of "Sports Tonight"- I vividly recall being stunned by the clips of Lloyd Honeyghan upsetting Donald Curry back in 1986. Back then, I didn't have HBO or Showtime, so this program was vital.
That's the other thing about Nick; unlike his other high-profile colleagues at similar positions, he absolutely loved to cover our game and its participants. When it came to boxing, it wasn't just an assignment to him but a true passion. His most memorable moments were of camping out in

Miami

and looking for Roberto Duran just days after his infamous "No Mas" debacle versus Sugar Ray Leonard. He had dozens of stories like that as he covered boxing from the belly of the beast. Charles would take it personally that newspapers and other forms of the media would routinely ignore boxing and the brave individuals who risked their lives to earn a living and entertain the masses. He found it unconscionable on many levels that somehow, this sport was relegated to second-class status within the mainstream.
My younger readers will most likely associate Nick for being the blow-by-blow voice of "ShoBox" on Showtime. I can honestly tell you, he loved that role (where he worked alongside Steve Farhood since its inception in 2001). This wasn't just a paid gig for him. It truly bothered him when he believed that the show had failed to deliver on its mission statement to put young, fledgling boxers in real fights. I know because I recall seeing him at a fight in

Las Vegas

where he had flown in after one of his telecasts and asked me what I had thought of the previous night's card. I couldn't really offer an opinion since I hadn't seen it. He grimaced and told me, "I don't know; wasn't really happy with the fights we did. We gotta do better." It truly irked him because he wasn't just punching a clock when he was on "ShoBox."
More than once via email or in private conversations, he would worry about the quality of the fights the network was broadcasting. I don't think I have ever run into an announcer who was more protective of a series that he worked on, not for what it meant to him in any way, but in terms of the quality control and making sure that fans who tuned in were not cheated. Yeah, he absolutely gave a damn about you guys out there who follow the sport loyally because he was one of you guys. It hurt him greatly when he had to give up his regular post because of his illness back in 2009. For a guy who covered the heyday of Mike Tyson and events like Ray Leonard-Marvin Hagler, going to the Chumash Casino on a regular basis was still the greatest job in the world.
As his health allowed, he still made it clear he wanted to cover and be around the sport of boxing. And he'd call excitedly when Bob Arum- who through it all, made it clear that he would always have a home behind the mic for his cards- would dial his number and see if he could make it out and call a fight. The first time many of us in the boxing community saw Nick after he started his chemotherapy sessions was at the Manny Pacquiao-Miguel Cotto fight in

November of 2009

in Las Vegas. At a Top Rank media dinner on a

Thursday night

, you saw the effects of his treatments but there was no other place he wanted to be. Charles was around boxing people at a big event. Precious moments with his family and boxing sustained him in many respects.
This

past March

, HBO did an incredibly gracious thing by fulfilling his wish to call one last major bout and he did the blow-by-blow for the fight between

Miguel Garcia

and Matt Remillard in

Atlantic City

. You got the sense it would be his swan song to the sport of boxing and the general public, which he had inspired during his ordeal.
I was tipped off by either Kevin Iole and/or Fred Sternburg on their Twitter accounts last week that things were getting very tough for Nick. I have to admit, after not reaching out to Genaro Hernandez, during his last months with us, I promised I was never, ever going to commit that folly again. I dialed up Nick and we chatted. From the very onset of our conversation, I could sense a certain weariness and fatigue in his voice I hadn't heard before, a resignation that while he had fought the good fight, Charles had done all he could do. No, he wasn't quitting but he was bowing out gracefully like a man who knew he had lived life to the fullest and had given himself a puncher's chance.

As always, Nick gave plenty of thanks for keeping tabs on him. "Ah, you're the best; thanks for calling, Steve. You don't know how much it means to me," he said. But this time, it just sounded different. I knew it would probably be the last time we'd ever speak. I know how tired he was; you could sense it. I didn't want to keep him too long, his remaining time would be better spent with his wife, Cory and their daughter, Giovanna. Before we ended things, he asked, "Hey, what do you think of Mayweather-Ortiz?" He said it in a way that let you know he was looking forward to that September match-up but with the stark reality that he wasn't going to be around to witness it.

But that was Nick Charles.

A boxing guy till the very end.

WEEKEND THOUGHTS

In much lighter fare, there was a full-slate of boxing this past weekend, some thoughts on what took place...

- I had Lucas Matthysse up by a few points over

Devon

Alexander

on Saturday night

. Honestly, you can make the argument that Matthysse is legitimately undefeated (as he seemed to catch up to Zab Judah late in their encounter in November) and starting with his struggle against Andriy Kotelnik in August of last year, Alexander is 0-3. Alexander's problem are twofold, in my opinion; outside of that devastating shot to Juan Urango, he isn't much of a puncher (he never seems to hit through his target, does he?) and unlike say, a Cory Spinks in his heyday, he doesn't have the type of elusiveness to always make up for it at the world-class level.

- I thought two things would be a factor here in that fight: first, the home-canvas advantage and second, the fact that this fight was a ten-rounder, not 12. I think both played a huge part in this fight but it's clear, beating Alexander in

Missouri

is tougher than sweeping the St. Louis Cardinals at Busch Stadium.

- I want to see more of Tavoris Cloud; he's a fun, entertaining, blue-collar fighter. He may have some limitations but the bottom line is that he'll always give you a hard day's work and he makes for good fights. The question is can Don King keep him more active in the future? Forget about the marketability factor as it relates to getting Cloud out there more often, I think these long layoffs he's been through have hindered his development as a prizefighter.

- Just my opinion but I thought Matthew Macklin did enough to take the WBA middleweight title from Felix Sturm. I had him winning 115-113. However, judging by the reaction from the Twitter-verse, it was made to sound like a robbery of Pernell Whitaker-Jose Luis Ramirez I proportions. I tweeted something to the effect that it's a good thing World War II didn't go to the scorecards in

Germany

. This much is true; it will be very, very difficult to decision Sturm on his soil.

LUKE

It was originally announced

on Friday night

by Bernard Hopkins via Twitter that on October 15th, he will face Chad Dawson. Later that evening, I spoke with Golden Boy CEO Richard Schaefer, who confirmed the news. But Schaefer also mentioned- and again, folks, don't kill the messenger here- that because of the HBO budget (or lack thereof), this would be on pay-per-view.

(I can just hear the howls of protest now.)

Here's the thing, to me this reminds me of Luke Walton and his albatross of a contract he has with the Lakers (where he somehow is getting paid in the $5 million range for the next two- yes, two!!- seasons) and because of this existing deal, it has hampered the Lakers' ability to make moves and they're stuck with a guy who isn't that good (his "high basketball I.Q." notwithstanding, which is another way of saying, "slow and unathletic"). Well, early on in 2011, HBO got themselves into a bunch of Luke Walton-like deals, from the miscalculation on the Tim Bradley-Alexander fight (where they put in over $4 million in resources) and promising return engagements to the likes of Alexander (who was paid over a million bucks this past weekend),Chad Dawson and Sergiy Dzinziruk.

Folks, that's how you drain a budget and how Hopkins-Dawson ends up on pay-per-view.

So for anyone who says that licensing fees doled out by the networks isn't something that fans should care about, this certainly proves the opposite.

Another issue facing this event is that Montreal's Bell Centre, thought to be the most ideal setting for this fight, has a hockey game scheduled for that night. Schaefer told me that

Quebec City

will be looked at, as will venues in Atlantic City and

Los Angeles

. According to Schaefer, because of the impending NBA lockout (which some believe will wipe out the entire 2011-2012 slate), there will be a lot of venues like the

Staples Center

that will suddenly have 41 open dates needing to be filled and boxing could be something that fills this void.

REMEMBERING NICK

This bit of information regarding Nick Charles was sent to me by Fred Sternburg:

A memorial service will be scheduled in his beloved

Santa Fe

later this summer. Details will be announced soon. In lieu of flowers, the Charles family has requested that donations be made in Nick's memory to

WorldVision

and TEACH NOW, a project dedicated to preventing child labor in

the Philippines

and improving those children's lives.

http://bit.ly/ixmnpy



Let's all remember Nick's lessons to us during his brave battle, to embrace life and to love what you are doing.
FINAL FLURRIES

Honestly, I think Mike

Dallas

Jr. was the recipient of the worst decision of the weekend versus Mauricio Herrera. Unfortunately, unlike a Macklin or Matthysse, he probably doesn't have their options moving forward…John Molina has a thumping right hand but geez, his delivery is about as elongated as a batting practice machine...Some say the

EPIX.com

feed was crystal clear and flawless. Others say that they still had problems with it and went to another stream. So it's obvious that they still have some issues to figure out...I would make some comments about the NBA Draft but I have to admit, outside of the first two guys, I have no clue who the others are...So Ron Artest wants to change his name? "Metta," please...From what I've seen the past two weeks, it's more like "Top Rank Dead" than "Top Rank Live"...Were you guys as underwhelmed by Bermane Stiverne as I was, as he finally stopped Ray "The Six-Dollar Man"

Austin

in ten rounds, while down on two scorecards?...I can be reached at k9kim@yahoo.com and I tweet at www.twitter.com/stevemaxboxing. We also have a Facebook fan page at www.facebook.com/MaxBoxing.