Montoya's Tuesday Mailbag- July 26, 2011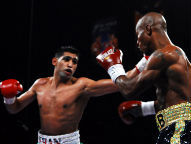 (Photo © German Villasenor)


We're Not in Vegas Anymore…
Before this past weekend's Amir Khan vs. Zab Judah junior welterweight title unification fight, I had not visited Las Vegas for a fight since Floyd Mayweather dominated Shane Mosley over a year ago. Why not? For me, a person who works very hard for the money I burn in Vegas on a fight weekend, a fight has to be special. It has to be dangerous fight for either man, have a major impact on the future of either man, and most importantly, the styles have to mesh with a potential for fireworks. Not a lot of fights in Vegas recently have had that allure for me. After seeing this past weekend's one-sided fight, I have to ask myself, "What the Hell was I doing in Las Vegas this weekend?" More importantly, "Why was this fight there?"
Maybe it was the heat or maybe casual fans know the same Judah enough to stay away but the atmosphere in Vegas was placid. There was an announced crowd of 7,000 and change but it sure didn't feel like until the main event. The undercard, filled with some good fighters beating no-hopers, left much to be desired. Between Main Events and Golden Boy Promotions, I was a bit shocked that a red corner night was all these two promoters could muster. Honestly, I've seen dead people with more life than this undercard. I could not help but wonder why Golden Boy is doing a split-site PPV for Mayweather vs. Victor Ortiz. If you can't make a compelling fight beyond your main event, why do two cards in two cities on the same night and pay-per-view? I see a lot of Pay-per-view Helper happening that night and I am already beginning to question a return to Vegas for that one.

On paper, Khan-Judah had everything I want in a Vegas fight. Two guys with questionable chins, an older southpaw lion vs. a young right-handed lion, two belts and the potential for a super-fight with Manny Pacquiao or Mayweather on the line. Zab's storyline of newfound maturity en route to redemption was good enough to have fans and writers alike actually believe it all, hook, line and sinker. Moving to Main Events and building off Kathy Duva's solid promotion to recapture the IBF belt he had lost ten years ago, Judah seemed to be a man bringing experience and talent together for the first time.
But like the myth of Vegas, the idea that with one throw of the dice or a punch, reality set in. Zab Judah is not redeeming anything inside that ring. He is not the second coming of a Pernell Whitaker with power. The storylines were there but the reality was too great to overcome. In the end, Zab Judah did not come up short in this fight. He came up Zab Judah.
Of course, Amir Khan had a lot to do with that. His speed, size and ability to follow his corner's game plan are impressive. However, there is an excitement level to him that is lacking and in short, not very "big fight in Vegas"-esque. He is more Wladimir Klitschko than Oscar De La Hoya at this stage and for the life of me, I cannot understand why he is being promoted so vehemently in Vegas.
Used to be, a fighter built toward boxing's Meccas of Madison Square Garden and Las Vegas. There had to be a public demand for a fight or fighter to take his show there. Nowadays, it seems guys are just thrown into the mix in Vegas, as if putting your fight there somehow makes it into something it is not. I guess the old P.T. Barnum idea of treating something like a hit and it will become one is somehow in effect here. Khan-Judah had East Coast written all over it and yet there we were. Why is anyone's guess.
Gabe.....I can understand your journalistic integrity, not turning reporting into a flame job on a fighter. That said, I thought the headline on the article re: Khan-Judah was funny. There is absolutely nothing "bizarre" about Judah punkin' out in a big fight. Next to Tyson, no other fighter has punked out on premium cable so many times and still managed to be invited back....and I think last night, Judah actually surpassed Tyson in premium cable punk outs.
Must be a Brooklyn thing.....
My empathy for Tyson has grown over the years. I think he's probably a better man now than when he was a fighter. I admire his efforts to overcome his demons. Hopefully, Judah will do the same. but its probably too soon for him to realize it. Hopefully when HBO/Showtime stop approving him as the high profile flame out, he'll take the time to look in the mirror. He's been more blessed than any fighter of recent memory and he shamelessly squandered those opportunities that other fighters would kill for. Time to cut him off, for his own good and the good of boxing.
Sitting ringside, the whole night had a bizarre feeling. The undercard was flat; the crowd was very late in arriving and Judah, who talked a helluva game going into the fight (Nahmean?), came up flattest of all. Like I said, Zab came up Zab. It's funny to me that the time I decide, 'OK, I'm rolling with Zab on this one," is the time he comes up shortest of all. That's why I write about boxing and don't make predictions for a living. Sometimes you can just buy into what a fighter is selling, I guess. Zab had dropped his "Ya know what I'm sayin'?"s and "Nahmean?"s and seemed more mature, poised and ready to make a run coming down the stretch of his last few fights. On Saturday, he was the same old Brooklyn fighter he has been at the end of his losing efforts. The accused frontrunner actually never got started in this one.
Why did I think it was bizarre? Because at least with Clottey or Cotto, Zab had taken a prolonged pounding before clocking out. For this, Zab seemed to clock in at the pressers and not really for the fight. After all the talk of redemption and "I am ready for this" and a weigh-in that got everyone thinking it was Zab's time, dude went out like that. A questionable low blow and you go down like it was from a Ward body shot? That's the redemption you were selling? That's how you want to go down with Pernell Whitaker looking on? Really? Maybe Zab needed to take a page out of Likar Ramos' handbook and just close his eyes, refusing to open them until the coast was clear. I'd respect that more or at least have trouble telling if he was faking or not but this? I found it bizarre. An anticlimax I honestly did not see coming.
There are those that argue Kermit Cintron gets more chances than anyone but I have to agree Zab is the king of squandering opportunity. This was probably it. I don't see what more you can market out of that. I appeared more dangerous on Saturday night than Zab did and I wasn't fighting anything beyond the urge for a third cookie at the buffet. I understand recycling fighters to build records and maybe Zab can remain that gatekeeper but honestly, it's getting a little easy to get through to that gate. I'm not a "Sky is falling" kind of guy, much less a guy that likes to scream for retirement after a loss, but it certainly is time to think about doing something else. It isn't like Zab has not gone about things a different way. He hired a new coach in Whitaker; he used Victor Conte's supplements and hypoxic training to build stamina and strength. None of that added up to anything on Saturday and I don't think it ever will.
If I know Kathy Duva, she will have a plan for Judah to fight in New Jersey sooner rather than later. We'll see what happens. Just hopefully not on HBO or Showtime anytime soon.
Most reveiws of the fight only seem to discuss khan's domination of judah, almost all the boxing sites and writers keep overstating the win; not saying khan didn't or wasn't winning. But it wasn't a one sided fight, offensively zab was inconsistent and ineffective. But defensively zab was on point, he got worn down by the intelligent pressure and speed (power); still he was able to control khan's output and his punch placement w/footwork..angles..upperbody movement.
Had zab punched more or maybe committed more to the punches he threw; he very likely could have hurt khan or at least won some rounds off of a legit workrate, he didn't take advantage of the openings he created. But the openings were there to be taken, much liike the openings where there when mosley "fought" pac man. Shane didn't take adv of openings he created or the openings he setup; but he did create them; once again he didn't take advantage of them.
My biggest question to you is based off these fights how do you see khan doing against mayweather; he show intelligence, handspeed and clean offensive tech. But he showed issues w/intelligent busy footwork, headmovement and upperbody movement; an as good as zab has been of late, he still lacks the polish refinement and all round boxing acumen of mayweather. Who also is a bus and active counter puncher, when he wants to be; not to mention he has one of the better jabs in the game which assists his ability to control range, slip shots, block shots, etc. In two fights w/def gifted guys khan hasn't really been able to figure either out, he won; but not decisively and had show an inability to land more than one one or two shots at a time. Mcloskey and judah didn't fire back or didn't make him pay; but mayweather will.
just wanted your opinion and wanted to give props for a great and very observant review..
Zab had me fooled even into the second with that defense. He actually made Khan miss quite a bit throughout the fight. I liked his head movement and ability to make Khan miss right up close but man, where was the offense? No counters, no making Khan miss and pay. I didn't see body work or even an ability to get the right range. Khan's footwork may have had a lot to do with it but at the time, why didn't Judah at least force something? Try and win? Only he can say.
It's soon to discuss Khan-Mayweather but I imagine we are headed there, so why not?
Like I wrote earlier, I think Khan is a like a mini-Klitschko. He is going to stay within his limits, keep things to the jab/right hand and if you get close, prepare to be clinched. Everything in between will be Khan moving and looking for the right range, which will never be in harm's way.
The impressive thing about Khan to me, beyond the obvious foot and hand speed, is his willingness to trust his corner's plan. No matter him frequently missing the right hand early on, he kept at it. He stayed with the jab and the right and huge misses became mere whiffs and ultimately flush shots.
With a guy like Mayweather, who is there to be hit early and then suddenly disappears, I wonder how that will play out. To beat Floyd, you have to have straight punches, a physical and aggressive streak and the ability to adjust throughout. To me, Khan seems a bit programmed for all that. He is a little rough but not much. He has the straight shots and the speed but I question his ability to change up when Floyd finds the range. The tenacity and "Stay with the plan" mentality he showed against Judah and McCloskey will serve Khan well in this fight.
At the same time, I wonder if Floyd can track down Khan and put a beating on him or will he be chasing him all night? Khan could play a hit-and-run game all night long and get away with one which would set up a huge UK rematch. Stranger things have happened.
A Little Personality Never Hurt…
I started the Khan/Judah fight thinking that it had promise. Judah had a new trainer and looked to be in the best shape I'd ever seen him. He seemed strong with muscles in all the right places (back/wings rather than arms). Then the fight started. I don't know if Zab is getting old or if Pernell has slowed his style but he was never in the fight. Ultimately, I was left thinking that I had seen the same fight on Friday, a borderline low blow that gave a beaten fighter a semi-face saving escape route.
Khan was bigger, stronger, and seemingly more skilled than the elder Judah. Khan looked like the man at 140 during those six rounds. Sure, Bradley is aggressive who throws a lot with relative power but he is also smaller and he doesn't have Freddie Roach. Khan is on point with everything he does and he has the best trainer/gameplaner in the business.
But the fight wasn't the most disappointing portion of the show. During the interview I saw a Middle Eastern man speaking with a British accent that wasn't Nassem Hamed. As soon Khan started talking, I had flashbacks to Hamed's interview with Larry Merchant after the Auggie Sanchez fight. Khan is a much better fighter, but damn I miss guys like Hamed. Is it too much to ask for just a little personality in a fighter?
I think it's too much to ask for another Naseem Hamed, Daniel. I'm not sure Larry Merchant could take it. I like Khan as a person. He is honest, has a lot to say and is not afraid to say it. As a fight fan (I never covered Hamed), I could not stand that little guy. I liked his fights for the most part but could not take hearing him speak.
I'm not really a personality guy with fighters. I don't need great catch phrases. I don't need much of anything beyond what they bring in the ring and Khan brings it in his way. He has a rough style to deal with and he is unafraid to be who he is in there. It isn't the most crowd-pleasing but I've also seen more boring.
That said, the idea of Amir Khan at 147 moving around the ring even more, Saul Alvarez at 154 fighting welterweights and shopworn British guys, and Julio Cesar Chavez Jr. being marketed as a champion at 160 while sifting for people he can beat, I weep a little inside at the thought of having to cover what constitutes the future of big-name boxing.
But I can't live hoping Khan or any of those others change. I look to a guy like Brandon Rios, who is every bit a Mike Tyson-type with his off-color quotes and devil-may-care style and it gives me hope that one day when I go to Vegas, the fight I am shelling out cash to see will be worth it.
You can email Gabriel at

maxgmontoya@gmail.com

, follow him on Twitter at

www.twitter.com/gabriel_montoya

and catch him on each Monday's episode of "The Next Round" with Steve Kim. You can also tune in to hear him and co-host David Duenez live on the BlogTalk radio show

Leave-It-In-The-Ring.com

, Thursdays at 5-8 PM PST. Gabriel is a full member of the Boxing Writers Association of America.