Montoya's Monday Mailbag- July 11, 2011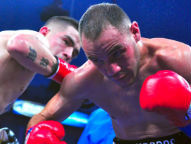 (Photo © German Villasenor)


bad referees, judges, promoters, boxers that dont understand fumdamentals while supposed to be elite athlete, fights that dont happens, bad coaches, bad locations, bad decisions, ........................................
ah yes, BAM BAM, thats why
What a crowd, man. Not the biggest at 3700 and change but still, you can tell the people love Brandon Rios or can't deny him when they get a chance to watch him work. There were no boos, save for a single empty-ish beer cup that angrily floated down upon press row in lame protest. It was enough to get a few heads looking back in rehearsal for the day any of us actually look back in real anger but not much more.
The opening of the fight, complete with the tuba-bearing band, felt like a time machine to the '70s. To say the least, it was festive and most electric. The wind whipped into us a little as is custom at Home Depot Center any time of the year when the sun goes down.
The fight was between two mirror images, one a bit more of a 3.0 version, going at for as long as the wheels stayed on the wagon. Rios and Antillon are inside fighters who take it and give with equal aplomb. Urbano has taken it well less and less over the years while Rios has been dinged but not yet fully dented.

I ran into a veteran trainer who told me the same thing when I was meandering around the crowd at Home Depot Center this Saturday. For Urbano Antillon to win, he was going to have slow down the fight, stay very focused and only throw a couple punches at a time. He would also have to use his underutilized jab. Patience would be key for Urbano.
Unfortunately, Antillon did none of those things. He traded with Rios. Say what you want about the whole videotape thing, this kid, with those throwback leopard trunks and the way he smiled as he went back to his corner after that brutal first round, is what boxing fans have been looking for. Rios-Antillon- hell, Rios-Miguel Acosta- are fights I send to MMA fan friends and say, "Check this sh*t out." Antillon walked into that buzzsaw and basically killed any chance of him lasting the six-rounds I'd thought it would go.
Rios did his homework. Right and left uppercuts are Antillon's favorite punches to get hit by. Rios brought a baker's dozen and more. I love seeing two inside fighters go at it like this, close quarters and no holding back. Rios' defense looked improved to me here. He gets a little squared up inside sometimes but I think it's an occupational hazard. These guys move just fractions of inches with their feet inside.
Rios works up and down well. There was a left to the body about midway through the first round that bent Antillon just a bit. It hurt him but Rios either didn't know it or was just in rhythm with the knowledge that it was all a matter of time. No need to rush.
The second round showed that Rios someday will be caught and put down. Antillon got to him late inside and Rios seemed to acknowledge it by wobbling a bit. Youth gets him through as well as conditioning. In a few fights against somebody strong at 140, he may see the canvas.
But for now, Rios is a kid who not only can take a good shot but, when rocked a bit, recovers fast. Not only that, when he adjusted and caught Urbano with that perfect short right hand and scored the first knockdown, Rios displayed an ability to step on the gas. He worked at Urbano, grinded him until he got that second right hand in and dropped Antillon again. It's going to take a special someone to make Rios take no for an answer anytime soon.
The stoppage was merciful. Urbano wobbled away and bumped into the ropes and you just knew he would either get badly knocked out in a few moments or the fight would simply get stopped. It's not like he has one-punch knockout power ala Gatti. It was time.
You are right. As f**ked as this sport can treat itself sometimes, fighters like "Bam Bam" Rios remind us why we will never stop bothering to watch.
I've been watching boxing for fifteen years. In that time I've maybe missed a handful of major fights (I actually walked out on a job to watch Hopkins/Trinidad when I was 21). I consider myself to be well versed and reasonably intelligent when it comes to this sport. But as I type this I find myself questioning my acumen.
I just didn't see the Williams fight remotely the same as HBO. I almost turned it off after the fifth round to watch an MLS match because I thought Williams was turning it on and Lara was fading. I'm glad I didn't because Lara found a second and third wind to keep scoring with that straight left and he could've stopped Williams had he quit lunging with it and followed with a quick right hook.
But there's another side to this story. Williams was the aggressor and at times Lara just didn't throw. We may not like it but when fights are reasonably close, judges often score for aggression, effective or not. Paul didn't look all that damaged until the 11th round and even then he was the one forcing the action. By no means am I saying Williams won the fight but the "outrage" (Teddy Atlas would've stormed the ring with a steel chair) was a bit dramatic.
On a side note, the retirement talk seems a tad premature. Williams isn't shot. All he needs is a year with Emmanuel Steward learning to fight his height. With his stamina and workrate, he has the potential to be a monster if he stood tall and pumped the jab.
Lastly, big props to Floyd for fighting Ortiz. I never expected him to take a challenge with $50 million and Manny looming.
I thought Lara won clearly but I can see your point of view. There were a lot of times Lara was content to be on the outside and potshot, particularly late. On the inside, Williams was busy tapping away with shots. Some of the early body work from Williams was solid. I'm thinking the judge Whitaker might have scored rounds three and four off that.
Here is the thing, this is pro boxing, not the amateurs. A lot of the punchers Williams used inside had nothing on them. He was just tapping away or moving his arms. Lara used clean effective punching.
Lara was also rarely punished for coming inside. No jab rocked him or left hand ripped him as he entered Williams' space. He was fighting his fight when he was doing this. Either he boxed well from the outside and landed jabs and left hands or Lara was coming inside, working a bit while getting tapped by Williams in volume, then exiting with a solid right hook. He did that a lot, enough to claim ring generalship for imposing his fight on Williams.
A good way to tell who won around is by asking this question: Who would you rather be? It's a great place to start if you don't want to add up every punch. Take away the baseball on Lara's head and the cut on Williams caused by it and look at each guy, their body language, their faces.
I'd rather have been Erislandy Lara.
Gabe, want to go off the board here from all the P-Will/ Lara and Bam Bam talk youre undoubtedly flooded with;to talk about a guy who has been one of my favorite fighters since he uttered the " I can wrestle, I can box, tell Dana White to make me an offer", for a guy who has been much maligned by pundits, fans, and people in the game alike, hes had plenty of moments in his career that make it easy to root for him, winning a 'world title' after only boxing for 5 years, his epic blasting of Walter Matthysse into the general direction of the international space station,the aforementioned Dana White comment, the fact that pre P-Will debacle his only two losses were to a guy who should have done some time for aggrivated assualt/attempted murder, and the greatest for me personally was my first major live card was the Cintron/ Angulo war were Kermit proved his meddle against a young stud who is a killer in his own right.
I obviously lost some respect after the P-Will debacle a fight that he was winning and starting to land big shots, even in my fandom I was not blinded to the viel of him leaping from the ring that night, the critics are right to question Kermit's heart, at times its clear, why else would sparring be his least favorite gym activity.
Saturday night Kermits shots looked horrible right from the get go, not sharp at all, and looked like a guy who was uninterested in being there, Molina was frustrating with his combo throwing, rush in and hold, it looked to really take any fire Kermit might have had, he looked a guy questioning if he wants to make a living this way while in the ring,taking nothing away from Molina, Kermit mailed it in, I think he'll take another long break and then realize he needs money and will flame out a club fighter super middle some day, please God no, thoughts...
Kermit Cintron vs. Carlos Molina was hard to watch. Cintron looked slow in there. He was focused at first but looking to find his rhythm. Molina never allowed Cintron to get started. He used feints and shuffle moves to keep Kermit guessing until finally Cintron stopped doing much more than defending and surviving.
For a guy with that right hand to go out so quietly was disconcerting. I felt bad for him. He came back to the scene of his last fight, that crazy debacle, and was not only confronted by that but a very Mexican crowd who had no love for the Puerto Rican fighter. It had to be rough.
I didn't speak with Cintron afterward. Either I left him to be in peace or I was too uncomfortable to approach him after such a crucial loss. This was supposed to be a new beginning. Now it's a new doubt. I left him to head up to his room in the fight hotel and wondered if I made the right call.
I give Kermit this credit: he didn't look to the ref for a way out. He took his beating like a man. Some will say that's part of his job and that's true but he's been accused of doing less than that and this time out he at least deserves that respect.
Molina should be given credit here. He looked much sharper than his last fight. He was prepared for this fight and seemed to be fighting with all the urgency and focus Cintron was missing. Maybe it was the time off; maybe Kermit's time has come and gone. Time will tell. For Molina, I hope the guy gets another TV fight and one that is high profile. Molina vs. Lara II, anyone? Molina vs. Martirosyan perhaps?
I drove down to Carson for the fights. Very interesing night of fights. Had some points of views and questions.
I was kind of dissapointed in the crowd attendance, there were def. alot of mike lee and bam bam rios tshirts around, but maybe i believed bob arum when he had said that only 1,000 tickets remained in the box office. I looked around and saw about 3,000 empty seats.
Maybe 5,000 were in attendance? anyhow lively crowd. I wonder who has a bigger following rios or vic ortiz?
Matt Korobov has taken a step back in his career he looked like a ko machine, now he looks sluggish and sort of average. Impressed with Roman he looks to have alot of tools. I understand Mike Lee has a following and a good story but i just dont see it in him. Gesta continues to impress...
Top Rank def. has alot of prospects. Do you think they are the best at developing fighters? I think Golden Boy gets caught up in trying find a star while top rank develops fighters.
Rios is a guy who is on the verge of being a star, i hope he can solidify himself as a superlightweight and carry his power to that division, i dont see much of a point of him being at the lightweight division anymore. A Barrera matchup is a lose/lose for everyone involved. Soto went up, so i think he should probably follow suit and go up to 140. So many match ups at that weight for him. HBO needs to look in his direction and stop looking at guys blessed by al haymon.
What's up, Jorge? Arum said that there were 1,200 seats left at the final press conference. The venue was situated for 5,000. It normally holds like 8. The attendance was 3,700 and change. So there ya go, boxing math. I expected more people too. Not sure why that was but I expect Rios to only get bigger from here. The post-fight buzz was palpable. While I knew he would beat Antillon, I think most of us did; the way he did it is what impressed us all. That buzz will spread.
Right now, who is a bigger draw between Rios and Ortiz is a moot point. In a few months, Ortiz will have gone through the HBO PPV mill and will emerge- should he make a solid account of himself or win- a much bigger star than Rios.
The question to me is who will have more longevity.
Yes, in my opinion, Top Rank is one of the best- if not tops- at developing talent. Frank Warren does a fine job as well in terms of building draws. So does Sauerland.
Top Rank makes good action fighters. You rarely find a boring Top Rank fighter. Guillermo Rigondeaux was boring in one of his fights. Matt Korobov, who you mentioned, is a bit of a bore. The man has skill, no doubt, but he also has one gear. He is content to be superior while not fully dominating and ending things. He's like a mini-Wlad Klitschko. He looked good against Michael Walker but on Saturday? Not so impressive. I'm not sure where he goes. A fight with Gennady Golovkin? I think Gennady would push the pace big time and possibly take out Korobov late.
I'd like to see more of Mike Lee. I bet Bob would too. The kid brought a cheering section. Several sections, actually. Well, at least a bunch of people sitting near each other happened to be wearing "Mike Lee" t-shirts. I'm not sure how high his ceiling is. He's a project right now. Not many amateur fights make him such.
Regarding Rios, it's true, HBO would do well to invest in a guy like that but as far as the Haymon thing, well, it's a mixed bag. Do I think Jan Zaveck-Andre Berto is HBO material? Not really but Williams-Lara was a solid fight, brutal, long and hard-fought. Most Williams fights are. Arreola, another Haymon guy, is never in bad fights (the Manny Quezada fight notwithstanding). Gary Russell Jr. is a must-see fighter and he also is with Haymon.
Was Rico Ramos entertaining in beating Aki Shimoda? The KO was awesome but I felt bad for Shimoda because he was earning that win. Now we get Ramos, who I am rarely entertained by, on HBO and no more Shimoda. Way it goes, I guess, but at the same time, I'm wondering what about Ramos? From his style to whom he has beaten before this appearance, is there a demand for him to be on HBO for a title? I don't think anyone off the top of their heads can say style or name a fight that was memorable.
With a guy like Brandon Rios, who HBO apparently passed on, you can name many.
That should be a deciding factor for a guy on TV in general. Oh, yeah, and Rios sells some tickets too. There were 2,100 in Atlantic City for a fighter talking retirement, who has been in action fights with names. When people ask me who develops talent better than Top Rank and I say, "No one," that is why. At 25, Rios has been built both as a fighter and as a draw. He's not a huge draw yet but he is growing each time.
I hear change is imminent at HBO. December is a month I was told to look forward to. We'll see.
What up Mr. Montoya,
I don't write to these mailbags too often although, you may find one or two of my emails somewhere at the bottom of the bag. However, after watching that horrific garbage last night with Paul williams i had to say something to somebody (the wife just rolled over and went back to sleep).
I am disgusted with what is going on in the fight game. It is a great sport and i defend it all I can. I don't watch MMA at all so It's not like I'm jumping ship or anything but, something needs to be done. Paul's trainer and manager should be shot, and Gossen should be punched in the face (with a left hand mind you).
How in the F, do you go on HBO and tell the world that after your boy gets laid out, you are NOT making any adjustments??? Somebody should have stepped in and fired his ass along time ago because, I'm no Bouie Fisher (RIP) but DAMN MAN, I saw this coming 10 fights ago!!! I'm saying to myself out loud that this guy is going to get hurt just as Roy Jones (who seemed to have seen his own mortality through Paul, hopefully) was damn near yelling about Paul not making any changes in camp. Its criminal.
All this started with that dumb promoter in Dan Gossen who for some reason want to promote Paul on the west coast even though he is an east coast fight and no one knew him at the time. Then he wants to know why nobody knows him and wants to fight him....jackass!!!
Back to the trainers though. These are some real STUPID people!!!! If i can see that Paul drops his hands and fights like a 5 foot 9 fighter instead of a 6 foot 2 fighter that he is, why the hell cant they. Why can I see that there is no way in hell that Paul should be lunging to throw a punch. That what shorter fighters are supposed to do to you. NO BODY SEE'S THIS??????
Man I'm sorry for the rant but, its a shame that a fighter with Paul's talents are wasted because of stupid people. I hope he has much smarter people around him in his real estate investments than he does in his now ruined fight career.
One more thing. If somebody tells me one more time that Chris Arreolla looks good, I'm going to throw up. He may look good for that dumb biggest loser show, were they lose all that weight, but this is boxing. I saw him a couple of times recently and he STILL doesn't know how to fight. Doesn't know how to use his jab to get on the inside and throw body shots, give angles, NOTHING!!! If he gets another shot at one of the frankenstein boys (yes I'm a James Toney fan), its going to be the same outcome.
BTW, Lara and Rios are good fighters and should get a shot very soon, especially Rios. That was fun to watch.
I'm out, PEACE!!!!
Get it all out, Michael. It's cleansing.
I can't for the life of me understand why Team Williams is so stubborn about "The Left-Hand Problem." Dude eats them like candy.
This is what always got me about the problem. OK, Martinez is on Williams' right and in a little in front of him. Williams goes to throw a left from across his own body, a left that starts at his hip. Martinez fires his left, knocks Paul the f**k out. It had nothing to do with getting beat to a left. Paul's damn right hand was down at his waist. Fix that.
Williams went through the tape with Max Kellerman before the fight and basically reiterated there was no issue. It's arrogance or a stubborn refusal to change just because everyone on the planet agrees he should.
It is the very definition of insanity but hey, it's his face. You know what? It was a good fight despite the outcome or Paul's flaw. Antillon is a sucker for the uppercut. Has been for years and in fact, was knocked the hell out with one. Where were the articles this week asking Antillon and his trainer if they had fixed the uppercut problem yet?
Yes, it is ludicrous of Williams but at the same time, he's nearly 30 with 42 pro fights and who knows how many amateur fights? Change is not imminent. More likely another knockout vs. Sergio Martinez is what looms.
If I am outraged by anything it is the judges for Lara-Williams. From what Mark Ortega, writer for Leave-it-in-the-ring.com tweeted, "Al Bennett, one of the judges for Williams-Lara, had Malignaggi over Ngoudjo 117-111 in a close fight. Scored Woods-Johnson I for Woods."
I didn't think Malignaggi won that fight. I didn't think Woods won either. Bennett had Lara-Williams 114-114, according to the photo writer George Willis posted on his Twitter.
Bennett gave Lara three of the first four, scoring the third for Williams. He gave Williams round five, six, eight, ten and 11.
Ortega also tweeted "Judge Hilton Whitaker III has rendered decisions for pretty much zero meaningful fights heading into tonight."
I was not able to confirm that. Whitaker gave Lara rounds one, two, seven, eight, nine and 12. He also gave Williams round 12 for a score of 115-114.
And finally from Ortega, "Judge Donald Givens has scored less than 30 fights, zero with the meaning of #WilliamsLara."
Givens scored the 12th round even. He also scored the third even. His second round score looks to have been changed from the looks of the photo. A guy with two even scores having a third he was unsure of and possibly changed before turning it in is not someone I want judging high profile fights. He gave Williams rounds two, three, four, five, six, eight, ten and 12 for 116-114 scorecard. Truly bizarre.
Hopefully someone gives the New Jersey commission a call and looks into this. Anyone got the number?
Bottom line, Williams didn't even act like the winner. He barely raised his hand, even saying, "I know" when George Peterson told him before the 11th that he needed a knockout to win. But Paul is not a judge. Apparently, neither are the guys who officially judged the fight.
Have a good week, fight fans.
You can email Gabriel at

maxgmontoya@gmail.com

, follow him on Twitter at

www.twitter.com/gabriel_montoya

and catch him on each Monday's episode of "The Next Round" with Steve Kim. You can also tune in to hear him and co-host David Duenez live on the BlogTalk radio show

Leave-It-In-The-Ring.com

, Thursdays at 5-8 PM PST. Gabriel is a full member of the Boxing Writers Association of America.