Montoya's Monday Mailbag- Aug. 15, 2011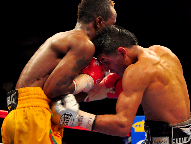 (Photo © German Villasenor)


This fight should have been a great fight, but refereeing ruined it. If the ref did his job it could have been a good fight. Just as I'm writing this Tarver just said the same thing. The fight isn't over yet and I'm writing because I'm so disappointed and frustrated. I'm just hoping King Kong knocks him out. No matter the decision there should be an automatic rematch and King Kong should be given back his belt. This had all the makings of a great fight and I'm at a loss for words because I have never seen so many low blows without any points taken away. I also felt that every time the ref reprimanded a fighter it was Abekgo. This guy should be banned from ever revving another fight. This fight is a disgrace. I wanted Mares to win and was a fan, but not anymore. He's dirty period. King Kong fought two people in that ring and his ring generalship has to be commended. Another fighter would have went nuts. This was so blatant. Not even sure what to say except rematch.
What's lost in all this controversy about the fight was that it was awesome. By the fifth round, I was telling the guy next to me, "I don't care who wins. I want to see this again." Why? Because both Abner Mares and Joseph Agbeko seemed to have great fight chemistry, that's why. Mares was faster for sure and more varied in attack, switching from jab/right hand to jab and left hook then going to the body and back up. He was aggressive, then counter-punching. It was pretty complete. However, Agbeko was also changing things up, moving to the ropes (which did not work out at all) to coming forward and landing his left hook and right hand. It was simply a great fight.

The problem here is that the landscape of the fight was altered by the man who is supposed to be impartial: Referee Russell Mora.

That first knockdown was questionable to me. The replay showed that Agbeko missed a punch and was off balance. Yeah, Mares touched him before he went down but to me, that was not what dropped Agbeko. So I guess we call it a technical knockdown.
But what about the low blows? Some were borderline shots on the beltline but others were low and I don't believe what Mora said about Agbeko pulling down Mares' head, resulting in the low blows. Maybe some but not all. Do I think they were intentional? No. Mares, despite what Vic Darchinyan or Agbeko said, does not strike me as a dirty guy. I think he commits to the body and because of that, shots go low. It happens.
Now we get to later in the fight and Mora has warned Mares repeatedly for low blows and yet he never takes a point. I can see three warnings and no point but it was like six times and nothing. Why did this happen? No idea. I asked Mora after the fight why he'd warn a fighter six times and not take a point. Mora looked and me and walked off. This was after agreeing to answer questions. So much for accountability and transparency in the process.
As for that second knockdown, let's first set the table. The fight was close. With that first knockdown, Mares was up a couple rounds at least. I had Agbeko coming on strong down the stretch and winning that 11th round. Mares looked tired to me from rounds eight on, though he managed to land some good shots, flurry enough to the body and at the ten-second mark to take some rounds on the cards. Agbeko helped by not being consistent in his offense, then he gets hit with an uppercut to the body and bends over. Mares slips to the side and hurts him with a low blow.
Mora warns Mares for low blows and then turns and begins counting a knockdown. So which is it? Is it a knockdown or is it a low blow so bad it needs a warning? Only Mora and Agbeko's nuts seem to know. Right there, the fight was over in my opinion. Whatever rally Agbeko was making was screwed over by the fact that now Mares was comfortably ahead and he knew it. What should have been a point deduction was now a point gained, added to which Mares now fought the last round like he was ahead rather than fighting like the fight was on the table going into the final stanza.
Now some have said, "Well, take away the knockdowns and I still have Mares winning." I agree that Mares won but here is the thing; those people are assuming that the whole fight would remain the same with those knockdowns taken away. It wouldn't be. Even if you keep the first knockdown but take away the second, Mares might have fought differently in the last round. Agbeko was coming on strong and might have been able to finish off Mares, who seemed to be fading fast.
How about if Mora takes a point early on for low blows? Does Abner change his tactics? What if he goes low and loses a second point? Now he really has to change things up, which opens up new avenues of attack for Agbeko.
A ref is supposed to monitor the action and enforce the rules, not change the tenor of the fight. Russell Mora did not do that. In fact, he appeared to do the opposite.
And now, instead of celebrating the successful end of a good idea in the Showtime Bantamweight Tournament, we now get to argue about this. Instead of enjoying his first world title, Mares is now a tainted, dirty fighter in the fans' eyes. In my opinion, that is just not fair but it shows how fickle and bandwagoning fans can be. Just last week, it was a Mares love-fest on Twitter, Facebook and boxing forums. Now all those same people are crapping on him for what Mora did or did not do.
To me, that's just plain wrong. Watch classic fights and you will see some rough-and-tumble action. Marvin Hagler vs. Thomas Hearns is littered with low blows. I'm not defending cheating but saying that it is up to the ref to handle that stuff and the fighters to fight.
One question I have is why go with Russell Mora when we had a perfectly good Kenny Bayless in the house? This would not have happened with a real pro like him.
An irony is that Mora is the same guy who disqualified Anthony Peterson for going low repeatedly against Brandon Rios. It took him only seven rounds to do that. Maybe he felt he could not do that again. Perhaps he was admonished for doing that in a high-profile fight. Or maybe something else was at play.
After the fight, Golden Boy Promotions (who promotes Mares) matchmaker Eric Gomez tweeted,"I love Russell Mora." He later deleted the comment but not after it became a top tweet through a multitude of retweets. Not saying there was chicanery here but why delete it? Why not stand by your words?
It should also be noted that Don King, who promotes Agbeko, made a request to Nevada State Athletic Commission Director Keith Kizer to not use Mora as he was thought to be unsuitable. Kizer declined the request citing no grounds for the complaint.
Well, there's grounds now. I doubt we Mora in a big fight again anytime soon.
"Around the Boxing World"
Just finished watching the Agbenko-Mares fight and it just keeps getting worse for boxing fans. We have seen horrible decisions such as Williams-Lara, Caballero-Barros, Alexander-Mathysse and now we get to see a good fight turned controversial because of a horrible ref job. Mares definetly had it going early but he kept the low blows coming all night. Agbenko came back strong in the second half and he hurt Mares a couple of times. I actually thought that he might pull it off since Mares was running out of gas at the end. But thanks to the referee Mora we have another questionable champion. I think there has to be something done about judges and referees who do crappy work. It just sucks for real boxing fans man!
I also watched the ESPN FNF card and it was pretty entertaining, but i gotta say Kermit Cintron has no business on TV. There are many good fighters out there and its just a shame to keep seeing a guy who has no heart and is just plain boring. He has no power to speak of and has no chance of beating a top notch welterweight or light middleweight.
Hopefully we can see something better before the end of the year. I like the Ortiz vs Mayweather card and looks like Pretty Boy took a real challenge in Victor. It should be interesting although if Ortiz doesnt jab its going to be a long night for him trying to hunt down Floyd. Pac vs Marquez looks like a mismatch. I think Marquez has been a great fighter but his best years are behind him and certainly has no business at welterweight (doesnt matter the stupid catchweight). Rios and Guerrero were real forces at 135 and both would have given Marquez a run for his money and his belt. Just looks like that fight is going to be sad to watch although I hope I'm wrong.
Other than that keep the good articles coming and please keep writing about these crooked judges and horrible referees. We need to get rid of them no excuses.Even after watching the replay Mora was trying to defend himself. Agbenko should have hit him with a overhand right lol.
The biggest problem I have here is that there is no accountability from Mora. He refused to answer my questions in the face of such a big screw-up. I would have asked tough questions but not blasted him out like Jim Gray did. It's not my job to get emotional as I felt Gray did to some extent. That interview, which has been lauded by fight fans shows just how fickle they really are. This guy has been hated for years and now he does this interview and everyone loves him. I have no opinion on Jim one way or the other but like a Mares fan who saw no wrong in what Mora did and accused Agbeko of faking after the fight to a friend of mine, everything is always all good when it works for your side.
A lot of people are calling for all-out banning of Mora. I think some retraining and not allowing him to work a big fight until he shows some consistent ability to make quality judgments will suffice. I certainly do not want to see him again in a big fight any time soon. Outright banning is too much. Refs in all sports screw up badly all the time. If it becomes a consistent issue, then OK. And no, I would not cite the ref missing Montiel's shaking leg as proof. He was looking at Donaire to get him in the corner when that happened. I believed then and I believe now if he had seen that, Mora would have stopped the fight. The NSAC should review the tape and make a decision based on that.
I don't know where Cintron goes from here. He did not look very good to me but he did do enough to win. The snap looks gone and he seems unable to keep a fight at long range. Maybe he is still getting back to form after his long layoff. Who knows? In the Williams fight, which was Cintron's last before this layoff, he looked fine to me, better than ever, in fact. Something is missing and I wonder if it will ever return. His pop in the right hand seems gone which is a loss I've rarely if ever seen in a fighter. Power usually stays until the end. Maybe all the right hand surgeries Cintron has had did something to it. In any case, look for him again sometime before the end of the year.
We have some quality cards coming up. Robert Guerrero vs. Marcos Maidana is going to be a very entertaining fight. I like Guerrero in it but he has faded before, never been at 140 and Maidana has very real power. The back end of that fight could be awesome.
The "Star Power" show is going to be great. Josesito Lopez vs. Jessie Vargas will be fun while it lasts. I think Lopez gets him. He is more experienced and battle-tested while Vargas is an unknown quantity against real opposition. Whomever made this fight for him might have picked wrong in my opinion.
Morales vs. Matthysse has me excited too. Morales might have bitten off more than he can chew here but then again, I said that in his last fight. I think Matthysse is a step above Maidana. He boxes more and adjusts in fights. Training now with the Sarmientos has done a lot for him. I expect him to be up for this challenge.
I have not much interest in "Canelo"-Gomez. That's one reason I will be in Vegas that night instead of L.A.
Mayweather-Ortiz intrigues me because of Ortiz's strength and power at 147 but let's be real honest; he's a 7-1 underdog picked by Floyd to beat. We can say, "Floyd is finally fighting a young lion" and "Boy, he sure trumped Pacquiao" but in reality, Floyd handpicked this guy for his inexperience (Ortiz has been 12 rounds once, which was his last fight). If you look at the back end of the Andre Berto fight, Ortiz's technique was all over the place. Mayweather is getting Ortiz before he becomes truly dangerous. I am taking Floyd by TKO in 11. I think it will look like De La Hoya-Vargas. Ortiz will be strong early and fall apart late. He is too stiff, rarely moves his head, does not fight like a southpaw, in that he moves to his left instead of right which leaves him open to Floyd's counter right all night long. It's dangerous because of Ortiz's power but that's really about it, hence, the 7-1 odds. But hey, it's a helluva card, definitely worth the money spent on the PPV.
What can I say about Pacquiao-Marquez 3? Oh, yeah. It's the same old crap Manny has been feeding us for a few fights now. Above 135, Marquez is not a dangerous fighter at all. He will be crafty, sure, but he will also be slower, not hit as hard, and be more of a stationary target for Pacquiao. I think Manny ices him this time and it's sad because Pacquiao's legion of fans will say, "See? He was better than Marquez all along." I think that is unfair to Marquez, who I thought beat Manny the second time and showed greatness by taking Manny to a draw in their first fight after being down three times in the first. My only hope for that card is that it gets stacked with good undercard fights. If not, it is just pay-per-view crap being sold to fans that increasingly show they don't know any better when it comes to buying pre-determined fights.
Thanks for the kind words. I will do my best.
I'll have an interview with David Lemieux and his trainer, Russ Anber and a whole lot more this week on Maxboxing.com
Have a great week, fight fans.
You can email Gabriel at

maxgmontoya@gmail.com

, follow him on Twitter at

www.twitter.com/gabriel_montoya

and catch him on each Monday's episode of "The Next Round" with Steve Kim. You can also tune in to hear him and co-host David Duenez live on the BlogTalk radio show

Leave-It-In-The-Ring.com

, Thursdays at 5-8 PM PST. Gabriel is a full member of the Boxing Writers Association of America.
[Editor's note: Don't forget to check out our new Maxboxing/YouTube videos, courtesy of our outstanding videographer Brian Harty and on-air ace Radio Rahim. They feature World Light Heavyweight Champion Bernard Hopkins on Chad Dawson (http://www.youtube.com/watch?v=kin_HlUiSUI), Dawson on Hopkins (http://www.youtube.com/watch?v=wvkfFBJnuLs) and the press conference touting their upcoming fight on October 15 (http://www.youtube.com/watch?v=5cpc2CudCzM)]