Michael Katsidis: "I don't wait for things to happen. I like to make things happen"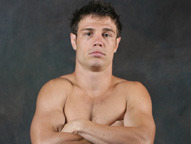 Katsidis


It's been an incredibly tough 12 months for Michael "The Great" Katsidis 28-4 (23). Just six weeks before the biggest fight of his life last year, he lost his brother, Stathi. Katsidis ultimately decided to go on with the show against lightweight champion Juan Manuel Marquez and despite putting the modern-day legend on the seat of his pants in the third, he ultimately succumbed when he was stopped in the ninth frame. He returned against Robert Guerrero just four months later and lost a wide decision. Recently, for the first time in four years, Katsidis fought in front of his home fans in Australia, snapping his two-fight losing streak when he stepped up to light welterweight for the first time in several years. He would brutalise fringe contender Michael Lozada in three rounds at the Gold Coast Convention Centre in his home province of Queensland. The 31-year-old has always given fans at home and in America value for their money during his ten-year career with his all-action style that has seen him involved in several "Fight of the Year" candidates, making it all the more surprising that his fight with Lozada wasn't on Australian TV (God bless the Internet!). Having return to his winning ways against Lozada, Katsidis now hopes to take on one of the big names at either 135 or 140. One thing you can be certain of, it'll be exciting; it always is when Katsidis enters the ring.


Anson Wainwright -
What can you tell us about the fight and your performance against Michael Lozada?
Michael Katsidis - I felt very strong at the weight. I can still make lightweight but I believe I could make junior lightweight as well. It's mainly discipline. This doesn't mean lightweight is the weight I will perform my best. If I tweak a couple things in my diet, I think it could work. Fighting Lozada at 140 was taking a risk in the sense that Lozada has a record of 38 wins and 30 by way of knockout, meaning he was a fighter that obviously carries power. A fighter can't really get an idea how they are fighting at a weight until they actually do it so I could say that I am more than happy with my performance and to have a win, especially in the fashion, having a third round KO.
AW - What was it like fighting at home? What were the crowd like?
MK - We did a relatively quick promotion and the best part about fighting at home was having such a passionate crowd in my corner. From anyone that was at the fight, the response I got was that the atmosphere was amazing.
AW - Now that you've taken care of Lozada, what do you personally want to do next? HBO and Showtime's fall schedule is pretty full, so what are your thoughts on possibly fighting in Australia again? Maybe revenge match against Ameth Diaz after he beat Lenny Zappavigna?
MK – Fortunately, I don't wait for things to happen. I like to make things happen and if there is a fight out there that people want enough, it will happen. This is boxing - ugly one day, beautiful the next.
AW - What did you think of Brandon Rios' KO win over Urbano Antillon?
MK - I know Urbano is brilliant as a sparring partner. I've used him and [Manny] Pacquiao uses him. Though I don't know how anyone could compare actual fighting to sparring but if his performance is anything like his sparring, then I know I'm in for a tough fight if I were to face Brandon Rios.
AW – Before the Lozada win, you lost to Robert Guerrero, via 12-round decision. Looking back, what can you tell us about the fight?
MK - I didn't spar for eight weeks in the lead up to the Guerrero fight because of a bad cut during training. Hindsight is always a wonderful thing, one decision I am certain to reverse when the opportunity comes.
AW - You usually head to Thailand and undertake a very tough training camp. Where have you trained this time? Can you tell us a little about some of your training and some of the things you do?
MK - This camp was home-based as this is the first time Katsidis The Great Company has been part of a promotion. Also, on a personal level, I wanted to give a lot of boxing fans in Australia an insight into my sparring and training sessions. This camp wasn't as isolated as usual and not a lot changed except for the location.
AW - Brendon Smith is your manager and trainer. You guys spend an awful lot of time together, so you must be very good friends. Could you tell us a little about your relationship?
MK - Brendon and I have been friends since I was 11 years old and we have been working together for 20 years. We battle through thick and thin together. Without each other, we would not have achieved so much. I'm very thankful to Brendon because without him, I would not have had such great experiences in boxing. We still have more to achieve.
AW - Can you tell us a little about yourself as a person? What you enjoy doing away from boxing and what are your hobbies and interests?
MK - I am a fighter; I live the life of a prizefighter. I am family-oriented and outside of boxing, I like to return some good for what I have got out of boxing. Of late, Brendon and I have done a lot of work for our charity named "Man Down." On numerous occasions, we have been able to raise funds for people that have been permanently disabled competing in their sports and for families that don't have enough money for food and to live generally. This has consumed a lot of my time outside of this promotion.
AW - You've shared the ring with many top fighters Marquez, [Joel] Casamayor, [Jesus] Chavez, Guerrero, etc. Who do you think is the best fighter you have ever fought?
MK - They are all very good fighters and it is difficult to compare who is the best. I think the most popular that I have fought and whom I have the most respect for is Juan Manuel Marquez.
AW - You've twice won the WBO interim lightweight title. What future goals do you have, both inside the ring and away from boxing when you retire?
MK - I want to win a world title again; there is no doubt about that. I have a variety of supplements I would like to introduce to boxing. Basically, I would like to work on things that could give back to boxing or help others in the sport, particularly the things that helped me get to where I have got so far.