Meanwhile, Back in the Middleweight Division: Sturm vs. Macklin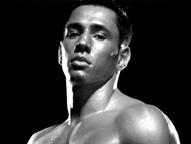 --


While you wait for Julio Cesar Chavez Jr. to grow into his green belt, middleweight champion Sergio Martinez to reclaim his crown, Gennady Golovkin to come into his own, Dmitry Pirog to reappear, and Daniel Geale to get in one title defense before entering the top-level fray, Germany's WBA middleweight entrant, Felix Sturm, 35-2-1 (15), continues his pedestrian title reign.

This Saturday

, in an afternoon appetizer on

EpixHD.com

at

5 PM ET

, Sturm faces off with Mathew Macklin, 28-2 (19), of what is now the equivalent of the American

Midwest

- the

UK

- at the

Lanxess-Arena

in

Cologne, Germany

.
Sturm is best known to American fans as the former WBO middleweight titleholder who got robbed against Oscar De La Hoya back in 2004. Deprived of his second defense of that WBO belt, Sturm has gone on to win the WBA version of the belt, picked up from Maselino Masoe in 2006. A bump in the road against Javier

Castillejo

in his first defense of the belt led to redemption just two fights later in the rematch. Nine defenses later, the 32-year-old Sturm is a veteran middleweight titleholder, who has carved out a respectable and lucrative career for himself fighting in

Germany

. Sure, the names are largely unknown in the US, guys like Gavin Topp, Noe Alcoba, and Randy Griffin (who Sturm drew with and later beat by decision), but the paychecks and large crowds have been very real. Now comes Macklin, who enters his first title fight like Sturm, on a near-five-year winning streak.
"I think Matthew is a great fighter. He's strong. He's fast, tough. He's a smart guy. I think we all can expect a huge fight, a big fight, an all-action fight," Sturm said this week on a conference call.
Macklin is a 29-year-old orthodox fighter out of Birmingham. With 19 knockouts against opposition less than world-class, how his power will carry over into this higher level bout remains to be seen. Still, this is his first world title shot. And at 29, you have to wonder why that is. That said, Macklin does have experience with regional title fights, as he was quick to point out.

"In Germany, it's raining – I was expecting better weather but not to worry. I'm sure I can bring some sunshine on Saturday," said Macklin. "Yes, training has gone really well. I'm excited, getting ready for my first world title shot but, you know, I'm pretty experienced as well. I've won the European title twice, won the Irish title, the British title, and I've fought some really good opponents along the way. And, yes, I'm just really looking forward to the fight now. The training camp's gone brilliantly. The biggest fight of my life, you want it to be the best training camp of your life and it has been. Also, I think the challenge of Felix will bring my game to another level. I'll have to be at my best but no doubt, I will be."
Macklin is going to have to be the aggressor here, which plays right into his pressure-based style, because if there is one thing to know about Sturm, he's a pure boxer. You don't get 15 KOs in 38 fights being anything else.
"He's very experienced. He's always finds a way to win," conceded Macklin. "He has a great defense, a very good jab and I think that they're two things that, when I've watched him on tape, consistently jumped out at you with his left jab, his left hook and, you know, also his defense.
Even if Macklin can make it a firefight, he says that Sturm will still be a problem, citing his game-but-losing first effort against Castillejo.
"When he got hurt against Javier Castillejo in the first fight, he stood toe-to-toe and showed a lot of heart also. So, yes, I mean, his jab and his defense are probably two things that first jump out at you."
Beyond styles, that the fight is in Germany, Sturm's turf, is probably the biggest obstacle here for Macklin but he dismissed the possibility of not getting a fair shake.
"Obviously, with it being in Germany, people say, you know, you're going to have to knock him out to get a draw," said Macklin, "but I'm not really dwelling on that. I'm sure I'll get a fair crack at the whip."
Looking around the division, there is a move and a case to be made for the unknowns like Geale and Macklin. Geale just upset Sebastian Sylvester at home to take his IBF middleweight title. At his age and experience, Macklin feels the time for him is now.
"I'm one of those fighters – I'm prepared to fight anyone to prove what I believe that I'm capable of," Macklin explained. "I believe I can go all the way in this division. I think I can be a champion and stay there for quite a while and defend against all the other top guys in the division."
Macklin has seen some ups and downs en route to the title. He was supposed to fight Winky Wright earlier this year on a pay-per-view card put on by Golden Boy when Wright pulled out of the fight with an injury. Then, he was set to fight Khoren Gevor on an undercard in a title eliminator a week later but that fight also fell through. Now Macklin finds himself bypassing the eliminator pleasantries and going straight to the title.
"At the time, when you're disappointed and everyone says, 'Don't worry, everything happens for a reason,' you don't really see it that way but luckily in this instance, that does seem to be the way it's worked out," he said.
Sturm admitted he was ready to come to the US, should he beat Macklin this weekend. He feels that he is a better fighter seven years past that first big fight with Oscar De La Hoya. What looms for him are potentially lucrative matches with Martinez or Chavez Jr.; however, a unification fight with Geale could also yield huge dividends. In the meantime, Sturm will bide his time and continue on his active schedule of three fights a year. He did explain, however (though some of it was inaudible from his phone in Germany), that fighting so often makes training camps go easier as he remains sharp and in great condition. That condition is important for a man who knows he is going to go the distance more often than not.
"I feel very comfortable with three fights in a year. I'm a fighter who needs activity, who needs to fight every four months. I think having a fight every four months keeps me sharp," said Sturm.
Sturm feels that conditioning will be a key in this fight but he says the game plans will take time to materialize.
"After the fourth or fifth round, you will see who has the best game plan," said Sturm, "but I think, of course, my jab and my body shots, those will be the key for the success."
Macklin, in order to win, will have to fight above the level he is used to. It is one thing to beat journeymen or fellow contenders and quite another to beat a long reigning titleholder. No one understands this more than Macklin.
"I mean, I have always respected Felix – this is his third reign as world champion. Like you say, he's beat some big names in the division. This is my first world title shot, so it's only natural he's going to be the favorite," said Macklin, "but I'm twice European champion. I've beaten some good fighters and to be honest, when I've had the best performances in my career is when I'm been in against the best fighters. For fighters not at my level, I kind of drop my standard to their level and I've not performed to the best of my abilities. But when I've been up against it or I've [gone in as] an underdog or it's seen as a 50/50 fight, that's when you usually see the best of me. So, I'm looking forward to it."
Macklin explained that he does not necessarily lower his game consciously but rather the adrenaline rush from fighting someone he has a better chance of losing to sharpens his resolve.
"I think it's more a case that you just have nerves before a fight but the nerves make me perform better," Macklin explained. "They make me sharper, my reflexes sharper. I react quicker to punches. I counter faster and I even feel like I punch faster and harder. I think it just affects everything and it makes me perform to the best of my ability. You can either rise to the occasion or you can drop your standards and sometimes drop to their level. And I think that when I know I have to be on my best, I lift my game."
So who wins? Felix Sturm's jab or the pressure and volume of Macklin? For Sturm, the key will be establishing that jab early and using it to keep the fight at long range where he likes it.
"I'll be putting on a lot of pressure from the first round," said Sturm, "and I think this was always the key for me. I think (inaudible) how much pressure I can make (inaudible) makes him a little bit confused and this makes him a little bit crazy (inaudible) with my left hand (inaudible) my right hand. And I will say, I can make every single round like in the first round and I think this will be the key for me."
For Macklin, this is the chance of a lifetime. Everything he does well, he will have to do exceptionally well come

Saturday night

. More aggression, more volume and more pressure will be tantamount to his success.
Is the win within Macklin's reach? Yes. Sturm has been beaten before and can be hit despite his excellent wheels and solid defense. Will he? We're just few a hours from finding out.
You can email Gabriel at

maxgmontoya@gmail.com

, follow him on Twitter at

www.twitter.com/gabriel_montoya

and catch him on each Monday's episode of "The Next Round" with Steve Kim. You can also tune in to hear him and co-host David Duenez live on the BlogTalk radio show

Leave-It-In-The-Ring.com

, Thursdays at 5-8 PM PST. Gabriel is a full member of the Boxing Writers Association of America.