Mares-Agbeko Rematch Ordered…but No Mora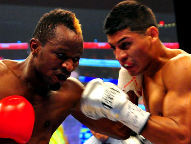 (Photo © German Villasenor)


On Monday, I placed a call to IBF President Daryl Peoples in the aftermath last weekend's controversial bout at the Hard Rock Hotel in Las Vegas, where Abner Mares captured their bantamweight title from Joseph Agbeko. Mares was greatly aided by the inaction of referee Russell Mora, who made a series of mystifying (non)calls that swung the fight in his favor. Most egregious was a blatant low blow in the 11th round that was instead ruled a knockdown of the Ghanaian, basically sealing the decision for Mares.


Agbeko's representatives and promoter Don King made it clear on Saturday night that they would be filing an appeal of the fight over Mora's actions.
Peoples said to Maxboxing on Monday afternoon, "Our rules say that within ten days of the fight, they need to get in some type of written letter to appeal the outcome of the fight. I'm expecting that within the next hour, so I've been told they are drafting it now. Once we get that, what we do is then impanel three IBF members to look at information submitted from Agbeko's camp and I would imagine once the Mares camp knows what's going on, they'll submit some things too. These guys will deliberate over all of the material that they have and then they'll submit their findings and recommendations to me and we'll take it from there."

However, on Tuesday, this statement was released by the IBF:
August 16, 2011, Springfield, NJ - IBF President Daryl Peoples and IBF Championships Chairman Lindsey Tucker completed their review of the IBF Optional Bantamweight Championship bout that took place on August 13, 2011 in Las Vegas, NV, between Joseph Agbeko and Abner Mares.

Mr. Peoples and Mr. Tucker observed several low blow fouls committed by Abner Mares. While the referee, Russell Mora, issued numerous warnings for low blows during the course of the bout, he neglected to deduct points for these fouls. With 1:03 left in round eleven, Joseph Agbeko was hit with a low blow foul that forced him to the canvas. Mr. Mora determined that the blow landed by Mares was legal and began to count indicating that a knockdown had occurred.

Based upon their review of the bout, it has been determined by the IBF that inappropriate conduct by the referee affected the outcome of the fight.

In accordance with IBF/USBA Rule 3.D., the IBF is ordering a rematch between Joseph Agbeko and Abner Mares for the IBF Bantamweight title which must be held within the next 120 days or by December 14, 2011.
Yeah, perhaps they bypassed a few steps and maybe complete due process didn't exist in this case but honestly, it was an easy call to make. There really was no other recourse the IBF could've- or should've- taken. According to Peoples, he and Tucker watched a tape of the fight and made their rulings. No need to convene any special panels and waste any precious resources and time. It was that cut-and-dried.
King released this statement shortly thereafter:
They wasted no time in determining that Russell Mora, the referee assigned to Agbeko vs. Mares, was in violation of their rules by displaying "inappropriate conduct" for ignoring repeated low blows against my fighter, Joseph Agbeko.
"I commend IBF President Daryl Peoples and IBF Championship Chariman (sic) Lindsey Tucker for confirming what everyone who witnessed the bout already knew. Too often, the first inclination when human frailty is exposed is to sweep it under the rug as though it never happened. It is to their credit that Mr. Peoples and Mr. Tucker confirmed that when obvious mistakes are made, it's best to recognize them and attempt to immediately right the wrongs.
"It was a triple-blow against boxing by hurting fighters, discrediting world championship boxing and the great state of Nevada, where so many of boxing's most memorable bouts have been staged. This has caused an undeserved negative shadow over Nevada. There should be an investigation to clear any and all doubts as to what occurred in this fight. The people deserve to know more about whatever caused this man to do what he did.
"The honor that was established by exceptional past members of the Nevada State Athletic Commission like Dr. Elias Ghanem, Chuck Minker, Marc Ratner, Dr. James Nave, Luther Mack, Duke Durden, Sig Rogich and many others brought boxing in Nevada to towering heights by being committed to following the rules with honor and integrity. They established an impeccable reputation, and to see the house they built being tarnished brings me great sadness. Inaction in this instance would be unacceptable.
"I urge the state of Nevada and its leaders to step up in similar fashion as the IBF has done. After all, they have an additional obligation to protect those making wagers by insuring that fair play is paramount in their state.
"I look forward to giving two great young athletes, Joseph Agbeko and Abner Mares, the fair playing field they deserve to display their wonderful boxing skills.
"

According to Peoples, the two sides, DKP and Golden Boy Promotions, will have 30 days to come to an agreement on the fight. If they are unable to come to an agreement, then a purse bid will be staged on September 15th. It looks like there will be some justice for Agbeko, who at the very least will get another crack at his former title.
However, the man in the eye of the storm is Mora, who marred what was a very close, competitive fight with his officiating. Peoples said that Mora was not placed on that fight by the IBF but the Nevada State Athletic Commission. According to him, Keith Kizer, Executive Director of the NSAC, will ask the IBF for a list of approved IBF officials but not necessarily choose from that list. "That's part of the Ali [Act] amendment. As a matter of fact, it's a courtesy that Keith even accepts a list of officials- and not just Keith- a lot of the commissions say, 'Send us a list. We'll try and select off that list and that's done strictly as a courtesy. They don't have to select any of the officials."
So just how did Mora end up with this Showtime main event over the likes of Kenny Bayless, Robert Byrd and Tony Weeks?
"It's pretty straightforward, actually," Kizer explained to Maxboxing, "What I do is, as Executive Director, let's say there's a fight coming up- we'll use this fight as an example, Agbeko-Mares. I'll go through both guys' records and I'll say, 'OK, were there any kind of controversial decisions or maybe close decisions involved? Who referee'd the last fight of Agbeko in Nevada or, let's say, Mares in Nevada? I kinda look at all that stuff and then I see if there was anyone who was...like, there were times when I wanted to bring in an official from out-of-state and I say, 'Whoa, this guy I was looking to bring in, he's done three of the guy's last four fights.' I don't want to make it look like that guy's 'traveling judge' or something. Or I might say, 'Hey, there was a situation where this guy, there was a controversial decision.' A good example was [Juan Manuel] Marquez-[Manny] Pacquiao II. I looked at who the judges were from Marquez-Pacquiao I- a kinda controversial decision and I think Joe Cortez was the referee on that fight- and said, 'I'm not going to even consider those four guys [for the rematch]."
Byrd, for instance, was the third man in charge for Agbeko's last bout in Nevada, which basically took him out of consideration for this fight. "I looked at that stuff and said, 'Let me try and bring in somebody else for that' and then basically, what happens from there is that I then create a list. I create a list that has maybe four referees to be considered and maybe seven judges to be considered. Obviously, I had Oren Schellenberger as well as another judge on that list. I then send a list to the promoters, who then get [the judges] to the camps. So the promoters look at them, the camps look at them. If they have any objections, they find to make them at the meeting. It's agendized at a public meeting. At that time, we call the item; the chairman asks, 'Anyone affiliated with the fight want to make any kind of objections to this?' And we want to hear real objections. We don't want to hear, 'Y' know, I don't like that guy's style.' OK, tell me something more. If not, that's not a legitimate objection."
You just have to ask yourself, while perhaps familiarity can breed favoritism, by going with this rotation system, are you not rewarding your best officials? In other sports, such as the NBA, NFL and Major League Baseball, the officials and umpires that grade out the best and have the best track records are given the assignments to their most important contests. And it's not like Steve Javie (a noted NBA referee) or Mike Carey (a highly respected NFL zebra) haven't worked multiple games with certain teams throughout their histories. It's their ability to consistently be impartial despite past acquaintances that makes them the arbiters they are.
Kizer labels it "preemptive medicine" in going through the histories of assigned officials with particular boxers to avoid this constantly coming up. But what did come up was a late complaint from DKP in that was chronicled in this story by Kevin Iole of Yahoo! Sports: http://sports.yahoo.com/box/news?slug=ki-iole_mora_referee_agbeko_controversy081411, to which Kizer responded, "I've never heard anyone call someone, 'a Golden Boy referee' or a 'Top Rank referee' for that matter. I've heard people complain, 'Hey, this guy, he doesn't break the fighters enough; he allows too much holding' or vice versa. Most of the time, I think those aren't even legitimate objections. What they're trying to do is they think there's another referee who would be more pro-their fighter as far as his style goes and they're trying to make up reasons to get rid of other referees and that's just kinda silly. But I wanna hear them."
Mora, who moved from New Mexico to Nevada several years ago hasn't worked all that many Golden Boy shows to detect any pattern of bias on that front but what is troubling to one boxing insider is that he does seem to give Latin fighters the benefit of the doubt. In the fight between Brandon Rios and Anthony Peterson last September, he disqualified Peterson for repeated low blows (which was lauded as the correct call that night) but in the fight between Robert Guerrero and Michael Katsidis, he missed a knockdown of Guerrero. When Katsidis, late in the fight and well behind, had hurt Guerrero with a body shot, Mora stopped the action and warned Katsidis. The delay killed any momentum Katsidis had. Mora also took much criticism for allowing Fernando Montiel to continue after getting sent crashing to the canvas by Nonito Donaire back in February. Was he trying to give Montiel every opportunity to continue on or was it perhaps just bad judgment?
Then again, you had Mora's performance in Mares-Agbeko, which may forever taint him as a referee.
"I actually just talked to Russell, just now. He was in my office," said Kizer on Monday morning, "but I talked to him after the fight on the cell phone driving home and he said, 'Look, I saw the replay; the replay definitely did not look like it was a legal punch but live, it looked like it was on the beltline. So as I told Jim Gray [of Showtime], I want to sit down and look at the whole fight again. So I'm going to do that tomorrow.' I said, 'Good, good, you need to do that,' and he said, 'Secondly, I want to talk to some of the other referees, Kenny Bayless, Joe Cortez, Tony Weeks.' I said, 'Great, I strongly suggest that.' Y' know, a referee does a great job, I think it's good for him to review his work and talk to other referees about it because the other referees can learn from that."
According to Kizer, after Mora reviewed the fight, "He told me on Sunday afternoon, 'Keith, I had a chance to watch the whole fight again and first off, I totally blew the call in the 11th. From the camera angle, getting to see it, no doubt about it- I completely blew the call. I said, 'OK, OK, I appreciate it.' He also admitted, 'Keith, there was a perfect time in the tenth round where I was going to take a point away and I didn't and I should have. I wish I would've."
Kizer said that Mora also told him, "Let me tell you something Keith; I watched the whole fight again. There was a lot of low blows where Mares got his head pulled down and there were a lot of shots that weren't low that landed on the belt,' that Showtime kept saying were low. It's almost like they got on a bandwagon."
In all fairness, that did happen quite often, particular early on in this fight and Kizer said he witnessed Mora go over to Agbeko's corner to tell them during the rest period, "He's hitting you here; that's the beltline. That's legal. Also you keep pulling him down and you're contributing to it. I'm not going to take points away for that."
"Several times he did that," according to Kizer.
The problem is, by warning a fighter, you are, in essence, saying that he is committing a foul. Mora gave Mares at least a half-dozen warnings and never took away a point. Contrary to popular belief, there is no set protocol for deductions relating to a set amount of warnings. This is strictly the discretion of the referee. Kizer makes it clear that Mora is facing no administrative suspension or discipline. "Take the top ten referees in the world; put 'em in a hat. Pull one of the names out; you could find a fight they did poorly on and the good referees learn from that. They take ownership of their mistakes and they come back better than ever."
So now we're are looking at the specter of Mares-Agbeko II, which is now actually a rematch with a lot of surrounding buzz. Not only was the first encounter an entertaining affair, there is now a built-in storyline for the second chapter with plenty of the requisite controversy that fuels these kinds of events. Mares' manager, Frank Espinoza, who didn't partake in any of the tasteless gloating like his promotional company did, took it all in stride, telling Maxboxing. "We certainly respect the IBF's ruling and understand it. It's the right call for Abner, who wants to clear up any doubts about what took place on Saturday and the right thing for Agbeko, who fought a great fight. Really, this was the right thing for boxing. Golden Boy and Team Mares looks forward to clearing up any questions that remain in the rematch."
As for Mora, well, don't look for him to be the referee for any high-profile bout anytime soon.
"Yeah, he'll need to take his time, build his way back up," admitted Kizer, "and I'm very confident he'll be able to do so."
EVERYDAY PEOPLES
There's a lot of warranted criticism of the sanctioning mobs but let's make this clear; a guy like Agbeko absolutely needs one of these supposedly "meaningless" or "worthless" titles to entice other boxers to face him and make significant money (he was paid $130,000 for the Mares contest). It was the IBF who had to stand up and make this call to make sure that Agbeko's rights were protected.
For Peoples, this was a relatively easy decision (the late great Chick Hearn would've said, "You could've called that in Braille."). Where he really showed his courage was way back in April 2002, when he was the supervisor for a fight in Tijuana between Diego Morales- the younger brother of Erik- and Fernando "Bobby Boy" Velardez, which was being won easily by the hometown Morales. Inexplicably, one of "Pelucho's" cornermen stepped into the ring early, which was grounds for a disqualification. Now, I've seen many times when stuff like this is ignored for the hometown boxer but Peoples- who had to have been the only African-American inside the Auditorio Muncipal that evening- stepped up and helped make the correct call. Despite plenty of anger from the partisans, Velardez was awarded a ninth-round DQ victory.
Now that took real guts.
I actually called him at his Jersey offices that following Monday. I mean, there was no guarantee he'd make it out of there alive. Thankfully, he was in one piece when he picked up his phone and the rest is history.
CUT
In all other sports, referees and umpires are jettisoned for poor performances but in boxing, it seems many of these guys are entrenched for life, regardless of their ineptitude. I asked Peoples why aren't questionable officials in boxing cut.
"I don't know, of course. We draw from judges and referees that are licensees of the individual states," he answered. "That would probably be something that needs to be done on the state level, if there was going to be a thinning out of the official pool. We're a membership organization and if you meet certain criteria, one of them being a letter of recommendation from your commission, we'll grant you membership. As far as who our officials are, when we do have a chance to assign them, there is somewhat of a rotation.
"If there is what we anticipate to might be a difficult fight, we'll try and make sure that we assign more experienced officials- if given the opportunity."
One of the issues is that boxing, being an international sport, has some logistical issues in terms of sending referees and judges to foreign locales.
AUGUST FLURRIES
After some hemming-and-hawing, Glen Johnson will be facing IBF super middleweight champion Lucian Bute on November 5th in Montreal. With Showtime cutting the license fee for this date significantly, Johnson didn't get quite what he was looking for but he's a fighter. He decided to take what was there...That same day, WBO super middleweight beltholder Robert Stieglitz takes on Mikkel Kessler. Showtime may or may not have this as part of their Bute-Johnson broadcast, I'm told...One issue that can't be overlooked regarding Mares-Agbeko II is just how much money is left in the Showtime budget and if they can clear any dates before the end of 2011...Did anyone see the premiere of Affion Crockett's show, "
In the Flow with Affion Crockett

,
" on FOX? Looked very promising to me. I'll put this in my rotation (for now). His impersonation of Manny Pacquiao had me giggling uncontrollably...OK, so let me get this straight; Miami had a bunch of guys on the take and the best they could do during this stretch were a Humanitarian Bowl and being an ACC also-ran?! Good grief, how inept were Larry Coker and Randy Shannon?! I'll say this much for USC and Ohio State, when they had payrolls to meet, they were competing for national titles and the like
…Don't forget to check out our new Maxboxing/YouTube videos, courtesy of our outstanding videographer Brian Harty and on-air ace Radio Rahim. They feature Bernard Hopkins on Chad Dawson (
http://www.youtube.com/watch?v=kin_HlUiSUI
), Dawson on Hopkins (
http://www.youtube.com/watch?v=wvkfFBJnuLs
) and the press conference touting their upcoming fight on October 15 (
http://www.youtube.com/watch?v=5cpc2CudCzM
)...I can be reached at
k9kim@yahoo.com
and I tweet at
www.twitter.com/stevemaxboxing
. We also have a Facebook fan page at
www.facebook.com/MaxBoxing
.