Looking Ahead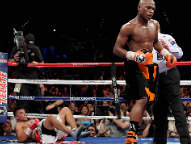 (Photo © Tom Hogan - Hoganphotos, Golden Boy Promotions)


On Saturday night at the MGM Grand in Las Vegas, one of the more memorable nights in boxing's recent memory took place as Floyd Mayweather stopped Victor Ortiz in an ending that will be forever debated. Now as the dust clears from Mayweather's fourth round knockout, the process of mapping out the future begins. Just where do Mayweather and Ortiz go from here?

"I think it's a little bit too early to say where they're going to move forward," said Golden Boy Promotions CEO Richard Schaefer, who co-promoted the "Star Power" pay-per-view card and handles Ortiz's career. "I mean, I think both guys are sort of digesting it a bit. I know that Victor would love to have a rematch; obviously, there is no mandatory rematch provision, which Victor could ask for. He obviously asked for a rematch at the post-fight press conference and hopes that Mayweather will give it to him. He feels that there was controversy; people are split in their opinion. I think more people think that it was fair; it was a fair punch. Some people feel it was a sucker punch. Be that as it may, Ortiz hopes for a rematch."

Of course, when it comes to "Mr. Money," the focus is on one Manny Pacquiao.
Schaefer commented, "As it relates to Mayweather, he's going to sit back, count the money and see what's going to be next. We haven't really had any conversations in that regard. Again, it's less than 48 hours since the fight."
As what his preference would be, Schaefer told Maxboxing on Monday afternoon, "Well, as it relates to Mayweather, he's his own boss and he's going to make his own calls. I'm not going to try and put words in his mouth. So he's going to tell us what he wants to do and then we're going to see if we can hopefully implement it. As it relates to Ortiz, as I said, he would like to do the rematch- if he gets it. That's what he wants. If that happens, great, and if he doesn't, then there's always other opportunities for Victor. One of them can be a rematch against Andre Berto. We just signed Devon Alexander. There is always a [Marcos] Maidana rematch. There's plenty of fights for Victor because I don't think Victor Ortiz lost any fans since this weekend. I think Victor Ortiz has a bigger profile today than he had a couple of months ago. People know him; they know his story. And I think a lot of people, sports fans, fight fans, so on, certainly disagree with the headbutt. That was vicious and that wasn't right. That wasn't sportsmanlike but he got penalized and I think he got punished. He got knocked out and so I think there's going to be a lot of people which will continue to cheer for him because they do feel bad for him.
"So I think there's a lot of big fights ahead for Victor Ortiz."
It'll be interesting to see where these two go. If recent form holds true, we won't see Mayweather till about March of 2014. As for facing the "Pac-Man" next, judging by Mayweather's statements in the aftermath of the fight this weekend (http://sports.yahoo.com/box/news?slug=ki-iole_mayweather_pacquiao_091911), you can't be too hopeful of this fight taking place anytime soon. One name that has been thrown around is unified junior welterweight titlist Amir Khan and a fight with him in England could be a huge event that could probably fill soccer stadiums. Remember this; since 2007 (starting with Oscar De La Hoya) Mayweather's last five bouts have come against Golden Boy-promoted prizefighters. Khan happens to be a Golden Boy property.
As for Ortiz, while I don't disagree with Schaefer that Ortiz is more well-known, you have to wonder if it's a certain type of infamy, like the way Leon Lett was a household name and a punchline for his foibles for the Dallas Cowboys in the early '90s (http://www.youtube.com/watch?v=P2kcpTmheM4). But hey, there is that old saying that any publicity is good publicity. Say what you want about "Vicious," the guy usually makes for exciting fights. The word I'm getting is that a rematch with the newly-minted IBF welterweight champion Andre Berto could be next, which is enticing, given that they had quite the donnybrook back in April, when Ortiz won the WBC title in their first encounter. However, for that to happen, IBF mandatory Randall Bailey has to be placated (again, if you believe the word on the street).
You can bet this time around, Ortiz will be protecting himself at ALL times.
Schaefer believes that the deal to match hard-hitting junior middleweights Alfredo Angulo and James Kirkland in Cancun on November 5th on an HBO "Boxing After Dark" card will soon come to fruition.


"I certainly hope so. I just talked to Michael Miller, who is the attorney for both, and so I'm very confident that we will get that done, yes," he said.
As for what might open up that broadcast from Mexico, there is talk of matching Marco Antonio Rubio versus Peter Quillin.
As Antonio Margarito and Miguel Cotto engage in their return bout at Madison Square Garden in New York on December 3rd on HBO Pay-Per-View, it looks like another rematch will be taking place on Showtime 3,000 miles away. Apparently, Abner Mares and Joseph Agbeko will box once again for the IBF bantamweight title, along with WBA bantamweight beltholder Anselmo Moreno facing Vic Darchinyan at the Honda Center in Anaheim, California.
"In an ideal world, I don't think anyone's going to say it's good to go head-to-head," said Schaefer, who said Showtime simply had no other available dates this late in the year. "I mean, what could be good about it? But sometimes you have no other choice. I think Mares and Agbeko is a much anticipated and much talked-about rematch, which just recently happened. A lot of controversies there and you could say the same with Cotto and Margarito. I don't want to knock the fight. We are happy with our fight. It's an action-packed fight card and I think it will do very well. It will do very well for Showtime and it will do very well at the gate."
I asked Schaefer why Khan would be facing his IBF mandatory in Lamont Peterson on December 10th rather than a rematch with Marcos Maidana- which I'm sure is the more anticipated match-up- especially if this were his last foray at 140 pounds. According to Schaefer, it may not be.
"The plan is still to move up," said Schaefer, "but let's say, in March, an opportunity would come up to fight for the WBC belt with Erik Morales, then you have three belts and maybe, who knows? If Tim Bradley's going to keep the 140 [pound] belt- the WBO- maybe do that as well and then go for the undisputed title. That's certainly an avenue which could be open but Amir made it clear as well; what he wants to do is, his goal, is to get one of the big fights, meaning against a Mayweather. I think they're already going at it.
"So that's the goal for some time next year. So we just have to see how the whole landscape is at 140 and 147 is going to shape up."
As for where Khan-Peterson will land, Schaefer said that Detroit (with its sizable Muslim population), Montreal and Washington D.C. are being considered. The nation's capital makes some sense because Peterson originally hails from there and if this came to fruition, Golden Boy would try and add locals Gary Russell Jr. and Seth Mitchell to the show.
Does Joe Cortez even believe the things he's saying about the job he did on Saturday night? The scary thing is, he just might...I thought junior welterweight Antonio Orozco got in some good work on Saturday night at the Staples Center, improving to 12-0 by winning a six-round decision over Fernando Rodriguez...What's with Antonio Margarito's new haircut? He's now the "Tijuana Bieber"...It should be an interesting clash when Ricky Burns and Michael Katsidis duke it out for the vacant WBO lightweight title...WBA middleweight titlist Felix Sturm will face Martin Murray on Dec. 2nd...Geez, the BoSox are fading faster than NetFlix, aren't they? This is like 1978 all over again...Is there any program in college football that isn't thinking about leaving its current conference?...Is "Two-and-a-Half Men" worth watching without "Sir Winning"?
…I can be reached at k9kim@yahoo.com and I tweet at www.twitter.com/stevemaxboxing. We also have a Facebook fan page at www.facebook.com/MaxBoxing.