London Braces for Fury-Chisora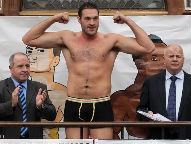 (Photo © Action Images)


Is anyone surprised that another important heavyweight fight, this time to crown the newest up-and-coming prospect, between Tyson Fury and Dereck Chisora, is taking place in Europe vice America? Given that the vast majority of heavyweight prospects are located across the Atlantic, it only seems right. Yes, American pride is taking a hit but so are American pocketbooks since this important showdown is only available on pay-per-view in the USA. If either man is PPV-worthy is debatable but a clash of unbeaten heavyweight prospects is rare occurrence nowadays. The genial Tyson Fury is excited about the added American exposure, guaranteeing Yankee boxing fans excitement and taking a swipe at David Haye in the process. "There are no excuses. All my toes are okay, as well."

Make no mistake, Tyson Fury (if you are wondering, that is his real name and Fury was christened after Mike Tyson) is the attraction, while Dereck Chisora remains a slight favorite with oddsmakers and many insiders. With that said, there is no doubt who won the publicity battle, with Fury's gregarious character pushing Chisora into his considerable shadow. Improbably, Chisora gained stature and valuable name recognition last year without stepping into the ring, twice having scheduled fights with Wladimir Klitschko cancelled. It was Fury who made the grand entrance on Friday, with bullhorn in hand atop a horse-drawn buggy, literally blowing his own horn. Chisora has not been as inspired. Quite the opposite, Chisora refused to attend press conferences and public appearances, sealing himself off from everything to supposedly avoid distractions.

Marketing is key with heavyweights; promoters spend years creating a certain image for their boxers. In this regard, Fury was born lucky and if a fighter is fortunate enough to develop into a talented heavyweight, is there any better name than "Tyson Fury"? This giant stands 6'9", weighing a soft 250-to-260 pounds with a Larry Holmes-like physique, lacking pectoral definition and shoulder musculature that hides his natural power. Fury came to the sport early since his father, uncles, and cousins (including Andy Lee) all fought and he's been boxing since age 12. Only had a 30-4 amateur record but won a bronze at the world junior championships with a mobility that belies oafish traits his size is sure to prejudice up. Is a perfect 14-0 as a pro with ten stoppages and a jab-first pressure fighter with evident boxing skills. Fury does have defensive flaws and lacks fluidity in combination sequences. At 23, Fury is clearly not a finished product but has loads of potential.

Dereck Chisora was born in Zimbabwe but the English-based prizefighter learned his trade in the London gyms, winning a coveted ABA title (the equivalent of America's National Golden Gloves competition), gaining a reputation for his brutish strength and athletic ability. Like Fury, does not lack for confidence and the thickly-built banger is coming off two career-best wins last year. Reminds one of Samuel Peter in build but Chisora had a more refined amateur background and faster hands with a higher work rate. Sports underrated feet as well, which Chisora needs to stay in contact with foes, given below-average 74-inch reach and relatively small stature at 6'1½". There are questions about Chisora's character, with several assault and a domestic battery charges in his background that nearly scuttled big opportunities. In addition, Chisora bit one opponent inside the ring and during a pre-fight staredown kissed an opponent. Simply put, Chisora is unpredictable in and out of the ring.

The always outspoken Tyson Fury has been even more so for this fight, exhibiting a confidence bordering on megalomania, perhaps for good reason. Fury weighed in yesterday afternoon at 255 pounds, one of the lowest numbers of his career. All along, Fury has said his confidence is born of preparation. "I'm in the shape of my life for the fight of my life and Dereck Chisora won't know what hits him on Saturday night. I don't care if I knock him out early or whether I have to go into the trenches; the titles are mine and Dereck knows it. He's going to freak out when he sees the condition I'm in." Fury is of the mind that the most difficult part of this fight, the training to steel himself, is behind him. "I've done my talking and now it's time for action. This is Tyson time!"

The unbeaten Londoner begs to differ and Chisora believes there is more marketing than skill to his next victim. "Fury is all boots and braces but has no substance. Let's face it; if he didn't have that name, no one would have taken any notice of him, based on his achievements." Chisora says Fury's talk is of no consequence, which is why he pays no attention to it and refuses to reply. "Fury's comments and attitude are quite funny – his wit is just not sharp enough to get under my skin but he keeps wasting his energy trying to. He comes across as someone trying hard to convince himself more than others. Empty vessels make the most noise. It's laughable and he would do anything or say anything to get a headline." Like all athletes, Chisora says the proof is in the doing and that is where Chisora believes he and Fury differ. "Fury brings a dream- little else- into the ring. When it matters most- in the ring- he just hasn't delivered."

As a pair, Fury and Chisora have managed to attracted television attention on both sides of the Atlantic. In England, Channel Five (equivalent of ABC or CBS) bought the rights to the event and it found a home in America live on PPV at 3 PM, ET/12 PM, PT and a prime time rebroadcast. Doug Jacobs, President of Integrated Sports Media, believes he is televising the beginning of a change atop the heavyweight division. "We're thrilled to be introducing these two exciting heavyweights and future world title challengers to U.S. fans. Everybody enjoys watching the big boys bang and these guys really don't like each other either." There some truth to that comment, especially about the duo's distain for each other, but it is a gamble since heavyweights have let the boxing public down for over a decade.

The television coordinators pushed all their chips in for the fight, enlisting the voice and superior reputation of Al Bernstein, who will call the fight for the audiences on both continents. Mark Sharman, executive producer for Channel Five, insisted on world-class production values for boxing fans watching on his network. "Boxing is a new venture for Channel Five and we want to create the very best impression. Fury versus Chisora is a great match-up between two unbeaten heavyweights with world title aspirations, so we want a world-class expert to call the fight. They don't come any bigger than Al Bernstein and I know the viewers will enjoy the benefits of his insight and expertise." Promoter Mick Hennessy is ecstatic at how everything has fallen into place. "[Channel Five] are passionate and they care about what they are putting out. Al Bernstein will bring a touch of class - he's a tremendous name for them to get" It is great to see boxing treated with such respect in Great Britain, leaving American audiences to hope that mindset makes its way back to 'The Colonies'".

Al Bernstein is excited about the opportunity to introduce himself to a new audience and with the pairing that is the vehicle for that exposure. "While this fight certainly resonates for British boxing fans, it now has wider implications and interest. The winner has an excellent chance of fighting for the heavyweight title. But that aside, perhaps the most salient part of this match is that it will very likely be an exciting shootout – something we don't often see in the heavyweight division." Considering the buildup and letdown of the Wladimir Klitschko – David Haye debacle, Fury and Chisora do not have to do much to surpass the last greatly hyped heavyweight fight. Perhaps, since the pair is relatively inexperienced (neither has gone 12 rounds before) it will make for a more frenzied pace. Bernstein remains positive. "A lot is at stake and the styles of these two fighters should make it an entertaining match."

Speaking of the real world heavyweight champion, Wladimir Klitschko is an interested third party observer. Twice scheduled to engage Chisora, Wladimir has already shared the ring with Fury in sparring sessions saying of the young big man. "[Fury]'s tall and he's almost seven feet; for his size, he is flexible and he floats around the ring. He could be a real good boxer if he stays focused because he has talent. I don't know what he's like inside but he definitely has a talent for boxing." Hall of Fame trainer Emanuel Steward shared Klitschko's assessment, telling the "On the Ropes" radio show, "Tyson Fury's a very talented guy. We look at him as a big, oversized, very cocky kid. He's only 23 but he has skills. Just the fact that both of these guys have the mindset of winners, I think this is going to be one of the better heavyweight fights. This is the heavyweight fight I want to see myself. "

Promoter Mick Hennessy hopes Steward's interest is shared by the public, "Tyson is a special talent. He fears nobody; he has the natural strength and he has the skills to become a real star of the heavyweight division. Chisora is a dangerous opponent and we respect him as the champion but I am very confident that Tyson Fury will begin a journey to the top of the heavyweight division on Saturday night." Steward provided a more unbiased breakdown, "I think it's going to be an extremely good fight. I know most people are picking Chisora, probably because of his more professional preparation. Tyson has sheer physical size; he's got a good chin, good stamina, and good punch output. I think those factors and his being 6'9" compared to 6'1" is going to be a big problem for Dereck to overcome. I may be a little crazy but I give a slight edge to Tyson in this fight, mainly because of the physical size and he has good stamina."

Yesterday's weigh-in could have many levelheaded Chisora supporters converting to Steward's assessment of the fight. Chisora backers shared looks of surprise and concern when he tipped the scales at a career-high 261 pounds, a full ten pounds over his previous high. Fury, on the other hand, weighed in at 255 pounds, six pounds less than his last fight with Fury's body looking trimmer and more toned than ever. Of course, scales are not the real measure of a fighter but it speaks to the dedication and preparation of both men. In that sense, Fury has won "round one" but the next actual 12 determine which man crashes the heavyweight top ten.