Local Prospects Showcased at DC Star Night Club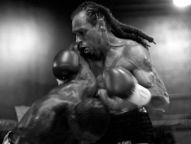 (Photo © Tri Nguyen)


This past Saturday night, promoters Chris Middendorf and Gene Molovinsky of United Boxers, hosted their third show in four months in the Washington DC-Baltimore region. The DC Star nightclub in the nation's capital was the site of the most recent fight night designed to develop local fighters in their hometown, featuring undefeated prospects super middleweight Alexander Johnson and welterweight Emmanuel Taylor.
Alexander Johnson TKO4 Keon Johnson, Super Middleweight
Johnson, 12-0 (5), had complied a somewhat built-up record in his first ten fights before shocking then 17-0 Philadelphia super middleweight prospect Farah Ennis with a majority decision in April in Atlantic City. After that win, Johnson has had some difficulty getting fights, as he remains without a promoter. So Saturday night, Johnson fought Indiana's Keon Johnson, 8-6 (4), in a "stay-busy" fight.
Alexander started quick, establishing a sharp effective right jab from the opening bell. It didn't take long for him to take complete control as midway through the first round, he cornered Keon and dropped him with solid left hook. The second round began with Alexander holding his right hand out in a taunting fashion to his opponent. After Keon used the opportunity to land a combination, Alexander quickly got back to business.

Alexander continued working his right jab and started digging left hands to the body and head. Again, Alexander landed a hard left that sent Keon to the canvas for the second time in as many rounds. Indiana's Johnson switched to survival mode, allowing him to hear the bell. By the third round, Keon looked defeated and DC's Johnson stalked him, looking for the right time to put away his opponent.
Despite surviving round three, Keon's time was limited as Alexander was pressing hard and looking to end the contest. It was a right hook that dropped Keon for the third time and it was clear to all attendance that the end was near. As Alexander went for the stoppage, Keon slipped to the canvas and upon rising, looked toward his corner as if to request a halt the action. Indeed it did at 1:47 of the fourth round.
Emmanuel Taylor UD6 Jose Angel Roman, Welterweight
Baltimore welterweight Emmanuel Taylor, 13-0 (9), easily outpointed a game but overmatched Jose Angel Roman, 11-32-5 (5), in a six-round contest. Taylor used the first round to dig right hands to Roman's body, making it clear from the outset who would control the bout. Taylor remained the busier fighter in round two, using a right hook that followed a combination, nearly dropping Roman.
Taylor again punished Roman's body in the third and maintained complete control over his journeyman opponent. Late in the round, a low blow by Taylor gave Roman a needed breather. Round four continued in the same vein with Taylor cornering the older Roman and landing a flurry of punches to both the head and body. Surprisingly, after that onslaught, Roman responded with a four-to-five-punch combination of his own, his best output of the night.
It was hardly enough as Taylor continue to pile up the rounds. After his domination of the first four stanzas, Taylor switched to autopilot for the final two rounds, content to cruise to a victory of 60-54 on two cards and 59-55 on the other.
Venroy July UD6 Rayshawn Myers, Cruiserweight
Jamaican-born lawyer Venroy July improved to 7-0-2 (2), scoring a shutout victory over Cleveland's Rayshawn Myers, 4-9 (3), who works harder on theatrics and talking than he does fighting. Myers possesses very little offense and works to get his foe off his game and into a sloppy affair. July would have none of it as he stayed with his game plan of sharp jabs and consistent lefts to the body, pounding out a lopsided victory.
Alantez Fox UD4 Mike Denby, Junior Middleweight
Delaware's Mike Denby gives a much better fight than one would expect on paper. The 3-11-4 (2) Denby comes prepared to fight and gave prospect Alantez Fox four good rounds before dropping a unanimous decision. The 19-year-old Fox had at least an eight-inch height advantage on Denby and didn't give away any of it as he set the tempo of the contest with his sharp, stinging left jab.
Fox displayed superior skills, using both his jab and good footwork to set up his punches, hurting Denby in the opening round with a straight right. While Fox showed good patience, he also showed his full arsenal in the second round, going to the body of his shorter opponent. Throughout the contest, Denby was more than willing to mix it up and did land some flush shots but in the end, the combination of skill and height was too much to overcome. Fox improved to 5-0 (3).
Following the contest, Fox said of his commitment to the jab, "I studied Tommy Hearns and Larry Holmes; I want my jab to be the best." He was also pleased to have gotten some in good rounds after going just 13 total rounds since his debut in July of last year, "It's better for me to get more experience now, rather than move up later and not have enough rounds to feel good going six." Fox also told Maxboxing that he plans to be much busier in the second year of his pro campaign.
Thomas Snow UD6 Robert DaLuz, Super Bantamweight
Washington DC super bantamweight Thomas Snow, 15-1 (9), won his fifth straight fight, posting a near shutout over shop-worn journeyman Robert DaLuz, 13-38-3 (9). Snow controlled the first round, landing the much more effective blows and almost dropping DaLuz midway into the round. The veteran DaLuz had little in response to Snow's punches but did work on making the fight as sloppy as possible as the second round wore on. Snow remained patient but it appeared he could have earned a stoppage with more activity.
In the third, Snow did heighten his work rate and hurt DaLuz in what was his best round of the fight. As he walked to his corner following the round, DeLuz could be heard saying, "It's time to fight." Unfortunately, DaLuz didn't take his own advice and Snow continued his shutout through the fourth round before taking on a more defensive posture in rounds five and six, coasting to a victory.
Jerren Cochran KO1 Desi Williams, Featherweight
Jacey Thompson KO1 Tevin Parker, Middleweight
The four shows held at the DC Star club since last November have seen a fair number of fighters from North Carolina, specifically, Wilson. Given the rarity of these fighters to even make it through the opening round, Gary Williams of boxingalongthebeltway.com has given them the motto, "You Call, We Fall." Cochran and Thompson were the beneficiaries on Saturday, knocking out both North Carolina fighters in round one.