Limburger Cheese Served at Staples Center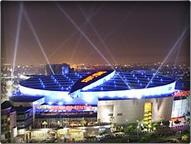 --


This Saturday night
at the

Staples Center

in

Los Angeles

, a pair of fighters who hail from about 3,000 miles away headline a pay-per-view card labeled "Believe it or Not" which perhaps should have "ONLY on pay-per-view and held in L.A.!" attached to its title. The main event features a bout between WBC light heavyweight titlist Bernard Hopkins and Chad Dawson in a fight that doesn't figure to be long on fireworks but of course, those connoisseurs of "skill" will undoubtedly salivate over this match-up.
A boxing insider said it to me best about this fight: "Steve, it's like this; some people like Limburger cheese, think it's the greatest thing ever. They love it. Me, personally, it stinks so bad, I can't get within 50 yards of that stuff. It's just not for me." Hopkins-Dawson is a fine delicacy to some. To others, it's just plain rancid.

I think that's the best way to state it. There are those who marvel at what Hopkins has been able to do the past decade or so at his advanced age, where he has arguably become the most accomplished boxer ever past the age of 40 (maybe surpassing the notable achievements of Archie Moore and George Foreman) but Hopkins- like Limburger cheese- is an acquired taste. It's not for everyone. Some see a skilled craftsman who uses all his experience and guile to neutralize his opponents. Others see just a dirty fighter whose fights devolve into mauling, dirty affairs.
He's good at what he does, no doubt. It's just not for everybody.
As for Dawson, well, he has become the poster child for the modern-day boxer who performs in such a dispassionate manner that you wonder if he'd rather be pushing numbers in a cubicle than throwing punches in the squared ring. However, he is also a talented craftsman who has all the tools along with a safe and cautious style and temperament. You could argue that Dawson's greatest skill is in having Gary Shaw- his television packager- hustle and con the brass at HBO into believing that he was one of the pillars of their future. Instead, Dawson has become another boxer on the network who has consistently earned seven figures while fighting in front of six-figure audiences. Shaw has given up creating any pretense of him being a live draw by farming him out to

Canada

, where the duo can collect fat checks by not even forking out a few hundred dollars to conduct conference calls with the media to publicize their upcoming bouts.
Hopkins-Dawson is one of the hook-ups that some will deem as "important" for whatever reason. Maybe because it features two of the highest ranked 175-pounders in the world but as discounted seats are being offered to VIPs at the Staples Center, you have to ask yourself, like a Sergio Martinez, if so few people want to see a fight or fighter, just how "important" could it really be? The attendance

on Saturday night

might resemble more a Sparks game than even a Clippers contest. Truthfully, this fight was never made because of any deemed significance or public demand but because it was essentially mandated and caused by inept corporate decision making.
You could probably bear this fight a bit easier if you didn't have to fork out an extra $55 to your upcoming cable bill but this whole match-up is really a final ode to the reign of "error" in the stewardship of Ross

Greenburg

and Kery Davis at HBO Sports. The main reason Hopkins-Dawson is on pay-per-view is because much of the network's 2011 budget was eaten up by the disaster that was Tim Bradley-Devon Alexander (another "important" fight according to a certain misguided few) and other illogical decisions such as rewarding those who lose without distinction to return to the airwaves with guaranteed dividends.
Going further, the genesis of this not-so-classic pairing on pay-per-view really goes back to when Greenburg/Davis were hoodwinked into investing into Dawson (first by paying a license fee in the neighborhood of $3 million to see him defeat Antonio Tarver for a second time in front of hundreds of fans in Las Vegas) and last summer, he was paired with Jean Pascal in

Quebec City

. Maybe he froze up at the sight of an actual audience but in a desultory outing, Dawson lost his title (but had a rematch clause in his back pocket). While Pascal continued his career by facing Bernard Hopkins that December, Dawson sat around till the next HBO date came around. As Pascal-Hopkins I raged in controversy, a rematch was scheduled- but with the promise that the winner would face Dawson next.
With Hopkins winning the return bout, we move ahead to the Dawson fight, a bout that figures to be- shall we be charitable and say... strategic and a chess match? In many respects, this is a euphemism for "boring." Dawson ditched Hall-of-Fame trainer Emanuel Steward and is now consulting John Scully and Winky Wright (who, back in 2007, participated in one of the worst pay-per-view main events in recent memory with Hopkins). Yeah, that should really stir the passions, huh? Then you had the interview with Dawson last week on HBO's broadcast before Martinez faced Darren Barker. Not to say that Dawson wasn't exactly Knute Rockne or Chad Ochocinco but even vanilla ice cream couldn't believe how plain this guy was. He has all the tools to defeat Hopkins (speed, quickness and movement) but you wonder if he has any of the necessary intangibles anymore.
Dawson is generally a very nice guy but he could best be described as a beige spot on a beige wall. This isn't so much a problem except for the fact that that this seems to carry over into his style and temperament inside the ring. Dawson is effective, which works for him, but he's not entertaining- which doesn't work for the spectators.
You wonder just how many fans will be inside the Staples Center on Saturday night and just how many will order the pay-per-view (which actually has a solid undercard). My guess is not all that many.
After all, it's Limburger cheese.
While Hopkins-Dawson seems ill-fitted for

Los Angeles

and will most likely have a papered house, a promotion that will seemingly do much better based on the early buzz it generated is the

December 10th

card in

Washington D.C

. featuring junior welterweight standout Amir Khan against D.C.'s prodigal son, Lamont Peterson.
"Oh, my gosh...I tell you- and you can sense the excitement in my voice but it was the best press conference in a really, really, long time," said Golden Boy Promotions CEO Richard Schaefer on Friday. "It was a standing room-only crowd. All the major television and newspapers were there. Kery Davis said it was one of the best press conferences he's ever attended, same for Dan Rafael [of ESPN.com]. An amazing, unbelievable buzz. There must've been 250, 300 people there and the press conference and the cameras, you're talking about like a huge pay-per-view event. It's been 18 years, 1993 since HBO was in Washington D.C. (Riddick Bowe-Jesse Ferguson at RFK Stadium). So there's a tremendous excitement there and the fact is that it's going to be a heavily

Washington

-

flavored show with Lamont Peterson coming from there and Seth Mitchell being from Washington D.C."
Mitchell, recently featured on the front page of the Washington Post, will be on the HBO broadcast, according to Schaefer. Also, Lamont's sibling, Anthony, will be on the card. "It's going to be a big night in Washington D.C.," said Schaefer, who expects a crowd of over 20,000 at the Convention Center.
It shows once again that boxing events, when placed in major metropolitan cities, can do well if there is a local angle involved.
Schaefer said, "It's interesting; I gave an interview with a Washington financial newspaper and they were there. They have nothing to do with boxing. A very pleasant young lady was interviewing me, had no idea about boxing but she asked me questions about the impact of boxing on tourism dollars and the kind of numbers boxing attracts. So there's clearly an interest in Washington and in other cities as well to attract big events and boxing being one of them. They're very excited."
The bottom line is that in this economy, traveling to

Las Vegas

or Atlantic City (and then paying for lodging and other expenses) isn't as feasible a luxury as it was in the past but putting events on locally is still a viable option. When they're nearby and affordable, patrons will still show up to prizefights.

"I think we as promoters, the excitement level, I felt at that press conference in Washington, honestly, I have not experienced and felt that for a real long time. I think you're absolutely right. To take fights to important boxing cities like

San Antonio

is another example.

Houston

is a great town.

Sacramento

, the

ARCO Arena

and so on," said Schaefer, who is in constant contact with AEG about putting on shows in their venues across the land." So I think we definitely need to focus on that a little bit more and who knows? With what's going on in the NBA, some of these premiere venues in some of those cities might in fact be even more interested in boxing."
In the past few weeks, Schaefer has traveled from his home in Los Angeles to

Mexico

,

London

and Washington D.C. Yeah, he's traveled more than a Pan Am stewardess recently, finalizing deals such as the

November 26th

show, a split-site tripleheader headlined by WBC junior middleweight champion Saul "Canelo" Alvarez facing Kermit Cintron.
"It's not 100 percent. It's virtually done, just trying to finalize some loose ends but it looks like it's going to get done," said Schaefer, who says that Adrian Broner and Gary Russell Jr. will be showcased by HBO from Cincinnati.
Broner could be facing Vicente Rodriguez and Luis Franco is being prominently mentioned for Russell Jr.
Chazz Witherspoon could be tabbed to take on Mitchell on Dec. 10th...Nice win for Sharif Bogere against Francisco Contreras...It looks like

Austin
Trout, who holds the WBA's version of the 154-pound title, will defend it on "ShoBox"
November 11th
...Told that Wlad Klitschko-Jean Marc Mormeck could be picked up by EPIX
on Dec. 10th
on their attempted stream...For my money, the best fight on the Hopkins-Dawson undercard is the junior welter tussle between Kendall Holt and Danny "Swift" Garcia...I'll say it right now; Andrew Luck is the most NFL-ready college QB since Peyton Manning...Who's your Heisman frontrunner right now? Is it Luck, Russell Wilson, Landry Jones or RGIII?...WBO 122-pound beltholder Jorge
Arce
will be making another stay-busy defense of that title in Mexico in late November...I never thought I'd say this but "The Office" sans Michael Scott has actually been pretty good and "The Big Bang Theory" just keeps getting better...And I have I talked about how good "Pan Am" has been?...Yeah, I know it's early but can you believe how good Cam
Newton
has been thus far?...And how 'bout my 2011 NFL sleeper, the Buffalo Bills?!...
Thomas Hauser's new collection, Winks and Daggers: An Inside Look at Another Year in Boxing, will be published in November. This book, that looks back at Hauser's work in 2010, is published by The
University of Arkansas
Press and retails for $24.95
...
I can be reached at k9kim@yahoo.com and I tweet at www.twitter.com/stevemaxboxing. We also have a Facebook fan page at www.facebook.com/MaxBoxing.