Klitschko Dominates and Stops Adamek in Ten, Retains WBC Belt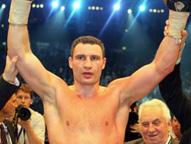 --


Before 40,000 chanting and adoring Polish fans at the Stadion Miejski in Wroclaw, Poland, Tomasz Adamek took the beating of a lifetime at the hands of WBC heavyweight titleholder Vitali "Dr. Ironfist" Klitschko. The good doctor, now 43-2 (40), gave away jabs to Adamek's face like they were going out of style. Mixing in right hands that came as uppercuts, straight leads or sledgehammers hidden by the jab, Klitschko beat Adamek from pillar to post, knocking him down twice (once unofficially and then later in the same fashion, officially). Finally in the tenth, it was all too much for referee Massimo Barrovecchio and he halted the one-sided contest at 2:20 of the tenth round. It was Vitali's eighth overall defense of the title since winning a vacant version in 2004 and winning it back from Sam Peter in 2008, following a layoff of four years.
The action was redundant and one-sided from the get-go. Vitali came out jabbing like crazy, landing 140 of 414 over the course of the fight. Adamek, 44-2 (28), immediately began circling left, looking to get in a shot but finding no open target. The round was basically jab, jab, work in a right hand while Adamek circled. Right before the bell, Vitali landed a sweeping left hook to the top of Adamek's head that buckled him, following up with jackhammer jab.

In the second, Adamek appeared to warm to the task, letting his hands go in the form of jabs to the body and right hands. He tried an occasional hook but the size disparity (Vitali is 6'7½" with an 80" reach and weighed 243 to Adamek's 216. Adamek is 6'1½" with a 75" reach) was too much to overcome. Late in the round, Vitali lowered himself and fired a straight right lead that put Adamek into the ropes. The ref missed a clear knockdown as Adamek was only held up by the ropes. No matter. Vitali wouldn't skip a beat from here on in.
The rest of the fight was a rinse-and-repeat version of the first two stanzas with Vitali slowly beating down Adamek who was game but overmatched. He showed "the guts of a burglar" according HBO's Jim Lampley and kept trying to find a punch that would work while taking his beating like a man. It was no use. Vitali would drop Adamek into the ropes as much as he did in round two and this time, the ref recognized the ropes were the only thing holding up Adamek.
By the tenth round, Adamek's nose was bleeding; his body language more wobbly than W.C. Fields after a night on the town and he was ready to get out of there. Vitali stepped on the gas, trapped him on the ropes and began laying a beatdown on him. Barrovecchio stepped in and mercifully ended things at 2:20 of the tenth.
Speaking to Sky Sports' Adam Smith afterward, Vitali said experience was key. "I am not the same fighter I was ten years ago. I know what I have to do. I make less mistakes."
Klitschko, 40, said he will keep fighting "as long as my body lets me keep playing this game."
When asked about David Haye, who announced he would postpone his October retirement for six months if he could get a shot at Vitali, the WBC titleholder said, "David Haye is world famous not from boxing skills. He is bigger from being a trash talker. That's why everyone knows him. His trash talking touched me and my brother personally. I want to knock him out. I'm serious. I want to knock David Haye out and I can do that."
Klitschko said he was not ready to give an answer about when he would retire but said, "Not long. I am not sure how many fights I make. Two, three, five."