Khan Unifies with a Bizarre TKO Over Judah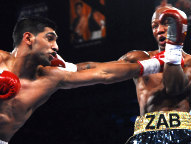 (Photo © German Villasenor)


The crowd at the Mandalay Bay Resort and Casino in Las Vegas, NV took its time to enter the arena for the junior welterweight showdown between Amir Khan and Zab Judah for two of four major championship belts. When the fans finally did start significantly filling seats, they made their presence known. Horns, boos, and chants for either fighter were heard throughout the five-round bout that left Khan standing with two belts and an unsatisfied crowd before him.
Entering to a gospel hymnal, Judah seemed relaxed and ready to go, redemption at hand. Years of not getting the most out of his talent had come down to this: a chance to take out a younger fighter on the rise.
Khan entered to cheers from the UK contingent, with smatterings of boos. Pumping his Reyes-gloved fists in the air as he moved to the ring, Khan seemed less relaxed but intense and focused. The time to step up was here.
Khan started with his jab, looking for the range while Judah stepped out of range. A missed right by Khan and led to a tangle. Horns blared from the UK crowd as the action stayed tight and tense with Khan reaching with his shots and Judah waiting to get off. Khan flurried with two jabs and a right and missed as Judah backpedaled. Khan tried it again and missed wildly. Judah seemed content to wait him out and find his spots. Finally, Khan got in a couple jabs and the crowd went wild. Judah lured in Khan and landed a nice left uppercut but as they tangled, they clashed heads and Judah's left eye seemed bothered. Khan got in a right afterward but did no damage.

Chants of "Judah!" began in the second as Khan stayed close and tried his jab. Khan shot one off a missed right hook by Judah, who got to Khan's body with a jab but stayed patient making Khan miss on the inside. Khan got a piece of a left hook and a missed right hand. Khan seemed to touch Judah but only in glancing fashion. Judah's nose began to drip blood, presumably off one of Khan's hard jabs. Khan landed a nice right down the stretch off a jab but Judah took it well and stayed in the pocket. Late in the round, Khan unloaded a right that was blocked but the crowd went crazy anyway.
Judah started out the third by stepping up his pressure a bit. He got in a right hook to the head and later a left hand to the body. Judah talked to Khan, taunting and making him miss big in close quarters. A right by Khan got the crowd going but it was blocked. Midway through, a Khan got in a right hand of his own but the pickings were few and far between. Khan got in a nice one-two-three but Judah's upper body movement made it hard to land flush and hard. Judah, however, was still not finding his groove. His defense was tight but the offense had yet to flow.
The fourth started with a jab to the body by Judah. Khan seemed still unable to get off the right hand. A bit of tying up ensued as the two moved inside and Khan worked hard to make something happen. As the round progressed, Khan began to get in his jab and right hand a little more, the hand speed a bit of a problem for Judah at times. But for a frontrunner, as some have called Judah, he was not getting off much in the front end of the fight. Late in the round, Khan caught Judah along the ropes and unloaded a flurry on him. A left by Judah got through late but appeared to have trouble finding a place to land it.
In the fifth, Judah's face looked worse for wear and he had yet to put much of a hurt on Khan. However, he stayed in the pocket and was looking for counter opportunities which would never come.
After a clash of heads as Khan came in, Judah complained of his left eye being injured. When the action resumed, Khan stayed aggressive while Judah made him miss without actually making him pay. Finally, Khan got in a flush right hand and then began finding the target more and more. The Khan jab stuck in Judah's face and he was following it up with the right nicely. Judah got in a counter left to the body. Along the ropes late in the round, a right by Khan landed flush. Khan put his forearm on Judah's neck and then landed a borderline belt shot that put Judah down his knees (the replays showed a borderline low blow). Judah seemed to have that delayed reaction of a low blow but Referee Vic Drakulich began counting anyways. The time was 2:47 of the fifth. While the scalp is a good one for Khan, it was a very unsatisfying ending to an intriguing fight and is yet another argument for instant replay in boxing. A unification bout with futures on the line should not end on a missed call.
Middleweight Peter Quillin improved to 25-0 (19) by stopping Jason LeHoullier in the fifth round after the opponent's corner threw in the towel. Quillin boxed smart and broke down LeHoullier en route to the surrender. The time was 1:38.
Junior lightweight Gary Russell Jr., 17-0 (10), was able to pound out an eight-round unanimous decision over Eric Estrada, 9-2 (3). Russell dominated from bell to bell using smart movement, a steady right jab and solid combinations. Scores were 80-71 across the board.
Heavyweight Bryant Jennings, 9-0 (4), took a unanimous decision over Theron Johnson, 5-6 (1), by scores of 59-54 and 60-53 twice. Jennings scored a knockdown at the end of the fourth for the win.
Junior middleweight James Kirkland, 29-1 (26), scored a second round stoppage over Alexis Hloros, 15-4-2 (11). Kirkland paced himself well and minded his right-hand defense while working to the head and body of Hloros. Kirkland scored a knockdown in the first and then forced Hloros to take a knee. In the second, Kirkland dropped him again and the ref had seen enough. The time was :25 of the second.
Junior lightweight Ronny Rios, 15-0 (7), scored a TKO at 1:12 of the first round over Noe Lopez Jr., 7-9 (4).
Josiah Judah, 10-1-1 (2) won a majority decision over Rafal Jastrzebski, 4-7-1 (1), by scores of 59-55, 57-57, and 58-56.
Lightweight prospect Jamie Kavanagh, 8-0 (3) ,won a unanimous decision from Marcos Herrera, 6-6-1 (2), by scores of 60-53, 60-54, and 59-54.