Khan Marches Forward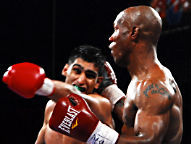 (Photo © German Villasenor)


On Saturday night at the Mandalay Bay Events Center in Las Vegas, WBA junior welterweight titlist Amir Khan added the IBF belt to his collection by impressively halting Zab Judah in five rounds. This date was originally scheduled for a Khan showdown with WBC/WBO champion Tim Bradley but as "Desert Storm" begins a legal fight with his TV packager, Gary Shaw, Khan just marches forward with what he and his people believe will one day lead to a showdown against either Floyd Mayweather or Manny Pacquiao.
"We wanted to fight Bradley first; the fight fell through," said Khan, in the aftermath of his emphatic domination of Judah. "Bradley didn't want to take the fight. At least Zab showed balls and he took the fight, not like Bradley."
Judah was thought to have a "puncher's chance"; in reality, he had no chance at all. Khan, who some say still boxes like a glorified amateur, used his height and length to great effectiveness. He was consistently able to control Judah from the perimeter and beat him with straight right hands. Judah never had a chance to get into the fight and was simply outclassed from the opening bell.

Khan explained that the game plan that was crafted with trainer Freddie Roach was essentially "to keep away from Zab's backhand because Zab's a powerful fighter and we didn't want to get caught with that big backhand. So we had to always move away from that backhand. We did that well and we took that backhand away from him. I think the jabs were working well. My main asset as everyone knows is speed and power comes with that. For this fight, we worked a lot on power." Roach added, "We fought Zab on angles and took his power away from him and we won every round. I mean, there's no doubt about that. We fought a perfect fight."
The fight ended in the fifth frame on what looked to be a borderline shot just below Zab's beltline. As Judah went down on his knees, he was counted out by referee Vic Drakulich. Kathy Duva of Main Events stated at the post-fight press conference, "We believe Zab should've been given time to recover because he was hit with a low blow. I recognize it was a borderline call but boy, he was hurt."
Duva is just doing her job but you get the sense that her heart wasn't all that much into it. Like everyone else who witnessed this contest, they realized it had become a one-sided affair. You got the feeling that the result of this fight was becoming more and more inevitable. This was either going to be a Khan whitewash or stoppage later in the fight. Judah simply never got started on anything significant. "We started with our defense and with the fight, where it was picking up and things happen," said Judah, whose record dropped to 41-7 (28) and was stopped for the third time in his star-crossed career. "I don't make no excuses for nothing but I was headbutted. That was a low show; believe it or not. We'll have the right people look into it but Amir Khan fought a good fight."
Judah gave a rather strange explanation for why he stayed on the canvas in the fifth. He stated that he believed he was being administered a "standing eight-count." The only problem with that is that the state of Nevada, like most jurisdictions, doesn't employ this. Also, counts- of any kind- are never given for fouls, so a fighter should know when he sees or hears a referee counting to ten, he'd better get up (also, not for nothing but Judah wasn't standing, which means the "standing" part couldn't have applied either).
Honestly, it looked like Judah had- in MMA parlance- tapped out. He just knew that a bad situation wasn't going to get any better on this night. The younger, faster, quicker and bigger man was simply having his way. Main Events had done a fantastic job in rehabbing the image and career of the often mercurial Brooklyn native but on this night, reality set in. He is who he is. Judah is now just a name opponent, one that up-and-coming boxers will face on their way up. His name and recognizability will still garner him TV dates and the like but Zab will be that guy, for all his physical tangibles, lacked the intangibles that mark great fighters.
As for Khan, while he may still have a fatal flaw himself in a shaky set of whiskers, he seems to be coming into his own as a professional prizefighter. His bouts will always have a certain amount of drama, where his boxing skill set will dominate for long stretches yet he'll still have moments of vulnerability if he gets tapped on the chin. However, this weekend provided no such intrigue.
"If Timothy Bradley didn't want anything to do with Amir Khan before, I don't think he wants anything to do with him now after seeing that amazing performance," said Richard Schaefer, whose company, Golden Boy Promotions, handles Khan's career. "Before, he didn't have legal problems, none of those things, so I really don't see a Timothy Bradley fight and frankly, after that performance from Amir Khan, Amir Khan doesn't need Timothy Bradley. So we'll see in December. Amir's going to be back. We'll see who is going to be available. It could be an Erik Morales; it could be the winner of [Marcos] Maidana and [Robert Guerrero], so there's still a little unfinished business there at 140 and then after that, he'll move up to 147 and eventually face one of the big boys at 147."
There's no question; Khan's promoters believe they are on the road to face Manny Pacquiao or Floyd Mayweather.
Schaefer stated, "That eventually will be sooner rather than later because I think you see what he did tonight against Zab Judah. Amir is the kind of fighter who will rise to the occasion. If you put him in with the [Paul] McCloskeys of this world, how motivated can he be? This is like a thoroughbred. This is a guy who wants to be in the big fights; he wants to be on the big stage. He tells me that all the time. He doesn't want to have tune-ups or things like that. He wants big fights. He's ready for Mayweather; he's ready for Pacquiao."
Khan says that he will "chill' for a month before exploring his options. "I'm going to leave it to Freddie and Golden Boy," he said. "I'm sure they'll come up with someone."
Right now, the "Khan Army" is just a really small, loyal militia. There is truly only one Ricky Hatton, as it relates to a British boxing invasion. Yes, while Khan may have more upside than the native of Manchester from a perspective of pure marketability ability, he lags far behind the "Hitman"- for now, at least.
It was interesting to hear that Max Kellerman of HBO basically labeled Khan the one real legitimate ticket-seller in the 140-pound class. That might be true in the UK but here in the States, he has failed to resonate. His bout with Paulie Malignaggi last year was held inside the small room at Madison Square Garden. The bout with Maidana did less than 5,000 paying customers at the Mandalay Bay. This weekend's card did just over 7,200 but it has to be noted that the Mandalay Bay ran promotions offering free tickets to many of their past and present customers. Also, it was believed that the Nellis Air Force Base were given comps. Felipe Leon tweeted (@SDFights), "Sales for Khan-Judah weren't that great, free ticket were given to local Air Force base, the good news, my bro was a recipient."
You can always tell how many tickets are given away by how late the crowd arrives, in my opinion. I have a theory; if you pay for a ticket, you will get there early and watch the undercard. You're usually a real fan who wants to get as much bang for the buck as possible but if you receive freebies, chances are all you care about (if anything) is the main event. For much of this summer evening, in the words of a friend, it was "the Mandalay Barren" but as the ring was cleared and the main event approached, the arena did fill up a bit.
When asked about the struggles at the box-office, Schaefer stated, "The fact is, if you come to Las Vegas with a Mayweather, if you come to Vegas with a Pacquiao, you sell out the stadium. You come to Las Vegas with anyone else- be it Donaire, be it whoever, you name it, you can name anyone- you're not going to sell out the stadium. You're going to be, depending on who it is, in the 4, 5-8,000 range and we were at the high end of that, over 7,000. So I think what it is, this is only Amir's third fight in the United States but what I saw tonight, there were definitely more British fans here tonight then there were in December against Maidana. So you build it. If you look at what happened with Ricky Hatton when he started to come to Las Vegas, he didn't have the huge following. He was fighting at the Paris Ballroom. Would Amir have filled out the Paris Hotel Ballroom? Yeah, he would have but we are convinced that you build a fighter and this was another amazing performance, impressive performance. This is the kind of performance which will bring fans to come and watch him here."
- I'm with Schaefer on this point; if Khan keeps winning conclusively and participates in bigger promotions, naturally, his brand will grow and so will his following. But I remember that night in January of 2007 when Hatton fought at the Paris Hotel versus Juan Urango and there was a raucous crowd of around 7,000. The only difference is that I don't remember any ticket giveaways being run by the host site and you could just feel the presence of his large throng of his supporters all over the strip. Outside of his '"Khantourage"- as Gabe Montoya labeled them (who all tried to jam into the post-fight presser)- you didn't really get the sense that that many fans came over from Britain to support him. There was a palpable lack of buzz at the Mandalay Bay leading up to the fight this weekend.
- This brings me to my next point; Hatton was built into a legitimate draw by Frank Warren, who originally backed Khan. I've always gotten the sense that the Khans overestimated where they were at the time and ditched Warren too soon. In other words, they were taken out of the oven too quickly and probably needed to set down their roots in the UK for another couple of years. Hatton and Naseem Hamed before him were firmly entrenched in the British market before they made their way to the States. Khan was not quite at the juncture of his career and it seems that they are facing backlash from a good number of fans on that side of the pond for deserting them so early.
- Also, from their spat with SKY and some other head-scratching comments, whether it's intentional or not, the whole Khan clan seems to irritate and rub the British public the wrong way. While the cocksure attitude worked for Hamed, there's a sense it won't get Khan the same mileage. For whatever limitations Hatton had as a fighter, there was a certain likability and "everyman" persona that really resonated with that region. I'm not sure Khan has that. Another more uncomfortable aspect is that with Khan being of Pakistani descent, will the British public as a whole support him as much as they did, say, someone of pale skin and complexion like a Hatton, based on political and religious issues?
- If Khan can keep winning big, one thing history has shown is that everyone loves a winner- eventually.
Speaking of Hatton, I got this email awhile ago and have been meaning to stick it in somewhere:

Hi Steve,

Hope your well buddy.

Just wondering if you will be voting to award Ricky Hatton a place in the hall of fame in 5 years time...?

Its a tough one, there are many more deserving candidates that are yet to be inducted, but also many less deserving who have been enshrined...

Talking of the hall of fame, will you be voting for Gatti's posthumous induction....?

Keep up the good work Steve,

Neil, Glasgow, Scotland, UK

Neil, sorry for the long delay in answering your query but hey, look on the bright side; you've made the big time! Seriously, though, I have to say this off the bat; I am not a member of the BWAA but if I were, I'd be very conflicted on both guys. They both have very good credentials but this is the Hall of Fame, not the Hall of Very Good, as many have stated before. Hey, Joe Carter was a very good run-producing bat for a long time and had one of the most historic home runs in baseball history but he falls short of Cooperstown.

Hatton and Gatti are both borderline. Hatton, I suspect will have many more "yays" on his side of the pond cast for him than here in the States. Yeah, he was the undisputed junior welterweight champion and has a victory over Kostya Tszyu but what other defining victory did he have? (Sorry, a faded Jose Luis Castillo doesn't count) Also, his run in the States is where he was really brought down a notch, where he struggled against Luis Collazo and was hammered by both Mayweather and Pacquiao. As for Gatti, he held titles in three weight divisions but he was never really the best guy at any of them. However, with "Thunder," it's really about those indelible moments like his comeback victories over Wilson Rodriguez and Gabe Ruelas and his historic trilogy against Micky Ward.

While some will point to the "Well, Barry McGuigan got in" argument, to me, that's a tad insulting to Mr. McGuigan, who I have never met but seems like a perfect gentleman. That's not exactly the criteria I would live by. I mean, now that Sly Stallone got in, is he the new barometer for lowered bars? Where I think Hatton and Gatti both have strong points is that they both brought great interest to the sport, had huge fan bases that were important to the business and they did leave us with lasting memories. Yeah, I know Chris John is very good and has never lost and perhaps he'll be in Canastota one day but it's guys like these who leave a mark. You can argue their résumés and talent; I think it's hard to put up a fight about their respective impacts on the sport.

Honestly, I can see both arguments but would it really damage the Hall of Fame if both guys eventually had their fists encased in concrete?

And am I being wishy-washy and sitting on the fence?

Yeah, I really am.

FINAL FLURRIES

Schaefer mentioned that the December bout for Khan would take place in the States and his first foray as a welterweight next spring would be staged in Britain...Had a great time on Friday night at the Mandalay Bay sports book where Nonito Donaire held court till the late night. This guy can imitate almost any boxer's style; it's uncanny. I also would like to say hi to my favorite couple from Dayton, Ohio, Brock and Shawn (hope I'm spelling that correctly. If I'm not, Brock, please apologize to your wife for me. Thanks)...I'd like to see both Peter Quillin and Gary Russell Jr. in step-up fights in their next outings...Erik Morales-Anthony Crolla will take place on the Las Vegas portion of the Sept. 17th split-site card, according to Schaefer...OK, this time it's for real, right? The NFL will come to a resolution and there will be football?...Will the last season of "Entourage" be better than the one we saw before it? I sure hope so...RIP to Butch Lewis. I never met him but growing up as a boxing fan in the '80s, he'll always be that guy who never wore a shirt underneath his vests and who deftly guided the career of Michael Spinks to heavyweight millions. He was also the first of many promoters of Bernard Hopkins...I can be reached at k9kim@yahoo.com and I tweet at www.twitter.com/stevemaxboxing. We also have a Facebook fan page at www.facebook.com/MaxBoxing.