Just a Ceasefire or a True Thaw?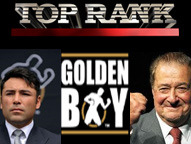 Chee


This upcoming Saturday night at the Boardwalk Hall in Atlantic City, New Jersey, a featherweight contest takes place between Yuriorkis Gamboa and Daniel Ponce de Leon. The talented Cuban is promoted by Top Rank and Ponce de Leon is represented by Golden Boy Promotions. Much has been made of the fact that these two firms- who are the most powerful promotional entities in the United States- had not gotten together on a card since January of 2009 when Shane Mosley met up with Antonio Margarito at the sold-out Staples Center. Since then, boxing's version of the Cold War has been in effect with the two companies waging more battles in the press and the courtroom than inside arenas.
Last week on a national conference call with reporters, Bob Arum said, "I would like to now introduce our co-promoter for the event, representing Golden Boy Promotions, CEO Richard Schaefer."

Gamboa-Ponce de Leon, certainly isn't Manny Pacquiao-Floyd Mayweather in terms of significance but it's a significant happening because the rivals are at least coming together for this fight. The bottom line is very simple; the sport more than ever needs its best possible match-ups to come to fruition. While the UFC is basically its own MMA league, therefore consummating the most attractive match-ups on a regular basis, too often what's happened in boxing is that Top Rank and Golden Boy each became more and more insular on their cards. Whether it was a pay-per-view promotion or a premium cable broadcast, seemingly the top prerequisite to face one of the marquee boxers from these companies was to have been promoted by them. In essence, you might have gotten the best match-up that Top Rank or Golden Boy could have made within their own stable but not the best overall bout.
In the past with this embargo, every time you'd think of a possible fight, you had to factor in who was promoting each respective boxer. Invariably, too many possible bouts were non-starters because of the Top Rank-Golden Boy animosity. Yeah, only in boxing. In any other sport, rivalries are played out on the field over and over again. In this business, the interested parties can easily do business without each other for years at a time. It was the strangest dynamic, given that the boxer's silhouette acting as the logo for Golden Boy, Oscar De La Hoya, was promoted to superstardom by Arum and his company. For a stretch, they did have a certain detente and put on shows of significance on a regular basis but as the battles began for talent, network slots and control of the industry, a certain edginess was bound to develop between the two. Somewhere along the way, business turned very personal.
There was the tug-of-war for Manny Pacquiao (where the two now "co-promote" the Filipino superstar but it's really Top Rank's account) and the HBO output deal given to Golden Boy that angered Top Rank but perhaps what drove the biggest wedge between the parties was the contentious negotiations that took place for the Pacquiao-Mayweather fight that still has not materialized. Arum stood firmly behind Pacquiao, while Golden Boy, in effect, took up for Mayweather. As accusations of steroid use were leveled at Pacquiao and the battle over the usage of needles and blood tests was waged, Schaefer and De La Hoya themselves were thrown into the defamation suit by Pacquiao (Since that point, while this issue lingers for Mayeather, the aforementioned duo issued apologies and are no longer entangled in that mess).
The animosity between the two went far beyond business. Arum looked at Golden Boy as a company that was propped up by a network with no real feel or instinct for the art of promoting. Golden Boy viewed Arum as a dinosaur, stubborn and stuck in his ways. However, unlike archrivals Arum and Don King, who in the past, always did business when need be, these outfits merely took their balls home and played their own games by themselves.
So now we are seeing a Top Rank-Golden Boy scrap inside the ring instead of a pissing contest outside of it. It's a refreshing change of pace.
You have to ask yourself, before we go on acting as if this is the Camp David Accord, is this just a one-off? Let's be honest; Gamboa is about a 9-to-1 favorite and this isn't necessarily a true co-promotion but an instance where Top Rank had a date and needed a dance partner for Gamboa. With Chris John not a viable option, Jhonny Gonzalez being tied up (for now) and Miguel Garcia (another Top Rank client) perhaps being saved for a later date, Ponce de Leon fit the bill. He's got a television-friendly style, is a fairly well-known fighter (by today's standards, anyway) and comes at an affordable price tag. Beyond that, his lack of speed and quickness is an ideal fit for the fast and flashy Cuban. Golden Boy isn't so much co-promoting in this instance but bringing the B-side.
Yeah, this is certainly a positive first step but till we get bouts like Brandon Rios-Robert Guerrero, Julio Cesar Chavez Jr.-Saul Alvarez, Abner Mares-Nonito Donaire and a multitude of other attractive bouts that will have boxing fans salivating, that's when we should celebrate. Even now, these two are still more like "Spy vs. Spy" than "Tom and Jerry" after they made peace (which, for the record, I wish I knew why William Hanna and Joseph Barbera decided to have them act like bosom buddies and not like a cat and a mouse). Just recently Arum and Schaefer had a breakfast meeting where future fights were supposedly discussed. Shortly afterward, Golden Boy basically got Top Rank bounced from the Home Depot Center on October 22nd, citing that they had a show the week before at another AEG venue, the Staples Center, where Bernard Hopkins faces Chad Dawson on a pay-per-view bill (AEG just happens to be a corporate partner of Golden Boy).
Top Rank was nonplussed by this power play, now taking Nonito Donaire all the way across the country to New York to showcase the "Filipino Flash." Publicly, both parties may downplay this move. Realistically, it's another wedge that could keep these two companies from working in concert with one another on a consistent basis.
The more things change, the more they might stay the same.
Andre Berto regained a major title belt by scoring a fifth round stoppage of Jan Zaveck (who seemingly wanted to continue more than his corner did) at the Beau Rivage in Biloxi, MS on Saturday night. It's a shame this bout was halted; it was a pretty decent scrap and it looked to be heating up. Berto, for all this talk of his improved conditioning and consulting of noted nutrition guru Victor Conte, is a fighter who simply does not relax all that well in the ring and is very tense and tight. Salvador Sanchez, he's not. Add to the fact that Berto seems to load up on all his punches. You get the sense, no matter how he trains or who he works with, this issue will always trouble Berto against blue-chip opposition.
The most eye-opening facet of the HBO broadcast was provided by Max Kellerman, who expounded upon a comment made by Bob Papa when the latter compared Berto to Meldrick Taylor (which was dubious enough). Kellerman said that, at first, Berto was originally compared to Sugar Ray Leonard but we'll just have to settle for him being Taylor instead. Uh, really? At that point, I had my very own Jim Mora "playoff?!" moment. To paraphrase a line Lloyd Bentsen said once to Dan Quayle- I've seen Meldrick Taylor and, Max, Berto is no Meldrick Taylor. No way, no how, never will be. I don't like to compare eras but since they brought it up, Taylor, coming off the 1984 Olympic gold medal was facing seasoned vets like Howard Davis in his 13th pro bout and legitimate world champs like Buddy McGirt a short spell later. That should put into perspective just how good this guy was. Up until that fateful night of March 17 1990, Taylor was something to behold. A comparison to Berto is a bit of an insult and another case of HBO once again trying to create a star instead of letting one develop naturally.
I will say this for Berto, though; because of his heavy hands and technical flaws (which are numerous), if he's matched with legitimate opposition and not the Mickey Rodriguezs of the world, he will be in a lot of entertaining fights in the future. Speaking of Berto's future, word is that the IBF has mandated that he must face Randall Bailey (who's made quite a living taking step-aside fees recently) in his next bout. For all the talk of a rematch with Ortiz, if Ortiz loses to Floyd Mayweather as expected- and his WBC welterweight title- he will have a decision to make: Would Berto vacate that IBF title to face Ortiz with no title on the line or face the dangerous, hard-punching Bailey?
And before you say it, yes, the belt is absolutely important to these guys. It's the reason why Zaveck was tabbed for this past weekend.
In my story on Conte last week I spoke about his consulting with Dr. Margaret Goodman in coming up with a more modernized and cost-effective testing system to detect illegal performance enhancing substances in the world of combat sports. I got this email on Friday from Dr. Goodman who just wanted to make this clarification:
"For years, you and I have had many tough discussions regarding boxing safety. More than a year ago,

you

were kind enough to help me get an interview with Victor Conte for

The Ring

. I think that drug testing--proper drug testing of boxers (and MMA athletes) is integral to the safety and legitimacy of unarmed combat sports. Following several conversations with Victor, his insight made me understand that few, if anyone--including commissions have an adequate understanding of not only PED use, but also harmful supplement use by fighters.
With many more discussions with Victor, former Nevada commissioner and chief physician--Dr. Flip Homansky (who began steroid testing in US boxing) and MMA), USADA chief--Travis Tygart, numerous fighters with knowledge and fear of the spread of PED use, and Dr. Don Catlin--considered by many to be the Father-of-Anti-Doping, it became clear that no matter how much effort commissions put forth, adequate testing and athlete education could only be done through an outside group that has the time and resources to deal with PED use head-on.
Dr. Homansky and I have been working very hard to set up such a program with the help of many renown experts. This non-profit program will be for and about the fighters. It will be completely independent from commissions, trainesr, promoters and sanctioning bodies. In the next few weeks, we will be able to detail the program specifics. It is designed to have a positive influence on the sport and enable athletes to be proactive in the pursuit of clean sport."
I think it's clear; if you have a Bar Mitzvah, a birthday party, a bowling league night or anything else on a Friday night, to ensure a memorable night, make sure that ESPN's Joe Tessitore is announcing it. Just look at the track record; he was the blow-by-blow guy for classic battles like Pawel Wolak-Delvin Rodriguez during what was a memorable season of "Friday Night Fights" on "The Deuce." This past Friday night it was Wolak-Rodriguez on the gridiron in Waco, Texas as the Baylor Bears upset TCU in what was one of the best games you'll ever see.
If Tessitore is behind the mic, you just might be in for a special night.
Hey, who's this Al Hey-Mon guy that Max was talking about at the end of the HBO telecast?...Eloy Perez isn't known for being a puncher but he sure was in blowing out Daniel Jimenez in two rounds on "Solo Boxeo"...Purse bids abound the next few weeks. On Sept. 15th, the WBA has called for one in relation to the fight between bantamweight titlist Rico Ramos and their interim champ, Guillermo Rigondeaux (with a 55-45 split for Ramos). On Sept. 23rd, if Top Rank and Golden Boy can't come to an agreement on a bout between Vanes Martirosyan and Alfredo Angulo, the WBC has one scheduled. The winner of this fight will be the mandatory for Saul Alvarez. And the IBF will have an upcoming purse bid for the rematch between Abner Mares and Joseph Agbeko, as it was clear that Golden Boy and Don King were not seeing eye-to-eye on things. It looks like this will be a 50-50 split...The HBO broadcast this Saturday will also feature the WBC heavyweight title tilt between Vitali Klitschko and Tomasz Adamek from Poland..."ShoBox" has a telecast this Friday featuring cruiserweight Lateef Kayode from Hinckley, MN...Gordon Hall, executive producer of "ShoBox" tells me that on Oct 28th, a tripleheader featuring Shawn Estrada, Javier Molina and Eddie Chambers-Tony Thompson will take place...Right now, Robert Griffin III of Baylor is my very early Heisman frontrunner...It was like old times on Saturday in South Bend, wasn't it, with a Holtz leading a team to victory?...I have to say, the breakfast burrito at Rafael's (which I hadn't had before) is quite good...The Al Golden era begins in Miami, as the 'Canes open up with Maryland. Should be interesting
…I can be reached at k9kim@yahoo.com and I tweet at www.twitter.com/stevemaxboxing. We also have a Facebook fan page at www.facebook.com/MaxBoxing.