Joseph "King Kong" Agbeko: "I'm happy to be back"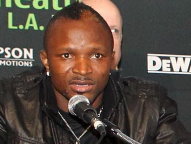 (Photo © Tom Casino / SHOWTIME)


It was the week of April 23, four months after his resurgent victory over Yonnhy Perez in their rematch, IBF bantamweight titleholder Joseph Agbeko was set to face Abner Mares in the finals of Showtime's Bantamweight Tournament. At 31, the Ghana-born Agbeko had regained his title from Perez in dominant unanimous decision fashion and in the eyes of many, might have been a little too much for young Mares to handle.
However, the dream came crashing down as Agbeko suffered a case of sciatica. Before his long flight to Los Angeles from New York, where he trained for much of his camp, travelling up and down the East Coast looking for the best sparring, Agbeko went on a several miles-long run. When he settled in for his long flight, something went wrong in his back and as he moved to get into his limo at LAX, "King Kong" hit the pavement hard, unable to crawl, much less get up and fight an elite level fighter that Saturday. Agbeko explained on a recent conference call that the injury was not necessarily an age or wear-and-tear issue but in fact, could have happened to anyone that day.

"Yeah, they said it could really happen to anyone because of the time that the flight was delayed at the airport and the time I spent not moving on the plane for the six hours from New York to L.A," said Agbeko during the call. "It doesn't happen every day but the people at the hospital knew because they are so close to the airport. It does happen to people sitting on a plane for a long time."
When he hit the pavement, Agbeko didn't worry about his career. He didn't think, "This might be it. It all might be over." He didn't think of the possible lucrative unification matches that were waiting behind wins against the likes of Nonito Donaire and Anselmo Moreno. All Joseph Agbeko could think about was how disappointed everyone who believed in him was going to be by this misfortune.
"When I had the injury, the only thing that I was worried about was the fight that I had coming up. I knew definitely that it wouldn't affect my career. My main concern was disappointing everyone because I knew I couldn't fight. I knew everyone was counting on me. All my fans and family in Ghana were depending on me. I didn't want to let anyone down," Agbeko lamented.
The fight would eventually be postponed to this Saturday with the venue shifting from L.A.'s Nokia Theatre to Las Vegas at the Hard Rock Hotel and Casino, which is great with Agbeko, who has a positive history at the Hard Rock.
"I had my first fight in Vegas at Hard Rock and won by KO," said Agbeko, referencing his 2007 TKO win over Fidencio Reyes in four rounds. One fight later, Agbeko would win his IBF strap when his fight against Luis Perez was stopped by the ringside physician. The fight was also Agbeko's first in the US. "I'm happy to be back," he said.
When we last saw Agbeko, he had gotten his groove back. In the first fight against Yonnhy Perez, Agbeko was flat and looked like he just wanted to land the big shot and go home. Perez was at the peak of hunger and was all over Agbeko en route to lifting his belt. Agbeko, making his third defense of his title run at the time (that included a win over Vic Darchinyan in July of 2009), felt unprepared for the fight. What it looked like was a champion perhaps taking his belt for granted against a fighter whose style he should have been able to handle at his best.
"Well, in the first fight, I don't think I had a lot of time to prepare for the fight," Agbeko said. "I came into the ring slow and started out that way. That first fight just did not go well for me due to a few issues. So I came back and was able to do better the next fight."
At his best, Agbeko is not an easy fighter to handle at the top of his game. He has an awkward way of fighting from the outside, shifting his body in odd angles, long limbs shooting out a left jab and right cross from long range. In close, Agbeko uses the high guard shield and works fairly well inside. It's an intelligent style that is more boxer than brawler while still maintaining aggression.
In the opposite corner, sits Abner Mares. A tough and talented young fighter with a solid amateur pedigree and an impressively improving

21-0-1 (13) résumé, Mares is in the finals for a reason. He can box and brawl in equal measure but like Agbeko, goes about his work intelligently, minding his defense, using his feet to set up his hands. Though Mexico-born, this is not your stereotypical Mexican banger. What Agbeko faces is a boxer who is going to make him work for it in all aspects.
What this adds up to, hopefully, is a high-level chess match sprinkled with heavy amounts of aggression.
"I love fighting boxers over fighters because boxers use their brain," said Agbeko. "This will be a good fight."
Agbeko and Mares have two common opponents, Vic Darchinyan and Yonnhy Perez. Against Darchinyan, Mares was dropped early on but came back to edge a close decision win. Mares drew with Perez in a fight many felt he won.
Just because one fighter beat or struggles with another, it does not always equal a victory for the guy who didn't but Agbeko feels the way he handled those two men, mastering Perez in two tries and handily beating Darchinyan, gives him an edge in this fight.
"I know that we have both fought Vic and Yonnhy. [Mares] survived that but he will not survive me," declared Agbeko.
Going into the fight in April, this seemed like an even fight. I had the edge with Agbeko. He seemed to have regained his focus and I felt his style and overall toughness would win the day in a very good fight. Then the injury happened. While Agbeko claims he is all good, I am noticing fans and writers jumping off the bandwagon. That said, Agbeko seems as resolved as ever to accomplish his dream.
"This is a very big fight. Everyone is watching and people will know after you win this fight that you are the best in the world. That's what I strive to achieve in my career: to be the best in the world at this weight class and then move on to the next one," he said. "My prediction is that the announcer will say, 'And STILL IBF bantamweight champion of the world…'"
You can email Gabriel at

maxgmontoya@gmail.com

, follow him on Twitter at

www.twitter.com/gabriel_montoya

and catch him on each Monday's episode of "The Next Round" with Steve Kim. You can also tune in to hear him and co-host David Duenez live on the BlogTalk radio show

Leave-It-In-The-Ring.com

, Thursdays at 5-8 PM PST. Gabriel is a full member of the Boxing Writers Association of America.