Joel Diaz Jr. Looks to Make it Five in a Row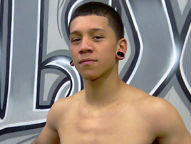 (Joel Diaz Jr.)


The Wild Card Boxing Club in Hollywood, CA, has more than its fair share of blue-chip prospects, up-and-coming pugilists, world champions and at least one future Hall-of-Famer. In the midst of this crowd, it's easy to overlook young prospect Joel Diaz Jr., 4-0 (3), that is, unless you happen to catch him on a sparring day. Then it's easy to see why the young fighter, who has yet to receive TV exposure, is one to watch.
Possessing two-fisted power, what appears to be a solid chin and a take-no-prisoners style in the vein of lightweight titleholder Brandon Rios, Diaz Jr. is, in short, a born action fighter. You can't teach this style; you can only hope to refine it. Now under new trainer Hector Vallardes, who also trains Alejandro Perez, Diaz Jr. hopes to do just that.
"He told me, they don't really like taking in people. Everybody asked if he could train them. I guess I was the lucky chosen one," Diaz told me Wednesday night. "I guess they see a future in me. I am trying to make a future in this."

The immediate future for Diaz Jr. includes a fight this Friday night at the South Point Hotel Casino in Las Vegas, Nevada where he will face Esteban Nichol, 3-1 (1), out of Colorado. Diaz Jr. has only seen him once, in a decision loss to Jesse Magdaleno on July 15.
"He looks like a tough fighter but I am going to try and be the tougher fighter, you know?" Diaz said. "That's the only thing we can do. It's either him or me…and it's not going to be me."
Diaz

is managed by Mike Criscio and promoted by Boxing 360, out of New York, though he trains here on the West Coast at the Wild Card. It is here that the young fighter trains and spars each week, waiting for his shot.
"We stay in the gym every day," he said. "As soon as we get a fight, we are ready."
His last fight was against Kendall Ward back in May and Diaz stopped him in just one round. The fight was typical Diaz, featuring him pressuring from the get-go and making a fight of it. It didn't last long with Diaz hurting the kid to the body, then coming back upstairs for the finish with his left hook. Considering how much Ward talked at the weigh-in, the quick end was unexpected for Diaz.
"Actually I didn't [expect it]," Diaz said. "From the way [Ward] was acting at the weigh-in, I thought he was going to give me a good fight. I caught him with a one-two down the middle. That's when my left hook kicked in. Dazed him out a little bit, got him against the ropes and took him out from there. That's when the referee jumped in."
Now Diaz hopes to get a stiffer test. Beating guys easy is one thing but finding out who he is and what his limits are is quite another. It is easy for a prospect to blow through no-hopers en route to an inflated record but Diaz is not interested in that. He wants a clear picture of who he is.
"That is the thing with boxing. Its two guys up in the ring to see who is the better fighter," Diaz explained. "And I mean, if they are going to be throwing me nobodies, I am not going to learn from that. I don't want to get big-headed. I don't want to think because I can stop all these nobodies, that means when I fight a somebody, I can stop them. I don't want to think that."
In this fight, Diaz understands he will be in with a tough customer. Magdaleno is a talented fighter and in a six-rounder, he was extended the distance by Nichol. Diaz hopes to improve on that but is prepared for the distance.
"My promoter and my manager actually told me this guy is tough," said Diaz. "'Don't get too out of hand with him.' I don't want to make a wrong move and get caught. We're going to plant my feet and work with him. Let's see what he's got in the first round. If I can take him out, then I will. If I can't, then let's go to a decision."
A normally all-offense fighter who throws caution to the wind, Diaz understands he needs to mind his defense. That aspect is one Vallardes is focusing on.
"Right now, we are training for defense," said Diaz. "When I got there with my new trainer, I won't say I didn't have a defense but I could work on it and we've been working on it. We're working on defense, offense, mostly the defense. Just in case somebody wants to come in and fight, we have to know what to do to defend and let's go for it."
So what is next? If he successful this Friday, Diaz will move up to six-round fights. The real question is when do fans get to see him on TV instead of on an undercard?
"[My team] haven't really talked to me about that but whenever, you know? You already know I'm down, man," laughed Diaz. "It's up to them. Whenever they want to put me on television, they got my number. I'm staying ready and I am going to be ready. Just give me a call and I will be there."
The future is now for Diaz Jr. First Friday, then the rest will come in time. All he has to do is continue winning.
"I got a new trainer," said Diaz. "They took me into their house. The training camp is good. The dieting is good. The sparring, of course, at Wild Card is good. We're ready for this fight."
You can email Gabriel at

maxgmontoya@gmail.com

, follow him on Twitter at

www.twitter.com/gabriel_montoya

and catch him on each Monday's episode of "The Next Round" with Steve Kim. You can also tune in to hear him and co-host David Duenez live on the BlogTalk radio show

Leave-It-In-The-Ring.com

, Thursdays at 5-8 PM PST. Gabriel is a full member of the Boxing Writers Association of America.