Is Boxing on the Outside Looking In?: Part Two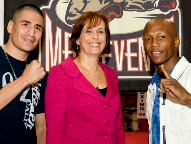 --


One prominent promoter who isn't downplaying the recent partnership that was announced between the UFC and the Fox Network is one Kathy Duva of Main Events. She readily admits this is a significant step for the MMA industry.


"It's a shame; we should be on the broadcast network because I think our events are so much more exciting," she told Maxboxing a few days ago. "I really think they are and there's nothing more exciting than a great fight, with all due respect to UFC. They've made themselves a nice deal. They're not doing title fights; they're still keeping their biggest fights on pay-per-view."
However, looking at the big picture, UFC now has a strong presence on a major broadcast network, one that is in nearly 120 million homes. Duva admits boxing needs to change its current template. "Of course," she said, "and we all hope the pendulum swings back one day. I think our sport is something that if people were exposed to it on those platforms, where young men are already watching other sporting events, I think they'd like it. I think there's a lot we can do to jazz it up to make it more exciting, learn some things from UFC about making the productions more exciting.


"But again, a great fight is better than just about any other thing there is, if you been to one and I'd love to be able to expose it to more people that way."
There's that old question: If a tree falls in the forest and nobody hears it, does it make a sound? Well, that could be boxing in many respects. Again, it might be the more aesthetically pleasing product but the problem is that in the United States today, boxing plays to such a small, niche audience. With this new deal with Fox, being out of sight and, therefore, out of mind is a problem that the UFC may not encounter.
One of the major impediments boxing has in creating such a partnership is that, unlike the UFC, it is simply too fragmented among competing entities. The UFC and its fighters are all under one umbrella and in essence, the organization acts as judge and jury. Not only are they the promoters and matchmakers, they are also their own sanctioning body and commission in many respects.
Duva stated, "Boxing couldn't do a deal like this; it's impossible. We cannot sanction our events. We cannot manage and promote. We must reveal to fighters all of our income at the time we're making a deal with them. These are things the UFC doesn't have to deal with. They sanction their own events. They have everybody under contract. They manage and promote everyone. It is simply a single entity sport. It's completely different from boxing. What they do in our sport is illegal."
MMA doesn't have anything like the "Muhammad Ali Act" to provide a checks and balances on behalf of their combatants.
"They have some luxuries that we don't. As they said, they started from scratch, created a single entity and they have a perfectly legal structure that works for them but it could not possibly work for our sport," said Duva, who points out that the UFC is much like the NFL, NBA and Major League Baseball in their infrastructure. Boxing- in the form of its promoters- is comprised of independent contractors who often have conflicting agendas. "We are the last bastion of free enterprise in the world; no doubt about that," she says.
Before he was employed by the UFC, Marc Ratner was best known as the Executive Director of the Nevada State Athletic Commission. He is very familiar with both realms and agrees with Duva, "I believe that the fragmentation makes it so hard, the different sanctioning bodies, the promoters at war, not making the Pacquiao-Mayweather fight, which should've been made last year- it's going to be made; it's going to be a huge fight- but just having the sport just sputter around, it's tough and I love boxing. I wish all the promoters would get together."
The biggest example of this would be the "Cold War" that was waged for years between Top Rank and Golden Boy, by far the two most influential promotional outfits in the States, who refused to work together on co-promotions for various reasons. A boxing embargo took place where some of the best fights in the sport were simply not discussed because of the ill will between the parties. No such quagmires exist in the UFC because they are under the auspices of one voice, that of the bombastic Dana White.
"The UFC fighters are on salary, basically, and they are given bonuses when they are on major pay-per-view fights. The bonuses are nothing in relation to the amount of money they take in. When we do a major pay-per-view fight, we have to negotiate with the fighters, show them how much income we're going to have and basically start a negotiation with a gun to our head," explained Duva of boxing protocol for cutting a deal. "So the fighters end up walking away with most of the money on a big pay-per-view fight. UFC has the luxury of taking all that money that they make and pile it back into the sport and that's how they got on network television. In the beginning, they bought their way on. They bought their way on to Spike in the beginning; they grew their brand there. Spike did a great job growing their brand. They did a great job with them- but they paid for fights when they started out.
"Now, they've built an audience and now their fights are worth so much, they're selling them to big companies like Fox. They had Comcast and Fox all bidding for their services and that's a beautiful place to be in."
She points out, "In boxing, if a promoter was working with a network and walked away, then they'll just deal with another boxing promoter. So it's a different model. It's impossible to compare it."

Ironically, Duva's company, Main Events, was the last promotional company to have a presence on network television as they brought sponsors (namely Budweiser) aboard to NBC as they showcased the likes of Juan Diaz, Rocky Juarez, Kermit Cintron and Francisco Bojado back in 2003. Unfortunately, that deal was short-lived and boxing hasn't been seen since on terrestrial airwaves. The fights shown were of pretty good quality for the most part, so why was the series discontinued? Carl Moretti, the current V.P. of Boxing Operations for Top Rank, who was then employed by Main Events, explained, "I think at the end of the day, they were owned by a huge corporation at the time in General Electric and they could make more money doing something else with the time."

The question is has boxing gone the way of soap operas?

"Listen," said Moretti, "whether it's a network presence or a cable presence, y' know, USA or ESPN, you're in as many homes on those big cable stations as you are on network television. So all you want is to be on television. Network television would be great because of what it's identified with but don't forget, you and I know that if you're up against Notre Dame and USC or LSU-Oregon, I don't care what you're on- you're going to struggle. It all depends on if 'Is Tiger Woods playing golf that day? What kind of football might be on?' So as long as you're on TV, I think it's important but it would be great to be on network television."

Duva is also hopeful that boxing will soon reach more eyeballs in the near future.

"I'm sure boxing will be on these bigger platforms in the future. I remain an optimist because I think at some point, we're going to realize that the people who are attracted to MMA fights will be just as attracted to a terrific boxing match- if it's marketed properly," Duva says. "We're working very hard to make that happen. I know a lot of other people are working to make that happen and one of these days, I'm sure we'll succeed."

As for the UFC deal being some sort of death knell for boxing, Moretti doesn't see it that way. In fact, he sees the sports as two totally different realms that can coexist. "I think it's a totally different deal. I think Pacquiao's going to draw and do his numbers [on November 12th] and UFC is going to do what they're going to do. I'm one that doesn't see the two as hurting each other. I still don't think it's a competitor; we're two different audiences. They're younger and they're the flavor of the day with no history or tradition and either you like it or you don't.

"Boxing is always going to be there; it always has been."

EMAIL

Here is part one of my story on this development:
http://www.maxboxing.com/news/max-boxing-news/is-boxing-on-the-outside-looking-in

. I got this response from a reader that caught my attention:
"Alright Steve,


You hit the nail on the head right here :



Somewhere along the way, boxing and its cadre of TV packagers began to believe that HBO's and Showtime's limited universe was the biggest and most important stage they could possibly play on. Exacerbating the problem was the lack of bona fide promoters who basically ditched any effort to build local markets and instead took checks to ship their products out to far-flung Indian casinos. Then you have networks that are seemingly controlled by Machiavellian advisers whose influences have helped water down their standards.



This above point is critical and I only have to point to the major European attractions that have been built around the complete opposite of this model.

Let's take Scotland's own national hero Ricky Burns. Now, Burns is a good fighter, and has won some good defences, but he isn't pushing the pound for pound rankings, nor is he the sharpest knife in the drawer not to put too fine a point on it (Pun crazy, I love it!). Ricky Burns will sell out a 20,000 seater stadium in Scotland, should he have a unification fight and we are talking about a nation only a fraction of the size of the U.S.

This is because Burns fights in his local area, has built up a core support and has now transcended his local boundaries to a national level. Yet, guys like Arum and De La Hoya will still take quality U.S based fighters and often stick them on a casino show where the local population feel no allegiance to that said fighter.

I think it is time that commentators of the sport, particularly those based in the U.S start pushing continuously the successes of European boxing. There are bona fide stars in just about every country in Europe. Sooner or later, Arum and Golden Boy will have to take a couple of hits and realise that the only way to build stars is to start at grass roots level and work their way up.

P.S September 18 - the only fight I care about is Morales - Matthysse. I long for Erik to get his 4th title, irrespective of his fortune at actually getting a shot in the first place. I honestly think if he gets past Lucas that he can stop the Khan express dead in its tracks and give him an old school boxing lesson.

All the best,

Neil, Scotland"

Neil, I wish I could expound upon your email but you pretty much nailed it on the head. In fairness to Top Rank and Golden Boy, while they do stage a fair share of cards in casinos, they do plenty of shows in areas that have some geographic relevance (like the aborted fight between Robert Guerrero and Marcos Maidana, which was supposed to take place in San Jose, near the hometown of "The Ghost," who hails from Gilroy) and other than the Pacquiao-Juan Manuel Marquez rubber match, most of Top Rank's bigger events closing out 2011 are taking place in non-casino venues in major metropolitan cities.

However, the TV packager killed the boxing star (and put it in the Silverdome and beyond).

FRIDAY FLURRIES

OK, after all the hemming and hawing, a "customweight" of 153 pounds has been agreed to (with no same-day weigh-in with a 160-pound weight limit) and it looks like all systems are go for the rematch between WBA junior middleweight titlist Miguel Cotto and Antonio Margarito on Dec. 3rd at Madison Square Garden in New York...I'm already reserving my table at Jimmy's Corner for that week...Anyone else think that the bout between Alexander Povetkin and Ruslan Chagaev is a referendum on the work of Teddy Atlas and some of the decisions he's made on Povetkin's behalf?...HBO has no live boxing on this weekend but the "24/7" for Victor Ortiz-Floyd Mayweather premieres this Saturday night..."Slick" Rick Mota tells me that Giovani Segura will take a stay-busy fight in Monterrey, Mexico on September 15th and then the plan is to face WBO flyweight beltholder Brian Viloria in December...Gary Russell Jr. will face Leonilo Miranda in his HBO debut on Sept 3rd in Biloxi, MS...Top Rank has announced the re-signing of junior lightweight contender Diego Magdaleno. He will fight again on November 11th at the Mandalay Bay...So wait, LSU signal caller Jordan Jefferson is better at hitting his target kicking than he is throwing? And geez, it turns out he's got more shoes (it's gotta be the shoes, Money!) than Imelda Marcos...Hey, any good seats available for the Marlins game?
...I can be reached at k9kim@yahoo.com and I tweet at www.twitter.com/stevemaxboxing. We also have a Facebook fan page at www.facebook.com/MaxBoxing.