Huck-in' Great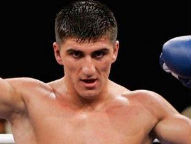 Marco Huck


For some reason, recent title challengers visiting Germany have lost their sense of decorum, hurling insults at the champion seconds after touching down at the airport. The strategy backfired on David Haye, which has not daunted Argentinean Hugo Garay, who went as far trying to kiss Marco Huck during the pre-fight staredown. Considering the level of insolence, Marco Huck remains poised though the duo had to be separated after Garay's near-kiss. Both men are title fight veterans, so the gratuitous animosity on Garay's part is surprising. If Haye and Garay are signs of things to come, Germany might as well operate like Top Rank and Golden Boy Promotions by only fighting challengers from within their country.

Maddening opponents and outrageous press conferences are not the only distractions swirling around Marco Huck. The 26-year-old cruiserweight champion is to be wed on July 30th in his native Serbia and is managing a guest list nearing 1,000 family members, friends and dignitaries. One media firestorm was of Huck's own making, admitting to Germany's largest newspaper that he was still a virgin (How is that for honesty?). Much of that choice has to do with religious beliefs and Huck maintains celibacy made him more desirable for the class of women he seeks. His attractive bride, Amina (six years his junior), is proud of Huck's willpower and declared she maintained her chastity for their wedding night. Either way, this could explain why Huck is so aggressive and full of energy in the ring.

Hugo Garay, who has done nothing at cruiserweight to earn a title shot, is not impressed with Huck in or out of the ring. The former light heavyweight titlist mocked Huck about everything from his clothing to a controversial win over Denis Lebedev. Garay stunned the press by threatening to "kill" the champion in the ring and later made ominous throat-cutting gestures to lend impact to his words. Huck is keeping busy with Garay to strengthen his hold on the German public's psyche, grabbing their attention before soccer season diverts everyone's eyes. Unlike other fighters- let's say, David Haye- Huck has more than victory on his mind entering the ring. "I want to put on spectacular performances." A sign of Huck's popularity is that his fight against Matt Godfrey was chosen to mark the 100th boxing broadcast by German TV giant ARD, akin to ABC, CBS, or NBC in America. Their viewing figures show marked spikes for Huck bouts, 4.7 million against unknown Brian Minto for instance, vice other popular boxers.

An advantage Huck enjoys that is often overlooked on this side of the Atlantic is cunning, 69-year-old trainer Ulli Wegner. Undoubtedly one of Germany's greatest boxing minds, he was coaxed out of his position as coach of the German Olympic team by Sauerland Promotions, leading Sven Ottke (who retired as an undefeated champion), Arthur Abraham, Markus Beyer, Yoan Hernandez, Marco Huck, and female boxer Cecilia Braekhus to world titles. Perhaps, it is the German way but Wegner's confidence is born of preparation. "We know everything there is to know about [Garay]. We have studied the tapes of his fights for hours." Wegner does not expect the bout to get out of control when the bell rings. "It is important that Huck remains calm against the tough Argentine. If he holds himself to what I have instructed him, Huck will have no problems with Garay and will be able to punish him for his words."

Though a throwback fighter, Marco Huck takes advantage of modern science and amenities to make him the best athlete possible. As a part of his preparations, Huck uses an extreme cold cryochamber to recuperate from tough workouts and help cell regeneration. The champ described the sensations. "It feels like an ice cube you suck with your tongue. Only both you and your tongue feel like ice cubes at the same time. The icy cold hurts a little at first but after you've left the cryochamber, you feel good." Another medical advantage is located in Huck's jaw, though that was born of necessity instead of calculated preparation. Huck literally has a titanium jaw, the result of a plate and six screws that were inserted after it was broken against Frenchman Frantisek Kasanic. Only four months later, Huck returned to ring and won the European cruiserweight title. It is this mix of toughness, intelligence, and work ethic that has endeared him to the German public.

There is an understated charm about the convivial champion outside the ring that is at odds with what is seen inside the ropes. Huck describes his mindset simply. "I am a fighter. Only the victory counts for me; that is why I always put everything on the line and bring my best athletic performance to win fights." That was also the case in Huck's lone loss - to American Steve Cunningham - in which Huck admits forgoing strategy in an attempt to walk through a smaller opponent. He had his moments but a career-best performance by Cunningham negated much of his effort. Huck withstood a lot of punishment, losing rounds closely and was in striking distance on the scorecards entering the championship rounds. The German launched a desperate scramble in the tenth and 11th rounds, winning both but burned up reserves of energy. In the 12th round, Huck mustered his strength and went all out. After Cunningham absorbed the final assault, he launched a counterattack that left an exhausted Huck nearly lifeless on the ropes. Wegner threw in the towel, understanding Huck had given everything in defeat.

After such a loss, boxers either become stronger psychologically or fall apart. Given what Huck endured before he came to boxing, the latter was not going to happen. Huck (birth name Muamer Hukic) came to Germany as a refugee at age eight, a Bosnian born in Serbian territory in what was then a disintegrating and war-torn Yugoslavia. In interviews with German publications, Huck talks of extended family members and other men from his village who left at gunpoint, never to return. It was the combat sport of taekwondo and kickboxing in which Huck first excelled. At 18, he traveled to France for a title opportunity, becoming the first German kickboxing world champion in a decade. Huck made the transition to boxing before his 20th birthday, winning all 15 of his amateur bouts, traveling to Köln (Cologne) for a "tryout" with Wegner. After a sparring session with seasoned Cengiz Koc (a former European heavyweight title challenger), Huck prepared to leave and go back home; Wegner told him, "No, no. You're staying here."

Huck is a seven-year pro with a wealth of experience now but still far from a finished product. On defense, he lacks upper body movement, walking in with hands raised to form a shield with his forearms and gloves. The transition game is still evolving; Huck is either in full offensive or defensive mode, not able to block and simultaneously position himself for a counter as he deflects punches. Huck is too accepting of punishment; he has a great jaw and is willing to take a punch to land one. When in rhythm, Huck has a great jab that sets up bursts of intense combinations but he does not use the jab as a defensive weapon. There is no doubting Huck's power, 23 stoppages in 32 wins and his clubbing punches are even effective when landing on the arms or shoulders. I hesitate to bring up the name Marciano because Huck has nowhere near the one-punch power of Rocky but Huck has that style predicated on unrelenting aggression with little hint of flash.

Despite a reputation as a pure banger, Huck is deceptively adroit in the ring, using specific tactics designed by Wegner (whom he parted ways with for a short stint to train under Manfred Wolke) to generate positive results. Huck has done well implementing divergent game plans for a given opponent, showing unexpected versatility and the mental fortitude to abandon the tried-and-true if other options make a fight easier. At 6'1½", with a considerable reach, Huck has the right size and physicality to employ multiple styles. However, like many fighters, Huck reverts to brawling and has to be talked back to his objective between rounds. Early on, a volatile temper needed curbing, earning Huck the reputation of a dirty fighter. There was also Huck's need to retaliate instantly, putting pride before prudence, when stung with an unexpected punch. All of this added up, making Huck a controversial character before achieving mainstream success.

Now, Huck is cast in the role of "good guy," which frankly suits his character better and is a more accurate portrayal. This view of Huck has been reinforced even more by the contemptible statements of Garay, who claims to make the statements only to pump himself up. Huck did, at first, shy away from commenting on Garay's antics. "I don´t care about his remarks. I will give my answer in the ring. With the support of my fans, I will make another exciting title defense. The belt remains in Germany!" When further questioned about Garay's comments, Huck relented somewhat. "His behavior is ridiculous. He cannot come here, insult the press and my team and expect to get away with it. I will make him pay in the ring. Right now, Garay is laughing but on Saturday night, he will be crying."

As champion Huck thrives in the role of protectorate to the title, Garay represents the seventh defense of his throne, fighting an average of four times a year. A busy schedule for a popular champion but one Huck gladly accepts. "The demands that are asked of - and boxers must overcome - in training are suited for my temperament. That is why I feel at home in boxing. I am not one who gladly relies on judges. I would like to win every fight before the final bell." Outside the ring, Huck gives the opposite impression of his vanquish-or-be-vanquished ring attitude. He is in constant contact with his parents, brother Kenan, and two sisters (Munevera and Muamera) and, like former heavyweight champion Lennox Lewis, is an avid chess player. There is little hint as to what the seemingly reserved individual does for a living. Huck observes before pronouncing judgment on subjects large or small. "Once I have made up my mind, I will express it and stand by it. I will show the needed respect but what touches my heart lies on my tongue." If you think about it, this is exactly how Marco Huck fights.