Hank Lundy: "There's no more playing around in the ring"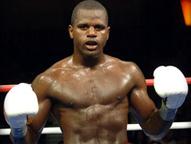 Hank_Lundy_H1.jpg


After seven rounds with John Molina on "

Friday Night Fights"

in July of last year, Philadelphia lightweight Hank Lundy, 20-1-1 (10), was on his way to moving from prospect to contender. For those seven rounds, Molina had no answer for Lundy's hand speed and lead straight lefts. But after a little showboating and sticking his chin out a little too far, a Molina right hand in the eighth crumbled Lundy into a heap on the canvas. To Lundy's credit, he lifted himself up and won the next two rounds but Molina knew another right hand could end the show. In the 11th round, it happened; a right hand sent Lundy staggering to the ropes and referee Ricky Gonzalez waved off the contest.
Despite holding an overwhelming edge on all three cards, Lundy's path to contender status was stopped dead in its tracks.
Now every fight became a "Go big or go home" affair. Lundy wasted little time getting back in the ring, traveling to Montreal just over month later to face then-14-1 Canadian Omri Lowther. A lopsided decision win seemed to have Lundy ready to start another climb upward but management issues forced the 26-year old Lundy to the sidelines until this April, when he scored a ten-round decision over Patrick Lopez.

Now, Lundy will face former champion David Diaz on ESPN2 this Friday in another must-win bout at the Horseshoe Casino in Hammond, Indiana. Since his loss to Molina, Lundy's outlook has changed dramatically. "There's no more playing around in the ring," Lundy told Maxboxing. "I'm weary of every punch; all that was showboating in the ring. And now I make sure I diet right and take off weight the right way."
While his outlook has changed, his confidence has remained. Speaking about going on the road to face Diaz in his backyard, Lundy said, "I'm always on the road. There's no doubt in my mind after I leave that place, that place will be my home." He feels his hand speed will control the bout Friday night and that Diaz simply takes too many punches. "David Diaz gets hit with everything in the kitchen." But Lundy also acknowledges that Diaz does have the advantage of experience and describes him as "a tough guy."
Perhaps Lundy needed the lessons learned in a in a tough defeat. The opportunity to refocus and learn to take nothing for granted in this most unforgiving sport. Lundy seems to have taken those lessons to heart and sounds different than when I first met him last summer, when he was undefeated.
A year after his first loss, a more disciplined, hungry Hank Lundy has a chance to again take a huge step toward being a contender among the 135-pounders. It seems this time, he's in a better state of mind. "You're going to see a 'Hammerin' Hank' that's going to show a lot of maturity, not wasting punches, putting my punches together and I'm going to make 'em count. No slacking off, no showboating; all that went out the door. I'm going to be on top of my game."