Goodbye, George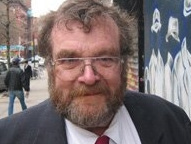 George Kimball


It's been a rough stretch for the sport of boxing recently.

Yesterday morning

, it was announced that longtime boxing scribe George Kimball had passed away at the age of 67. I can't say I knew Kimball all that well but he was always cordial toward me. I can't really do the man justice but I think these two articles encapsulate what Kimball was all about:



http://bostonherald.com/sports/other_sports/general/view.bg?articleid=1350253&position=1

To me, Kimball was part of a vanishing breed. The last of the old-school boxing scribes, along with the likes of Michael Katz and Bernard Fernandez, who, by the time I got into covering boxing in 1996 (first hosting a weekly radio show devoted solely to boxing, "The Main Event," and later on for the gone-but-never-forgotten HouseofBoxing.com) were the old guard. Respected scribes who didn't just report on boxing because they were given that assignment but protected their beat and perfected their craft with great zeal and passion. Long before the proliferation of websites and blogs, they were the opinion makers that the power brokers were cognizant of. They were not only sent to cover fights and fighters for days and weeks at a time; they also had regular columns that you could count on. What they wrote mattered.

Those must've been the days.

Perhaps they may have looked down at us young whippersnappers, who with sometimes flimsy credentials, were now encroaching on their press row turf. However, as the daily papers began to shove boxing onto the back pages (so far back, it was right alongside the "transaction" section behind girls' JV volleyball), they themselves found their work on the World Wide Web. Before long, they found out it wasn't all that bad. Guys like Kimball, who was as opinionated and tough as ever, stayed relevant by being online.

It was ironic; the very thing they may have resisted also kept them on this beat that was once described as the "red-light district of sports." Not saying Kimball was one of those guys; I never got that sense, to be honest. But a new outlet was provided for writers who were no longer given a platform by newspapers to talk about a sport they were so closely associated with for years. Until the very end, Kimball wrote about boxing.

What I'll remember most about Kimball is his brilliant book, Four Kings: Leonard, Hagler, Hearns, Duran and the Last Great Era of Boxing, which chronicled this quartet's series of fights with each other throughout the '80s that defined the era. Kimball covered all nine of these fights for the Boston Herald. On the day that Bernard Hopkins took Kelly Pavlik to school on October 18th in Atlantic City, a special media gathering was held inside the press room at the Caesars Atlantic to promote the book.

It's where I got my copy of this must-read and where I talked at length with George about his comprehensive work. He was quite gracious with his time and you got the sense that he felt lucky to be part of boxing history. Covering boxing back then was different- which doesn't necessarily mean better- but it was a time when journalists were given more access and had a more intimate view of those they were chronicling. Their coverage may not have been as quick and as immediate but it was more complete and consummate.

Eventually, I wrote this article on his book (http://philboxing.com/news/story-19615.html). I tore through it on my flight back home to Los Angeles. If you were a child of the '80s and a boxing fan, this book was something you couldn't put down. I strongly recommend those who follow the "Sweet Science" to add this to their library. When I think of Kimball, the first thing that comes to mind is Four Kings.

I asked him if this wasn't just a look back at a series of bouts but his own professional history. He replied, "Oh, absolutely, it is a history. That's what I did. It might not be what I am but it's what I did."

And he did it well.

WAKE-UP CALL

I don't want to say that promoter Yvon Michel of GYM gave me an early wake-up call but if I was living in New York and not L.A., he would've still caught me a bit earlier than I usually get up. But hey, I'm just glad he returned my call, regardless. I asked him what plans were for Jean Pascal, who many believed was going to face IBF light heavyweight titlist Tavoris Cloud on October 15th, as part of an HBO doubleheader that was to have featured Bernard Hopkins defending his WBC light heavyweight crown against Chad Dawson. That was, of course, before Hopkins-Dawson was moved to pay-per-view due to budgetary reasons.

Well, Michel explained to me that the plans are to have Pascal headline a show in Quebec City on December 17th and the names he threw out were Cloud, Zsolt Erdei and Beibut Shumenov. Michel said he would be meeting with HBO officials next week to see about what type of license fee would be available. Regardless, I get the sense that with Pascal's ability to draw, he will perform on this date with or without the network's backing, which is the way it should be.

My question is this, if it isn't Cloud, will we not see the heavy-handed banger from Tallahassee for another eight months?

ELIMINATOR

On Wednesday night, junior middleweight Deandre Latimore announced on Twitter (@DeandreLatimore) that the IBF had approved a fight between he and Vanes Martirosyan as an eliminator to face their beltholder Cornelius "K9" Bundrage. It's certainly an appealing match-up of two young '54-pounders but this is just the first step in the process to make this bout a reality.

"They ordered the fight; it's a fight we want to pursue and hopefully, we can make it but there's a difference between ordering a fight and a fight getting done. You'll go through a negotiation process and if you can't come to an agreement, you'll go to a purse bid," explained Carl Moretti of Top Rank, which handles Martirosyan. "At that point, you've got to see the results of the purse bid and then go from there."

Also, finding a television platform is vital.

"With all due respect to ESPN and Fox Sports, this fight is a little bigger budget than those and ESPN is off the air anyways, come the middle of August. So the trick, I don't think, is making a fight with the other side. The trick is where you can place it."

MAXBOXING RADIO

The latest edition of "MaxBoxing Radio" with Corey Erdman and me is up and running:

http://radio.thescore.com/episodes/july-7-klitschkos-rule-rios-antillon-preview

FRIDAY FLURRIES

So does the announcement from Ricky Hatton that he is retiring once and for all end all the talk of him ever returning to the ring? The question is, is Hatton a Hall-of-Famer?...Did you know that the Lucian Bute-Jean Paul Mendy fight is a pay-per-view offering in Canada? I guess it's a trade-off for health care...I have booked my flight and I will be in San Jose at the HP Pavilion when Marcos Maidana and Robert Guerrero do battle on August 27th. Like Bart Scott- CAN'T WAIT! ...Speaking of which, tickets for that show are priced at $252, $127, $62 and $26 and go on sale today at 10 AM, PT and can be purchased at Ticketmaster.com and the HP Pavilion Ticket Office...Just wondering how much of a threat Erislandy Lara is to Paul Williams? I honestly have no clue...Long live John Mackey, perhaps the greatest tight end in NFL history...As for Dick Williams, who also passed away yesterday, to me, he'll always be the manager who led the San Diego Padres to the 1984 National League pennant...Will anyone ever write the book, Four Queens on Anita Baker, Whitney Houston, Janet Jackson and Sade?...I can be reached at k9kim@yahoo.com and I tweet at www.twitter.com/stevemaxboxing. We also have a Facebook fan page at www.facebook.com/MaxBoxing.