Gesta Gets in Quality Sparring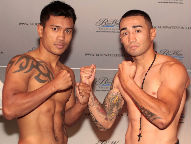 (Photo © Phil Soto / Top Rank)


Leading up to his fight this weekend at the BlueWater Resort and Casino in Parker, Arizona, lightweight Mercito Gesta spent a large portion of his time at the famed Wild Card Boxing Club in Hollywood, California, sparring the likes of Shane Mosley, Jorge Linares, Jose Benavidez and Paulie Malignaggi among other world-class professionals.
For the 22-0-1 (12) Gesta, who faces Manny Perez, 16-6-1 (4), it's not farfetched to say that the work he got in the gym was probably more strenuous than any real fight he's participated in.

"It's real good sparring. It's a really good experience for me," said Gesta, who hails from Cebu, Philippines and now resides in San Diego, on the day he got in the ring with Malignaggi. "These guys are world champions and it's just not helped me in just work but in, like, mentality because I have more confidence because I sparred with these big guys."

For this camp, as he sparred, Gesta was often the smaller man in the ring. Getting in there with boxers who are more accomplished is a rite of passage for any young pugilist.

"Every time I spar with good guys, I feel like I increase my ability and I feel like I'm getting better because I can learn because of that. That's really good experience," said Gesta, who admits to being humbled on occasion. "Well, yes, sometimes," he said, "because in sparring, not all the time you feel like you're good in there because sparring's sparring. It's all about learning and some sparring is good but the real thing is the fight."
As word leaks out that high-profile fighters spar with each other, the question is invariably asked: who got the better of it? However, that's not the point of these sessions.

Gesta explains, "Well, some people as they look at sparring, they just judge, 'Oh, he's not good because of that. He's not good. He doesn't do this.' But y' know what? Sparring is not a fight. Sparring is just to learn, not to get a war. You use that technique in the real fight, throw in there real hard- that's the real one. Sparring is to learn."
Other than using bigger gloves and headgear, there are other variables to consider like the weights of the two boxers, the stages of training they're in (regarding their respective camps) and oftentimes, the stages of their careers. An established veteran will most likely not have the same sense of urgency as a young prospect looking to make his mark.
Bruce Trampler, the highly respected matchmaker for Top Rank, actually made the four-hour drive from Las Vegas to Hollywood to see Gesta and Benavidez move around with each other last month. He adds, "You have to consider the source of who's providing the sparring. There's certain fighters that go in there and they think they have to 'win' the sparring session. There's trainers who think that if their guy stops a sparring partner, that they really accomplished something. But the real professional goes in there and they use the sparring session as a learning experience and so they may want to work on something."
Trampler uses this baseball analogy: "It's like a pitcher throwing a bullpen on the sideline. Maybe if you were watching and he threw a bunch of balls instead of strikes, it's like, 'Geez, he doesn't have good command.' Maybe he was working on a new pitch, a slider or a cutter. The fighter, maybe he's working on a certain thing in there. A good professional, maybe he just wants to work on an occasional hook to the body or he wants to work on whatever. He may be in there working on defense. That's how guys used to train and that's how guys used to spar. You can accomplish just as much jabbing the sparring partner on his headgear in terms of gauging distance and timing. You don't have to hit him in the mouth or the nose and bust him up but again, everyone's different. So who wins a sparring session? Nobody is supposed to win."
What disturbs Trampler is hearing reports of gym wars or sparring partners getting bludgeoned as boxers prepare for pivotal fights.
"A guy like Manny Pacquiao, he uses maybe three or four guys for a fight," Trampler points out. "That's it. He knows how to work with them. He knows what to get out of them. He knows what he wants to accomplish. You'll never see a great fighter like Manny crow and cheer, thump his chest. He does what he's there for."
For the most part, Gesta's sessions have been very controlled. Nothing that has transpired against any of his blue-chip opposition in the gym has made Gesta's trainer, Vince Parra, doubt his fighter's ability. "Not really because the way [Gesta] conducts himself sparring, like he said, it's not a war," Parra told Maxboxing a couple of weeks ago at the Wild Card. "The way he conducts himself, so relaxed, so confident that…no, I think he's ready. There's a lot of guys out there that I think he'll knockout at 135 and at 140, the top guys, but it's all about time and biding his time and making the right decision. I guess we could've pushed hard for the IBF championship fight versus Miguel Vazquez but at the end of the day, it was going to be too much red tape to go through. He's got time and Bob [Arum] and Bruce. They got a good plan for him, so we're just going to focus on this next one. But yeah, for me, I think he'll beat anyone at 135-pounds in the world as he is right now."
That's bold considering that Gesta still hasn't had a bona fide contest against a solid contender and thus far, like most other young boxers on the rise, he's been carefully matched (case in point, his foe tonight has just four stoppages to this credit in 23 professional outings). Gesta has the look, a certain promotability and like a certain Filipino congressmen, he is an active southpaw with a crowd-pleasing style. You have to wonder; is he really seasoned enough to finally make that leap?
"You always appreciate it when a fighter wants to fight and a manager wants to take fights but timing is everything and one of the things we do at Top Rank is we try to map out a strategy and a plan and we try to put our guys in fights when the time is right, not before their time," explained Trampler. "Now, if he wants to fight a guy like Brandon Rios, if he were offered that fight, then it's up to both fighters to decide. It's really out of Top Rank's hands. We might try to explain that it's better to wait, as we did with 'JuanMa' [Lopez] and [Yuriorkis] Gamboa - which we did say it's better to wait because the two guys weren't even in the ballpark as far as having it be at an affordable, makeable match. So now we're going to wait and let it percolate a little.
"If Gamboa was to fight Rios and they both wanted to do it, they're both young. What's the worst that can happen? One of them wins, one of them loses and they can come back and do it again at a later date."
Parra believes that 2012 is the year that they make their mark. What he's seen in the gym only reinforces that opinion. He states, "The sparring, we worked with Jose Benavidez, a tough prospect, and we worked with guys like Shane Mosley and recently we got six rounds with Jorge Linares, who's in our weight division and that sparring right there was probably our sharpest and most competitive sparring because they're both in the same neighborhood. We probably won't work with that guy again but it was a good litmus test and one thing that's big with us in sparring is we don't show everything and he conducts himself like a veteran at such a young age.

"A lot of people don't realize, even though [Gesta] had no amateur experience, at 10 years old, he was fighting grown men in Muay-Thai stadiums in Thailand. There's no fear factor there with him. Sparring like this just builds confidence."
After this outing, should everything go as expected, Gesta will be scheduled to go on November 11th in Las Vegas in another fight designed to prepare him for the division's elite the next year.
"To me, I'm pretty close already," said Gesta, who recently threw out the first pitch at Petco Park before a San Diego Padres game. "I'm pretty close in there and it was supposed to be this year for it, a championship, but something happened with the IBF. But I'm ranked in the WBO. My promoter, Top Rank, says early next year, they'll give that to me."
Oh, and there's also "Star Power" this weekend and HBO Zone has a six-hour block of programming beginning at 3 PM, ET, devoted to the fight between WBC welterweight champion Victor Ortiz and Floyd Mayweather...By the way, tickets to the main event at the MGM Grand are still available and prices in the secondary market are dropping according to this site: http://www2.tiqiq.com/Tiqiq/SingleEvent.aspx?EventID=1859064407&PublisherID=1053087&WidgetID=1982200224...This week's edition of "Top Rank Live" not only features Gesta but Jose Benavidez, who takes on Dedrick Bell. As always, check your local listings for Fox Deportes...There is talk of matching Vanes Martirosyan and Roberto Garcia on a "TRL" show in late October...Next week from Mexicali, Jorge Arce defends his WBO 122-pound title against Simphiwe Nongqayi on "Top Rank Live"......The Miguel Cotto-Antonio Margarito II press tour is next week and soon, tickets will be on sale. Here is the seating chart and ticket prices for that fight on Dec. 3rd at MSG: http://ow.ly/i/hrJh...I'll say this right now; match WBC featherweight beltholder Jhonny Gonzalez with the likes of Orlando Salido, "JuanMa" Lopez, Daniel Ponce de Leon, Juan Carlos Salgado or Mikey Garcia and you have a fight I'd pay to see...OK, Jacory Harris, either you step up or forever get out of our lives...I like the Sooners to win late against the 'Noles in Tally
…I can be reached at k9kim@yahoo.com and I tweet at www.twitter.com/stevemaxboxing. We also have a Facebook fan page at www.facebook.com/MaxBoxing.