George Benton, the Mayor of North Philadelphia: Part One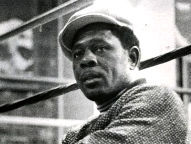 George Benton


At its core, the "Sweet Science" is the art of hitting without getting hit. During the 1950s all the way through the '60s, a middleweight out of North Philadelphia truly personified the art of making his opponent miss and pay. George Benton was born on May 15, 1933. His youth was spent on the streets of his impoverished neighborhood where the young Benton was constantly trying to escape his situation.
Call it chance or fate; either way you look at it, Benton found his escape when he wandered into a local boxing gym up the street from his home. Mesmerized by what he saw, smelled, and felt, Benton took to the gym like a natural and became a certified "gym rat."
By the age of 13, Benton was fighting as an amateur and was already starting to understand the nuances of the sport. After a short stint learning the beginning stages of boxing, Benton decided to turn professional at the age of 16. Underage when he made his professional debut, Benton began his career as a welterweight where he would stay for a good stretch. He also would compete every once in a while at what is now known as the super welterweight/junior middleweight division.

After compiling a decent record as a welterweight, Benton decided to move up to fight as a full-blown middleweight. By the time the mid-'50s rolled around, Benton had already established himself as a serious threat for anyone to face at 160. Of course, this was also during a period in the sport when title shots were handed out to the better "connected" managers. No, not the managers that had relationships with certain networks but to those who were better connected to the mafia.
Not only did Benton's lack of connections or his undying loyalty to his manager Herman Diamond (who refused to do business with certain underworld figures) hurt his chances for a title shot, his style simply frustrated his opponents. How annoying must it have been to have your opponent (Benton) stand right in front of you? You would have the feeling as if you had him right in your striking distance only to realize that once you unleashed a punch or a flurry, with a simple shoulder roll, parry, block, or dip, Benton would be just out of range of the shots, making them whiz right by. That is when Benton was at his best.
Some fighters dream about the big knockout punch that captures them glory. For a fighter that was as smooth and cute as George Benton, he put it best, "I had eyes on my ass and ducked punches in my dreams." He was truly a master of the craft he loved so much. Benton spent countless hours in the gym practicing the little things that so many modern fighters have abandoned. He could twist his head at the right moment, anticipated when his opponent would throw punches and would watch their shoulders in order to see the muscles tensing up so he could properly react.
Benton wasn't all defense either. Defying cliché, in his case, the best defense was a really good offense.

When the time called for it, he would unleash a serious fury, scattering his jabs, placing them wherever he felt like on his opponents. Benton switched it up in order to stay elusive and not become predictable. For a fighter who had such great defensive prowess, Benton also possessed solid punching power.
By 1962, Benton already had a reputation of being a tough middleweight. After a series of losses, Benton made yet another run at being a serious challenger for the middleweight crown. One of his marquee fights during this time period was against fellow Philadelphian Jesse "Crazy Horse" Smith. It was a great fight that took place at the old Philadelphia Convention Hall which saw Benton pick apart Smith with his educated jab before utilizing a series of power shots that allowed him to take the unanimous victory.
These victories lead to a great opportunity for Benton to shine, taking Benton one step closer to the championship fight that always eluded Benton like he eluded punches. Joey Giardello (who went on to capture the middleweight crown) was up next for Benton. Against his crosstown rival in front of a packed Convention Center, Benton put on one of his best performances.
This was a fight where everything fell in line for Benton. His movement, punches and knowledge of the ring were too much for Giardello on that night. It was one of those nights when it would have been hard to see any fighter defeat that version of Benton. Ironically, despite Benton winning, Giardello was the fighter with the better connected manager, Lou Duva. It was Giardello who would capture the championship fight that Benton seemingly earned.
Years later, after a working relationship developed between Duva and Benton at Main Events (more on that in Part Two), Duva would admit, "Yeah, I screwed him out of that title shot. He never knew until years later when I told him."
Despite the victory and not receiving the title shot he deserved, Benton's next big fight came with a stop at the famed Madison Square Garden in New York City against renowned Rubin "Hurricane" Carter. In a close contest, Benton dropped a decision to Carter. Many ringside observers felt Benton may have captured the victory but once again, he would not receive the victory since he was fighting on Carter's home turf. Others felt that Benton, who wanted to look extra impressive due to the situation, was handled terribly after his victory over Giardello.
After the defeat to Carter, Benton continued onward with his career. He defeated Jimmy Ellis and would drop a decision loss to fellow Philadelphian "Bad" Bennie Briscoe. Those fights took place toward the end of his career. Sadly, Benton's chase for a world title would come to an end in 1970 when he was shot in the back while walking to work. George's brother had knocked out a local thug at a bar after he was trying to pick up the Bentons' sister. The thug vowed to get the Benton family and George became his target.

After being in and out of the hospital and resorting to having to suffer from the bullet lodged in his lower spine for the rest of his life, Benton decided to hang up his gloves once and for all.
George Benton finished his professional record in 1970 at 62-13-1 (37). Although he never captured a world championship title shot, Benton was one of the most feared and respected middleweights of his time, both inside and outside the ring. It was on the streets of North Philadelphia where he was known as "The Mayor." To his credit, Benton was never knocked down in 76 professional fights and was stopped twice on cuts.
As is the case with most boxers, Benton decided that the allure of the gym was far too much to resist.
The following is a great story that describes just how great George Benton really was. It is from Hall of Fame promoter J. Russell Peltz, who recently honored the great George Benton with a goodbye letter to his dear friend.
The first time he boxed for me was against David Beckles, an ordinary guy from Trinidad, BWI. Beckles was coming to Philadelphia by train from New York and he was late for the weigh-in, very late. Benton had been disappointed numerous times by fighters canceling out on him and he began pacing the floor. Then he sat down on a bench near the front door of the commission offices, chain-smoking and stamping out butts on the floor, one after another. Back then, the weigh-ins were at noon the day of the fight and here was Benton finishing off a pack of cigarettes.
Beckles showed nearly up two hours late but George finally got to relax. That night, there were four prelims. Two ended in the first round, one in the second and one went four rounds to a decision. We had intermission 30 minutes after the first bell and I was in a panic. I went to the dressing room and I asked George if he would

carry

Beckles for a few rounds so the crowd could get their money's worth.
"No problem, baby cakes (that's what he always called me)," Benton said.
Needless to say, George knocked Beckles out in one round. When he got back to the dressing room, I was there, listening to his lame excuse.
"I couldn't help it, baby cakes, he started firing on me," he said.
Coming soon in Part Two: a look at the Hall of Fame training career of "The Professor."