Gamboa: On the Cusp of Taking Cuban Boxing to the Next Level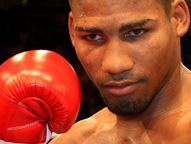 Yuriorkis Gamboa


It's interesting to me that this tonight's HBO card featuring the featherweight title fight between Yuriorkis Gamboa and Daniel Ponce de Leon will be taking place at the Boardwalk Hall in Atlantic City, New Jersey. Folks, this is no accident and unlike other promotions that rely on the site fee to dictate the location of the broadcast, Top Rank is well aware that tonight's main attractions are a Mexican and Cuban. Wouldn't this fight be a better fit for Miami or the Los Angeles area? Considering that Top Rank has its interest in Gamboa and Ponce de Leon was only selected as the opponent to ensure a network (HBO) presence, Miami or a spot that is ripe with a Cuban presence would be the natural site for this card.
However, as a country that is so rich with boxing history, unlike other Hispanic locales like Mexico and Puerto Rico, Cuba has yet to establish itself as a major player in the sport in terms of producing a marketable star. Fundamentally, this problem has its roots in the fact that unlike the other key Latino markets (like the aforementioned Puerto Rico and Mexico) of the small population of Cuban boxing fans in America, a true bond with their fellow countrymen does not start until later in their fighters' careers, if that bond happens at all.

Unfortunately, many of the great Cuban amateurs that come from the island are not heard of in terms of their talents and accomplishments until they compete in the Olympics. See, with the other countries, especially Puerto Rico, fighters are watched and followed from the moment they start to make waves in the amateur circuit. Not all of these talents become great fighters. Heck, honestly speaking, a few fighters out of each Olympic class even get to world championship-level, let alone superstar attraction. But it's this foundation and connection to the amateur circuit that Latino territories like Puerto Rico have that breed future stars.
Political reasons aside, the Cuban market within the Latino demographic has yet to create a deeper connection to its island's amateur standouts. Other reasons exist as a cause of the lack of a breakout star from the island with such a rich boxing history, one being that many of the fighters that actually break away from the island find their way to Europe before making their way to the United States. This week, Maxboxing's Anson Wainwright addressed the issue of why many of the Cuban fighters wind up leaving the island after they have success in the amateurs or, in some cases, leave in order to have any type of success at all (

http://www.maxboxing.com/news/promo-lead/the-cubans-fighting-for-freedom-family-and-pride

).
Wainwright mentioned how few fighters that actually do make it to the professional ranks excel past regular fighter status and into world championship form. Some have and recently, there has been more of an influx of fighters from Cuba trying to defect thus making the pool of talent that much greater.
With the journey from the island of Cuba to a free land to pursue a professional goals all but accomplished, Yuriorkis Gamboa is on the cusp of taking Cubans and the future of Cuban professional fighters to the next level. This level, superstardom, is ultimately the reason for these fighters defecting and taking their talents to other countries in the first place.
With Gamboa, Top Rank is trying to make some of those reasons disappear. Of course styles don't only make for fights in terms of match ups (more on this later) but make for the cause of someone becoming a fighter that the paying public will relate to and care for enough to spend their hard-earned money. In Gamboa, Top Rank has a fighter that is exciting to watch; his mixture of technical skill, natural speed and power (and of course, Latino bravado that he displays when exchanging in heated battles- even if it's not the wisest decision) has made him an entertaining young talent for the boxing public to follow. Gamboa is also vulnerable at times; he is no stranger to the taste of the canvas and always brings the sense that he or his opponent will be leaving their consciousness at least once during the course of his bouts.
With all of these attributes, it's hard not to see just why Top Rank is truly trying to find the right market in order to try and establish Gamboa as a legit star, one that, if paired properly in the future, could headline pay-per-view telecasts, something that has eluded the great Cuban boxers throughout the country's pugilistic history.
This brings us to Boardwalk Hall, which Gamboa will yet again headline on tonight. Top Rank is well aware that the small Cuban fan base that exists in the United States doesn't truly reside in Miami or in its surrounding parts in Florida. In fact, they have continued to promote Gamboa on shows in the Northeast with the occasional stop in Las Vegas. It's no secret that other than Mexicans on the West Coast, in Texas and Chicago, if you're Latino and your heritage comes from the Caribbean, you likely live in the Northeast part of the country.
First off, since the late, great Arturo Gatti, there has yet to be a fighter who has such a stranglehold on Atlantic City. Top Rank promoted Miguel Cotto in several low-level key fights of his career at the Hall but with him being Puerto Rican, New York and Madison Square Garden was a no-brainer for his bigger outings. Paul Williams and now Sergio Martinez have also done well fighting in Atlantic City. However, for the most part, local shows featuring up-and-coming fighters from New Jersey and the Philadelphia area have driven the action in Atlantic City. No one has taken over as the city's main attraction and other than the occasional major show, the city is looking for the next fighter who could sell out the 10,000-plus seats the Hall's main room can accommodate.
Combine the skill with the entertaining style that a young fighter like Gamboa brings to the table with the opening that is currently in Atlantic City. Unfortunately, most of the Cuban-American public in sunny Miami doesn't really prioritize support for its fellow countrymen who defect in order to chase their dreams inside of the ring. The result is Top Rank promoting Gamboa in an open area rich with a good Latino fan base (that also includes Cubans) in a top boxing city open for the taking.
Post Script:
I'm not saying there haven't been other exciting Cuban fighters that have failed to reach Hall of Fame status in their careers. This is a fact that remains to be seen in the young Gamboa's career (he has only fought 20 professional fights thus far) but many of the past greats come from an era where boxing was a major sport in this country during a time when Latino stars were few and far between. This was a time when Latinos weren't even seen as a market to produce product or entertainment for. Gamboa has the chance to be Cuba's first mainstream star.
Other great Cuban fighters: Luis Rodriguez, Kid Gavilan, Kid Chocolate, Joel Casamayor, Jose Napoles, Sugar Ramos.