Gamboa and His Post-Ponce Predicament: "I'm done at 126"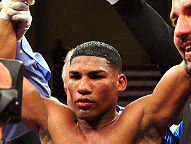 (Photo © German Villasenor)


Atlantic City, NJ- 29 year old Cuban Yuriorkis Gamboa pulled out a unanimous technical decision in his return to the squared circle on Saturday night. Having last fought in March, Gamboa easily outpointed the well-traveled Mexican Daniel Ponce de Leon in a contest that was called to a halt after an accidental clash of heads. The accidental butt left a gash in the middle of Ponce de Leon's forehead, deeming him unfit to continue the bout. The scorecards read 80-72 twice and 79-73.

"I wanted to go rounds", said Gamboa, regarding his performance. "We trained to go all 12 rounds. We trained to box. We trained to show movement and we trained to show defense. I think I did that tonight." A crowd roughly under 2,000 gathered at the Adrian Philips Ballroom (the second floor at the Boardwalk Hall) witnessed Gamboa's last fight in the featherweight division.

"I'm done at 126," stated Gamboa, once a Cuban amateur standout, now 21-0 (16). "There's nothing left for me to prove. I want to fight the best boxers in the world. Bring on the living legends like Manny Pacquiao. To be the best, you have to beat the best. That is what I did at featherweight and that is exactly what I want to continue doing. So bring on the best pound-for-pound fighters in the world." There are many that would dispute this claim. Chris John is still in the division. What about the proposed match-up with Juan Manuel Lopez? Gary Russell Jr. is a star on the rise and Mikey Garcia is doing what he has to do earn a date to dance with the big names in the division. Rumor also has it that bantamweight boss Nonito Donaire is contemplating a move up to featherweight. If you ask me, Gamboa has unfinished business at 126.
It was evident early on that Ponce de Leon, 41-4 (34), was overmatched but to his credit, he held his own against the heavily favored (8-1) Gamboa. Ponce de Leon, an awkward southpaw that throws very wide and looping punches, managed to keep Gamboa at bay. There were some at ringside that felt that Ponce de Leon may have won the first two frames of the fight.
"I knew that I had longer arms, so I was looking to counter him from the outside", said Ponce de Leon. "He is fast but if you saw, I was timing him early on."
In the second round, Gamboa charged Ponce de Leon. However, a quick, counter left hook thrown by Ponce de Leon got Gamboa to back up.
"Gamboa is fast, without question", stated Ponce de Leon. "However, I was not affected by his power. I was never hurt but unfortunately, the cut bothered me and I could not see."
As the fight progressed, Gamboa began imposing his will and it was clear to see who was the better fighter. It took Gamboa roughly around five rounds to loosen up. However, the combinations were not flowing as fluid as we have seen from him in the past. Maybe this was attributed to ring rust or it could have been that Gamboa was cautious and didn't want to get caught with something silly. Instead, the patient Gamboa executed a one-two punch offense.
In terms of marketability, this less-than-scintillating performance by Gamboa may have actually hurt his brand. There wasn't enough buzz garnered to think that Gamboa could beat any of the big names in boxing but, as always, time will tell. So what will Top Rank do with Gamboa?

"When you are as talented and skilled as Yuri is, when you are as good looking as Yuri is, and when you have the appeal that Yuri has, the possibilities are endless", Top Rank CEO Todd

DuBoef told Maxboxing. "But keep in mind that he is still a baby."