Friday Night Fights, Take a Bow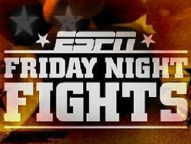 --


This Friday night at the Horseshoe Casino in Hammond, IN, the always dangerous Grady Brewer takes on 2008 Olympian Demetrius Andrade in what marks the 2011 season finale of "Friday Night Fights" on ESPN2. Starting from the January 7th debut in Las Vegas where Mauricio Herrera upset Ruslan Provodnikov, it has been a year marked by upsets, "Fight of the Year" candidates and undefeated boxers suffering their first professional blemishes.


I emailed Joe Tessitore, who calls the action for "The Deuce" to list his most memorable moments of this past year. He replied:
1. [Pawel] Wolak swollen eye fight of the year vs [Delvin] Rodriguez
2. Grady Brewer shocking KO of Fernando Guerrero
3. [Marco Antonio] Rubio TKO's David Lemuix (sic) in Montreal
4. 8 knockdown night in Phoenix (including SPortscenter play of day KO by janks Trotter) main event was a good scrap Jesus Gonzalez vs Francisco Sierra
5. John Molina vs Rob Frankel's bloodied face with a blood splattered ringside
6. Vernon Paris Tim Coleman pre-fight grudge and 4 knockdown fight.
7. [Ismayl] Sillahk (sic) vs [Yordanis] Despaigne
8. Sebastian Lujan brawl with Mark Melligen
9. do you really want me to continue because that is just off the top of my head.. and the night in phoenix had individual Kdowns i would list by themselevs i just lumped them in.

He then added later, "And I forgot Kendal Holt's KO of Julio Diaz. That would be high on the list too. Amazing punch."

Yes, it's been that type of 2011 on "FNF." It's been perhaps their best year ever.

"Absolutely," said Doug Loughrey, Director of Programming and Acquisitions for ESPN, who is in charge of purchasing the fights for the network. "We've gotten a convergence of a lot of things come together besides compelling fights. We had some consistent scheduling. We were able to up our production value, so it's all been coordinated to help viewers stay into the fight longer and increase our ratings, which is our task everyday to complete."

What's remarkable about ESPN's success this year is that unlike HBO and Showtime, which oftentimes have license fees of well over a million dollars, "FNF" pays right around $55,000 (and promoters still have to pay for the lights). "We're not working with that kind of budget but we were able to pay a little more money into things, which kept a lot more fights that you usually see on 'Friday Night Fights' into cards. Hey, listen; I'm not going to lie. It's a learning experience everyday and if you're not learning something new, why keep at it? So I think I've gotten a little bit better at it and I think this year what we saw, more so than anything, promoters actually working together to put fights down. It didn't seem so territorial, that people would take chances and put their guys in matches."

Loughrey, who took over several years ago when Bob Yalen was jettisoned suddenly under mysterious circumstances, admits that this job came with a bit of a learning curve. Part of that process was learning how to deal with the barracudas that exist in this business.

"Again," he said, while chuckling, "I always say if you're working with one of the major leagues or whatever, you kind of know what the process is. But when you're dealing with this many independent contractors, you're going to deal with different personalities, which for the most part, I say, makes it interesting. But there are times where you do say to yourself, 'What am I into?' I hear that from several colleagues, people that work in the media industry, like, 'What are you doing working with boxing?' 'Barracuda' was a nice way of putting it."

If there is anything that this series does provide- if not exorbitant paydays- is an incredibly big platform in which boxers can be exposed. ESPN2 is in just under 100 million homes, compared to HBO's 30 million, so a .4 rating on this network means many more eyeballs than a .4 on HBO.

"I think a lot of folks years back, were just like, 'Whatever. ESPN…just take it or leave it' and again, there were some financial considerations they had to take there as well. We've always publicized ourselves like, 'If you're going to make the big step to whatever pay-per-view, you need to establish and build yourself here on this network and this is the best place you have to be- just for that reason," Loughrey stated. "ESPN was the leader in bringing out 'best screen available' for people. You can pick up the fight on ESPN2 or Deportes or you can pick it up on ESPN3 and there's some mobile applications for us at times."

Loughrey says that overall, the ratings are up for their cards in 2011, "It's funny because you can have great fights and the fight itself doesn't rate from an overall standpoint. Like early on in the year, we had the [Peter] Manfredo [Jr.]-[Daniel] Edouard fight, which did a great rating for us, which is a .55. [Chris] Arreola did that .55 area." As for the fight that perhaps caused the most buzz for this series, the epic battle between Delvin Rodriguez and Pawel Wolak on July 15th (which ended in a draw and was replayed on ESPN's family of networks the next week), Loughrey added, "Rodriguez-Wolak did a .45 but the good news is for boxing and for us, from a company standpoint, is we're up approximately ten percent this year for ratings on ESPN. And to me, what's most significant, the 18-to-34 demo is up 19 percent and 18-to-49, up 22 percent."

Another factor is that for years, Top Rank and Golden Boy were not involved in this series, which is a problem, given that they are the two most influential companies in the United States with the deepest rosters of talent. Golden Boy brought aboard sponsors in 2009 and Top Rank did two editions of "Friday Night Fights" in 2011. Loughrey says, "That's one of the things we're happy about because I know it's been a long time since we had them on our air. Top Rank has always been good about working with us and having a fighter or so but actually doing shows [together] has been good. That's what we're about; we're always trying to build relationships here and if it's building back older ones, that's fine. We're open to it and I think they are too. That's my example of promoters not only working with each other but working with us."

One innovation that they continue to further is bringing more than just two-dimensions of this sport to the fan at home.

"I think one significant thing we brought this year was that more than any other network in this country, we have brought to boxing the 3-D application and we were able to do it multiple times and we're the first people to do it live. So we've kind of mastered the '5-D' thing, where it's 3-D with a 2-D camera side-by-side to it and clearly boxing is the best sport for 3-D viewing. So we're proud of the fact we were able to bring it first and do it several times. As you can imagine, from a production standpoint, it's not only motivating for a viewer; it's also a little more financially feasible because you're not having to cover an entire field in different angles like, say, in a football game," explained Loughrey.

It's a shame this run has to come to an end. Starting in a few weeks, ESPN2 will be showing college football. "Friday Night Fights" hibernates till 2012.

"It's what we're faced with- and it's what we've been faced with the last years- clearly, we're a ratings-driven network and there's larger properties that deliver significantly higher ratings and revenue towards our line, so the season ends," Loughrey said. "And it is a little disheartening but we're going to see what we can do in the fall, maybe, and pick up some pieces for ESPN3 and Deportes, possibly. We'll take a little breather here for a few weeks and start looking at January."

TOP RANK OCTOBERFIST

Tickets are now on sale for the bout between Toshiaki Nishioka and Rafael Marquez for the WBC 122-pound title at the MGM Grand in Las Vegas on October 1st. However, for those not in "Sin City" that day, they can catch this card on the "Top Rank Live" series on the various Fox Sports/Deportes affiliates.

"The genesis of this is that Mr. [Akihiko] Honda, who is the big promoter of Japan, Teiken, their number one outlet is WOWOW, who has been a big partner of ours for many years. It's their 20th anniversary; they wanted to do something special from the United States, specifically, Las Vegas," explained Top Rank president Todd DuBoef. "October 1st is their 20th anniversary and they were able to make this happen and facilitate this."

This card will also feature WBA 108-pound beltholder Roman Gonzalez and a bout between Jesus Soto-Karass and Yoshihiro Kamegai. DuBoef says Fox Deportes has cleared a three-hour window for this card.

Three weeks later, Nonito Donaire makes his long-awaited return to the ring instead of the originally announced date of October 22nd. DuBoef explained why the date was switched, "A number of things, Nonito wants to fight in October; we wanted to do the fight in October. We were very delicate with everybody's scheduling. Showtime had a fight on the 5th [of November]. I also wanted to keep Nonito and Manny [Pacquiao] away from each other with the Philippines television market. It was just better spacing and fortunately, we were able to work everything out. Nonito was happy and HBO was actually thrilled because now they can pair Nonito's fight with the "24/7" off Pacquiao-[Juan Manuel] Marquez."

HAYMON BOXING ORGANIZATION

On August 27th, Seth Mitchell makes his HBO debut against Mike Mollo in San Jose before the highly anticipated match-up between junior welters Marcos Maidana and Robert Guerrero. People in the industry are still befuddled at how Mollo was approved by the network (Well, Mitchell is now advised by one Al Haymon, whose influential tail has been wagging the dog that is HBO for quite awhile).

Perhaps even more puzzling is that we are now less than three weeks from September 3rd and yet still no clear-cut opponent has been named for the talented Gary Russell Jr., who makes his HBO debut from the Andre Berto-Rivage in Biloxi, MS. I can't ever recall a situation when a fighter slated to be on this network still didn't have an opponent set for him so close to the fight.

Obviously, being a Haymon client has its privileges on this network.

PROBATION FLURRIES

EPIX is getting back into the game as they have announced that they will be doing the heavyweight doubleheader on August 27th with Alexander Povetkin-Ruslan Chagaev and Sergei Liakhovich-Robert Helenius...I keep hearing that Omar Narvaez will most likely be the one facing the "Filipino Flash" on October 22nd. No venue has been chosen yet...Speaking of Tessitore, he and Bruce Feldman have teamed up to do a "30 for 30" documentary on the rivalry between Auburn and Alabama, which isn't just among the most fierce and heated in college football but in any realm, period. I can't wait to see it next year...If I'm Al Golden, a return to Happy Valley and replacing "JoePa" is looking better and better each day. If I'm Miami, I beg and plead for this guy to ride it out and sign him to a long-term extension at his price...Manager Cameron Dunkin has inked Anthony and Eric Flores out of Inglewood, CA to deals and will turn them pro soon…Don't forget to check out our new Maxboxing/YouTube videos, courtesy of our outstanding videographer Brian Harty and on-air ace Radio Rahim. They feature Bernard Hopkins on Chad Dawson (http://www.youtube.com/watch?v=kin_HlUiSUI), Dawson on Hopkins (http://www.youtube.com/watch?v=wvkfFBJnuLs) and the press conference touting their upcoming fight on October 15 (http://www.youtube.com/watch?v=5cpc2CudCzM)...I can be reached at k9kim@yahoo.com and I tweet at www.twitter.com/stevemaxboxing. We also have a Facebook fan page at www.facebook.com/MaxBoxing.