ESPN2 Friday Night Fights TV Cheat Sheet- Aug. 11, 2011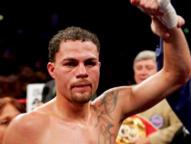 Cintron_H1.jpg


Not one of the boxers featured on this week's "Friday Night Fights" telecast is undefeated, which is not a bad thing, considering an unblemished record often means a fighter has not been matched tough. A quick perusal of the combatants' records reveals they have all faced good opposition; that makes them well-rounded boxers, thus more entertaining. So far, one has been able to battle through the competition to win a title and two of the other three seem to have the talent to follow the lead of Kermit Cintron in that aspect. The only one who looks out of his depth is Mexican Antonio Cervantes but boxing fans are aware how a seemingly innocuous Mexican opponent can make for an upset.

At the Family Arena, St. Charles, MO
(ESPN2) Kermit Cintron (32-4-1) vs. Antwone Smith (20-2-1)
(ESPN2) Dannie Williams (18-1) vs. Antonio Cervantes (16-5-5)

Antonio Cervantes – It is frustrating for me when a current boxer has a Hall of Fame namesake. It makes it much harder to evaluate this Cervantes, since my research mostly points to Colombian great Antonio "Kid Pambelé" Cervantes instead of this unintentional Mexican knockoff. Outside of his ring record, I have found little concrete information on Cervantes since he only had one bout in America. Otherwise, he has fought mostly on small hall bills in Mexico or not at all for long stretches. There is no video footage and only two scant reviews of one of his fights. Probing emails to boxing writers, cornermen and other insiders drew blanks as well. Cervantes is plagued by inactivity, with no fights from 2007 to 2009, and only one fight each in 2002, 2004, and 2006. All credit to Cervantes for going 4-0-1 in his latest comeback, starting in 2010 but the 33-year-old's record misleadingly suggests he is a power puncher. This is further reinforced by his nickname of "Bazooka". Most of the stoppages were early in his career against awful competition and Cervantes went ten rounds twice and 12 once in his last three wins. Fought west of the Rio Grande once, suffering a fourth round kayo to hard-hitting Ivan Valle. Five draws speak to Cervantes fighting to the level of his opposition and not pushing on the gas pedal to separate himself at key points. Turned pro at junior lightweight, so Cervantes has kept himself in shape throughout his layoffs. Reportedly trained fighters while out of the ring, so I assume he was working pads and running to stay in shape. Cervantes has faced competent opposition, 14 of 26 foes had winning records, but has never defeated a B-level opponent, much less a legitimate prospect. Still, facing the likes of Ivan Valle, Fernando Trejo, and Michael Lozada will harden boxers in losses. Is past his prime but should be physically strong, given distance wins and is certainly mature mentally. Pictures of Cervantes reveal a stocky body, with much of his weight around a tight torso and solid legs conducive to a bruising mauler type who likes to work on the inside. Friday night, we'll see if this Cervantes should be tilting at windmills instead of boxing.

Dannie Williams – With Kelly Pavlik shooting himself in the foot last week, Youngstown's boxing future could rest in the gloves of this St. Louis transplant. Williams was a first-rate amateur, winning the 2004 National Golden Gloves, excelling in an ultra-competitive St. Louis boxing scene. As important as winning 127 of 154 amateur fights, Williams matured by sparring the likes of Cory Spinks and Devon Alexander under the watchful eyes of Kevin Cunningham. Started boxing age 13, mimicking idols Floyd Mayweather Jr. and Roy Jones, registering wins over current champion Brandon Rios and hot prospect Diego Magdaleno. Is now under the guidance of Jack Loew, best known for his work with Pavlik, who is infusing the same big right hand into Williams that his former middleweight king mastered. Williams lost two prime years, jailed on firearm charges from 2006 to 2008, but has by every account, turned his life around through a positive mindset and hard work. Possesses a tantalizing mix of speed and power but does not combine both consistently, seeming to choose one over the other at the expense of both. A fast starter, half of Williams' stoppages have come in the first round and he has not stopped anyone past the second round. That stat suggests a lack of offensive diversity or Williams is content to win on points and does not force stoppages. Williams, with dreadlocks, a solid body, and heavy hands reminds me of entertaining boxer/brawler Livingstone Bramble. Williams says he is a boxer/puncher but his power catches the eye first and he is either in complete offensive or full defensive mode. I was impressed by Williams' toughness in sole loss, to undefeated fringe contender Eloy Perez, where Williams let Perez off the hook after scoring two early knockdowns. Williams claims losing ten pounds on fight week weakened him but the setback was good in the sense that it gave him the impetus for a move to Youngstown. Went ten rounds against an average foe in his last fight only a month ago and complained of hand problems, so Williams should be fit. Williams described his style to writer Scott Levinson, "You're gonna get a little bit of speed and you're definitely gonna get the power. I'm naturally strong but I don't depend on my power. I'll box, box, box, but once I see that you don't have heart or can't stand the pain—I wanna take you out."

Verdict – Usually, I harp on how mental preparation and attitude is just as important as physical talent but I doubt Cervantes could beat Williams with Archie Moore's brain and Roberto Duran's attitude. Williams is simply too good- more importantly, too fast- an athlete for Cervantes to cope with mano-a-mano. There is a remote possibility if this fight goes past eight rounds, Cervantes sweeps a couple rounds before Williams gets his second wind, since in the recent past, Cervantes had his best rounds late while Williams has faded late in some bouts. I doubt it gets that far and the speedier Williams sees openings first and gets there faster for a third round stoppage.

Antwone Smith – I admit it; this kid is my kind of fighter. Miami product has been matched tough, since he was not signed by a big promoter early, and developed as a boxer because of it. At age 24, is rounding into his own and I began to think Smith's attitude and ring intellect mirrored that of a young James Toney. That was before an unexpected loss to Lanardo Tyner last year. In 2009, Smith was the underdog in three straight ESPN2 appearances but emerged victorious every time, beating quality opponents whose style he evaluated before picking apart. Began boxing at age 13 in the very good Florida amateur system, going 36-6 and winning the state Golden Gloves title. On the surface, is an aggressive straightforward fighter but Smith is smart enough to understand when that is not working and goes to a countering style. Decision wins over undefeated power-puncher Norberto Gonzalez and veteran Richard Gutierrez got the attention of promoter Lou DiBella, who signed Smith the second he heard he had no promoter. Smith lost his sixth pro fight to skilled Ed Paredes in a close fight some had Smith winning but did not back down from taking more hard fights. A solidly built but average-sized welterweight, he lacks range with short arms and underutilized jab. Smith has the feel of a natural counterpuncher, who presses out of frustration when opponents do not engage him, so a bit of patience is still needed on offense. 52% kayo ratio could be higher if Smith were matched soft like other prospects but because Smith has gone 116 rounds, he has learned to make his punches smarter instead of harder. Still not 100% mentally, fighting down or up to the level of competition. On several occasions, Smith overcame cuts, not letting the blood affect his game plan. Best asset could be his feet, moving Smith into position to counter or lead as he sees fit and make up for the lack of a thudding jab. Has a solid left hand and goes to the body heavy and hard from the opening bell. Never seen the kid get rattled and he has a sense of ease in the ring that cannot be taught. Not fast, flashy, powerful or a defensive wizard...Smith is just a winner.

Kermit Cintron – Outside of the two, now-questionable losses to Antonio Margarito (because of foreign objects subsequently found in Margarito's gloves), Cintron had faced down every challenge in a decade-long career until his last fight. 30 days ago, Carlos Molina comprehensively outboxed him, registering a shockingly easy win over a lackadaisical Cintron. Now, Cintron must act quickly to erase those memories, understanding that he cannot go 14 months without a fight as he did before facing Molina. Remember, this is a Cintron who derailed red-hot slugger Alfredo Angulo, variously outboxing, outmaneuvering, and even brawling with Angulo. Also gave Sergio Martinez, current World Middleweight Champion and the number two pound-for-pound fighter, some tough rounds manufacturing a hotly disputed draw. The Puerto Rican, who relocated to Pennsylvania as a child, is a broad-shouldered boxer/puncher with a 76% stoppage ratio tied to legit one-punch stopping power. Has the option of smothering opponents with his frame and pressure or standing back and launching sweeping power punches. Cintron's accuracy is underrated and his offense blossomed under the tutelage of his ex-trainer Hall-of-Famer Emanuel Steward. Cintron remains a crowd-pleasing boxer, whose defensive flaws have been exposed against top-level opposition, though overcoming early confidence issues. As Cintron tires, his punches become wide as he forgets the basics, though generally continuing to throw punches. Still gets careless, leaving his left low or forgets to draw it back after a lazy jab. This could be because Cintron came to boxing a bit late at age 19, concentrating on wrestling in years prior. This showed in the face of the constant pressure of Margarito, where Cintron unraveled with each round. A 24-3 amateur career did not prepare him for such a force of nature. If Cintron can find the proper balance between an aggressive offense and defensive diligence, he has a good shot at upsetting at reaching the top again. Cintron has the type of frame that would make him a small middleweight, with much of his bulk in the upper body. At age 31, middleweight might even be more natural for him. At 5'11", is a big junior middleweight but his base and small legs could leave him susceptible to a fighter who uses his bulk and infighting in unison. Is a good person outside the ring, lending his name and volunteering time to various cancer organizations. As recently as last year, Cintron was a legitimate top-ten fighter at 154 pounds, so I find his weaknesses more mental than physical.

Verdict – In retrospect, I might have overestimated both men in the past. That aside, this is a good match-up and will show which boxer resurfaces on a list of fringe contenders. I am picking Cintron and one of the reasons is that I believe he is more desperate. Cintron has a difference maker and big eraser with his power but he can't allow Smith to get an early lead and sap his mental will. Smith can be lulled into inaction, getting frustrated where Molina forced Cintron to react too much with his volume and pressure. When given room to operate and throw, Cintron will do just that and he should be mentally prepared to risk it all this time out. Cintron wins by decision, fighting back a mid-round rally and scoring a late-round knockdown to seal a three-point victory.

Prediction record for 2011: 86% (104-16)
Prediction record for 2010: 85% (218-40)