Erislandy Lara Prepares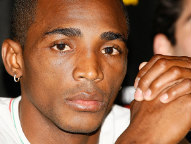 (Photo © Craig Bennett, Goossen Tutor)


Preparation is everything for an elite athlete. For a boxer, fights are won or lost in the gym. In Erislandy Lara's last fight against veteran Carlos Molina, a draw might have been earned in the gym. Lara, who is trained by Ronnie Shields in

Houston

at the

Savannah

Gym, had a bit of a mishap for that camp. As it turned out, Shields, who also trains Kermit Cintron and Guillermo Rigondeaux, was set to go with the latter to

Ireland

for two weeks

last March

for a title fight. In the midst of that was Lara's next fight a week later. A plan was proposed by Shields to handle the multiple assignments. However, when it came time to implement it, something went wrong.
"The plan was to bring Lara to Houston about six weeks before the fight so I could train him and put the game plan together," Shields told me on a recent episode of the

Leave-it-In-the-ring.com

radio show. "I could train him, go to Ireland for two weeks and still come back and have a week before the fight. I was going to have one of my assistants stay with Lara to train him. That didn't happen. It's still confusing to my end why Lara didn't come to Houston. All in all said, they still wanted me to come and work the corner, so we did that."

The problem in the fight was that while Shields' presence was felt and his voice heard, no specific preparation was done to prepare for the crafty, cagey Molina. Shields "did not train Lara one day for that fight." Instead, Lara stayed in

Miami

and trained there. Now the top prospect who had just blown out four opponent-level fighters in a row was not only being tested, he had neglected to study properly for the test. It nearly cost him his undefeated record.
"From me studying tape of Molina, I tried to tell him what to do but if you have not trained someone to do something, it is hard to tell them how to do it," explained Shields of that night, "and you are not on the same page. This is why you have training camp, so you can make a plan so your guy can follow it. He didn't know what to follow. You can tell someone all day but if he hasn't been doing what I know he should have been doing in the gym, then communication is not going to be there and that's what happened in that fight."
The fight ended in a draw and did much to take the luster off of Lara who was thought to be a big puncher. Instead, he looked flat, unprepared and uninterested at times. The best thing that can be said about the fight was that it awoke Lara to what big-time boxing is all about.
"I was not prepared mentally or physically that night," Lara said on a recent conference call. "I realized that if I am not prepared 100%, I am better off not fighting. It was more difficult than I had planned for and Molina is a very good fighter. I thought I won the fight clearly, 6-4. Going into this fight, I knew it was a good wake-up call. I just got back in the gym and kept pressing."
"He had knocked out the prior four guys and sometimes, you think boxing gets easy and you tend to underestimate other opponents and that's how he overlooked Molina," said manager Luis DeCubas Jr. "Molina is a good fighter and has beaten a lot of good guys."
While Molina was rewarded with another ESPN date (which he won) to set up his fight

this Saturday

against the returning Kermit Cintron on Showtime, Lara's lackluster performance earned him a shot against the welter-junior middle-middleweight Paul Williams this weekend at the Boardwalk Hall in

Atlantic City, NJ

, live on HBO's "Boxing After Dark."
"I think we should be thanking Molina. If it weren't for Molina, we wouldn't be getting this fight," said Golden Boy Promotions' matchmaker Eric Gomez. "We should send him a fruit basket or something."
"The Punisher," as Williams is also known by, is coming off a November second-round knockout loss to middleweight champ Sergio Martinez in a rematch of their

previous December

's "Fight of the Year" candidate. Lara, while a skilled amateur, is a bit up-and-down for an undefeated fighter. He also still has less than 20 fights of experience, so he is still green. All of this begs the question: Is Lara a perfectly chosen opponent or a dangerous miscalculation?
"I don't think they are necessarily taking Lara lightly but I do think that they feel that in the last fight that Lara didn't look up to par," said Shields. "I think they feel that maybe he is not what everybody was making him out to be. [Williams] is one of the top junior middleweights in the world, so they say, 'You know what? This is not going to be too hard of a fight for us.' So they are taking a chance but that is a chance that they are going to regret."
There are a few ways to look at this fight. It's either a step-up versus the right guy for Lara or a perfect comeback fight for Williams. Shields examined both variables of that observation.
"If I am Lara and looking at Williams, here is a guy who is 6'2" or 6' 3" who fights like a featherweight," began Shields. "The number one thing Lara would have to worry about is, 'OK, I have to be in shape but I realize one thing. This guy has got beat already, a couple times. He got beat by [southpaw] Carlos

Quintana

and then he turned around got knocked out by Sergio Martinez. So is he beatable? Yes.' So just looking at that, if Paul Williams was a guy that was undefeated, I think Lara would have something to worry about but he's been beaten twice already. Beaten really good by Quintana the first time [Writer's note: Williams reversed this loss with a first round knockout in an immediate return match] and annihilated by Sergio Martinez. So on one hand, Lara has got to know [Williams] has been beaten already, so he can be defeated and he is coming off a loss. So I know [Williams] is hungry but I know at the same time, the way he got knocked out, he is going to be a little glove shy. So I know I have to hit him on the chin, test that, then I have to fight my fight.
"On the other hand, if I am Paul Williams looking at Lara," continued Shields, "here you have a guy who has four consecutive knockouts against subpar opposition. When he stepped up against a guy who could fight a little bit, he came up with a draw but he is undefeated. He has come close but not tasted defeat yet. So [Williams] has to look at the pros and cons to see why [Lara] got a draw. 'Can [Lara] punch or not punch that he got a draw? Against these other guys, he could do it but against Molina, he looked like he couldn't get off. He couldn't do this; he couldn't do that. What can he do? Can he outbox me? Can he outpunch me?' So I think Paul Williams has to ask and answer those questions the same way Lara has to do the same about Paul."
Preparation has been solid for this fight. The southpaw Williams is about 6'1" and so the 5'9" southpaw Lara sparred super middleweight Edwin Rodriguez, a 6' right-hander, among others.
"We just finished up some sparring. We are having a great camp and we are preparing for Paul Williams. We know everything he has done in his career but we are prepared for this fight," said Lara. "I know Paul Williams is very tall for that weight class. We've got a kid here who is tall and been giving us great work in sparring. Edwin Rodriguez, who is a super middleweight, has been working with us, so we are ready for this guy mentally and physically. We are talking about a guy (Williams) that is a three-time world champion. I am not preparing for the Paul Williams that got knocked out in two rounds by Martinez. We are preparing for the Paul Williams that beat the Winky

Wrights

and guys like that. I have been waiting for this opportunity for a very long time and this is my chance to shine."
Since Shields had already trained a fighter for Williams, I asked him what he could take from that study into this fight.
"Well, Kermit is known as a puncher and that is why Paul Williams didn't come out the way he does against other fighters," said Shields. "Lara and Kermit are two very different fighters. Lara is a pure boxer. Kermit is a pure puncher who can box. So for me, I have to go look to the [first] Sergio Martinez fight but Lara don't fight like Sergio Martinez either, so I have to look at this in a different perspective. I have to look at what Lara does best and what Paul Williams is going to do. I know what Paul Williams is going to do what he has to do. He has to prove to everyone that the fight with Sergio Martinez was a fluke. So we're thinking while we're training that he is going to put a lot of pressure because that is the only way he knows how to fight."
In his previous three fights going backward, Williams has been knocked out in two rounds by Martinez, stunned by a Cintron right hand in the fourth round of their fight and dropped by Martinez in their first outing. To Shields, the Cintron right hand that wobbled Williams for a moment was a signal of bad things to come for the aggressive slugger who instead of using his height and fighting tall, loves to fight small, taking too many punches as a consequence.
"Absolutely," said Shields. "It was the beginning of the end. If the incident had not happened [Writer's note: Please see my story from yesterday, http://www.maxboxing.com/news/main-lead/kermit-cintron-returns, for more on this "incident"], Kermit was going to knock him out. People don't have to believe me but I am telling you I saw it in the first round. The first round, Kermit was missing him by about a half an inch. Then finally, he caught him in the [final] round and that started the whole whirlwind thing. Paul Williams has a big heart. There is no question about that but he realized one thing: 'I cannot box with Kermit Cintron.' His heart would not allow him to fight any other way because that is how he won all these other fights but he was about to get knocked out. It should have been Kermit Cintron with the knockout instead of Sergio Martinez."
According to Shields, there has been some back-and-forth over the weight for this fight. It was first offered at 154 and at 12 rounds. Then Team Williams asked for more weight, an unspecified amount Shields was reluctant to reveal. The fight was also to be changed to a ten-round bout. Once Shields refused to budge on more weight, the fight was then reverted to a 12-rounder by Team Williams.
Add in that Williams has not fought since that loss and recent comments about retiring in two more fights and the table might be set for Lara to pull an upset.
"It tells me he don't think his career is going to last much longer," said Shields. "Paul is not an old guy. That to me sounds negative. That don't sound like the guy from a year ago. [Imitating Williams] 'I want to fight everybody. I want to fight this guy. I want to fight that guy.' It's not like he is Manny Pacquiao making 40 million a fight. It sounds like that he wants to make a couple more paydays and get out the game. So what we are going to do,

July 9

, is help him make an early exit."
Williams has been built up as "The Most Feared Man in Boxing" by his promoter Dan Goossen. That is his job but Shields observed that really, the only people "avoiding" Williams are the two top names in the sport. No one else seems to be unwilling to fight him, with perhaps the exception of former middleweight champion Kelly Pavlik, who pulled out twice due to injury.
"[Williams] is always 'Nobody wants to fight me.' At least that is how they built him up," said Shields. "They always built him up 'He can make welterweight.' He can't make welterweight, man. They're already trying to add more pounds now. They are trying to make the fight more pounds now. I think [Williams and his trainer George Peterson] are delusional. They're delusional. [Nobu] Ishida was going to fight him. Is he nobody? The only names I have heard him mention that won't fight him are Manny Pacquiao and Floyd Mayweather. Who else could he be talking about? They kept screaming before Kermit fought him that they wanted to go back to welterweight, so we offered the fight at 147. The first thing Dan Goossen told me was, 'Are you crazy? This fight is going to be at 154.' So you know, I think they tootin' their own horn and they are tootin' to each other and they believe that stuff."
Beyond which Williams will show up, another hurdle Lara will have to leap is that Shields will not be in his corner this fight. While he has prepared the game plan in a full eight-week camp, Shields' chief second will be there for Lara along with veteran cutman Miguel Diaz and DeCubas.
"I'll be in California," said Shields. "The reason is because they made the fight for Kermit a month before the Lara fight. I had already committed to Cintron. I have my assistant who will be there. Miguel Diaz will be the cutman and in the middle as well as Luis DeCubas. I think he will be fine sticking to the game plan I made for him."
Shields is confident in the team he has assembled.
"No it is not a huge change. This is the sport of boxing," said Shields. "Whether I am there or not, he has to fight. He has to remember what we are doing. This is why he has two people in the gym, every day with me, side by side, who is going to keep him informed of the game plan. All he has to do is stick to the game plan."
While he nearly failed his last test, Lara appears to have learned from it. Saturday will be either Step One in rebuilding or the opening of a new door. The junior middleweight division is wide open. All someone has to do is work on size control.
"We feel that he is ready," said Gomez. "He's beaten some of these guys. Grady Brewer was a tough guy. Nobody gave Brewer a chance against Fernando Guerrero but we found out he could still fight. Danny Perez is a tough fighter. These are guys that will test your fighter and you'll know what you have. Lara passed with flying colors and he beat them pretty much every round. This is going to be a hell of a fight. It is a big step up but you've got to jump on these opportunities. We feel he has a great shot at beating Paul Williams. When we beat Paul Williams, we'll be in a very good place."
"I took the last fight lightly and had a bad night," said Lara. "Anybody can have a bad night. This time, it's going to be a different story. I am preparing for Paul Williams. I am not cutting any corners and of course, if I get past him, I am ready for any of the champions."
You can email Gabriel at

maxgmontoya@gmail.com

, follow him on Twitter at

www.twitter.com/gabriel_montoya

and catch him on each Monday's episode of "The Next Round" with Steve Kim. You can also tune in to hear him and co-host David Duenez live on the BlogTalk radio show

Leave-It-In-The-Ring.com

, Thursdays at 5-8 PM PST. Gabriel is a full member of the Boxing Writers Association of America.