Dr. Margaret Goodman on Fighter Safety and PEDs in Boxing: Part One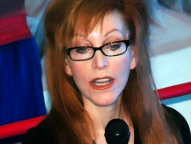 Dr. Margaret Goodman


One of the subjects that I am continually drawn to in the sport of boxing is fighter safety. While I love a great back-and-forth scrap and covering the colorful personalities this sport has in abundance, it is important to remember that not only is this entertainment but one that leaves the entertainers irrevocably changed physically and oft-times mentally. There are many voices to speak to on this subject from the fighters to the trainers to state commissioners but one voice I have been eager to hear from is Dr. Margaret Goodman, who served as a ringside physician from 1994 to 2005. Dr. Goodman, a licensed and practicing neurologist in Las Vegas, NV, was also was appointed by Nevada's governor, Kenny C. Guinn, in September of 2001 to serve as Chairman of the Medical Advisory Board to the Nevada State Athletic Commission, a position she held until her resignation in 2007. Most recently, Dr. Goodman's name has been mentioned in connect with VADA, (Voluntary Anti-Doping Agency) which is rumored to be entering the "better drug testing in boxing" fray. While Dr. Goodman declined to discuss VADA until everything with the group is ironed out and in place, she was more than happy to discuss fighter safety and the issues of PED use and testing in the sport. In Part One, we delve into fighter safety and more pointedly, the licensing of fighters unfit to fight.

While Dr. Goodman has been away from the sport in an official position for four some-odd years, I was curious how she felt about the recent rash of mismatches that seemed to be taking place both in California (where most of my work is focused) and Nevada, which she used to oversee. Fights like Jessie Vargas vs. Vivian Harris, which ended in an inevitable stoppage loss for Harris (who quit on his stool after taking several hard blows to the head), are commonplace. A sadder example would be Antwun Echols, a 39-year-old former middleweight/super middleweight contender who has fought 15 times since 2005. In that time, his record is 1-11-3, with one knockout against then-0-8-2 Fred Thomas. Of his 11 losses in that span, Echols has been stopped seven times. Echols has fought in 11 different states during that period, somehow managing to get licensed as late as last February in Nebraska. He lost that fight by third round technical knockout and, by all accounts, was a shot fighter.
However, this is the fight game and young fighters are built on the scalps of older or inferior fighters. It is what it is but at what point do we step in and say enough is enough? What it the tipping point with a fighter? While it is easy for me to sit here and say, "Just deny a license to a fighter; how easy or hard is that?" I first asked Dr. Goodman if she felt things were worse, better or the same as when she was head of the Medical Advisory Board in Nevada.
"I would love to be able to answer that but I don't think I am in tune enough, especially about the undercard matches to give you an educated answer and a fair answer," Dr. Goodman replied. "The one thing that I do notice- and this is just me- but in Nevada, I think some, and I can't give you specific names, but I wonder and have some concerns about the licensing of some individuals. I wonder if they still should be given a license to compete given that a license is a privilege and not a right and I know it is a very difficult thing. I think that when I was with the medical advisory board for [NSAC] and even before that time when I was just observing how the commission acted, the most difficult thing in the world was to deny a fighter a license. Especially now, when they come with attorneys and a whole host of outside information trying to prove they deserve to be licensed. It is a very difficult thing. It takes a lot of energy, a great deal of work on not only the part of the medical advisory board, which I don't see being used all that much in Nevada anymore, which I think is a real shame. And it takes a great deal of work on the part of the Deputy Attorney General's office to really research these cases and have a real hearing. It's hard. And it's not just Nevada; I do see California do it on a fairly regular basis, which I commend them for. They've stepped up in many instances but I don't think I am able to answer it in the way that you posed."
Dr. Goodman went on to explain about the Medical Advisory Board and its role in the licensing of fighters in Nevada.
"It's a five-member board that is appointed by the governor," Dr. Goodman explained. "What it used to be- and maybe in some respects it is better now- but initially, when Dr. Flip Homansky was there, the Medical Advisory Board and mainly Dr. Homansky would be the determining one who would go before the commission. Sometimes after the situation had been heard by the Medical Advisory Board, [Dr. Homansky] would go before the commission and recommend to the commission whether [a fighter] be licensed or not. The way they do it in Nevada, a fighter over a certain age [35-36] has to undergo more stringent testing.
"But irrespective of the fighter's age," Dr. Goodman continued, "there are really extensive tests that need to be done based on somebody's MRI studies, neuropsychological testing, neuropsychological exams. Like I said, I am just not privy to that to tell you exactly how they go about it but I still see fighters that I have concerns about, not just in boxing but also in MMA. Some of these athletes that have continued to compete year after year after having so many knockout losses that it takes a great deal of effort. What would happen before is that the commission would request the advisory board to review a certain fighter. It wouldn't be on a match-by-match basis, in other words, determining whether or not a fight was a mismatch but to see whether or not this guy should hold a license. That case of the athlete, whoever their representatives were, would present their case to the Medical Advisory Board. The board would hear that and make a determination and then report back to the commission."
When Dr. Goodman left the Medical Advisory Board, she gave them a list of improvements she'd like to see. Among them was to hire an outside physician to oversee the medicals of all the fighters, making recommendations to the commission as well as the Medical Advisory Board. While Nevada has done that, something else has slipped through the cracks. For Dr. Goodman, a commission licensing borderline fighters just to see if they still have it fits that bill. In many cases, if he is a name, a borderline fighter will be given a license and matched against a lesser fighter where he will look good. With the win, the fighter moves on to other fights and more danger if he is matched with someone fresher and/or with greater skill. The "gimme" fight serves as a dangerous smokescreen but in a way, it's also a hand-washing of responsibility by those who should be looking out for him. While we can do any number of tests to determine if a fighter has suffered brain damage of some kind, oft-times to the layman, the damage done to a fighter long-term is right there in front of us in the fights themselves.
"The other thing that I think is a negative- like I said, nothing is perfect- but this is something that I saw that I thought was important and I know Dr. Homansky did when we discussed these issues before the Association of Boxing Commissions, was determining licensure not just on medical past but whether somebody's performance had dipped," said Dr. Goodman. "Too often, I see commissions may license a guy for one fight. And then, if they don't look horrible for that one fight, especially if they are in against a not tough opponent, then they fall by the wayside and they will either relicense them or the fighter may go somewhere else. That's a really big problem, [the commissions] licensing a fighter for one fight to see how he looks and not standing up and saying, 'Wait a minute. This guy is shot or shouldn't be in the ring anymore or retire,' and really dealing with it headlong and saying, 'We are not going to grant this guy a license.' One of the reasons it is tough to do is because of fear of litigation for those decisions to be overturned and it takes so much effort. But that, to me, is the biggest problem, as far as licensing guys. They may pass all these tests and that indicates to you and to the boxing aficionados that the tests are not the right tests. Guys can pass these tests."
One example of this problem Dr. Goodman brought up is former middleweight champion Jermain Taylor, who recently announced a comeback to the ring. Taylor has lost four of his last five, three of those by knockout. It was reported he had mild bleeding on the brain in his last loss, a 12th round knockout at the hands of Arthur Abraham. More than likely, Taylor will undergo a battery of tests and be found fit to fight despite his recent record, all in an effort to make more money off a name.
"One name is Jermain Taylor. He had one more fight with Showtime, suffered a cerebral hemorrhage when he was in Germany and he was hospitalized, etc.," said Dr. Goodman. "Even before that happened to Jermain, he had not looked good in some time. Trust me; I have all the respect in the world for Jermain. He was a great young fighter but just as of the last few fights that he had, he did not look good. He didn't have the legs anymore and so taking him out of the ring, for however long he has been out of the ring, is not going to necessarily fix this. So to me, Jermain may go back and pass his tests. He can go to the Mayo Clinic or wherever they are going to send him and get doctors that don't really know him, don't understand what happens to a fighter in the gym and in the ring that will say, 'Oh, he looks OK to take more punishment,' without understanding the situation. To me, those are the kinds of situations where a commission has to stand up."
To me, one of the bigger borderline cases is 39-year-old Sugar Shane Mosley. Mosley has been up and down in recent performances, most notably up back in January 2009 against Antonio Margarito when he scored a ninth round TKO win. In his next fight, May 1, 2010, against Floyd Mayweather Jr., Mosley looked like a spent bullet after two rounds. He looked worse in his next outing in September of that year against Sergio Mora and even worse against Manny Pacquiao this past May. With Mosley, you can maybe say age has slowed him down. You can perhaps point to the style of his opponents or their level of skill and blame his poor performances. But one need only to listen to him speak after his win over Oscar De La Hoya in 2000 and listen to him post-Pacquiao to understand some damage has taken place. Plug in that change with all his recent performances, plus his long history of hard sparring in the gym and his 55-fight, 18-year career and the math is easy to do. On the other hand, Mosley's a name and a marketable one (at least until the Pacquiao debacle). Taking a name license like that won't be easy if it is done at all.
"That's the thing," said Dr. Goodman. "If Shane was to come before this commission again, they'd give you a whole scenario which they should do because they have to be fair and hear the case. But I would agree with you that, even though who doesn't love Shane? Shane was an amazing champion and an amazing person in many respects but he is the perfect example of someone who should not be in the ring anymore. And how do you deal with that? This is one thing that I have professed and it is a very difficult thing and before I left, I was never able to put this together. But to me, just like you said, you gave the perfect reason why he shouldn't be in the ring anymore but when it comes down to it, what does the commission want to do? They want to go by hard facts from tests, so they order a series of tests from a doctor that maybe has never seen him or doesn't watch boxing, hasn't seen how he has deteriorated from fight to fight over the years. How his speech has gotten more slurred, how he is not as quick. They don't sit and analyze the film and that's what needs to be done in making that determination. Yes, they have to pass all the tests like the MRIS or whatever else they send them through. That's one part of it but the other, even greater part is just like you said, looking at what happened to an athlete from year to year. Obviously, you have to adjust for someone who is a little older. All of those factors will make you a little slower."
While boxing has a long and storied history, it will take some time for medicine to catch up and study all the effects a long career can have. In fact, Dr. Charles Bernick, of Las Vegas' Lou Ruvo Center for Brain Health at Cleveland Clinic, is responsible for initiating his own. While I applaud the study and hope for the best with his results, Dr. Goodman and I both agree that reviewing the fighters' performances is a key piece of data that cannot be overlooked.
"It's a center that has been established a few years ago in Las Vegas to do research that will help individuals with Parkinson's Disease and dementia. One of the doctors that is helping to run that is Dr. Charles Bernick," explained Dr. Goodman. "They are going to be doing a prospective study, following athletes over time with serial MRIs and serial neurological exams. The one thing that I said to Dr. Bernick that is the most important thing of all is to sit and review the fight films, review the changes in the individuals' speech and look at how that has changed over time. And those are the kinds of things, not only for a study, those are the things that must be presented to a committee when making a determination."
One other hurdle Dr. Goodman mentioned- and this probably spoke to lack of funding and how hard it is to have even a basic monitoring system- is language. Boxing is a worldwide sport. Not everyone speaks English. While one can study Shane Mosley for signs of slurred speech, if he or she doesn't speak your language, it is going to impossible to determine how you have changed.
"If you want to go even one step further, how about the fighters that don't speak English?" asked Dr. Goodman. "We obviously have a large amount of Latino fighters that their first language is Spanish and nobody is really spending time and evaluating those guys. A perfect example is Jorge Paez- and this is an old example but it's a perfect example. Jorge Paez, they weren't even bringing him to Nevada for licensing but were asking about licensing him and we saw that his MRI scan was abnormal. I had heard from a great many people that in the gym he was having issues, that he was slurring his speech, but how do we detect that if we don't have an expert in Spanish? You may not be able to detect that and so they never ended up bringing him to Nevada for licensing but it was an issue that came before us because Top Rank had asked for that. But then I heard about a year after that that he was applying for disability for brain damage and he was having issues in that realm. It's a difficult thing that frustrates me to no end."
In Part Two of our conversation, Dr. Goodman and I discuss the issues with tightening up fighter safety protocols as well as the subject of PEDs in combat sports.
You can email Gabriel at

maxgmontoya@gmail.com

, follow him on Twitter at

www.twitter.com/gabriel_montoya

and catch him on each Monday's episode of "The Next Round" with Steve Kim. You can also tune in to hear him and co-host David Duenez live on the BlogTalk radio show

Leave-It-In-The-Ring.com

, Thursdays at 5-8 PM PST. Gabriel is a full member of the Boxing Writers Association of America.