DonYil Livingston Learns to Let Go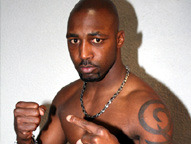 Donyil Livingston


To say it's been a long road (with a lot longer to go) for middleweight contender DonYil Livingston is an understatement. The top amateur who took a long break only to find out boxing is a young prospect's sport is now on his way to his fourth fight of the year and counting under promoter Boxing360 (who has slotted him on the Lane Brothers' Let's Get It On Promotions card tonight at the Churchill County Fair Grounds in Fallon, NV. The fight was originally slated to be on the Robert Guerrero vs. Marcos Maidana fight this weekend but Guerrero was injured and the whole card was scrapped.
I visited Livingston this past Monday for his last bit of sparring heading into the weekend at the Wild Card Boxing Club in Hollywood, CA. He was in with a junior middleweight named Ivan, who looked and fought Mexican, with aggressive work to the body and constant pressure. The session was solid but not the knock down-drag out affair you might see in the middle of camp. Livingston appeared to be working on some defensive moves, working off the ropes. Later on, he worked on pressing the action from center ring behind his jabs, which set up his orthodox combinations.
"[We've been] mainly just working on instincts," Livingston told me afterwards. "I have a tendency to think too much. The window of opportunity opens and closes so quick, you really don't have time to just sit there and think. So we've been working on working instinctively and reaction. Instead of looking for a perfect shot, set it up and go off skill and talent."

To learn is sometimes to forget. Livingston has all the punches. He moves well and has decent speed and solid power. Now he has to forget he knows all those things well enough to score points against fighters all over the world as an amateur and trust in the heat of a fight that the muscle memory will be there.
"Absolutely," agreed Livingston. "My biggest thing is I am so hard on myself when it comes to performing, how I should look. Like I stated in the past, you know I'm my biggest critic. I think I am a little too hard on myself. My coaches and my team tell me I just need to let my hands go. Instead of trying to set up that one perfect shot, just let my hands do all the working."
I asked Livingston about his opponent, whom he has seen no tape of.
"We'll be fighting a guy by the name of Roberto Yong, 4-3, 3 KOs, out of Arizona," said Livingston. "He has a record of four wins, three losses," Livingston told me earlier this week. "He fought his last fight in Arizona. He won by first-round knockout. He took a little time off and it seems since he's been back, he's been rolling, so it should be a good fight."
Livingston, 5-0 (3), is fighting a guy who has fought as high as 171 pounds in a middleweight fight. Yong turned pro in 2008 and lost both fights. He returned after a three-year layoff in 2011 and has gone 4-1 this year. I asked Livingston if he worked that in to his sparring partner equation. Ivan seemed a little smaller than DonYil.
"It varies. We really don't worry about the size of the people we spar. We look at it like who is going to make me work," said Livingston, "or who is going to make me pay for mistakes if we happen to make mistakes. This past camp, I got to work with this light heavyweight out of Arizona but I don't recall his name."
At 27, Livingston has only five fights, so time is of the essence for him to develop. I asked him if that is part of the problem in the ring, a desire to make up for lost time with one good performance.
"I don't think that necessarily," said Livingston. "I've always been a big critic of myself and have always been told that I thought too much. In the amateurs, I could get away with it because of my God-given talent. I was able to get away with a lot of things that I look at as a mistake. A lot of people say, 'Hey, that's boxing. You have to use your head.' Yeah, that's true but you have to visualize getting in and then there are things that you can't visualize that you just have to go on up in there. And that's what we've been working on.
"To answer your question, I don't think it is trying to win it all in one fight but more about getting the ability to put it all together," he continued. "I don't feel there is a rush. In due time, it's going to happen."
Livingston's personal goal is to fight all the way to 10-0 if he can this year. For now, it's all about getting his fourth win of the year tonight. Livingston just takes solace for the moment in the luxury of fighting regularly, which a year ago, was a dream in the distance.
"Oh, man, it's great," said Livingston of fighting regularly with a promotional team behind him. "It's a great feeling. You know better than anyone my struggles my first years out. The stressing and 'I need a fight' 'I think I have a fight!' 'No, I don't have a fight.' That stress and making the long commute I was making back and forth [to Wild Card. Livingston lives over an hour away in Palmdale, CA], knowing you have a fight lined up, that's motivation for that hunger. There's light at the end of the tunnel."
You can email Gabriel at

maxgmontoya@gmail.com

, follow him on Twitter at

www.twitter.com/gabriel_montoya

and catch him on each Monday's episode of "The Next Round" with Steve Kim. You can also tune in to hear him and co-host David Duenez live on the BlogTalk radio show

Leave-It-In-The-Ring.com

, Thursdays at 5-8 PM PST. Gabriel is a full member of the Boxing Writers Association of America.